Making More of Music City
In the new Nashville, ever-cool country music shares the soundscape with other genres, as the art scene booms and hip new bars and restaurants thrive.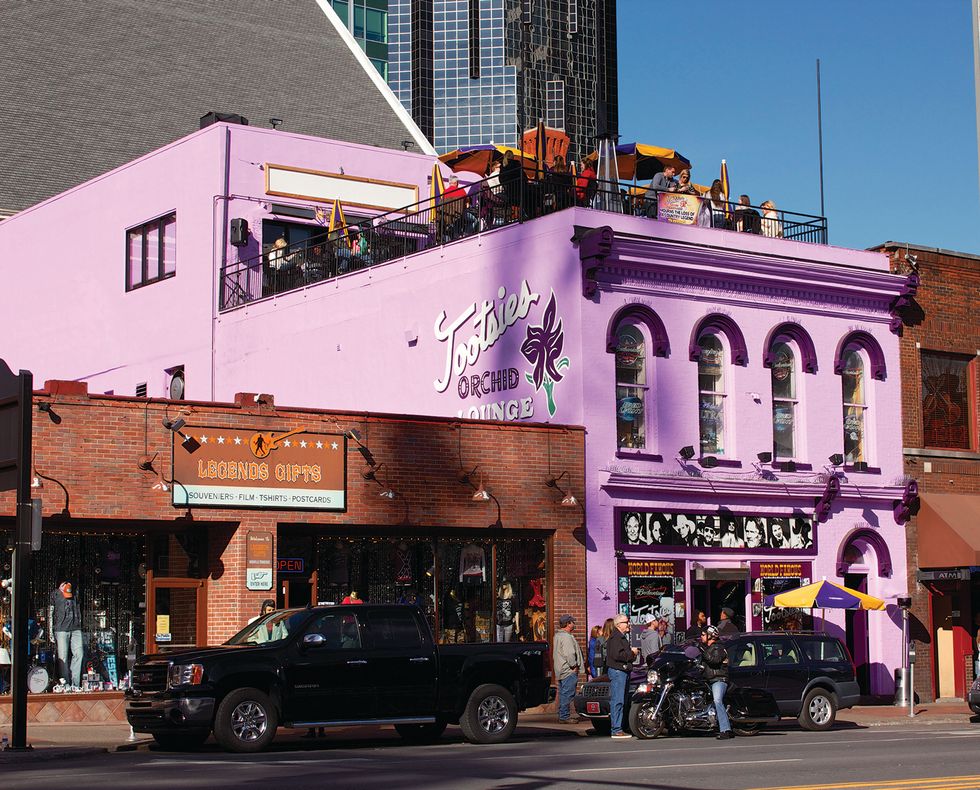 For many, the glitz and country-glam of the musical-drama Nashville has served as a window into the Tennessee town. Filmed onsite since 2012 — and heading into its series finale — with true Tennesseans acting as extras, the show presents a familiar and accurate version of the country music capital. Visitors might half expect to hear the melodious sounds from a live country band when they arrive at Nashville International Airport. And when they do, in fact, hear the strum of a guitar or the bright plucking of a banjo as they navigate through the terminal, it isn't the magic of television — it's simply the magic of the Music City.
---
Burgeoning beyond its rep as a country-music destination, and the only place to score bona fide "Nashville hot chicken," the city is a spirited mix of innovators who are spearheading a new wave of dining, distilleries and creative co-ops in trendy 'hoods — with music running through it all like a current.
In the last several years, global branding to create a true Music City, including the addition of live bands at the airport and a slew of free live performance venues marked by identifiable guitar-pick signs throughout pedestrian-friendly neighborhoods, have boosted Nashville exponentially as a sought-after travel destination. Music of all genres is thoughtfully incorporated whenever and wherever possible, as in utility boxes around the decade-old Schermerhorn Symphony Center, which play classical music as passersby make their way to and from the concert hall.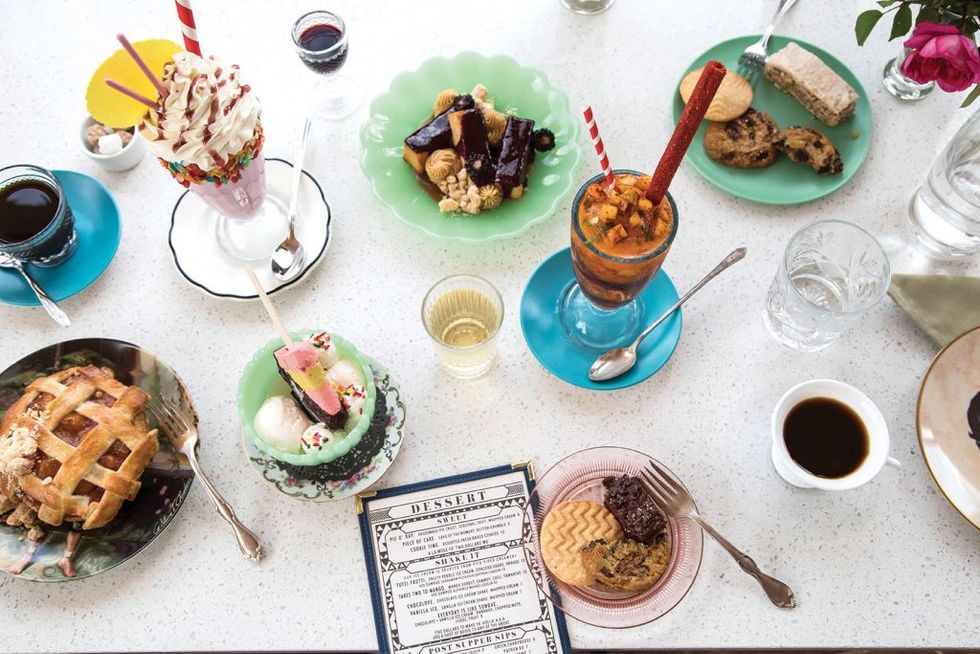 New Gulch-area restaurant The Mockingbird
Familiar tunes echoing from inside the world-famous Tootsie's Orchid Lounge and Legends Corner on Honky Tonk Row in the heart of the very walkable downtown make hotels like the recently restored 100-year-old Union Station Hotel or nearby Lowes Vanderbilt good choices. But a visit to 21c Museum Hotel — part contemporary art museum, part boutique hotel — makes for a cool and unique option. The space is home to the restaurant Gray and Dudley, helmed by Levon Wallace, whose San Francisco roots inspire dishes like roasted beets with pistachio and shrimp noodles. The artful experience is elevated by Menagerie, a series of fantastical animals by sculptor Beth Cavener Stichter, displayed in and around the bar and main dining room.
Nearby attractions are aplenty. In the SoBro sector of downtown — aka South of Broadway — the brand new Patsy Cline Museum has opened in the same building as the Johnny Cash Museum. And the Goo Goo Clusters Shop boasts a full dessert bar, listing chef-inspired Goo Goo desserts and a room reserved for chocolate-making classes. The celebrated hundred-year history of the Goo Goo — a candy made with chocolate, marshmallow nougat, caramel and peanuts — is detailed on the bright red and white walls of the brand's first brick-and-mortar candy shop.
Meanwhile, in the Gulch — a well-kept urban district tucked between Music Row and Downtown proper — high-end boutiques, sidewalk cafés and vibey taprooms make it a refreshing change of pace for those looking for solace from the boot scootin' boogie of Honky Tonk Row. After an obligatory Instagram-worthy snap at the "What Lifts You" mural of angel wings by artist Kelsey Montague on 11th Avenue, shop for boots at Lucchese on 12th and round out the evening with a brew at Hops+Crafts up the street.
Foodies and fans of the Food Network will surely recognize the Gulch as residence to James Beard winner and Chopped judge Maneet Chauhan's restaurants Chauhan Ale & Masala House and Tànsuo — but the 'hood is now home to a dynamic third concept, The Mockingbird. Still buzzing since its opening last summer, the chic, diner-style restaurant is filled with pretty people noshing on Chauhan's take on globally influenced comfort food accompanied by boozey milkshakes and "Punchin' bag" cocktails. (Think house-made Capri Sun pouches for adults.)
A gallery space inside the 21c Museum Hotel
Booze hounds looking for something more serious to throw back can get their fill at Nelson's Green Brier Distillery in Marathon Village. Run by Charles and Luisa Nelson in the 1800s, until a halt caused by statewide Prohibition, the distillery was resurrected in 2014 by the couple's great-great-great grandchildren, 20-something brothers Andy and Charlie Nelson. Producing Nelson's Green Brier 108 limited-release Tennessee Whiskey — sold in numbered bottles — and offering tours of the production floor while sharing the awe-inspiring story, the duo has created an experience at NGBD which combines history and heart.
Nashville creatives are an equally enterprising bunch. In the hip Wedgewood-Houston neighborhood, forward-thinking makers are planting seeds of Nashville's artistic and educational future. The David Lusk Gallery, a staple in Memphis for more than 20 years, is a newer addition to Nashville, rotating local, national and international artists every five weeks. At Fort Houston nearby, the masterpieces have yet to be created, but the artists are there — hard at work. The creative co-op for freelancers and entrepreneurs offers rentable workstations where costly tools and machinery in the studio are shared. And, on the same block, science meets spirits at Nashville Craft Distillery, where Bruce Boeko draws upon his 20 years of experience as a DNA lab director as he educates visitors on the chemistry behind distilled whiskey and other spirits.
Some of the most festive Nashville nights may begin and end with a glass of smooth Tennessee whiskey — after which swaying along to "All My Exes Live in Texas" in your favorite country bar is almost inevitable. The country music current is strong here — heck, you may even spot a real-life star like Tim McGraw, Faith Hill or Keith Urban walking a red carpet at the Country Music Hall of Fame or grabbing a Frothy coffee near their homes. But hang your hat in Tennessee long enough to soak up the vibrant energy of the city's eclectic neighborhoods, and you may find yourself falling madly in love with this "Crazy Town."
AT TOP: A colorful mix of old and new, Nashville boasts the historic honky tonk Tootsie's Orchid Lounge
Food+Travel