Next City
Go inside the ambitious plan to free Downtown from its concrete cage of criss-crossing freeways and break down the barriers that separate it from Midtown and EaDo. Welcome to Houston 2040.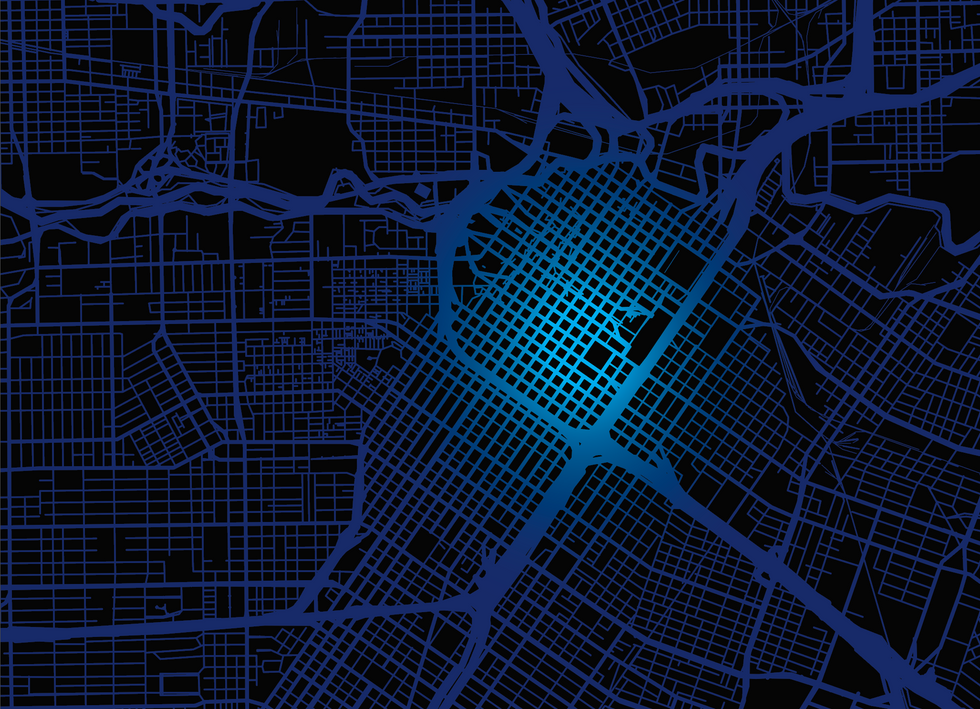 In an excerpt from his new book, Houston 2020: America's Next Boom Town — An Extreme Close Up, urban-planning reporter Ralph Bivins lays out a tantalizing vision for Downtown. In it, an abandoned elevated freeway on the fringe becomes a park rivaling New York's High Line, as once blighted areas emerge as prime real estate. Bold development ensues. The wildest part is that it's actually going to happen.
---
The boundaries of Downtown Houston will be erased over the next decade. 
The Pierce Elevated, a stretch of Interstate 45 that cuts across the southern part of Downtown will be removed. Supported by heavy-duty structural columns, the roadway has been a barrier between Downtown and Midtown. The groundlevel space under the freeway is a loud and filthy place, often used over the years by the homeless as a bed and a bathroom. Its removal means a grotesque fixture of blight leaves the city for good. 
Secondly, the freeway relocation will blur the eastern boundaries of Downtown. Where will Downtown end and EaDo (the redeveloping district just east of downtown) begin? Opportunities to realign the western edge of Downtown are emerging also. A great sea change is coming. 
Two decades from now, Downtown Houston may be unrecognizable from today. By then, the central business district of Space City will boast a Green Loop — a five-mile pedestrian and bike circuit connecting Downtown with adjoining neighborhoods, driverless cars, and no traffic lights or street signs — and an "Innovation District" housed in office towers built in the 1980s and 1990s that have been transformed into more collaborative space with more flexible gathering areas. At least, this is the vision of Downtown planners. 
Currently encircled by Interstates 10, 45 and 69, the Houston Downtown of tomorrow will no longer have those concrete thoroughfares separating the central core from the surrounding lower-density communities. The Central Business District will mesh perfectly with the other areas that were left behind when the freeways were built. 
And Houston's Downtown of 2040 will have many more green oases, including a grand public space similar to Klyde Warren Park in Dallas — a popular 5.2-acre park spanning over the Woodall Rodgers Freeway and connecting uptown with downtown Dallas — with traffic flowing underneath and people enjoying the outdoors above. 
The Downtown of Houston — the nation's fourth largest city — will undergo a transformation thanks to the North Houston Highway Improvement Project (NHHIP), which provides a unique opportunity to bring together parts of Houston that were separated when the highways were built decades ago. The Texas Department of Transportation (TxDOT), through the Project, has identified $7 billion in capital investments to support mobility and improve highway safety — and bring a more vibrant pedestrian life to downtown Houston. 
"The North Houston Highway Improvement Project represents a once-in-a-century chance to literally remake our central city, not just along the Pierce Elevated, but around Downtown and in areas to the north," says architect Guy Hagstette, vice president, parks and civic projects, Kinder Foundation. Central Houston Inc., a private, non-profit corporation, has worked for nearly a decade with TxDOT on managing the impact of the project and exploring opportunities with communities along the route. "The 'Green Loop' around Downtown and a greenway along Little White Oak Bayou to Acres Homes being proposed by the Houston Parks Board are great examples." 
Hagstette adds it is clearly an opportunity to replicate Dallas' success with its internationally recognized Klyde Warren Park — only Houston's version will be six times the scale and a part of the even bigger Green Loop. "With three sports venues and the George R. Brown Convention Center nearby, the park can be a neighborhood park for EaDo, a great introduction for visitors to Houston and its bayou trails system, and a sorely needed venue for the city-wide celebrations that are outgrowing Discovery Green and Eleanor Tinsley Park." 
Public and private city leaders are rethinking transit options based on the NHHIP, which calls for rebuilding the three highways encircling Downtown and realigning Interstate 45 to the north and east. 
"All the freeways around the country generally go through the downtown area and Houston is no different," says Ric Campo, the chief executive officer of Camden Property Trust and chairman of the Quality of Place Committee for the NHHIP. "Here, the freeways were built in the '50s and '60s. So today, when people think about Downtown, they see it is a ring of freeways. You have I-45 on the west, the Pierce Elevated on the south side — which connects 45 to south 59 — and on the north side you have I-10. Because of the age of the freeways, a lot of bridges have to be fixed, but rather than fix them the way they are, TxDOT is going to make major changes in the freeways' configuration." 
The relocation of these urban roadways will be monumental, like the changing of the course of a mighty river along an international border. The boundaries of Downtown Houston will never be the same. Prime urban real estate will be transformed. The road rerouting is similar to untangling a knot of twine.  
This road work is not a dusty proposal sitting on a bureaucrat's shelf. It will definitely happen, government officials say. "What's important is that the project is fully funded by TxDOT and it should start in 2020 and be finished in 2026 or 2027," Campo says. 
Bob Eury, president of Central Houston Inc., says the Green Loop is the major recommendation of "Plan Downtown: Converging Culture, Lifestyle & Commerce." The report is the result of 15 months' work with a very large, 19-member leadership group that was part of a 166-member steering committee. Central Houston conducted a huge public outreach, gathering input from a diverse group of interested parties. 
"It's fairly ambitious and is drawing the most attention," Eury adds. "TxDOT is moving forward with major reconstruction of the highways Downtown. Infrastructure improvements are needed, and it can become opportunity to redevelop edges of Downtown, to better connect it to adjacent neighborhoods." 
Here's what will happen: The main lanes of Interstate 45 will be reconstructed to run parallel to Interstate 10 on the north side, and parallel to Interstate 69 on the east. Then they will turn and fall into the right of way of Interstate 45 toward Galveston. With this reconstruction, the Pierce Elevated would not be needed. "Once the realignment is completed," Eury explains, "the Pierce Elevated could go away altogether or could be repurposed into a linear green space and reconnect Downtown with Midtown, the Fourth Ward and Freedmen's Town, which were cut off in the early '60s when the freeways were constructed. 
"On the west side by City Hall and Hobby Center, some of the buildings could be reoriented. There are some 100 acres on the west side including the municipal courts, police and fire, as well as the Theater District. There is a tremendous amount of city-owned land in this area offering opportunities for new and redeveloped public and potentially private buildings."  
Building a park on top of a portion of the freeway would be a welcome amenity for residents. "On the east side, the new freeway will be below grade — in a trench, with a cap over the top — so there could be an open area," Eury says, and it would be "considerably bigger with a larger amount of green space" compared to the one in Dallas. The Klyde Warren park achieved something else — a significant increase in property values as land near the park became valuable locations for development. The Dallas park was a launch pad, and it is now ringed with new development, much of it high-rise. 
The road rebuilding will deliver strong economic benefits, officials say. HR&A Advisors, a consulting firm focused on real estate and economic development, analyzed the potential economic and community benefits of the plans for Houston. HR&A found that full implementation of the plan — ranging from highly activated regional parks to more intimate neighborhood gathering places and trails along the bayous to redeveloped green districts — would generate economic benefits of between $5.6 billion and $9 billion over 20 years. Implementation of the plan, HR&A says, will generate increases in the value of existing real estate assets, new development, new visitor spending, and worker and resident attraction to central Houston.
Equally important are plans to ''enlarge'' central Houston. Although Downtown is still the largest business district in Houston, in recent years it has not grown that much in total employment, Eury says, "so we've set a target of increasing employment by 20 percent. That may seem timid, but we must grow. We see it happening in two ways. First off there is a fabulous stock of buildings Downtown built in the 1970s, 1980s and 1990s. One of the things we're seeing in today's workplace is more collaborative space and more flexible gathering areas. So, there is existing product primed for transformation." 
Additional growth will sprout as aging office properties are redeveloped, which will make them more attractive for corporate expansion. For example, Brookfield Properties recently spent $50 million for a redo of the Allen Center office complex. Brookfield also purchased the 4.2 million-square-foot Houston Center complex in 2017 for $875 million and a major redevelopment is planned. 
Another key to Downtown's future growth is convincing more companies to move to there. "There are new state-of-the-art office towers entering the market, including two developed by Hines and one by Skanska," says Eury. "Energy is important to us, but it is far more technological now than it used to be. With all that adaptability comes innovation. We're already seeing innovation and startups Downtown, and we're planning for a strong innovation district within Downtown. The reason is simple: Research has shown that the number of patents correlates to the density of people." 
Another benefit: The state-funded improvements mean Houston could have both faster-moving traffic and cleaner air — counterintuitive as that sounds. Motionless cars stuck in traffic produce more emissions than traffic passing smoothly. The improvements in design are expected to increase speed on Interstate 45 by 25 miles per hour, says Campo. "This would reduce the 'smokestack effect' that occurs when people are driving 25 miles per hour slower," he says. "Going that extra 25 miles faster improves Houston air so much that some say Houston could be in compliance with the Clean Air Act just from this project." 
Reconnecting Houston neighborhoods that were left behind by the highway construction is very important, and so is the increase in parks and green space that will be a great addition to Downtown. "It's one more reason for companies to be attracted to a Downtown location," says Downtown office broker Paula Bruns, vice president of Colvill Office Properties. "Downtown already has significant amenities — restaurants, hotels and apartments, and it is very walkable. Removing the Pierce Elevated will make Downtown more attractive for tenants."
A v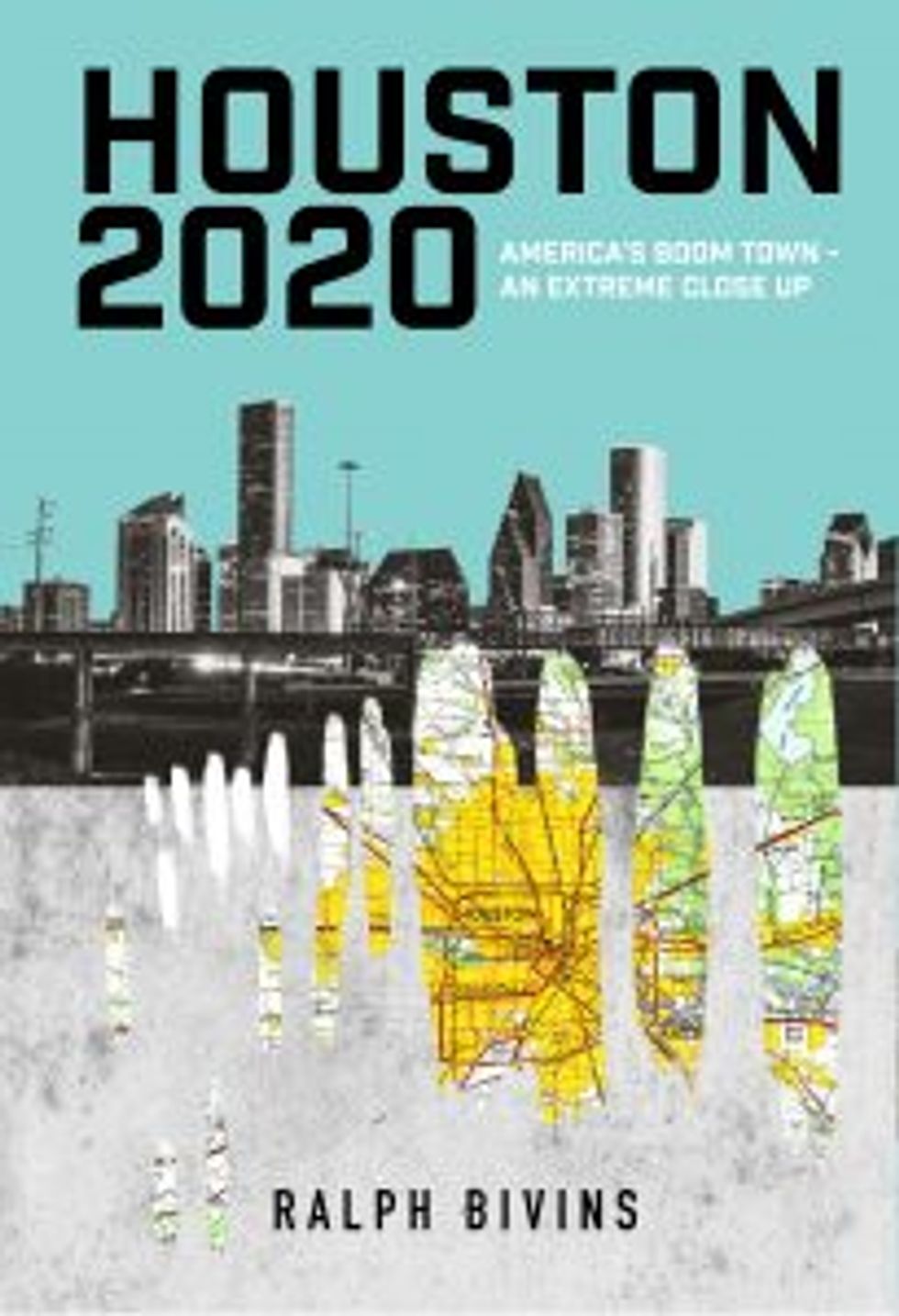 eteran journalist formerly on the Houston Chronicle real estate beat, Ralph Bivins is the editor of Realty News Report. His Houston 2020 digs into the city's most urgent and interesting trends, and charts its trajectory over the coming decades. It includes painstakingly researched chapters on the impact of Hurricane Harvey, the Astrodome redevelopment project, the remaking of Post Oak Boulevard, the likely explosive growth of Port Houston, the greening of H-Town and more. Houston 2020 is available on Amazon.
Business+Innovation