Is This Pocket of Adrenaline- and Art-Filled Parks Houston's Best Kept Secret?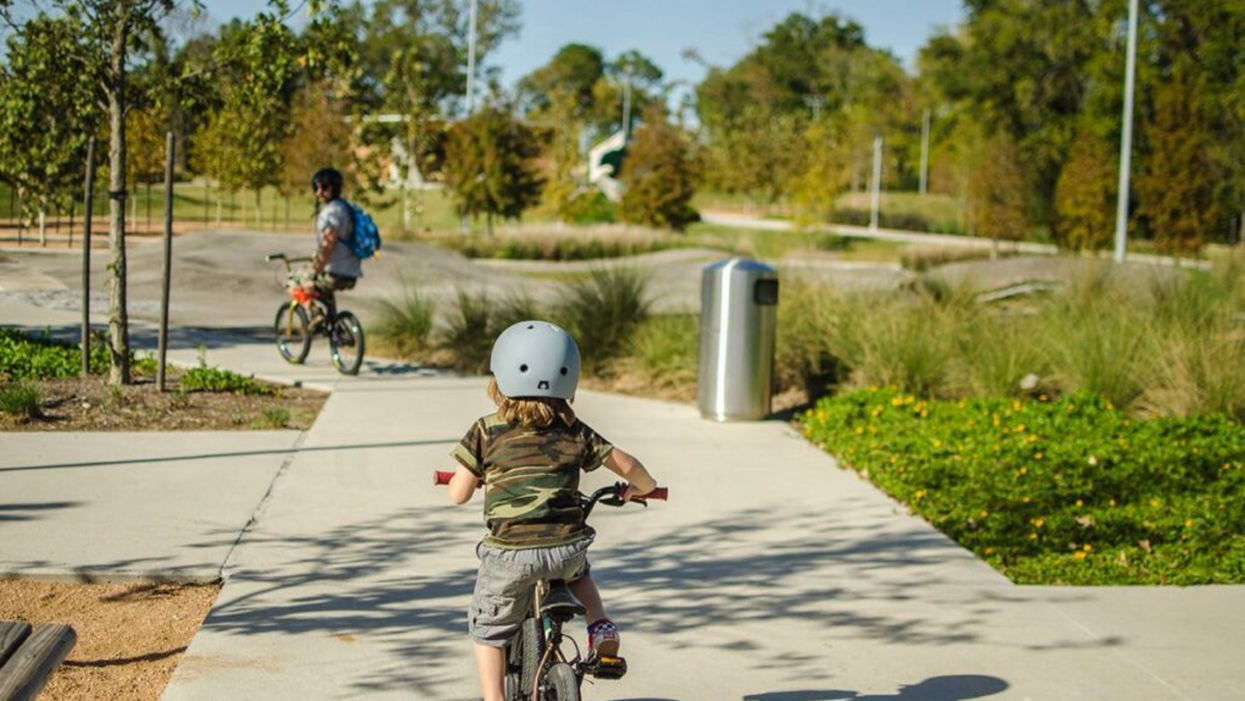 IN 2004, THE North Houston Redevelopment Corporation started using parks and art by top artists to reimagine the area. In 2022, the landscape is coming alive — and it just may be the city's best-kept secret.
---
"I've always felt art is an important part of any infrastructure because it gives life to concrete and mortar," says Executive Director Sally Bradford, who joined the North Houston Redevelopment Corporation in 2003, and at that time asked to add public art to every project it built – bridge, park or street reconstruction. A lover of art in all forms for many years, Bradford's own paintings have been shown in galleries from coast to coast.
In the past six years, the corporation completed the 30-acre North Houston Complex, inclusive of Rockstar Energy Bike Park, Skateboard Park and Dylan Park, which is a playground designed to be completely accessible to children with all ranges of abilities. Skateboard Park has hosted the Australian Olympic winners for practice and had multiple visits from legendary American skateboarder-entrepreneur Tony Hawk. And skateboarding prodigy Jordan Santana — at just 17, she made the first-ever U.S. Olympic skateboarding team last summer — trains here.
And among all the half-pipes and adrenaline, there's tons of art to be found — 30 pieces and counting, in fact.
The first commission was by the internationally renowned local artist Dixie Friend Gay, known for her lush paintings of the mysteries of nature and her "Houston Bayou" in the Terminal A-B lobby of IAH. The first mosaics were installed on Dylan Park's Benmar Bridge, and her pieces soon graced the park entrance's iron butterfly gate, a mosaic sign portraying the park name, and a sprawling arbor wall. The murals are childlike in design, with bright colors to encourage play and a focus on texture for the visually impaired.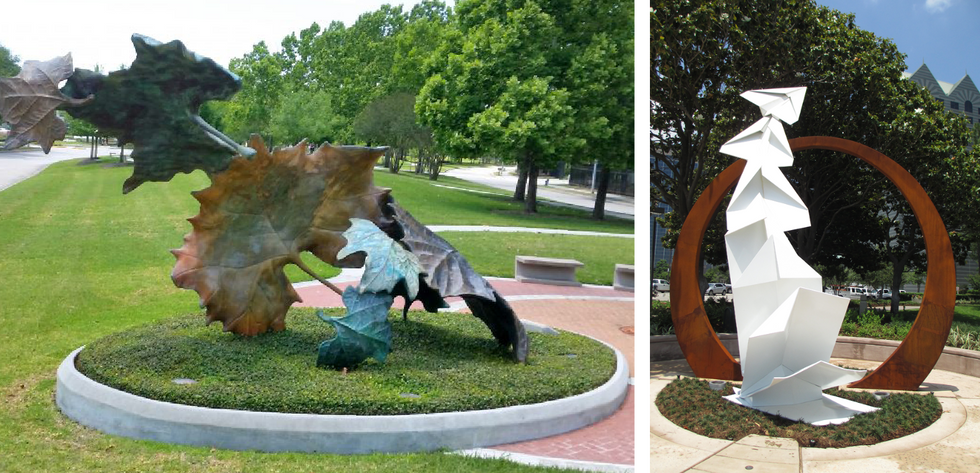 'Blowing Leaves' and 'Folded Plane' by Kevin Box
And the most recent addition is by hall-of-fame skateboarder and artist Steve Olson. Olson sculpted Crossed Upside Down — a large pipe with a bronze skater rolling inside the loop — for the North Houston Bike Park, where he previously installed another epic life-size sculpture of a BMX rider doing a trick upside down on a pedestal, High Noon.
Beyond the tracks, "we created a pocket art park on Greens Parkway and Greens Crossing featuring art by Kevin Box, Eric Ober and Lee Littleton," says Bradford, noting that the Corporation frequently scouts artists at the Bayou City Arts Festival. "Box created the wonderful Folded Plane sculpture we placed at the entrance to the Hilton Hotel on Greenspoint Drive and the Blowing Leaves piece on Greens Parkway."
Bradford and the North Houston Redevelopment Corp will continue to add, renovate and beautify major capital projects — including parks, art plazas, pedestrian amenities, streets, bridges, lighting and educational facilities — to encourage new development and enhance the quality of life for area residents, employees and visitors alike.
"Art is life!" she reminds us.
Art + Entertainment