Of Melodies and Medicine
Therapists at one Houston hospital are proving that music heals — and now even former skeptics are singing a new tune.
Traci Ling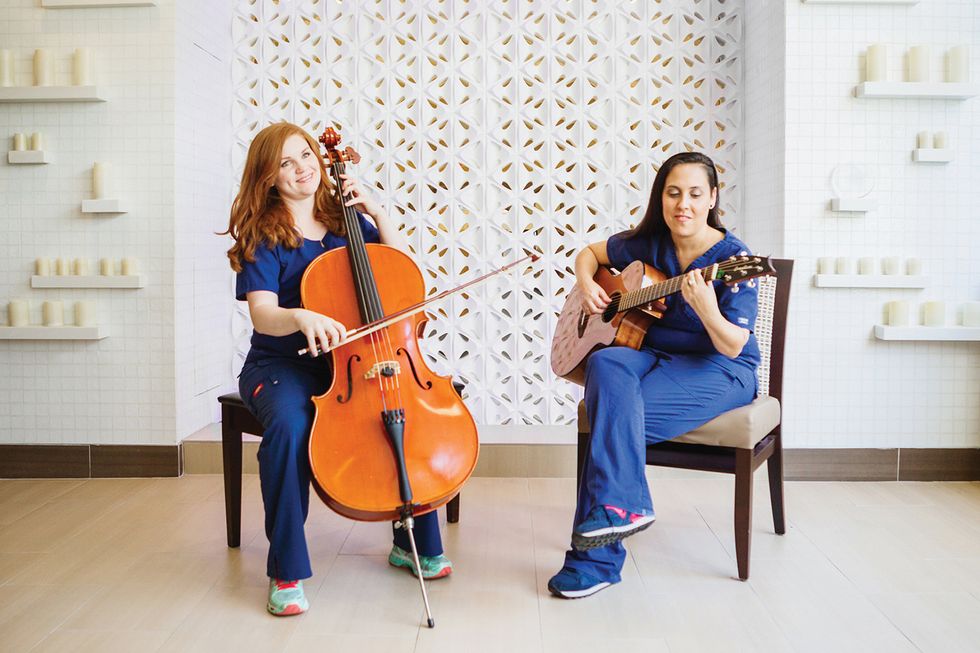 In a small gymnasium at TIRR Memorial Hermann, a 43-year-old patient named Jason, dressed in a Texas A&M t-shirt and gym shorts, sits before a double-headed floor tom drum, held in place by his music therapist Maegan Morrow, who wears a big smile. He is thin, with tattoos on both arms, and radiates tough-guy inner resolve. Slowly, and with some effort, his movement matching the steady beep of a metronome, he leans forward to tap the head of the drum with his fingertips on the "one" of every four beats. For Jason, who suffered a massive stroke while vacationing with his wife in Jamaica, this simple exercise, one of several neurologic music therapy techniques, is gradually helping him regain control of his body.
---
"I'm engaging the whole brain, including the auditory," explains Morrow, who, along with Amy Marroquin, is one of two senior music therapists at TIRR Memorial Hermann. "When I apply a metronome into the environment, the body's motor system has to entrain with it." She and Marroquin see an average of 30 patients every week. Jason, who has worked with Morrow since January, is unable to swallow, speak more than a few words at a time, or stand and walk on his own — but is developing control of his upper extremities, thanks to the integration of music therapy along with traditional physical and occupational therapy.
"Music as a therapeutic medium has been around since the dawn of time," says Ann Morrow, the senior music therapist at TIRR Memorial Hermann's The Woodlands campus, who also happens to be Maegan's sister-in-law. "But now we've got the research and hard evidence to really back it up."
That evidence is the result of functional magnetic resonance imaging advances in the late 1980s, which showed how music affects the brain in statistically significant ways. Based on this research, which focused on the adult rehab population, especially traumatic brain injury patients, a system of neurologic music therapy was developed by Michael H. Thaut, professor of both music and neuroscience at Colorado State. More recently, the therapy has been adapted to cater to children as well.
"Now let's take a music break," says Maegan, and Jason's wife Dandi, who joins him in these sessions, cues up a raucous track by The Black Keys on her husband's iPod. Jason — a fan of drum- and guitar-driven rock 'n' roll — was initially skeptical of musical therapy, mainly because of its potential for corniness. But Maegan, a 37-year-old self-described "metal head" born and raised in Houston, appreciates Jason's musical tastes.
"I'm not going to make Jason do any of the hokey stuff that I do," says Maegan, who studied vocal performance in college before switching to a music therapy major. She now draws on her singing and guitar-playing skills to connect the fundamentals of music a patient likes to stimulating injured areas of the body and the brain. Whereas one patient might love singing folk songs, another might prefer moving his arms and legs in time to classical music or punk rock.
"We work with all of the tools music has to offer," says Ann. "Whether it's rhythm, melody, dynamics, or even a nostalgic or emotional connection. All of those things have a direct tie to a non-musical goal, be it memory, attention, speech or motor production." For instance, for TBI patients who have lost the ability to speak, Ann might ask them to sing, rather than speak, phrases they need to use in daily life, such as "I'm hungry" or "I'm in pain." The patient learns to sing these statements as melodies, which in turn match the natural inflections and rhythms of speech.
Neurologic music therapy benefits many different populations, including patients with Parkinson's and Huntington's disease, cerebral palsy and Alzheimer's disease. Since each patient's needs are different, Maegan, Marroquin and Ann are often called upon to play the role of a one-woman band. "You get really creative," says Ann, who may sing and/or play cello, guitar, djembe, piano or Autoharp, depending on the goal for a patient in a session. "If you get too comfortable on one single instrument, you're probably not going to be the best music therapist."
So how does one know neurological music therapy is working? Consider Congresswoman Gabrielle Giffords, who survived a gunshot wound to the head during a mass shooting in 2011, and regained her ability to speak thanks to her music therapy sessions with Maegan. (Giffords famously shared a video on Facebook of her and Maegan singing "Maybe" from the musical Annie.) For those who see neurologic music therapy in action, its benefits are clearly evident, yet music therapists in Texas and across the country still find themselves fighting for legitimacy.
"TIRR Memorial Hermann provides music therapy for Jason and for any patient we feel will benefit from it," explains Maegan. "Insurance companies generally do not reimburse for this service." But TIRR is educating staff at satellite Memorial Hermann hospitals about the benefits of the therapy; in fact, TIRR has become an international hub for neurologic music therapy training.
"All the doctors get it," says Maegan when asked about the supportive environment she and her colleagues enjoy at TIRR Memorial Hermann. "They let us do research. People can become territorial about their focus. But here, we are constantly cross training and educating each other. TIRR is my school. I'm learning something new every day."
Back in the gym, Jason is now standing, with some help from his wife and an occupational therapist, and stretching his arms out, right alternating with the left, and again in time with the metronome, to tap a pair of drumheads held by Maegan. Gradually, with a musician's sense of time, she moves the drumheads further apart, to the edges of Jason's peripheral vision, her eyes taking in the minutiae of his movements, as his body regains its strength through the healing power of rhythm and sound.
Business+Innovation