Pink Lady
In the Bahamas, a sweet little renovated hotel — tinted rose and awash in colonial history — beckons visitors with unique experiences and chic, breezy charm.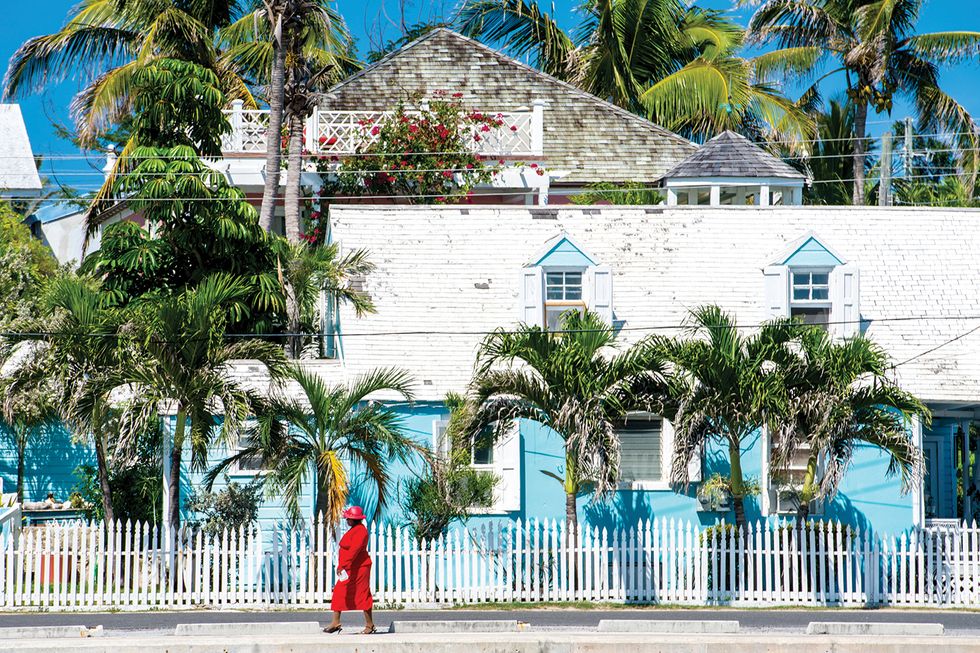 There's already plenty of Caribbean charm on Harbour Island, Bahamas, a bright pastel and turquoise-toned haven, only 3.5 miles long and known for its colonial lore and breezy tropical glam (beloved by visitors like Diane von Furstenberg and the Duke and Duchess of Windsor). Nowadays, the best-kept secret is the Bahama House, a tranquil, dusty-pink luxury hotel from Eleven Experience, the Colorado-based lodging collective that adheres to adventure and bespoke offerings.
---
Last January, the owners unveiled the renovated space in the bones of an 1800s compound, a nod to the island's friendly and storied nautical roots. With interior direction by London-based Blake Pike, the property kitted out its 11 rooms and stylish guest cottages with four-poster beds, plantation shutters and eco-chic grass-cloth-covered walls. Elsewhere, the style largely smacks of hip island vibes: rattan, coral, bamboo, pineapple prints and shell-encrusted mirrors, and in the living area, a tall duo of vintage peacock chairs.
Back outside, under a canopy of palm fringe, a central courtyard is flanked by a coral stone swimming pool. Of course, more often than not, you're barefoot and nabbing a stool at the tiki bar, where island music plays and the amicable bartender Richard shakes a local Goombay Smash with rum, apricot brandy and fresh fruit juice. And then you're counting down the minutes until chef Nicky appears with a fresh conch ceviche and mango guacamole with plantain chips. It all feels less like a hotel and more like a stylish friend's house — there's even a friendly ruddy-orange resident cat called Bob. Meanwhile, a handsome, dark paneled library and de facto Rum Bar houses small-batch Caribbean varietals like Afrohead and John Watlings.
Then comes the brand's legendary, one-of-a-kind service. The hotel's self-dubbed "experience managers" create customizable itineraries and adventures. Start your exploration along the lush, northern coast of Eleuthera; take in the dramatic views of the shallow coral reef of Devil's Backbone followed by a look at a pineapple farm and then lunch at the tasty local stop Surf Shack. Alternatively, the zippy houseboat, a Scorpion Rib, whisks you to secluded beaches, including a quick jaunt to the sweet (and highly Instagrammable) swimming pigs at Spanish Wells and snorkeling with the loggerhead turtles.
And that's not all. Come December, there's a top-notch seafaring adventure on the menu: the 74-foot Hatteras, usually docked in the Florida Keys and Everglades, parks in South Andros, where pristine swaths of white sand flats serve up some of the world's best bone fishing. On the boat fittingly dubbed The Mothership, six guests can spread out over three staterooms outfitted in island style and equipped with guided skiff, top-shelf fly, spin and plug gear. In the evening, kick back while a five-star chef prepares meals, often known to include Bahamian rock lobster and baked land crabs, caught on the back roads after a heavy rain and served with Pigeon peas and rice; alongside rum cocktails.
Back at the House, venture out for a morning beach run, or a horseback ride, and return to an outdoor breakfast spread of made-to-order lobster enchiladas, buttery grits, freshly baked pastries, fruit and local coffee. Later, grab a golf cart and tour the island or opt for some retail therapy. Start at native tastemaker India Hicks' one-of-a-kind boutique, The Sugar Mill, which stocks beachy cotton kaftans, palm scarves, strappy sandals and bathing suits. Nearby Dake's Shoppe carries straw baskets and woven textiles while the venerable, locally loved Miss Mae's sources a hodgepodge of delights from linen sheets to Irish pine furniture. Of course, dining out is requisite: lunch at Sip Sip and dinner at the Dunmore, and then show off your Caribbean grooves with twilight digestifs at Gustys followed by dancing at the boisterous Daddy D's.
As in all good trips, traveling with friends and family is always a plus. Those looking to celebrate a milestone birthday or reunion can buy out the entire property, which sleeps 22
The best advice? Travel light. Very light. Don't even pack suntan lotion — it's all part of the package. Regardless, the small, charming confines of the island property dazzle, often transporting a guest to somewhere around a golden sunset with a handshaken drink in hand.
Nobody complains. And life is good.
AT TOP: The streets of Harbour Island, Bahamas, are full of color and charm.
Food+Travel