Purple Pros
Hot interior designer Nina Magon and her Bellaire clients go bold, mixing daring color into a mod, Italianate, black-and-white stunner.
Julie Soefer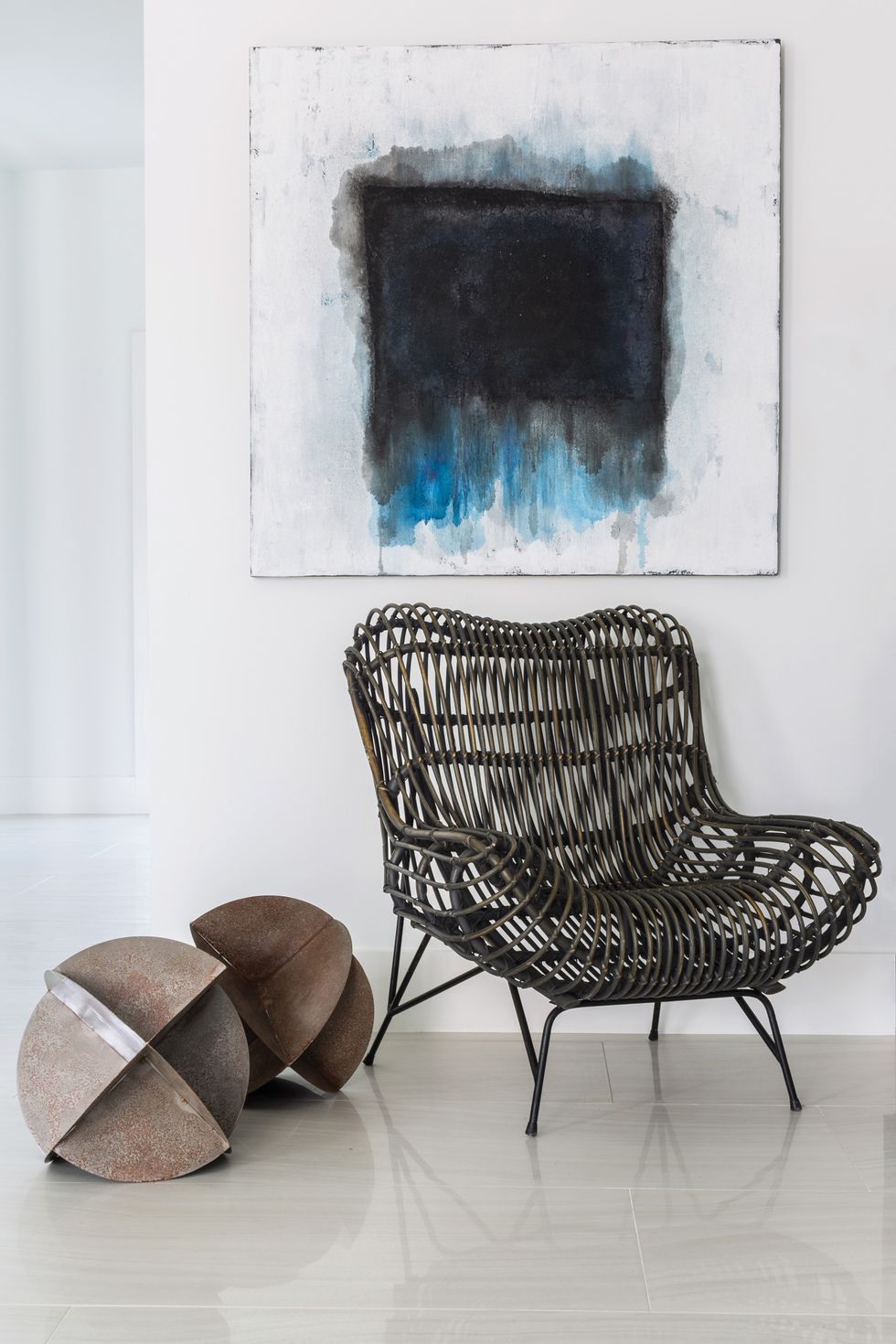 Houstonian Nina Magon, principal of Contour Interior Design, has been anointed by Popsugar as "the design industry's next it girl," and Oprah's décor guru Nate Berkus has declared, "Nina is a design force to be reckoned with!" And Magon's latest glam masterpiece in an enormous 7,000-square-foot contemporary Italianate villa in Bellaire is a perfect example of what all the buzz is about. The homeowners, who are the parents of two small children, "wanted modern, but not cold modern," explains Magon, 37. "I went for a mod-Italian-European feel."
---
The grand exterior of the home — a massive, white two-story estate with soaring arches and classic Italian molding around the roof — boasts a side entrance, evoking the sublime country garden tradition of villas, but with a modern twist: An iron gate opens to a leafy courtyard, featuring a long, sparkling swimming pool and a hot tub. A relaxing stroll through through this private walled sanctuary leads to the main door.
Once inside, the vibe immediately shifts from serene to spectacular, with a vast open space flooded with natural light. Chic and unique statements abound in the family room on one side, and the living area on the other. Flooring throughout the first floor is gray porcelain with a gloss finish, which Magon selected "because it is low maintenance," and, along with the white walls, creates the perfect backdrop for the furnishings, art and vibrant pops of color.
While in the rest of the home the ceilings are 10 feet, in the living room there is a 22-foot ceiling that dramatically rises to the top of the second floor. A set of spherical, metal-mesh light fixtures sourced from Moooi dangle over two sleek dark-gray sofas from Ligne Roset — "So comfortable that it feels like you're sitting on foam," says the designer. Against this backdrop appear stunning accents like a geometric-patterned cowhide rug with swaths of bright blue and gray, created by Texan Kyle Bunting. And a fireplace encased in a large onyx slab "changes from monochromatic brown and beige when the lights are off, to a cool blue when the lights are on," explains Magon. A compelling painting by Houston-based conceptual artist René Garza — also a Houston CityBook fashion stylist — hangs on a wall next to the fireplace; a white square seems to be melting into a rich, royal blue background.
There is a seamless flow into the family room, where there's a luscious custom gray leather sofa and two cozy gray swivel chairs, designed by Magon in the shape of a cupcake that's been halfway hollowed-out. Each chair sports colorful pillows by Christian Lacroix, and between them is a small table crafted from reclaimed wood, on which a whimsical metal lamp in the shape of a primitive figure looks ready to break into a tribal dance. A hand-knotted Tibetan rug in a swirling pattern of blue, pink and brown grounds the space. "I like to use different textures together because that creates more interest and a sense of the unexpected," says the designer.
Magon's mixed-material motif spills over into the dining room, for which she designed a wooden table that seats eight, with a concrete top finished with a gray patina. There is also a more intimate dining space in a small alcove with a custom dark-gray-upholstered banquette, built to perfectly fit into a curved wall. Here, a round café table is the inverse of the dining table, with a metal base and a wood top. Behind the banquette, there's a colorful panel of dream-like wallpaper from Casa Mance, with white and subtle shades of blue running together in an otherworldly fog.
While most of the downstairs is open-concept, there are doors that lead to a separate media room. "When I first walked into the room there was an echo," recalls Magon. So soundproofing material was installed over the walls, and Magon had the inspiration to cover that with gray silk, laid out in different geometric shapes, thus transforming something utilitarian into a cool design element. There's a big sectional sofa from Poliform in, of course, gray, and an oversized purple ottoman by Roche Bobois doubles as a coffee table. Underneath lies a silk and wool rug sourced from Surya, which blends gray, black, white and purple. The room includes a built-in bar, making it the ultimate sophisticated chill-out space.
But if a prize were given for the most unconventional room in this unconventional home, it would go to the upstairs master suite, which bucks the tradition of using a soothing palate in the bedroom. Referring to the homeowners, Magon says, "He likes pops of color and she likes black and white." So when it came to their bedroom, Magon went with the lady's choice, selecting wallpaper in a wild black-and-white splatter-paint design and framing the fireplace in hexagon-shaped black tile. On either side of the bed hangs a black metal pendant with multiple dangling glass strands.
The overall look is a little edgy, totally dynamic and completely unique. Small wonder that one of Magon's favorite quotes is by Johann Wolfgang von Goethe: "Boldness has genius, power, and magic in it."
Uncategorized