Retro Fits
At Houston native Ford Fry's new sister setups, Superica and La Lucha in the Heights, nostalgia for old-school, pointedly unpretentious Tex-Mex and Southern-fried fun is the main ingredient.
Trevor Gerland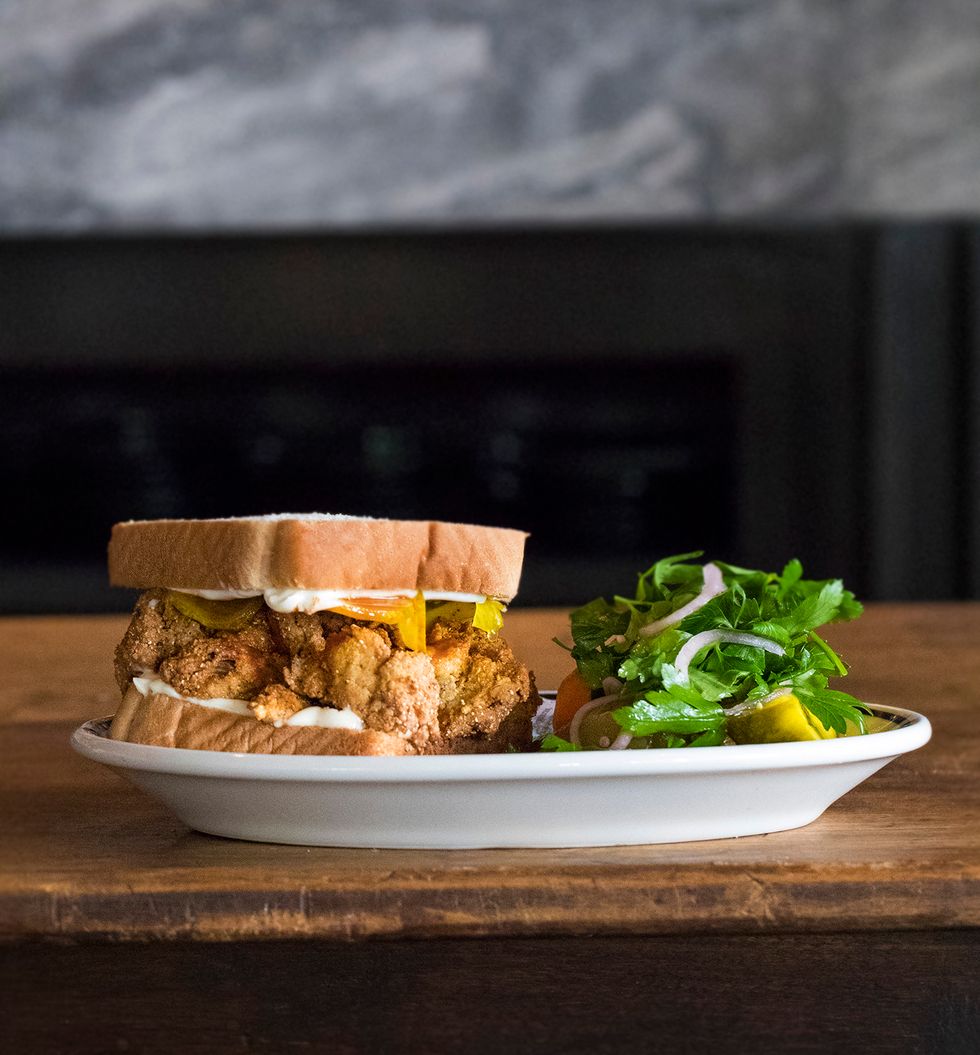 Ford Fry, the tall, bright-eyed Atlanta restaurateur, admits that it was "pretty ballsy" to open an outpost of his wildly popular Tex-Mex restaurant called Superica here in Houston. "There were a lot of naysayers," he says. "'What's a guy from Atlanta doing opening a Tex-Mex spot here?' But people don't realize, it's what I grew up eating in my hometown."
---
A River Oaks native, Fry, 49, opened State of Grace across the street from his alma mater, Lamar High, in 2014. He later acquired the shells of Treadsack Group's shuttered restaurants Bernadine's and Hunky Dory. "We looked at the neighborhood and thought about what it needed, and what the people would want." The answer, as it is most everywhere in Houston, is really good Tex-Mex.
At Superica, there's a warm atmosphere, which Fry notes "doesn't feel like a Mexican restaurant" — and this is by design. Elements like vintage school-house chairs and pieces of odd taxidermy dot the dining room, while the bar serves as a focal point with its hard-to-miss landmark Felix sign — yes, it's the real deal, brought in specially from the shuttered iconic restaurant, whose building now houses Uchi.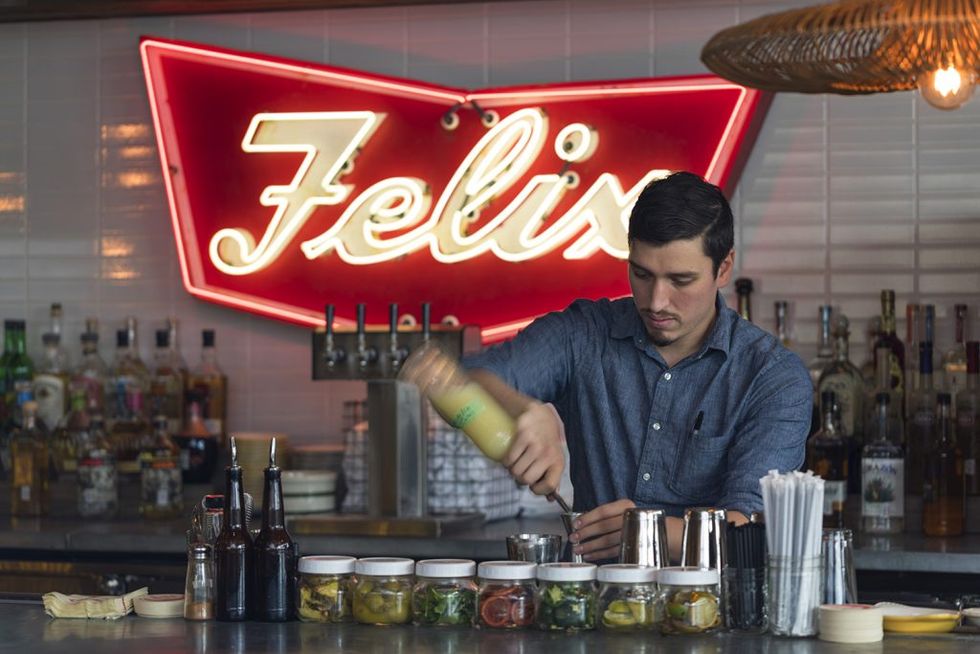 The original Felix sign hangs behind the bar at Superica.
Under the direction of Kevin Maxey, the menu is classic and approachable with tinges of nostalgia. Fry, who went out for Tex-Mex about "three times a week" growing up, says they created many recipes from memory, like the one for his Mississippi Delta-style hot tamales: "When I was a kid, there was a truck that drove through my neighborhood selling tamales. They came with a really thin chili, and we ate them with crackers." 
For a guaranteed Insta-worthy cheese-pull, there is the queso fundido with housemade tortillas, and the barbacoa tacos, served in threes, are large and in charge, heaping with slaw and chunky avocado.
While Superica may serve as a Tex-Mex rewind for some, Fry's new concept next door acts as a time machine in a sort of a different way. La Lucha draws inspiration from the chef's memories of family-style dining at East Houston's San Jacinto Inn after church on special occasions. "It was always a big feast with all-you-can-eat shrimp and oysters and crab, then fried chicken and biscuits," he says. 
A retro-chic, low-lit room is accented by vintage church-pew banquettes and loungey corners with leather furnishings; the intimate dining space is busy with the hustle and bustle from the open kitchen. The dining room is kept under the watchful eye of the original San Jacinto Inn staff, with an old photo framed at the restaurant's main entrance. Their gaze leads to an oversized bar where knick-knacks and paintings decorate the walls, and a towering shelf of spirits serves as a stylish backdrop next to a clock that remains set at 5pm. Clever. 
Caviar-and-onion dip, served with Pringles at La Lucha
Helming the kitchen at La Lucha — in addition to Fry's flagship State of Grace — is Executive Chef Bobby Matos. Matos sharpened his culinary chops with stints at Ciao Bello under the direction of Tony Vallone, and at Brennan's alongside Danny Trace. Here at La Lucha, he's having some fun — and wants diners to do the same.
The limited menu includes platters of fried chicken and lots of seafood. "We bought thousands and thousands of pounds of Louisiana crawfish and stuck it in the freezer so we could offer it year-round," says Matos. 
And stocking up isn't a bad idea when dishes like the crawfish bread — "gooey and cheesy and yummy," says the chef — are as delicious as they sound. The fried oyster loaf finds corn-meal-battered oysters stacked between extra-thick pieces of Mrs. Baird's bread and seasoned with Duke's mayo, Crystal hot sauce and pickles. "It's food that is great to drink with."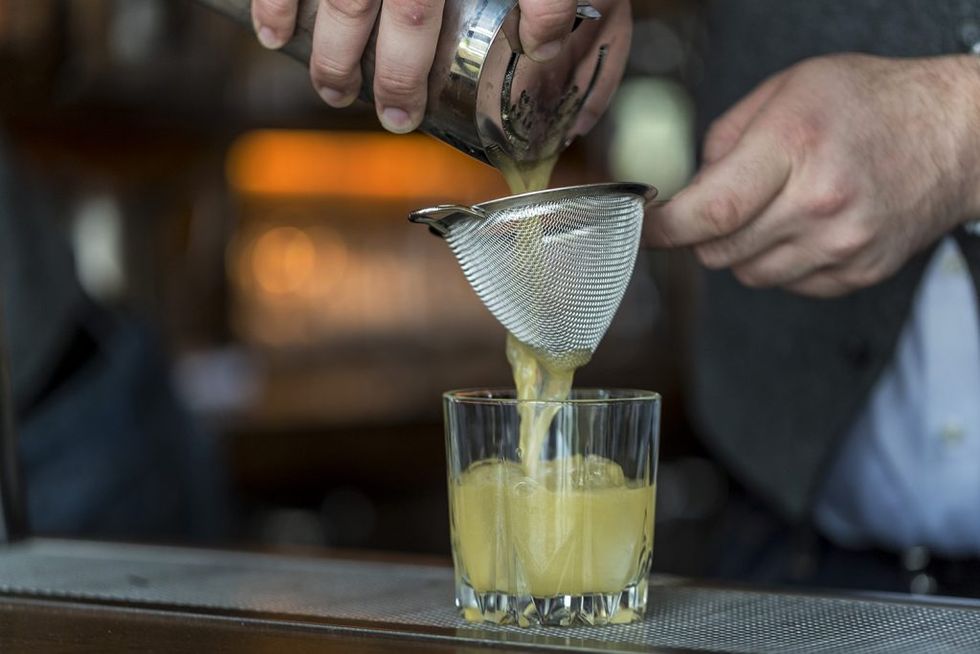 A simply shaken cocktail at La Lucha
And drink you must. La Lucha boasts a long list of bubbles and an impressive 27 selections of mezcal. On the ground at La Lucha to assist in selecting among the bottles featured prominently behind the bar is Beverage Director and General Manager Matt Crawford, also a State of Grace transplant. He urges guests who fear the intensity of mezcal — or the "sliminess" of raw oysters — to set their worries aside and simply "slurp an oyster and sip some mezcal" for an explosive combo. 
La Lucha's latest addition of oyster happy hour, which boasts $1 oysters every Saturday and Sunday, makes it easy to drop in and finish off with dinner at Superica in the same day. 
Just add mezcal.
AT TOP: The fried oyster loaf sandwich, smothered in Duke's mayo and Crystal hot sauce, at Ford Fry's La Lucha in the Heights
Food+Travel