Set Sail!
Visitors to Bermuda, host of the America's Cup this spring, will find not only the expected pink sands and centuries of Caribbean and European history, but also a fabulously renovated grand resort flush with modern art and reimagined island cuisine.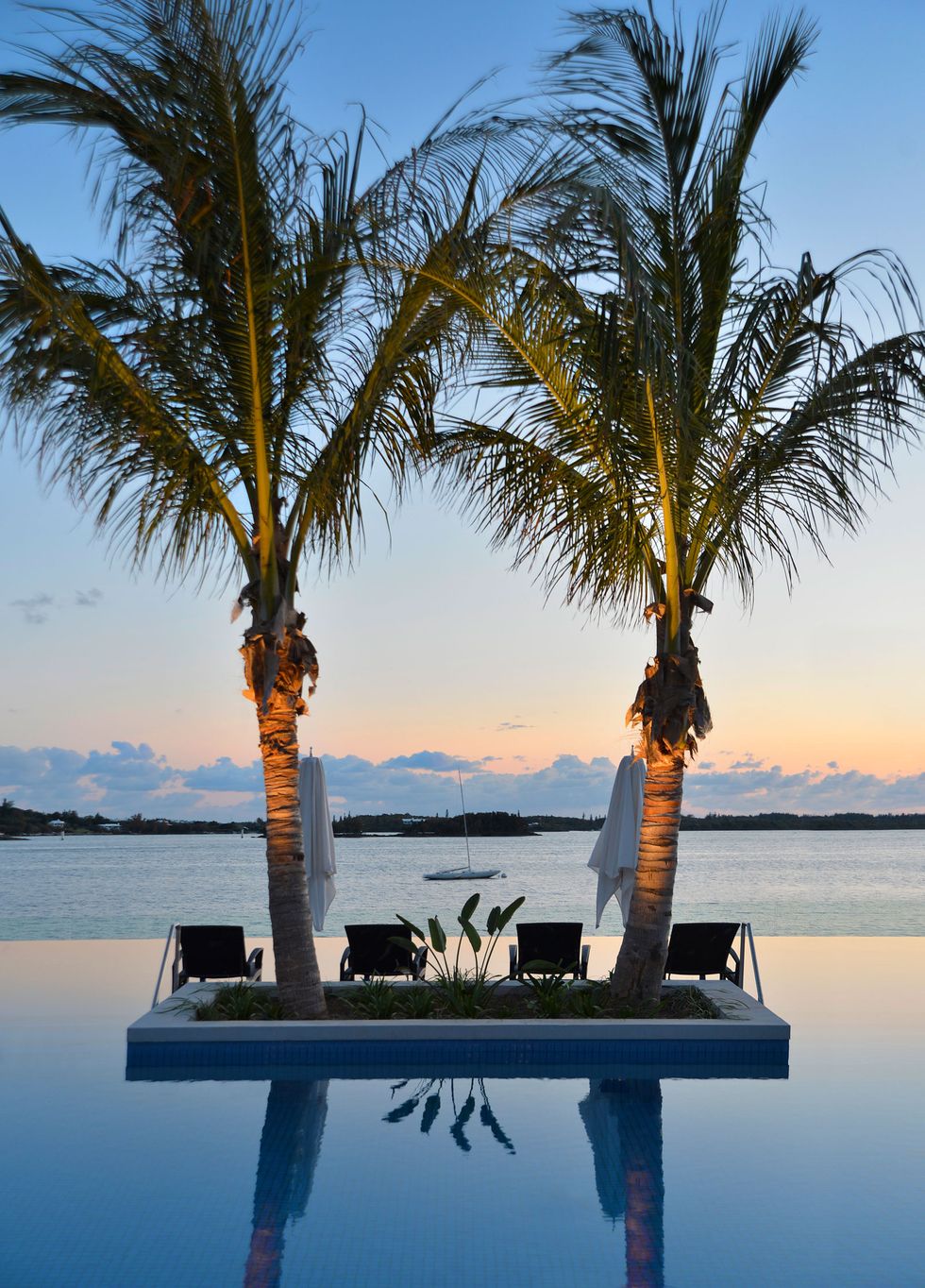 THERE'S A LOT THAT PEOPLE seem to know about Bermuda. There are the 75 miles of famous beaches, with cerulean water and sand tinged pink by tiny, crushed pieces of coral and shell. And any word-association game will bring to mind the Bermuda Triangle, the mysterious oceanic space in between Florida, Puerto Rico and Bermuda, where a dozen ships, planes and people are said to have disappeared. But despite the age-old sense of mystery and fright, the sailing culture of the island — there are year-round competitions and festivals — is peerless and publicized. That's especially true this year, when the prestigious 35th annual America's Cup comes to Bermuda in May, hosted at the historic Princess Hotel & Beach Club.
---
But for everything that is known, a lot remains available to question during a trip to this island 650 miles off the coast of the Carolinas. How can a place feel simultaneously European and Caribbean? What accents are those? How do so many cars fit on such narrow roads? Luckily, Bermuda is a beautiful destination not only for beaches, but for discovery. Just a few days here are enough to uncover the island's unique culture, meet welcoming locals, and tour the scenic island.
A 20-minute ride from the east-side airport to the capital city of Hamilton, a central location with a bustling port and shopping district, is enough to get a taste of the lifestyle in the former British colony. Tiny houses with pastel paint and bright white roofs — all designed to catch rainwater, as there is no freshwater source on the island — dot the winding roads, and parishes are properly called names like Devonshire and Southampton. Lush greenery parts to reveal sparkling turquoise water, lapping up against ragged rocks on the north side, and washing ashore on gently curving arcs of pristine sand on the south side. Depending on the driver — probably a jolly local who exhales puffs of smoke out the window of a minivan — passengers may avail themselves of a free history lesson as they pass consulate buildings, lighthouses and centuries-old forts.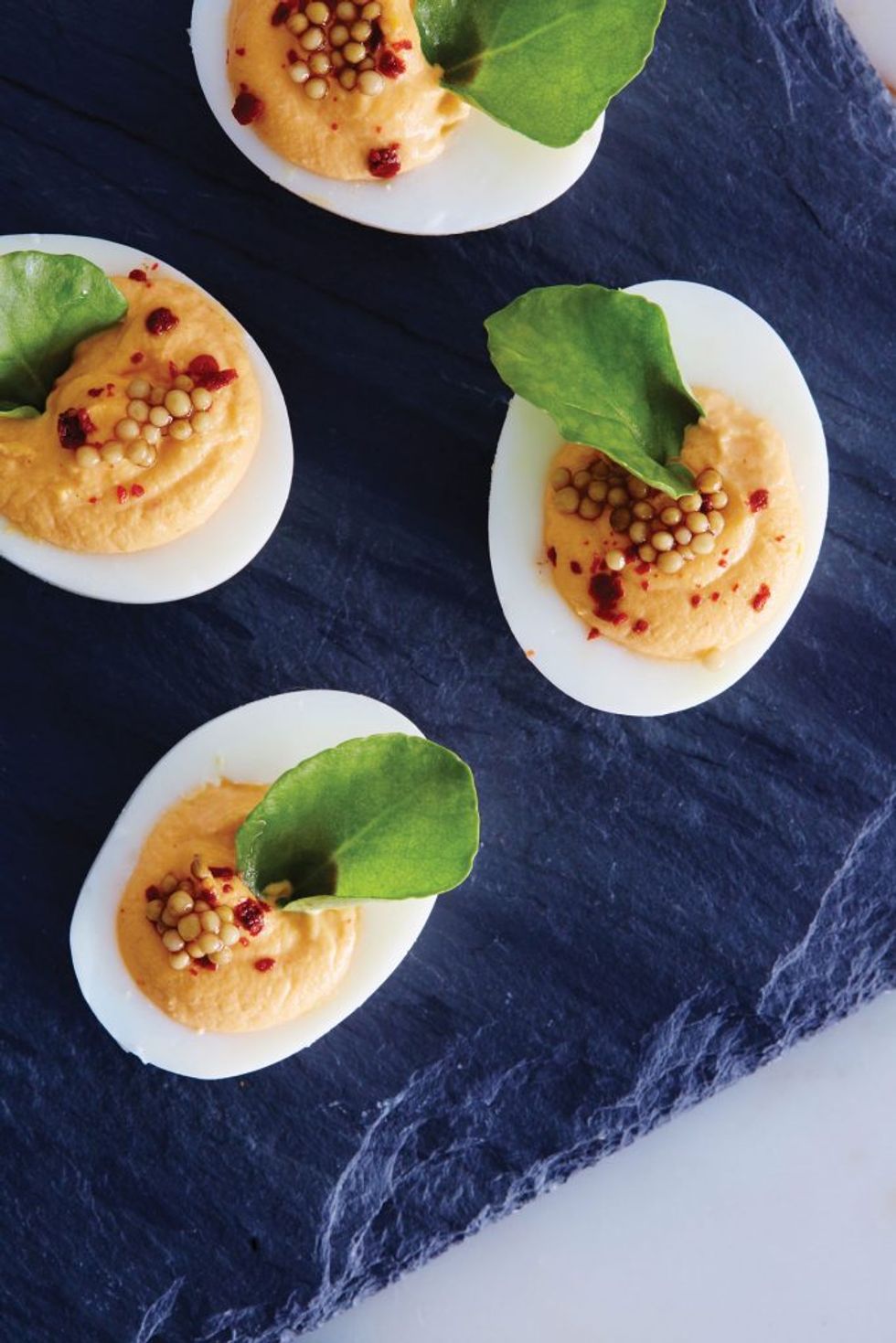 Deviled eggs with hot pickled mustard seed at Marcus'
Hamilton itself is quaint and clean, and the newly renovated 100-year-old Princess Hotel & Beach Club, known as the "pink palace" due to the color of its stucco, and perched on a busy harbor, is a glamorous way to experience the town. The Princess greets guests with a light, bright, art-filled lobby: "Reigning Queens" by Andy Warhol sits behind the reception desk, and a Damien Hirst is nearby.
The $100 million renovation — spearheaded by brothers Andrew Green and Alexander Green and their father, Peter Green, who bought the resort several years ago — included an overhaul of guest rooms, an addition of 40 suites, and a reimagined waterfront area with an infinity pool. A mini-mall corridor of high-end boutiques leads from the lobby to the new Exhale Spa, where treatments like the America's Cup-branded sports massage are available, as well as yoga and barre classes. The rooms themselves are lovely: plush white bedding, primo amenities in the bathrooms, and expansive views of the harbor from a recliner on the private patio. Throughout the entire property, the old-world charm of the historic hotel remains, but with an added contemporary European flair.
Celeb chef Marcus Samuelsson, who previously had a pop-up restaurant in Bermuda, is responsible for another big change at the Princess, in the form of a new restaurant. The Ethiopia-born chef, whose protégés include Houston's own Seth Siegel Gardner and Terrence Gallivan of Pass and Provisions, grew to wide acclaim with his Red Rooster in Harlem.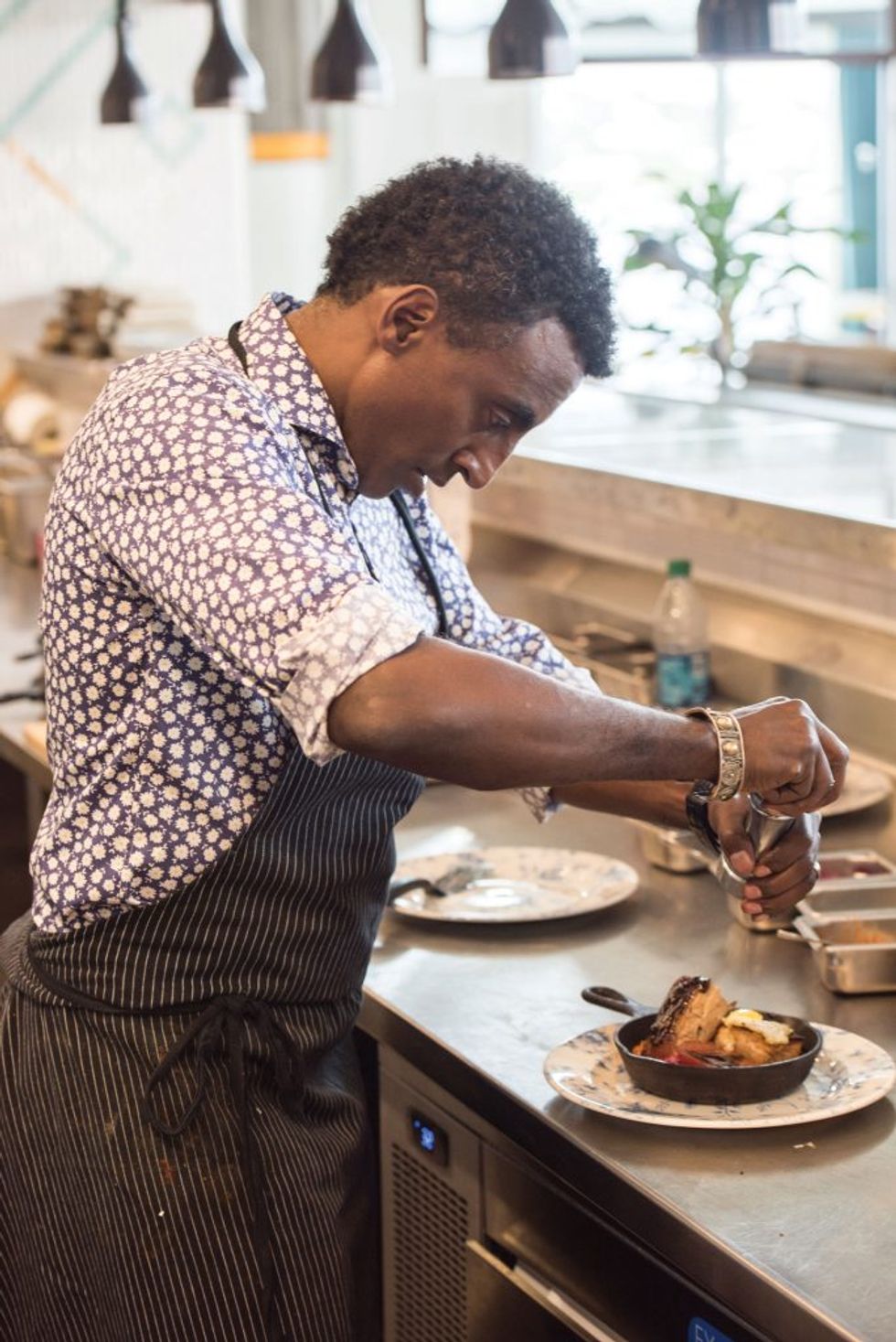 Chef Marcus Samuelsson at his eponymous restaurant at the Princess hotel
Samuelsson's new eponymous outpost in Bermuda manages to be trendy, comfortable and elegant at once. It occupies a big corner space of the Princess, with massive floor-to-ceiling windows offering views of the harbor. A large bar splits the room in two, and light pendants that recall beach glass dangle over dining tables. The food itself is a take on Caribbean cuisine, with British and Spanish influence — just like Bermuda itself — all perfectly portioned and served on blue and white china.
At the restaurant, the seafood route is an easy one to take, with fresh catches seasoned with flavorful rubs. But the comfort-food route — something Samuelsson has perfected in his nearly 30 restaurants around the world — is equally tasty. And there's no shame in going with a little of both: The grilled salmon or jerk pork belly with a side of mac 'n' cheese? Why not! All nicely wash down with a Darker and Stormier cocktail, an appropriately named spin on the ginger-beer-based libation.
The other restaurants at the Princess include the open-air 1609 Bar & Restaurant, open seasonally, and Crown & Anchor, with a breakfast buffet by day and cigar offerings by night. But venturing out into Hamilton is recommended. Front Street, with its pastel-colored and Union Jack-bedecked buildings, is a short walk from the hotel. Locals and tourists both hang here, as Front Street is the where the action is in this capital city. Kids with all different accents and skin colors and hairstyles walk home from school in their tidy uniforms, and people scrub and clean their sailboats in harbor-side green spaces. A couple of second-story pubs offer a lively atmosphere and good eats — but a night out is not cheap. Fish and chips alone run about 30 USD. And, conveniently, the Bermuda dollar is tied to the American dollar; USD is accepted everywhere at par. (For more on navigating Front Street, see "Hit the Street" at right.)
A Miffy sculpture by Tom Sachs is one of several big-ticket works of art throughout the property.
The ferry service that departs from the Hamilton port takes visitors eastward to St. George — the first British settlement, boasting a ton of historical attractions — and westward to the Royal Naval Dockyard, where the National Museum of Bermuda is a nice place to spend an afternoon.
But little competes with the pink-sand beaches of Bermuda, easily accessible to Princess guests via a shuttle to the hotel's private beach club and restaurant located near the tourist haven of Horseshoe Bay. With chairs and umbrellas, "water hammocks" and snorkeling, this private cove — much like the island itself — leaves much more to discover.
Uncategorized