Smoke Show
Backed by celebrity chefs, a restaurant brings global flavors — and a local mindset — to CityCentre.
Kirsten Gilliam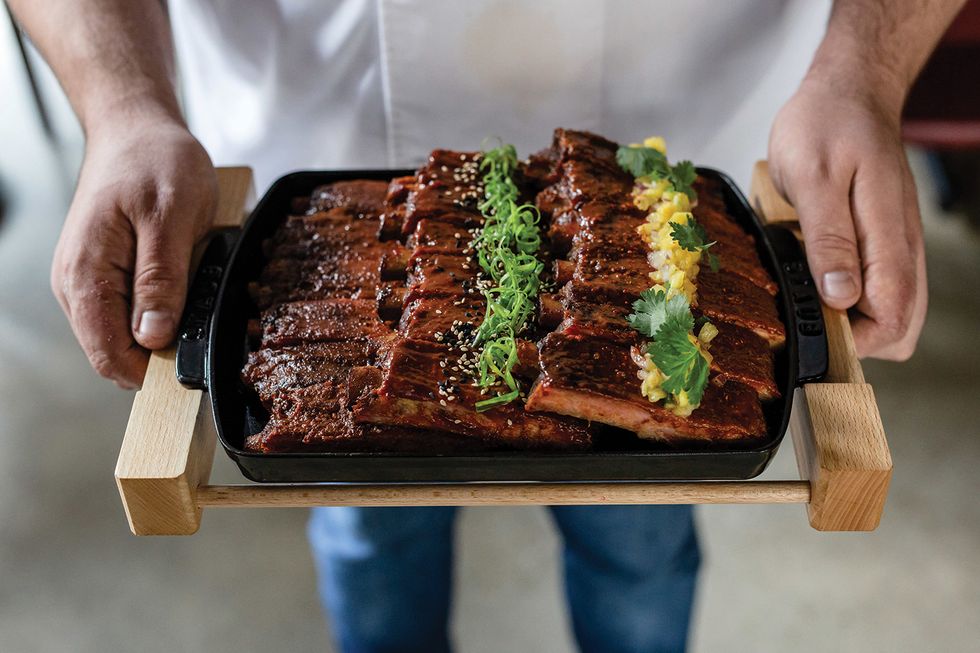 "This is not a f***ing barbecue joint!" E.J. Miller, 32, shouts with a laugh as he explains the biggest misconception diners have about his buzzy new restaurant.
---
The burly chef, a Katy native and former football player at Mayde Creek High School, is soft-spoken and sweet with a commanding presence in a space that smells like ... well, really good barbecue. Miller knows that while the intoxicating aroma may have you craving 'cue, his culinary direction is far from it. "We are grilling and smoking meats, but our menu is something completely different from Texas-style barbecue."
Welcome to International Smoke.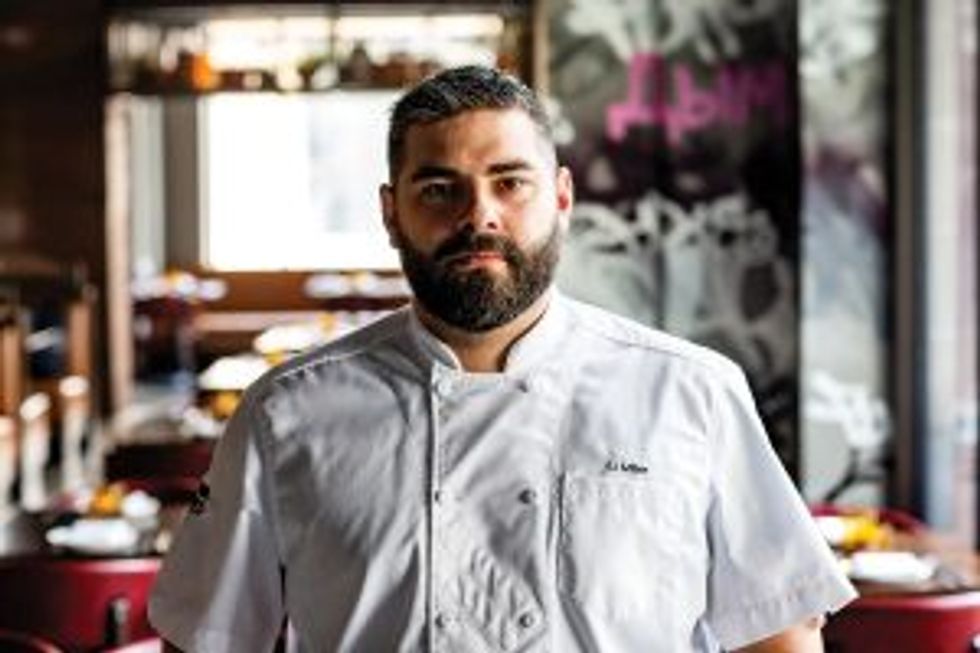 Chef E.J. Miller
The San Francisco-born dining concept has wholly embraced Houston's vibrant local color. With graffiti-splashed walls and striking interiors peppered with deep red and chocolate brown furnishings, accented by black steel, the vast restaurant reels in the crowds with its prime location adjacent to Hotel Sorella on CityCentre's green. A spacious bar area — loud and lively, with groups indulging in the head-turning Mezcal-rita punch bowls (more of a dispenser than a bowl) — wraps around and leads into the 100-plus-seat main dining room. And a patio shaded by Instagrammable walls of greenery offers views of the pedestrian-packed main plaza.
When Miller, a graduate of LeNotre Culinary Institute and former protege of Brandi Key of Clark Cooper Concepts, was offered the opportunity to hit the ground running for the growing brand's Houston location — a joint venture which began as a pop-up by celebrity chef Michael Mina and best-selling cookbook author and Food Network star Ayesha Curry — he was keen to put his own H-Town spin on things.
"The only way I know how to run a restaurant is locally," Miller explains. "I knew I wanted to work with the same farmers and ranchers that I have built relationships with over the years." This was an ideology the internationally renowned restaurant group encouraged.
Roasted broccoli, green papaya slaw and 'magic' mushrooms
The expert chef, a regular at Butcher's Ball — an annual meeting of top chefs, butchers and ranchers held each October, encouraging sustainable farming practices through cooking and competitions — says that grilling meats has always been his forte. But he didn't realize just how passionate he was about the process until stepping into the kitchen at International Smoke.
Miller takes diners on a journey around the globe through dishes like the Indian Fish Fry, presented with a spice-crusted snapper complete with chilled raita, and the Tokyo-style chicken karaage with smoked and fried chicken thighs. But International Smoke also impresses with deeply complex, thoughtfully prepared meat plates that have local flavor, as in the impossibly tender and flavorful short rib. "We brine them for 24 hours, let them dry for 24 more, then smoke them for seven," says Miller, noting it takes great care to understand the technique and time necessary to make really good food.
And true to his word, Miller maintains his longstanding relationships with local beef purveyor 44 Farms, Bill Briscoe at Old Duck Farms, Houston shrimp supplier Jimmy Evans, and even shouts out Fat Cat Creamery on the dessert menu.
"Staying as local as possible truly helps set International Smoke Houston apart," he explains. This philosophy extends past an ingredient list; Miller infuses his techniques with local flavor. "Redfish on the half shell is super classic in the South, from here to Louisiana. I taught my team that it is classically made with red drum, not red snapper."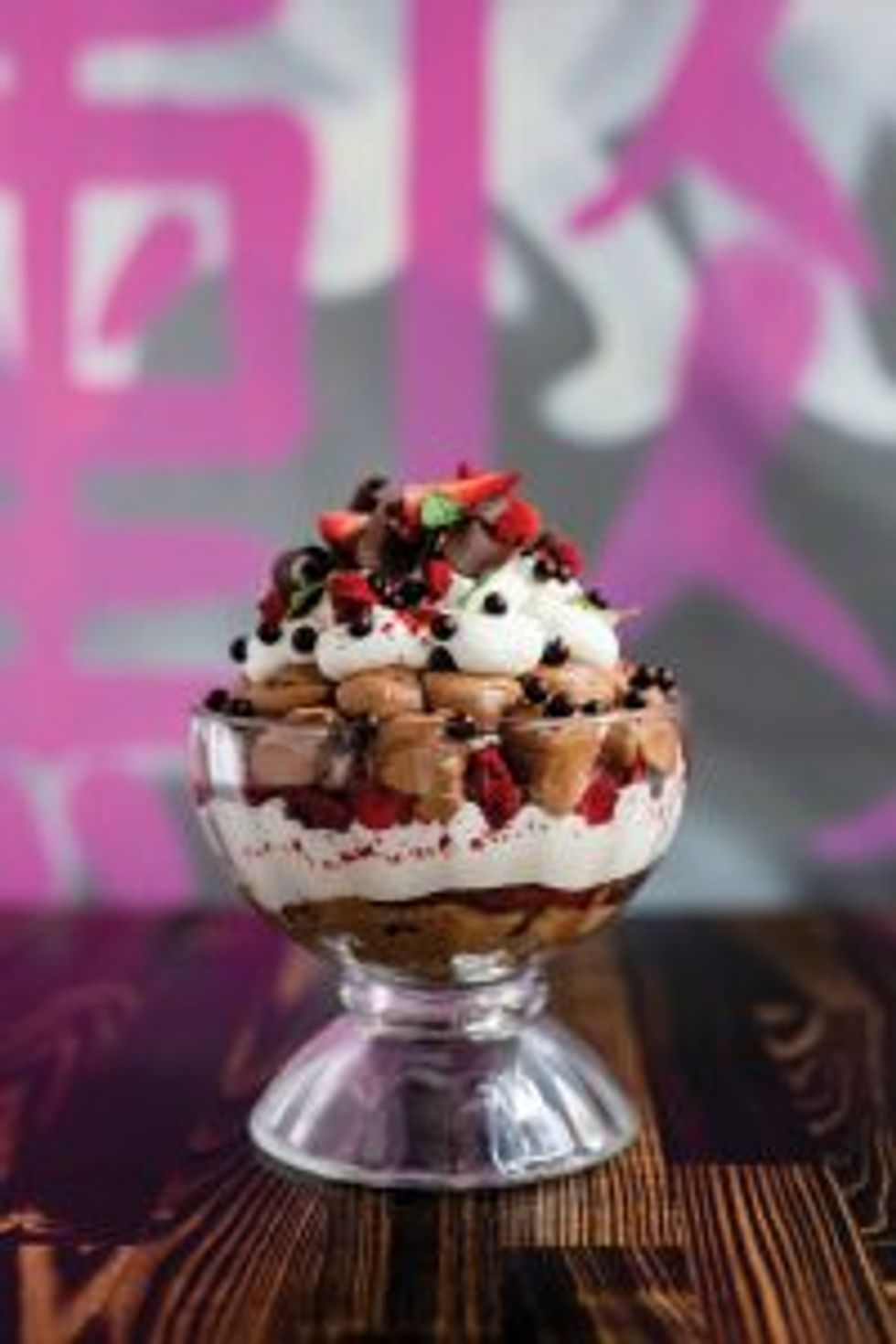 The Valrhona chocolate-cream ice-box cake with red velvet cake and mint garnish
With his wheels always turning, Miller says the menu is a forever-evolving one, but items like the crowd-pleasing Shaking Beef — a still-sizzling skillet of 44 Farms beef served alongside chilled lettuce wraps dressed with slivers of carrot and pickles and fried peanuts — is not going anywhere. And the smoked burrata salad, unveiled at the table under a majestic cloud of smoke, will remain on the menu — but will incorporate seasonal ingredients throughout the year.
Miller says this is just the beginning for a brand that is looking to activate local and national talent. In the new year, diners should look forward to exciting collaborations ... "and maybe some celebrity chef visits," he teases those who inquire about an Ayesha Curry sighting.
Happy hour and dinner nightly are going strong, but the recent addition of the buffet-style Fuego's Brunch on Saturdays and Sundays spotlighting a whole hog roasted right on the patio has made pigging out at International Smoke even more festive. Barbecue or not.
AT TOP: International Smoke serves its pork ribs barbecue-style, with Korean sesame-'gochujang,' and 'al Pastor.'  
Food+Travel