Study Abroad
At Agricole Hospitality's new Indianola diner, America's melting pot has never tasted so delicious.
Julie Soefer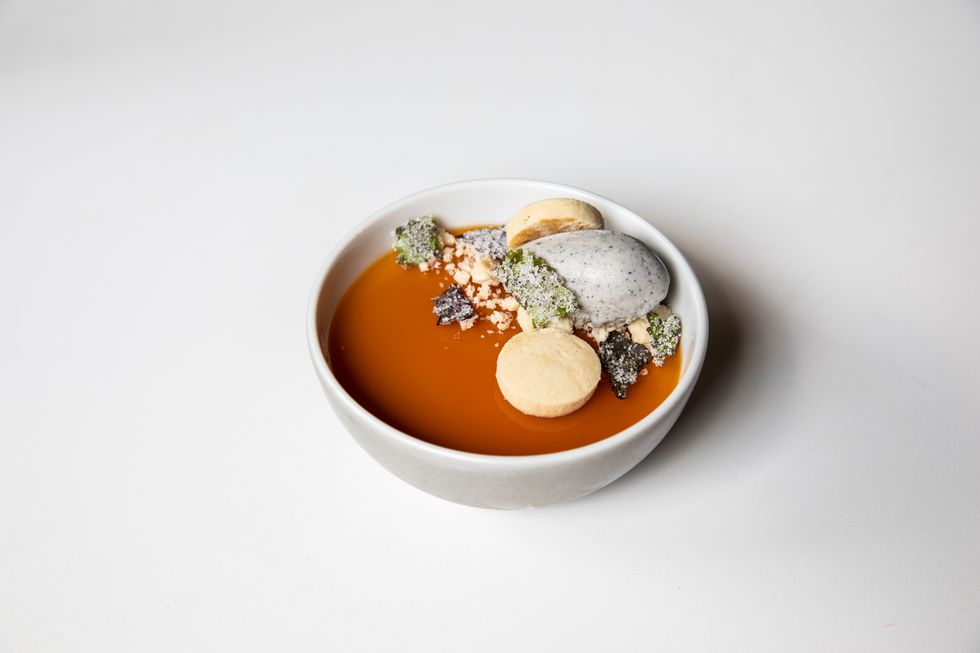 For immigrants looking to start a new life, the port through which they pass to reach a final destination is never forgotten. For Morgan Weber's family, that port was Indianola, near Matagorda Bay, and is now the namesake of his new restaurant.
---
"We knew we did not want to repeat a Coltivare," explains Weber, referring to Agricole Hospitality's Heights restaurant he owns with chef-partner Ryan Pera. He and Pera pondered the American notion of the melting pot; their team members find their roots in Italy via Ellis Island, San Francisco by way of Vietnam, and beyond. Paul Lewis, exec chef of Agricole's three EaDo concepts — Indianola, Vinny's pizza joint and Miss Carousel cocktail bar — hails from the U.K. They decided to "do immigrant food in America, presented in a fresh way."
Weber reimagined the space — a 1940s warehouse with exposed brick — as a light, bright diner, another departure from Coltivare's rustic aesthetic. Find neat rows of blush banquettes, high ceilings bedecked with greenery, and a long bar that faces an open kitchen.
Lewis' slow-cooked pork ribs are a house fave: They're rubbed down with green-chili paste, marinated overnight, baked, fried, tossed with Korean BBQ sauce, and topped with pickled daikon radish.
His new weekend brunch menu is just as distinct, with a pecan-sprinkled warm chocolate-and-cinnamon babka (Seinfeld fans rejoice!), and Moroccan-style fried eggs, presented in a spicy tomato ragu alongside toasted sourdough. And it isn't brunch without a cocktail; the carrot-juice bloody Mary, garnished with pickled veggies, sounds guilt-free ... ish.
Breakfast service is soon to follow — and Weber's own American dream of achieving an all-day diner will be realized.
AT TOP: The passion fruit pot de crème at Indianola
Uncategorized