The Art of Recovery
Artists strive to overcome disaster, to support each other, and lift up a storm-worn city.
Todd Spoth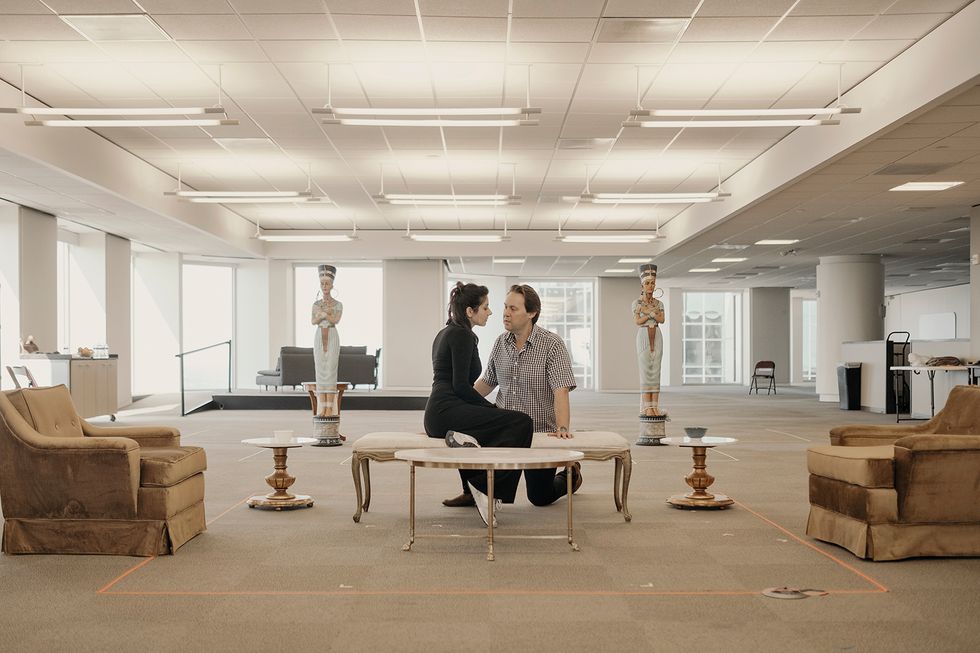 On Sunday night, Aug. 26, as Hurricane Harvey raged, Claire Richards stood at her window in the Elder Streets Lofts, where she lives with her teenage daughter, and watched the rain lashing the street.
---
Although the Houston-based abstract painter knew the 75-year-old warehouse on the corner of Hardy and Nance where she has a studio had never flooded, Richards was concerned. Like others across the city, she recognized that Harvey was a different kind of beast. She worried not just about her own space — largely cleared, as Richards had shifted her paintings to Galveston for an opening — but also the cohort of about 45 artists, including photographers, jewelers, painters and performers with studios in the building.
So the 46-year-old single mother, who previously had worked as a medic in Alaska, residing for a time on the remote Aluetian Islands where wind speeds over 100 miles per hour are not uncommon, decided to go check on things. Leaving her only child with a neighbor, Richards headed into the storm in her big black Nissan Titan, steering along back streets to reach what many consider to be Houston's oldest art district, a former industrial zone that houses a glut of galleries. The downhome musical venue and Mexican restaurant around the corner, Last Concert Café, was underwater. The flood soon reached the stairs of Hardy & Nance Studios, and by morning water was running through the building.
"I've had my studio here for eight years, " says Richards, who helps manage Hardy & Nance. "We found 80 paintings somebody had stashed behind a false wall, all trashed. I found a box of my own photos completely soaked. Old pictures of my parents, my dogs — I just threw them away. And I feel lucky. A lot of people are just, like, I'm not sure I'm going to come back, or even be an artist anymore."
Across the city, similar stories were unfolding among Houston's largest cultural institutions, as well as some of its smallest arts organizations. Recovery will be difficult, but it's already underway.
Sadly, Harvey damaged the homes of a multitude of individual artists and musicians that have allowed the city to stake its claim as one of the nation's most celebrated creative communities. And Harvey also took its toll across the Theater District. The renowned Alley Theatre, just two years after it unveiled a $46.5 million renovation, found that its lower-level auditorium and rehearsal rooms had flooded. This despite forward-thinking flood-proofing efforts such as fortified doors installed after the flooding that occurred during Tropical Storm Allison in 2001. The Wortham Center, which hosts both the Houston Ballet and Houston Grand Opera, took a major hit, prompting resident companies to scramble their fall schedules while they seek out alternative performance spaces. Parking garages below the complex flooded as well.
"There are immediate impacts that we are already aware of, and then there are long-term impacts that we have yet to address," says Xandra Eden, executive director of Diverseworks. The non-profit, she reports, was spared a direct hit, but as the ripple effects from Harvey spread across the cultural landscape, Eden remains concerned about what's next for visual, literary and performing artists who rely on groups like Diverseworks for funding. Will the dollars they need be there from donors pulled in many different post-storm directions? "As an arts organization, it's not like we can run out and rescue people, but now is a time when we can step up and find ways to help at-risk artists through this difficult transition."
Helping hands are cropping up. These include a new Harvey Arts Recovery Fund housed by the Houston Arts Alliance, a collective effort between dozens of area arts groups including Diverseworks. The group aims to raise funds and act as a clearinghouse for small arts organizations and artists in crisis. Meanwhile, through Oct. 22, the Lawndale Art Center in the Museum District will be offering temporary storage for artists who lost home or studio storage space due to flooding. And of course, many creative and resourceful artists have been tackling storm cleanup in self-directed volunteer efforts.
That was the scene down at the Hardy & Nance Studio after the storm, where Richards and a team of about 15 swabbed the floors, sorted through sodden canvases, crated garbage and removed soaked drywall so that the resident artists could get back to work. "I was here with 15 artists from the top tier to my daughter," she says. "We have a tight community, and great support once the streets dried."
Two weeks after the storm passed, Richards got back in her pickup and drove to Galveston, where her paintings had been stored in rooms above the Proletariat Gallery. By Sept. 9, the canvases were back on the walls in time for the Island's First Friday art walk. "I've been through Hurricanes Alex, Alicia, Ike and Harvey," Richards says. "And I felt like the biggest asshole in the world, saying come look at my paintings."
At the Alley, too, despite the shock and grief, the actors hardly missed a beat, resuming rehearsals in a borrowed space on the 55th floor of a nearby skyscraper. The season will continue, with some shows, like Lawrence Wright's original play Cleo, about Elizabeth Taylor, having moved from the fall schedule to spring. Rajiv Joseph's hotly anticipated new play Describe the Night, which closes Oct. 15, enjoyed an on-time opening — at the UH Quintero Theatre. Actor Jeffrey Bean, whose roof sprung a leak and who had to deal with a six-day power outage in Kingwood, says that for the actors and support crew, it simply made sense to go on with the show.
"In the quiet moments, it's heartrending," says Bean. "People lost their homes. People lost fortunes. But we'll get through it."
In other words, though bruised, Houston's artistic community has steadfastly refused to let Harvey have the last word. The Museum of Fine Arts managed to preserve its permanent collection of 65,000 paintings, sculptures and other objects — while executive director Gary Tinterow was stranded in New York — thanks to a heroic overnight staff effort. A crew of 30 saved masterpieces by O'Keeffe, Turner and Homer, and also protected the borrowed Mexican works by Kahlo, Oroszco and Riviera on display as part of Paint the Revolution, closing Oct. 1.
The iconic Menil Collection and Rothko Chapel, and smaller private galleries across Montrose and the Museum District, also skated unhurt through Harvey. In turn, many groups have turned their fall fundraisers into benefits for storm victims.
Back at Diverseworks, Xandra Eden resists painting too rosy a picture, but she does think that, alongside all the other rebuilding efforts on the Texas Coast, Houston's artistic community might just come through the storm stronger than before. "When you see so much devastation," she says, "sometimes people doubt that art matters.
"But this is when art really matters."
AT TOP: Alley actors Lisa Birnbaum and Christian McKay rehearse for an upcoming play in a borrowed high-rise space since the company's theater flooded.
Photo by @guyexplorer on Instagram
Uncategorized