To Market
Fall is off to a rocky start. What might be in order is a home-cooked feast, for loved ones and friends suffering through Harvey fallout, in need of warm spirits and full bellies. Houston's eclectic, amazing epicurean markets have everything — and we mean everything — on your shopping list. –Megha Tejpal, illustration by Dionne Christiansen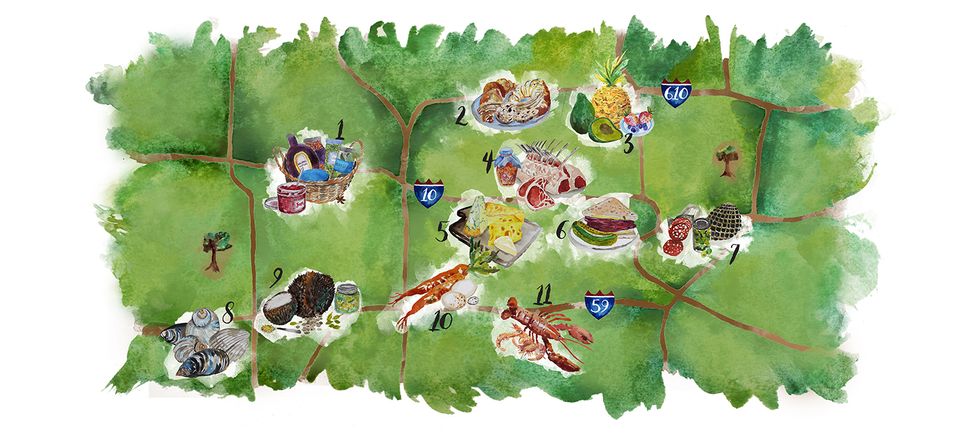 99 Ranch Market Roam aisle after aisle of ground spices, canned curry paste, instant noodles and pickled cucumbers at this West Houston Asian grocery store with locations across the country. Score seafood, dead or alive, and take home banana tempura batter or tapioca starch to play with! 1005 Blalock Rd.
 El Bolillo Bakery Find much more than its namesake "bolillo" at this bustling Heights bakery, where visitors are given large trays and tongs with which to peruse from towering cases filled with both savory and sweet baked goods. Among the daily delights? Fresh tortillas, churros and tres leches cake.  2517 Airline Dr.
Canino's Produce & Farmer's Market At more than 20,000 square feet, the iconic, family-owned Canino's Produce & Farmer's Market has been flourishing since the 1950s. Open daily, its independent vendors sell an array of produce, with a focus on Texas growers. In the bins in back, ready-to-eat berries, mangos and avocados — even fresh coconut water — are available for a steal for cash-only customers. 2520 Airline Dr.
Revival Market Fans of the Agricole Hospitality group — they also have Coltivare and Eight Row Flint — and others may visit this dependable Heights market for its selection of sustainably raised, antibiotic-free meats. From beef and pork to lamb and seasonal game, proteins are smoked and butchered in-house, and customers are welcome to specify cuts on the spot. Also: hip local artisan fare like Slow Dough bread and Houston Dairymaids cheese. 550 Heights Blvd.
Urban Market After dining at Urban Eats upstairs, visit the first-floor market where cases of locally sourced items like buttery croissants from Angela's Oven are paired with imported epicurean specialties. Ingredients like the Klein Brothers jarred pickles and jams are sold alongside popular grab-and-go options from the bistro.  3414 Washington Ave.
The Butcher Shop at B&B Butchers & Restaurant The old-world charm of the historic Dittman Bakery serves as a fast-casual lunch spot for grabbing a hot pastrami sandwich on the go, but The Butcher Shop is in fact a true bespoke butcher shop and delicatessen. Peer into the circular window opening for a look into the meat cooler where the whole-animal butchery stores its selection of dry-aged meats, and choose from standout cuts including the Texas wagyu or Japanese kobe. 1814 Washington Ave.
Phoenicia Tickle your taste buds at this deli-turned-specialty-foods mecca with locations spanning from West Houston to Downtown. Among the more than 15,000 products are salty olives from the expansive olive bar, chickpea and chestnut flour, potent Moroccan oils, and Hungarian pick salami. Wines are sourced from lesser known regions of Europe and Asia. 1001 Austin St.; 12141 Westheimer Rd.
Hong Kong Food Market Venture in and out of the many mom-and-pop shops of the Hong Kong Food Mart, within the pagoda-bedecked Hong Kong City Mall. The curious funk of fresh durian is prevalent, and the market features one of the biggest selections of fresh seafood in Houston. When preparations for an authentic Asian feast call for live periwinkles or duck feet — even duck hearts — head to Hong Kong. 11205 Bellaire Blvd.
Patel Brothers Located among the fast-food cafés and cultural clothiers of the Mahatma Gandhi District, the Patel Brothers marketplace is the destination for discovering the aromatic ingredients used in the strict vegetarian dishes found across India's many regions. Find fragrant ground spices, eucalyptus, coconut and mustard cooking oils, and lentils and beans, in addition to fresh produce and dried fruits and nuts. 5818 Hillcroft St. 
Urban Harvest Eastside Farmers Market With a focus on local purveyors, restaurateurs and grocers, this once-weekly market hosts almost 100 vendors year-round, rain or shine. Take home country eggs from Three Sister Farms, sweet peaches from the Boerger Peach Orchard or Texas mead from Griffin Meadery. Like to eat while you shop? Visit the Guudbelly stand for a vegan tamale. 3000 Richmond Ave.
Blue Horizon Wholesale Seafood & Market (Frixo's)Open to the public, Blue Horizon delivers quality seafood at its Southampton-area market. Customers are welcome to drop in to see what's on ice at the seafood counter — or better yet, ask what owner Frixo has stored in back — and get filets butterflied as they wish. Heads on? No problem. 2516 Wroxton Rd.
Food+Travel