Get Chili With It! Here's an Entertaining Maven's Surprising Party Trick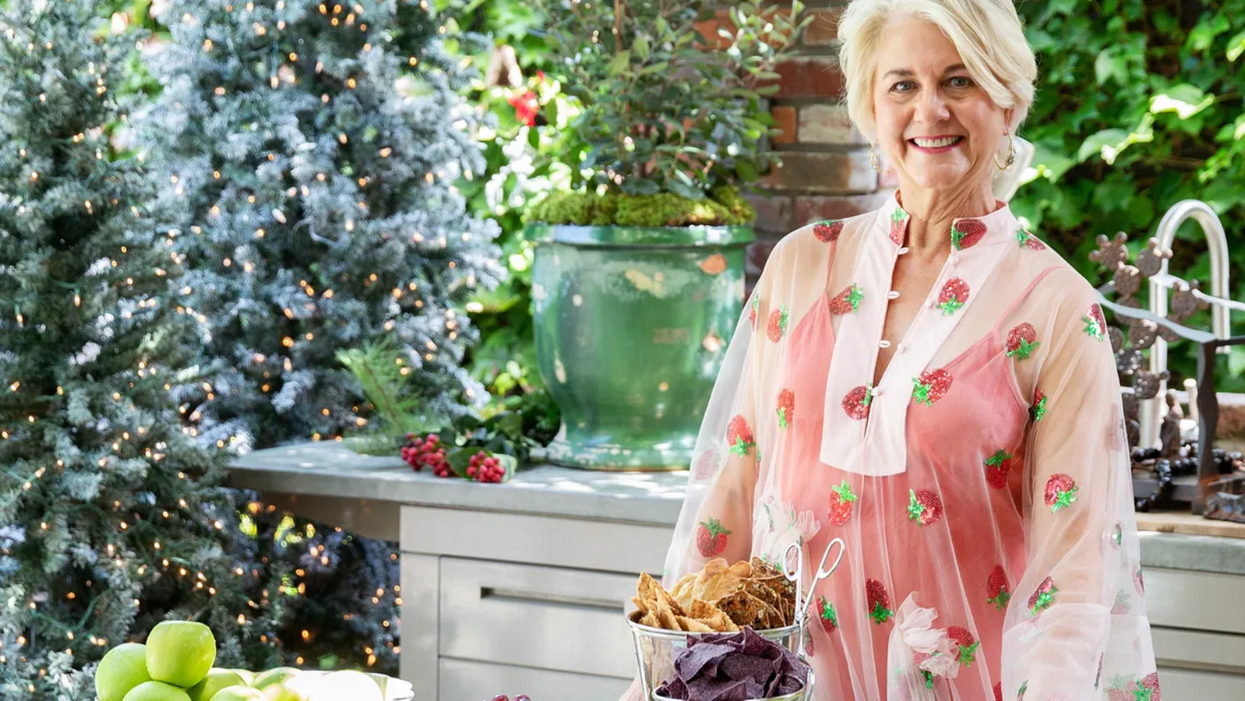 IT'S TIME! THE holidays have arrived. Are you ready? Before you answer that, read on. We've asked a handful of H-Town's top entertainers and chefs to provide their go-to tips, tricks and recipes — and some may surprise you!
---
Elizabeth Swift Copeland, whose event and catering biz Swift + Company has been an industry leader for decades, launched a new venture mid-Covid. The Fab Fete has garnered a pretty loyal following for its freezer-to-oven gourmet souffles, which can be shipped across the country or made available for local pickup. This year's seasonal specials include a Mediterranean souffle with feta, artichokes, capers, dill and kalamata olives; and a mouthwatering fontina-and-butternut-squash souffle.
For her own festive gatherings, Copeland prefers to simmer a big pot of vegetarian chili, a surprisingly simple and always-delicious ones-a-meal for which she's become known among her friends. Find her recipe below — and save room for a savory souffle on the side, of course!
Ingredients:
2T olive oil
1 medium red onion, chopped
1 large red bell pepper, chopped
2 medium carrots, chopped
2 ribs celery, chopped
½t sea salt, divided
4 cloves garlic, pressed or minced
2½t ground cumin
1½t smoked paprika
1t dried oregano
1 large can (28oz ) diced tomatoes, with juices
2 cans (15oz each) black beans, rinsed and drained
1 can (15oz ) pinto beans, rinsed and drained
2C vegetable broth
1 bay leaf
2T chopped fresh cilantro, plus more for garnishing
1-2t sherry vinegar or red wine vinegar, to taste
Optional accoutrements: sliced avocado, tortilla chips or Fritos, Tabasco, cotija or grated cheddar cheese, crème fraîche or sour cream, chopped cilantro
Instructions-
1. In a large Dutch oven or heavy-bottomed pot over medium heat, warm the olive oil until simmering. Add the chopped onion, bell pepper, celery, and ¼ teaspoon salt. Stir to combine and then cook, stirring occasionally, until the vegetables are tender and the onion is translucent, about 8-10 minutes.
2. Add the garlic, chili powder, cumin, smoked paprika and oregano. Cook until fragrant while stirring constantly, about one minute.
3. Add the diced tomatoes and their juices, the drained black beans and pinto beans, vegetable broth and bay leaf. Stir to combine and let the mixture come to a simmer. Continue cooking, stirring occasionally and reducing heat as necessary to maintain a gentle simmer, for about 30 minutes. Remove the chili from heat.
4. For the best texture, transfer 1 ½ cups of chili to blender and blend until smooth; then pour blended mixture back to pot.
5. Add the chopped cilantro, stir to blend, and then mix in the vinegar, to taste. Add salt to taste, too. Divide the chili into bowls and serve with accoutrements of your choice.
6. Serves 4-6.