West World
The booming state-of-the-art oil fields of West Texas' Permian Basin are reshaping the energy industry and, some say, changing the global balance of power. Many young Houstonians, facing danger and hardship to make bank, are helping lead the way.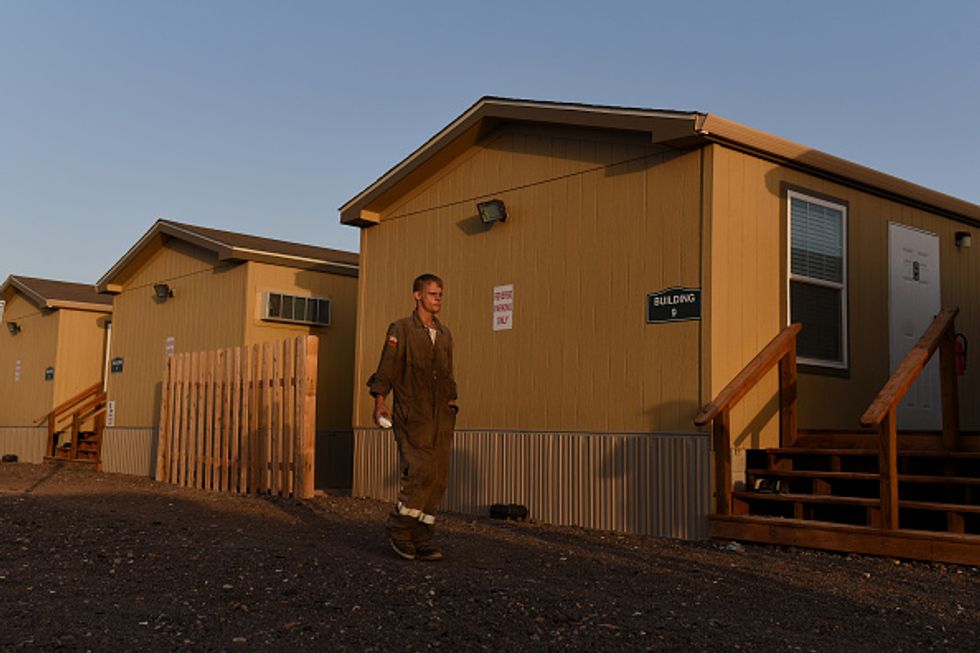 Kyle Mize spends most of his shift watching intently as big lengths of heavy pipe work their way up toward him. Things can go horribly wrong when you're "80 feet up in the stick," as they say, at the top of an oil-drilling rig, on the flat and mostly featureless Permian Basin, deep in the heart of West Texas. It's daunting, dangerous work. He's careful.
---
"The good days, they don't really stick out," the buzz-cut 27-year-old says between shifts. He's a derrick hand on a rig where he spends eight months of the year, 24 hours a day. "But picking up people's fingers, or pulling fingers out of a glove — that you remember.
"There is a lot of metal moving around, and a lot of pumps," he says. "And when things are moving or doing things they aren't supposed to, the natural tendency is to reach out with your hand. Then, you've put your hand between two pieces of swinging metal when you aren't supposed to." Missing fingers — and missing your family — is not uncommon in the oil patch, and neither are bad weather, cramped quarters and, not coincidentally, riches. 
Mize is part of a small army of Texans rocking international oil markets with the enormous output flowing from revived regions. The boom, which is "rapidly reshaping the global balance of power," casts the U.S. as the world's undisputed energy leader, per the Wall Street Journal. And there's no sign of slowing down. Rig counts in the Permian rose by double-digit percentages in 2018, and are up again for 2019, per reports, and output is expected to double — to 5.4 million barrels a day —  in just four years. "Roughnecks in the American Southwest," the Journal concludes, "are doing more than most foreign ministries to change the world."
Joining the fray, Mize is pulling down six figures and supporting a growing family back in Dallas. It is a fevered gold rush for him and thousands of others.
"It's wild out there," says Renee Karle, a third-generation oil and gas employee and Houston native. She graduated from Texas A&M in 2016 with a degree in chemical engineering. She immediately headed out to the oil regions of Texas, and returned to the Heights with experience, a better bank balance and lots of stories. "People work around the clock, in all kinds of weather. Even if they just graduated from college, they're like 'I don't care, I want to make that kind of money.'"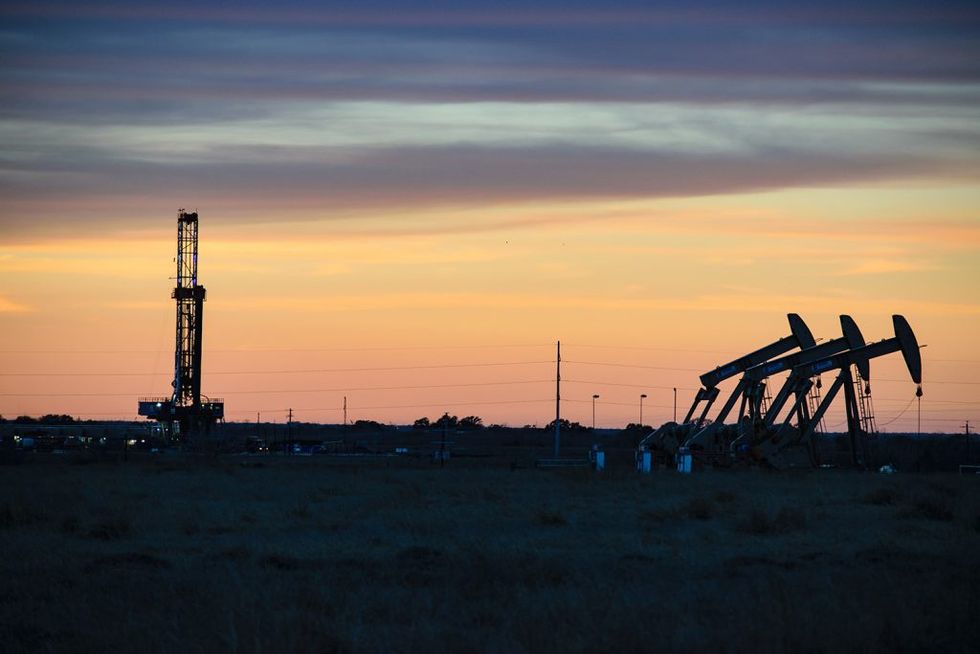 The sun sets over the oil-rich fields of the Permian Basin
Multiple technologies are driving the new gold rush. Fracking and horizontal drilling make extracting the energy deep in the ground exponentially more efficient. And state-of-the-art rigs now pull data from the earth along with the oil, and the data shows where to look next. 
Kazakhstan native and UH grad Alan Alexeyev, is a "mud logger" who examines the composition of the sludge coming up from the drill bit and guides the drillers as to how, where and when to turn next. Alexeyev, a shy and rail-thin 28-year-old Houston transplant, along with Mize and Karle, have lived in the oil patch's so-called "man camps" that are scattered around the region, often adjacent to the rigs. These are a mixed bag of indistinguishable trailers where the crews cook, eat and sleep when they aren't working. The trailers collect in odd lots, a few here, a vast row over there. 
And man camps is probably a misnomer. "Men and a few women, they all live together," Alexeyev says. "Military people get along a lot better than the rest. They're already used to the life. But yeah, sometimes, it can really suck, not going back to a regular home after working a long shift." 
These curious enclaves of humanity have some relationship to the life and economics of the California Gold Rush of 1849, when merchants like Sam Brannon made a killing selling necessities to the dream-filled miners. Brannon is credited with the maxim that the best money to be made in a gold rush is in selling shovels. The Midland "shovel" is a clean place to sleep — and since housing in the Permian is increasingly limited, thanks to the influx of workers, along came the man camps.
At the site where Mize works, he has 15 roommates at a time, a rolling series of faces and personalities. "There are three shacks," he says. "One with a kitchen, one with four little bedrooms, and one for a shower and laundry. It's not the best situation. But everyone gets close; people take time off to go to the weddings and funerals of the guys they work with. It's intense. "
"It's not awful," says Karle, speaking as a woman in the mix. "[The men] kinda baby you, and it's a little frustrating. But when you've been there a while, they they'll show you stuff and it gets a lot better." 
The unenviable living quarters are the natural result of the boom-and-bust nature of the biz. The infrastructure to support the recently expanded human presence has not been built out in Midland, Odessa and the other towns in the region. Breakthrough technologies created a boom far faster than the towns could organically grow. Even the roads couldn't be expanded fast enough, and so trucks and cars sometimes back up on the crumbling blacktops. Locals and boom-time newcomers feel the strain. 
Taylor Miller is a Midland native and longtime waitress. At 27, she's seen the Permian through ups and downs. "It's crazy busy," she says as she prepares for her next shift. "Half the time, we're out of what they want, but they don't care. They're hungry and they'll take what they can get." She confirms that traffic is "scary bad," noting that, in her view, "people don't live here, and so they don't value the town and it turns to trash."
Perhaps not surprisingly, the boom has prompted some to leave the area. Folks like hearty and muscular Collin McClelland, 28, who moved to Katy in 2014, but not before he made bank in the oil boom in his backyard. A native of Midland, McClelland grew up poor and got in a lot of trouble. In the oil patch, he found a way up — and, eventually, a way out. 
He previously found work on a rig. For a while he made more money than his parents, and he married his sweetheart. But then, even though he was pulling down well more than $100,000 a year with very regular work, he felt he had to leave. He could no longer afford to stay. 
The boom may be driving oil prices down around the world, but housing prices are going up across West Texas. In Midland, the average price per square foot for homes — something nicer and more family-friendly than man camps — is up to $150. The average in the greater Houston area is $143. In Katy, it's $122. "We wanted to start a family there," says McClelland of his hometown. "But there was no way. That's how we ended up in Houston." 
Of course, there's potentially an even bigger downside than the indignities of man camp living, high home prices, and the restaurants that are out of half of what's on the menu — even worse than gruesome finger accidents. "People die in oil and gas," says Karle matter-of-factly. "You're drilling a hydrocarbon and it's flammable, and it's under the pressure of the earth. You go to weird places in the middle of nowhere and you work all hours." And just driving from wellhead to wellhead carries risk. "Out there, there are plenty of roads that are rough, and there's a lot of big trucks and not a lot of police. I always had someone with me when I had to drive places, just in case." And it's precisely those risks, along with the high levels of specialized expertise required, that explain the high wages. 
Another reason for the high pay: Any in-demand oil workers would rather work offshore. "People cook for you," says Karle, who has worked both on- and offshore. "Someone else does your laundry. In Midland, you don't get that." Operators here have to pay more to make up for the lack of amenities.
For Karle, Mize, Alexeyev and hundreds of other young people, it's a bargain worth making. Now is their time in the West Texas sun. "I take pride in providing for my family," says Mize. "I know the whole world would keep turning without me in it. But as a collective, we make a difference. We're away from our family to provide the world with what they need."
And the danger simply goes with the territory. "You don't become a firefighter," Mize notes, "if you're afraid to get burned." 
"I'd do it again," says Karle. "No doubt. In a heartbeat."  
AT TOP: The 'man camps' in which oil workers live are made up of multiple trailers.
Business+Innovation