Who's Your Crawdaddy?
Winter, spring, summer and fall flow together in Houston, but somehow crawfish season is distinct — and always anticipated!
Shannon O'Hara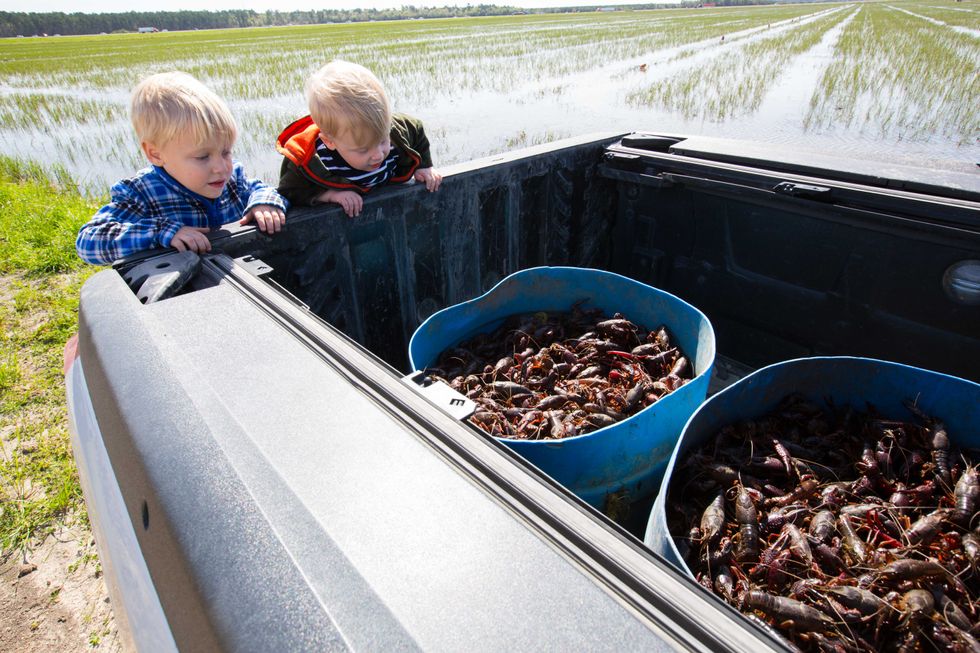 H-Town is the most multi-cultural city in America, embracing the joie de vivre of peoples and places near and far. It should come as no surprise then that one of the city's most celebrated subcultures is that of Cajun Country, the western edge of which is 100 miles away.
---
And since in Louisiana crawfish is pretty much the state food — with the how-to's and concordant festivities of crawfish boils varying from community to community and from family to family — mudbug mania seems to hit Houston harder and harder every spring. While it may be too chilly in the rest of the country to enjoy frozen daiquiris and ice-cold beer al fresco, Houston does exactly this, sometimes with a zydeco soundtrack, as it marks the peak of mudbug season at private patios, food trucks, backyards and even fine-dining restaurants all over town.
Now some of the varying styles of crawfish cookery — just how long should they boil, and how much spice should you add, and a dozen other fine points — are finding their way into the cultural fabric of Houston. "If we invite you to a boil, chances are it's cooked just like your dad, uncle, pawpaw or cousin cooks it," says Mark Baker, chef-owner of Houston's Truck on the Bayou. Baker, who grew up in Loreauville, in just about the southern-most reaches of Louisiana, learned to cook crawfish from his father at age 10. "By 14, I was cooking at local events for groups as large as 250 people." Now 48, the towering six-foot-tall chef — who still represents his home state by rocking LSU and Saints tees on the truck —  is taking what he learned as a young chef to serve Cajun-style street eats like boudin balls and shrimp gumbo around town.
In addition to serving the masses with his bright Cajun café on wheels — the truck is splashed in LSU-tiger purple and gold — Baker caters large boils with a 2,000-pound minimum; that's enough mudbugs for about 800. Baker says Houston is the perfect market, since lots of folks like to eat crawfish, but few know how to cook them. "Because of the prevalence and availability of crawfish in Louisiana, not many people there go somewhere else and pay for crawfish," he says. "But in Houston, people go to large events and pay $7 to $12 per pound."
But Baker enjoys showing people how it's done, including at his own backyard in Katy, where he boils bugs sourced from the Atchafalaya Basin. He begins by seasoning the boiling water with salt, cayenne, his own secret spices and fresh lemons. He skips flavors like sriracha-garlic — a Houston twist on crawfish-cooking — and instead throws in fresh veggies like onions, potatoes and artichokes, along with pork or beef sausage. After boiling the crawfish in the seasoned water, he steeps them in the cooking liquid in an ice chest "to let the flavor soak through the shell." And while Baker acknowledges that all chefs may have a slightly different way of boiling, the true essence of the event is the feeling of celebrating the season. "No schedule. When we're hungry, we'll cook, enjoy some good music. And most importantly, it's quality time with friends and family."
It's all about family and friends for Luke and Joan Mandola, too. Decades ago Luke and Joan Mandola, who met as students at the University of Louisiana at Lafayette, opened a po-boy shop called Rayhay's Cajun Po-Boy's in Houston. They split the culinary duties; Luke, a Houstonian who at one point managed Bourbon Street Po-Boys in New Orleans, took charge of the sandwiches, and Lake Arthur, La. native Joan whipped up gumbo and etouffe. After a couple of years passed, during which Luke hosted springtime boils in the parking lot, they expanded the menu to include crawfish. Fast forward another 40 years, and the original po-boy restaurant on Richmond Avenue, now run by Luke and his son Dominic and known as Ragin' Cajun, with four locations across the city, is a Houston institution.
"I take my managers to Louisiana every year to see the process of the crawfish in the purging tanks, and the effort that goes into acquiring Louisiana crawfish, so that they can stand behind our product," says Dominic, who notes that while the culture in Houston is to "sprinkle crawfish with hot seasoning," the best way is to season the water first, as Truck on the Bayou's Baker also insists.
While late spring is a busy time for the Ragin' Cajun restaurants, it's also pretty active at Dominic's home on a cul-de-sac in Spring Valley. "Most people have a grill in their backyard, but I have a gas grill and a stockpot range where I can 'grill' crawfish," says the family man who hosts at least four at-home boils each year. "Everyone loves being my neighbor during crawfish season."
But besides the backyard boils, like those hosted by Baker and Dominic and your across-the-street neighbor, Houston offers a host of other ways to savor the season. There's the parking-lot boil, the beer-garden boil, the patio-bar boil — and, of course, an elevated experience like the colorful late-March courtyard party that diners may attend at Brennan's of Houston. In the enclosed garden of the fine-dining Cajun-Creole establishment, a mix of crawfish menu items are served alongside bubbly and daiquiris from the restaurant's open-air bar to around 60 guests. The boil is only once a year, but the restaurant highlights seasonal crawfish throughout the spring.
Like Baker, Brennan's chef Danny Trace, originally from Louisiana, says the secret of a good boil is not just intense spice but also fresh flavors. "When we boil crawfish, it's a really authentic, highly seasoned boil," he says. "We use andouille sausage, onions, artichokes." His boil may be traditional and disciplined, but Trace prides in weaving the region's Latin flavors into some of his other mudbug dishes, as in his crawfish enchiladas, and "crawfish bread," a twist on gooey monkey bread.
And while lots of chefs — locals and Louisiana natives alike — source their crawdads from the bayous of the state next-door, Houston-area Pierce Farms has garnered a following over the last decade. The land, owned by the Armour family, was already being used to grow rice. And, because it had an irrigation system and was located on the banks of the Colorado River, the Armours took the advice of a ranch hand and flooded the property to be used as a crawfish pond in the off season, as is typical in Louisiana.  "We take the time to produce a quality product," explains Laurence Armour. He describes a tedious process of test traps and purging tanks. And he freely admits that crawfish farming is really a labor of love, and often not particularly profitable. "It is tough. Sometimes it isn't profitable because so much is produced in Louisiana, and the prices are much lower there. We don't make a lot of money on it."
So why does Pierce Farms — whose biggest crop remains rice, and which just added an event space for countryside weddings — stay in the mudbug business? "We've kinda grown to like it," says Armour. "It's nice having good crawfish around." ν
Uncategorized