Crawfish Pioneer Dominic Mandola Has a Few Pots Boiling this Spring — Including a New Opening!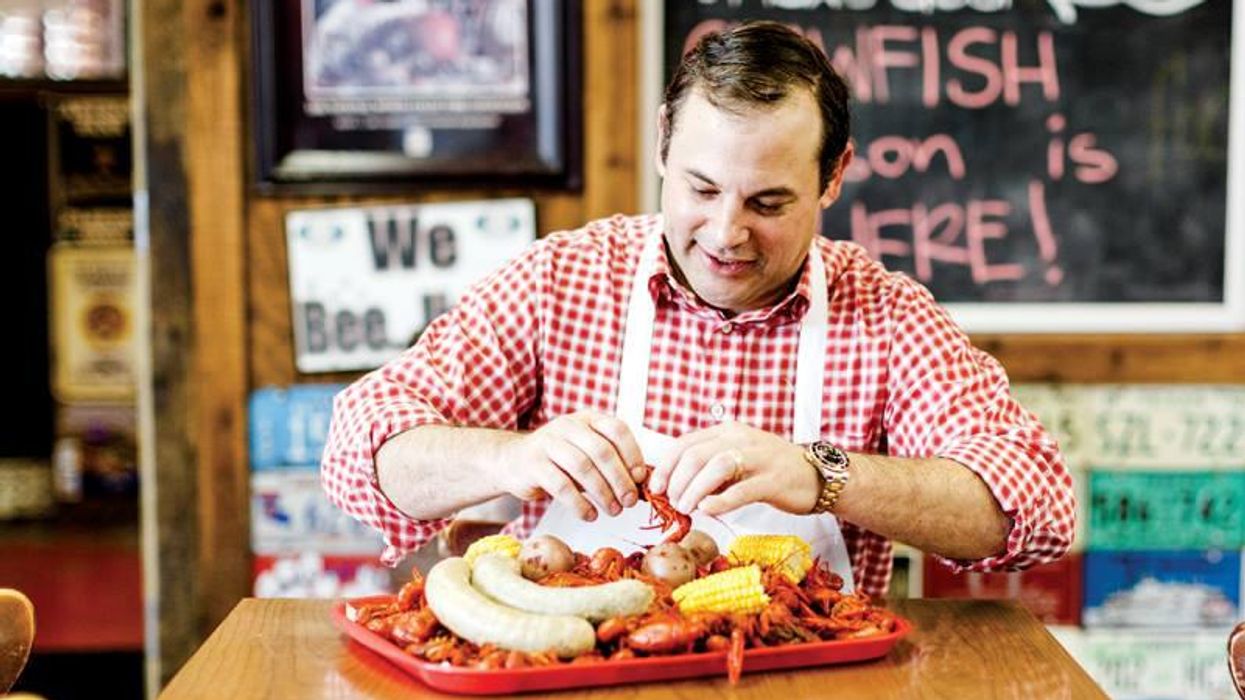 CRAWFISH, MUDBUGS, CRAWDADS, crayfish — call them what you will, the prolific Cajun delicacy is now in full steam. And if there's anyone in Houston who knows his way around a crawfish boil, it is Dominic Mandola. In fact, his father, Luke Mandola, Sr., co-founder of the Ragin Cajun, was the first Houston restaurateur to offer crawfish on a menu. After years of opening Ragin Cajuns all over Houston, and then scaling back to just the original location during the pandemic, Dominic recently announced plans to expand once more.
---
Back when crawfish first took off in Houston, in the late '70s, the pioneering restaurant held crawfish boils in its parking lot at the original still operating location of Ragin Cajun on Richmond Avenue. The springtime boils were popular with the Louisiana natives who had just moved to Houston during the oil boom. But the Mandolas weren't sure if all Houstonians would embrace crawfish. Oh boy, did they.
"The crawfish culture just keeps growing," says Dominic, who likens the craze to a food addiction. "It is a fun, interactive food, and there's usually lots of cold beer, socializing and music involved." Even though Ragin's menu has evolved to include dozens of dishes, including high-end fish entrees, the most popular are still the crawfish, gumbo and shrimp po'boys. "I don't think you can find a better shrimp po'boy in town. Those po'boys put me through college and provided a comfortable upbringing."
Dominic, President of Ragin Cajun since 2012, strives to "engage all the senses," and crawfish are probably the most hands-on, roll-up-your sleeves food you can eat. The enormous red mudbug sculpture above Ragin Cajun's front door — which, amazingly, has never blown down during Houston's notorious hurricanes — reminds you that crawfish are still the thing to get there.
"What makes our crawfish exceptional, first off, is our sourcing." Dominic is proud to say he's been getting crawfish from the same Louisiana family since 1981.
"I love our unique boil and customers agree that it has made us famous for crawfish," he says. The kitchen uses lots of lemons, garlic, and red pepper for the perfect balance of spices to boil the crawfish in instead of sprinkling seasoning on top or adding it to a butter sauce like many do. "Also, our crawfish arrive purged, so guests get the cleanest tasting crawfish with zero grit," he adds.
Born into the restaurant industry, Dominic says his family's business was his first real job after graduating from The Art Institute of Houston with a culinary degree. Even if you've lived in Houston a short time, you know that the Mandolas, and their cousins the Carrabba's family, have been in the business of feeding guests for decades.
He and his wife, Ashley, stay busy with four children and all of their activities, but he is still very present at the restaurant, working 50 to 60 hours a week. "I manage to find a little time to go fishing whenever I can, which I really enjoy." He's lucky to have long-time reliable employees, many of which have worked with him for 25 years, who lovingly call him 'Cuz,' short for cousin. (What's behind the name? "That's a really long story!" he says.)
What's next for Dominic? He's opening a second location in Spring Valley, an up-and-coming neighborhood where Mandola lives with his family. It will open on Wirt Road this summer.
"We are beyond excited to bring this kid-friendly venue to Spring Valley. It will have a huge patio with lots of elbow room, a large menu of seafood, Louisiana and crawfish specialties, and will delight the entire family," assures Mandola.
Food