Devouring Houston
It's the beginning of a new decade, and we're hungry. Let's take a big bite out of what's new and trendy — food halls and tropical treats, anyone? — and post up at the classics, ever reinventing, that keep us coming back. And, by all means, save room for Bananas Foster!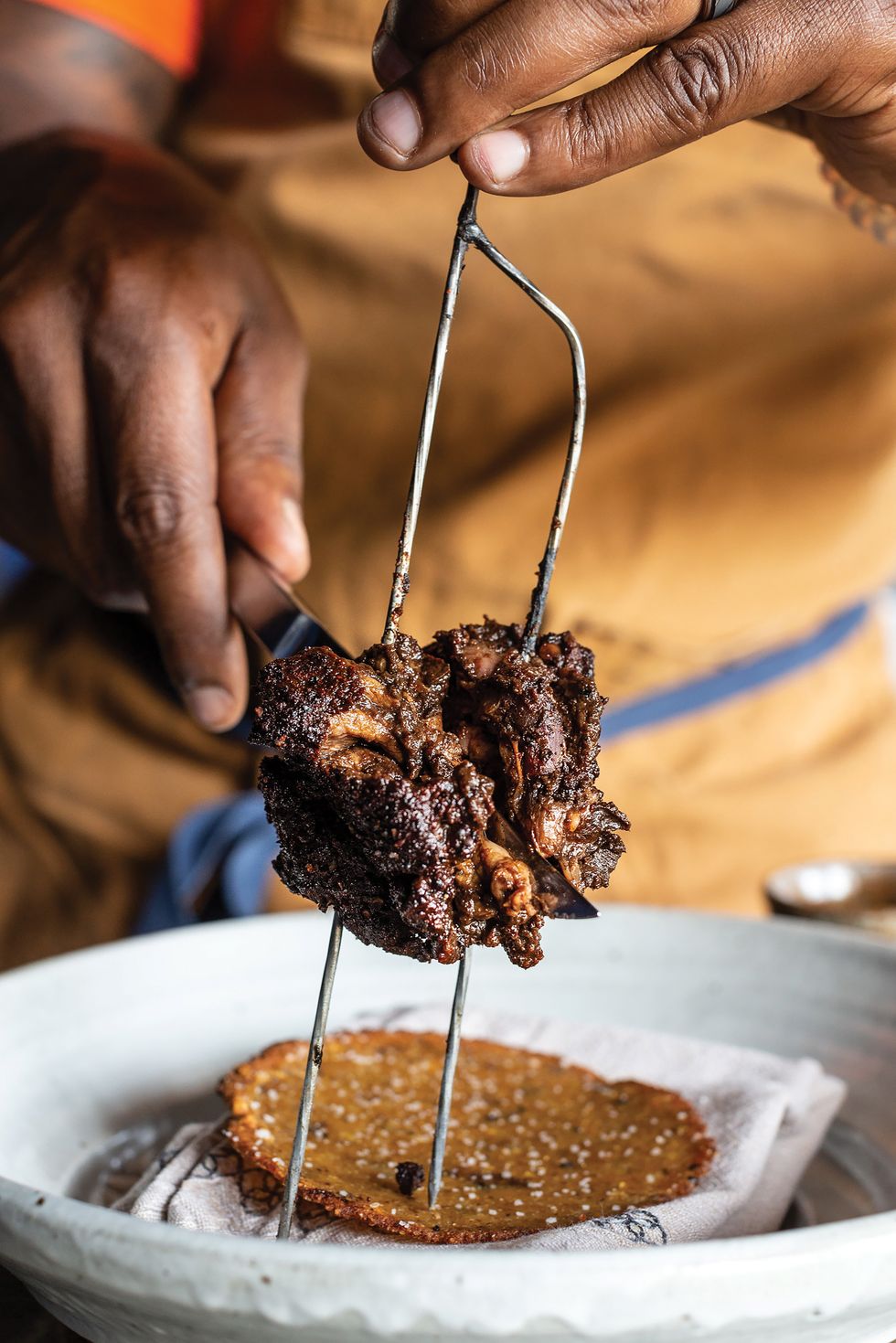 Du Jour
Making History for Dinner
Northside's 13-seat, two-year-old Indigo has become a darling of food writers near and far, with Time naming it to its list of the World's Greatest Places in September. Look for Chef Jonny Rhodes, a prior-service Marine whom the James Beard folks have cited as a chef to watch, to earn growing acclaim for his "neo-soul" tasting menus inspired by the African American experience, a la "Assimilation Is Not Freedom," which is smoked pastrami with brown mustard and beets stewed in sorghum. Notable desserts include candied yam semifreddo with yam-skin molasses, dubbed "Descendants of Igbo," which might be washed down with okra-seed "coffee." Passionate history lessons on slavery and the civil rights movement are served up on the side. Rhodes runs Indigo with his wife Chana, also a prior-service Marine.
---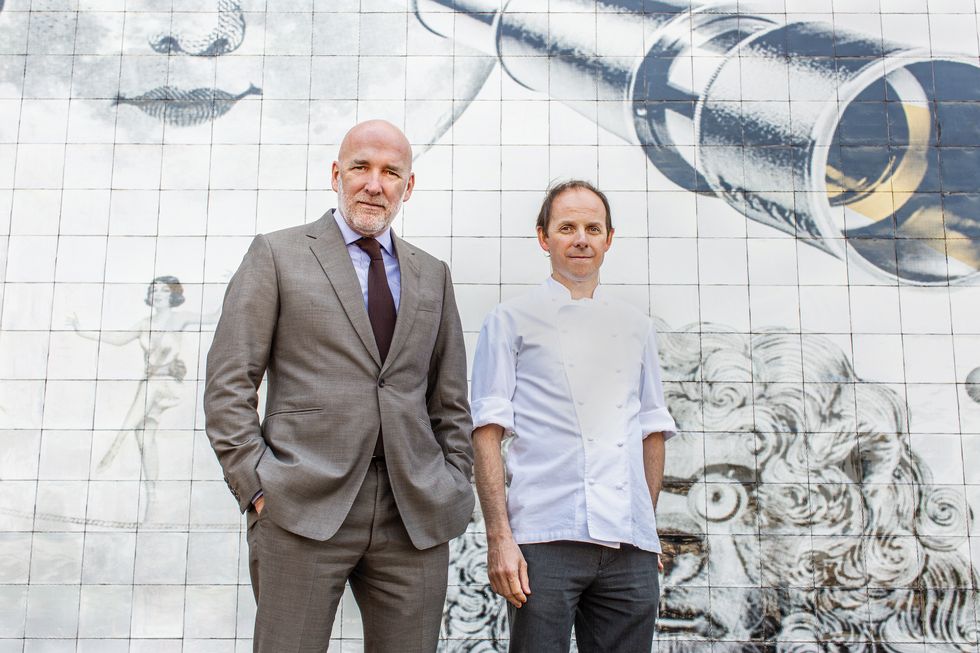 Ignacio Torras and Luis Roger of MAD. Photo by Jenn Duncan
Delicious District
River Oaks District
The River Oaks District has been working to become a foodie hub since it opened in '15, and it's come a long way. Thanks are due to Le Colonial's top-tier Vietnamese served in a posh, potted-palm-beset social swirl, and Steak 48's glitzy steakhouse take — not to mention Toulouse French café and its see-and-be-seen energy, and Bisou's oh-so-sexy contemporary vibe, with continental fare for the cocktail set. District dining may have now fully achieved critical mass, with the arrival of MAD, an Instagram-happy wonderland of bold color, light and mirrors. Its fast-famous Madrid-inspired dishes include MAD Tomato, which comes shellacked bright red and stuffed with parmesan mousse and pesto. And, elsewhere in the chic shopping mecca, new Greek-influenced Ouzo Bay, dramatically designed and ocean-themed — and its companion setup, Loch Bar, a gleaming high-end whiskey pub — source seafood from all over the world.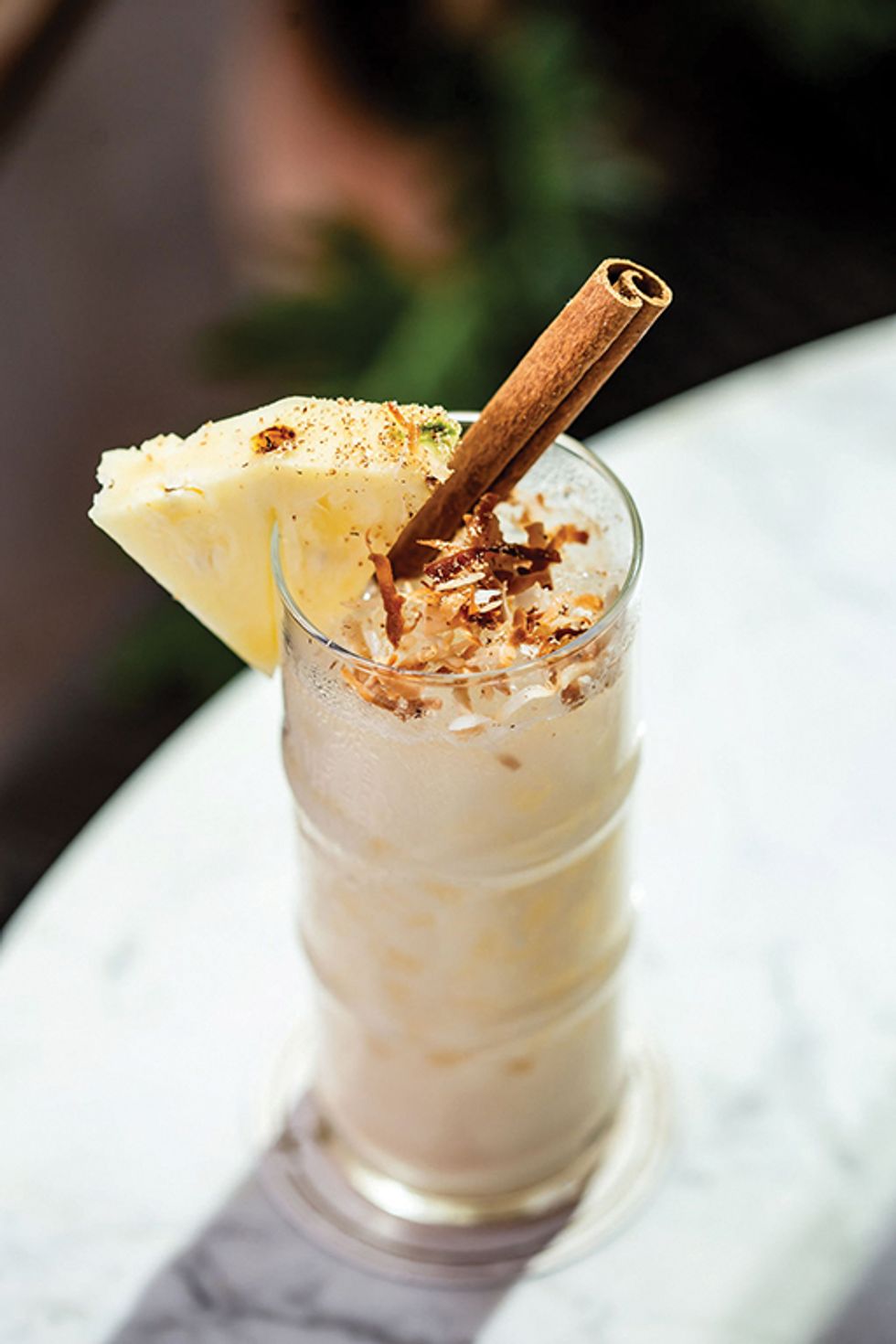 A Sunny Place for Shady People tiki cocktail with dark rum, guava, pineapple, orange, coconut cream and nutmeg, at Traveler's Table. Photo by Kirsten Gilliam
Delicious District
Westheimer Curve 3.0
Montrose's dynamically delicious evolution continues in the '20s: Tasting-menu restaurant March rounds out Goodnight Hospitality's tasty trio of projects that also includes Montrose Cheese & Wine and Rosie Cannonball. Traveler's Table has taken over the still-new, eye-catching building that once housed Aqui. And as stalwarts like Dolce Vita and El Real announce their closures, newcomers such as the salad tossing Sweetgreen and chic wine bar Penny Quarter serve up even more dining diversity to the area.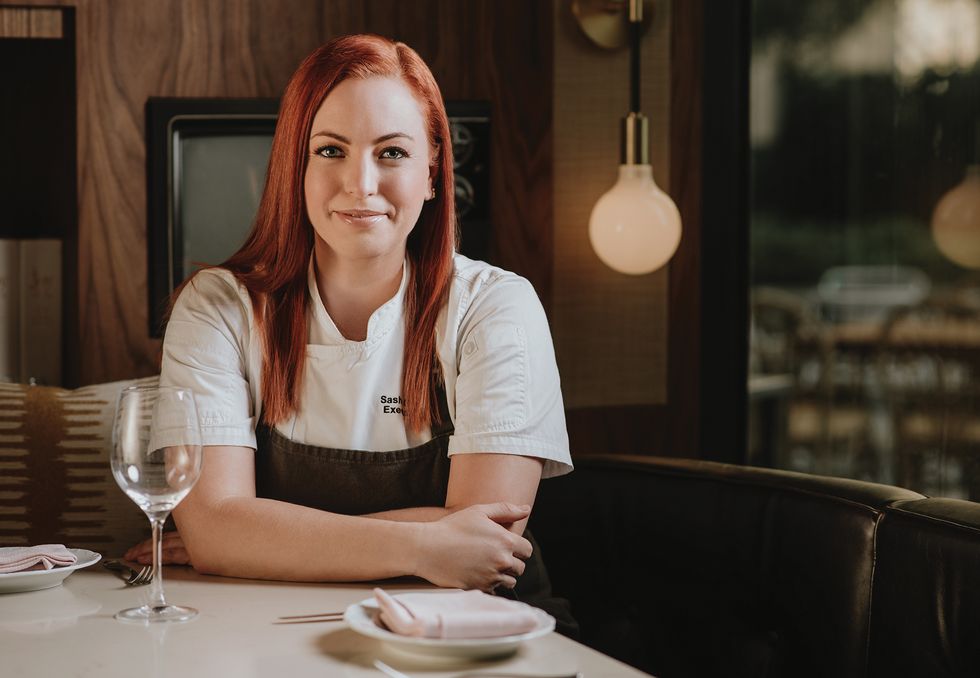 Chef Sasha Grumman, photographed by Jhane Hoang at the C. Baldwin hotel, with hair and makeup by Edward Sanchez
People
Girl Power
Celebrated San Francisco chef Chris Cosentino, is quite a ladies' man. He named his wonderfully warm and thoughtfully hip pizza-and-pasta setup, Rosalie, after his great-grandmother (and decorated its backroom to look like her '70s sunroom!), and plunked it down in Downtown's new C. Baldwin hotel, itself named for one of Houston's founding mothers. He also named Sasha Grumman his exec chef. "There's a lot of women energy here," she agrees. Grumman grew up cooking with a big Italian family in Southern California and trained in Italy. "Moving here to work on this project was an easy decision."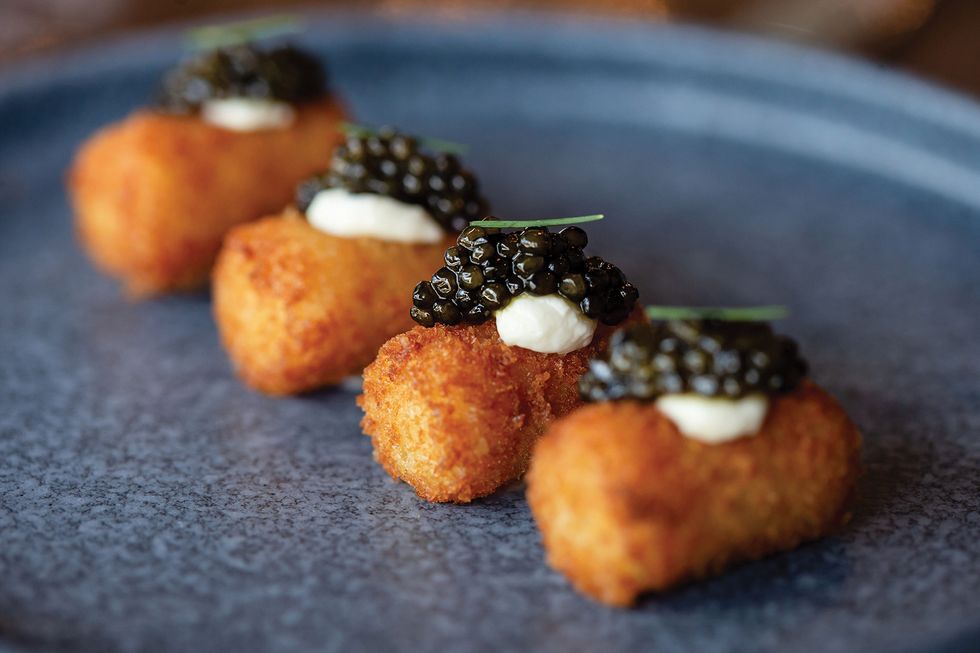 Caviar tots at Riel. Photo by Kirsten Gilliam
Du Jour
Riel Popular
Montrose's Riel, helmed by Ryan Lachaine, just turned three — and seems to be getting better with age. The menu, which fuses Gulf, southern, Canadian and Eastern European flavors, now touts truffle-and-caviar pierogies and mushroom empanadas. In recent months, it's become a see-and-be scene, boasting customers like Justin Verlander, Kate Upton, comedian Jo Koy and a handful of the Philadelphia 76ers, who were in town just after the new year.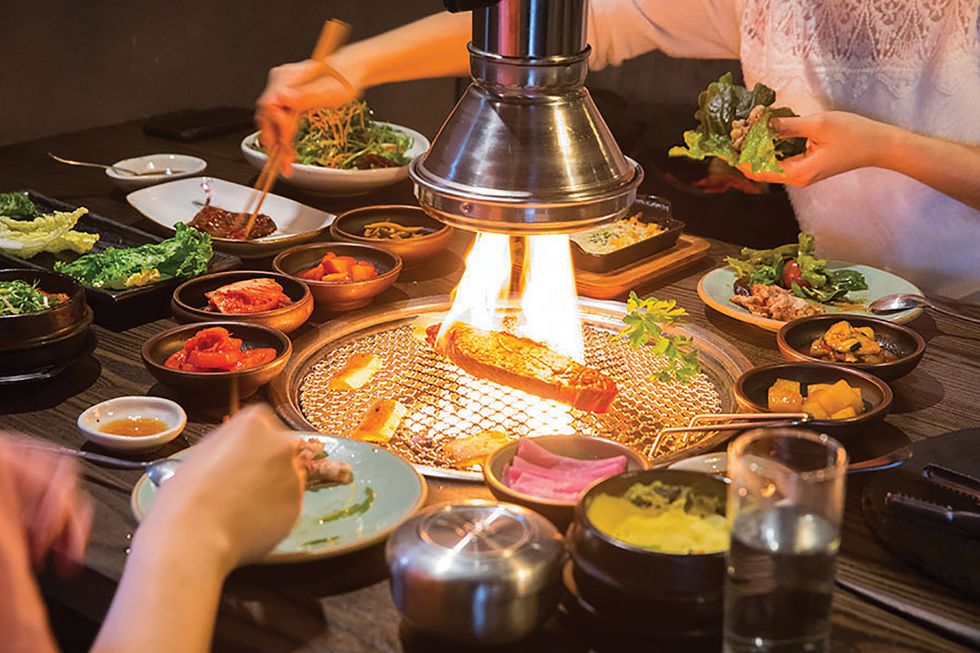 At Bori, servers help prepare and cook meat in the center of the table. Photo by Shannon O'Hara
Delicious District
Way Out West
Ben Berg's B.B. Italia on Memorial will soon have a new neighbor in White Elm Bakery & Café, a hybrid restaurant-retail concept from a team that includes the "Bread Man" Tasos Katsaounis, the owners of Chez Nous, and Chico Ramirez, formerly of Field & Tides. Expect a French-kissed, all-day menu and the same pastries that have garnered the Bread Man a cult following at farmers markets. Across I-10 in the Spring Branch area, the upscale new Korean steakhouse Bori offers dozens of delicious takes on a mighty, meaty meal — from spicy marinated pork belly to short-rib patties, all cooked tableside by the server.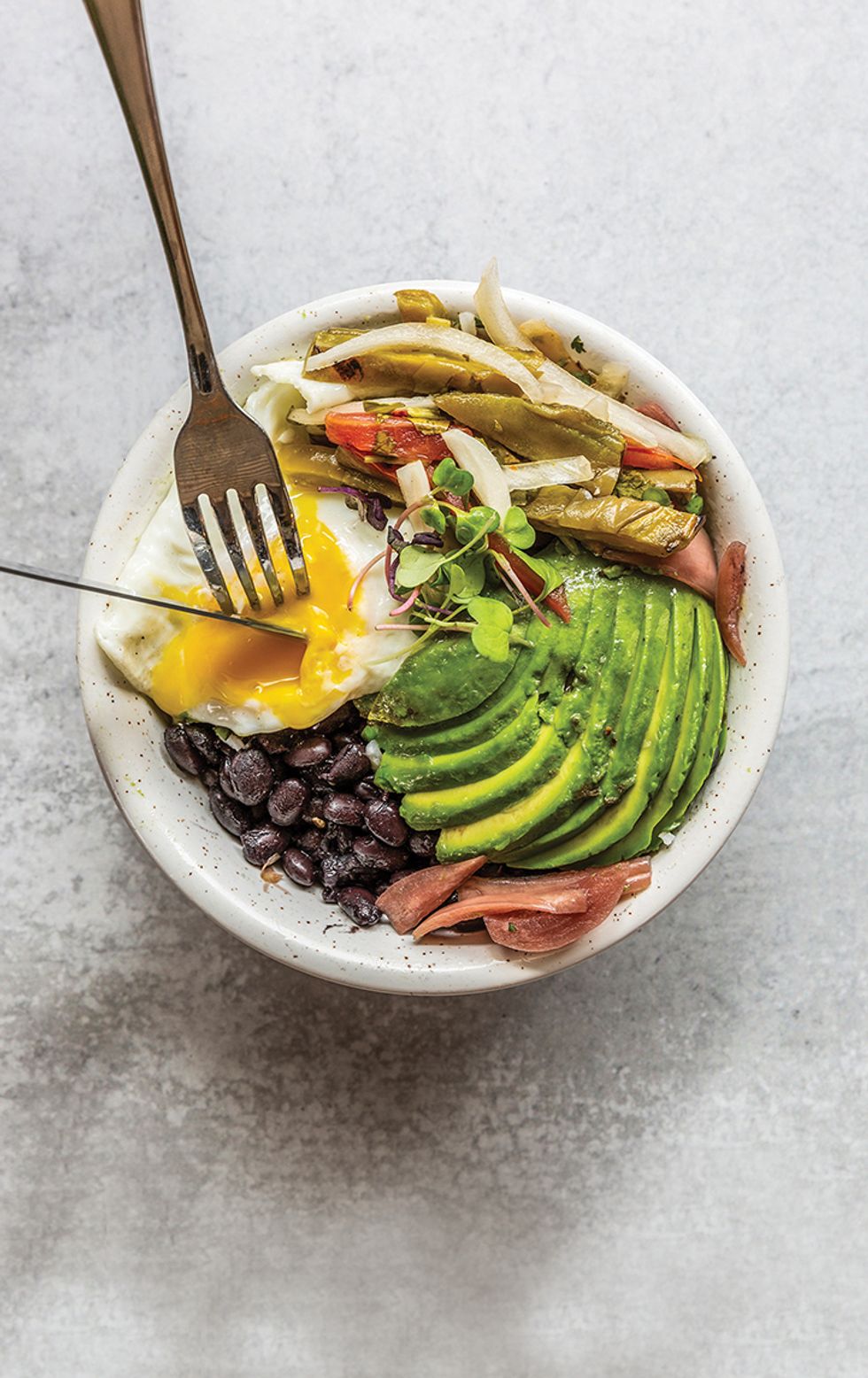 The Big Bend Rice Bowl, with black beans, pickled red onions and 'nopales,'
at Tropicales. Photo by Julie Soefer
Du Jour
Vacation Vibes
While winter in Houston may be mild, it can still leave residents pining for a tropical getaway. Can't jet to the Caribbean? Escape to one of Houston's new hot spots with a vacation-worthy vibe, like Tropicales. The year-old Latin-savvy all-day café on Bissonnet is outfitted in Havana-meets-Palm Springs décor, and serves up delicious dishes like fried yucca with chimichurri and a piping hot pressed Cuban sandwich. Near the Heights, the new Monkey's Tail bar pours beachy-chic beverages, including several cocktails on draft, with subtle garnishes. The "No … Pos Ta Cabron" — made with whiskey, mango, guajillo, orange and lime — is served in a Capri Sun-like pouch! Meanwhile, the Toasted Coconut tiki bar on Richmond is a little more in-your-face with its tropical touches. The rum-fueled Seaside Vibes drink is blended with mango and coconut milk, and topped with an umbrella, naturally.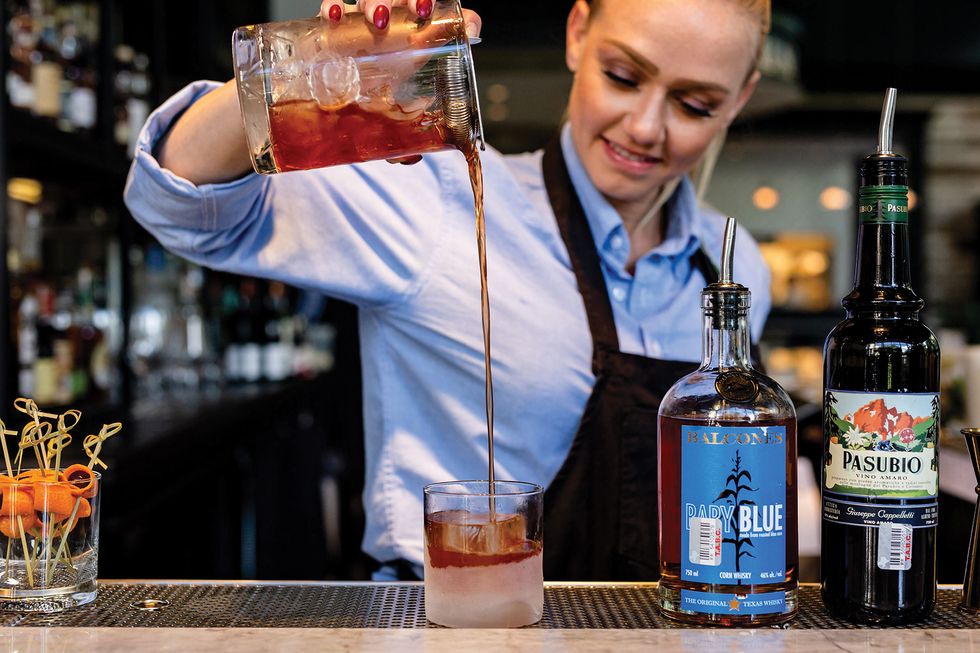 A bartender pours the Teal Season cocktail at Eunice. Photo by Kirsten Gilliam
Trend
Coast with the Most
The Gulf Coast is never far from Houston's culinary core — literally and figuratively. And that's never been truer than right now. At new Tribute in The Houstonian hotel, they call their coastal approach Tex-Lex, owing to the region's overlapping flavors of Texas, Louisiana and Mexico; the "experience menu" touts wood-fired oysters and spicy snapper with "shrimp butter." Danton's, having just reopened as Eugene's in the former home of Mockingbird Bistro in Montrose, is neighborhoody and unabashedly old-school. Broiling, bubbly seafood preparations boast classic New Orleans flavors combining butter, lemon, garlic and Parmesan, as in the Shrimp Kyle, named after the owner. Meanwhile, Eunice, a big-city Texas resto inspired by small-town Louisiana, continues to thrill with new-classic dishes like duck jalapeno poppers — as Chris Shepherd's rotating-concept
One Fifth homages the Gulf with jambalaya, wood-roasted flounder with almonds, and an entire shellfish section on the menu.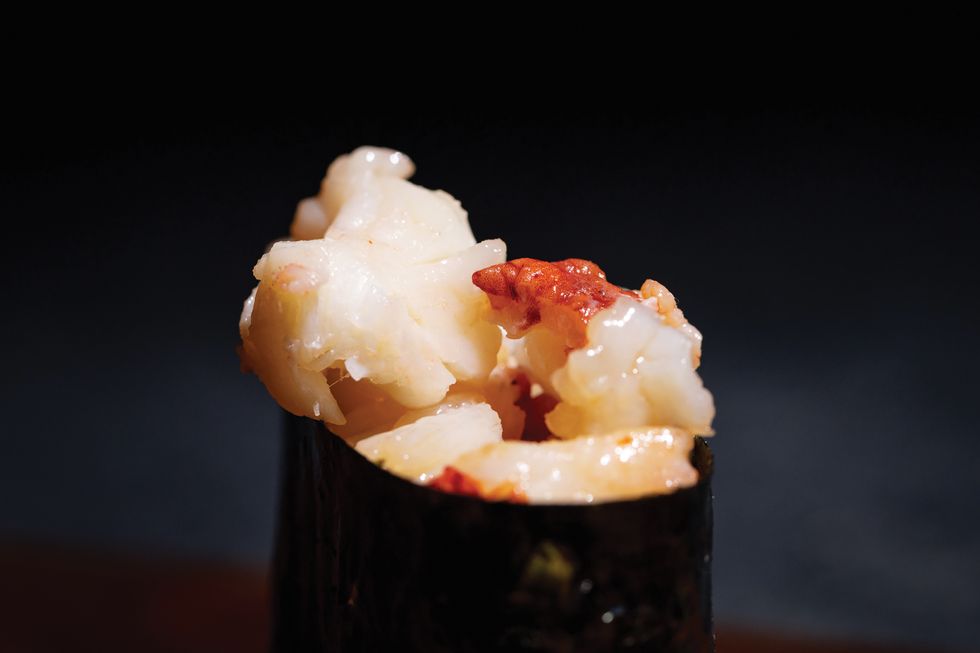 Lobster nigiri at Uchiko
Trend
On a Roll
Sushi is always chic … but 2020 is shaping up to be quite the raw deal! Two new sushi bars specializing in hand-rolls opened in the Heights at the end of 2019: Hando is helmed by Man Nguyen, formerly of Nobu, and Handies Douzo is the next venture from the team behind the popular Kokuro in Bravery Chef Hall. Meanwhile, Mike Lim will open Kanau in the base of Midtown's new Drewery Place high rise later this year. Plus, Hai Hospitality announced that 2021 would deliver H-Town locations of both Uchiko (in Uptown) and Loro, the Asian "smokehouse" collaboration between Uchi chef Tyson Cole and famed pitmaster Aaron Franklin, headed for the Heights.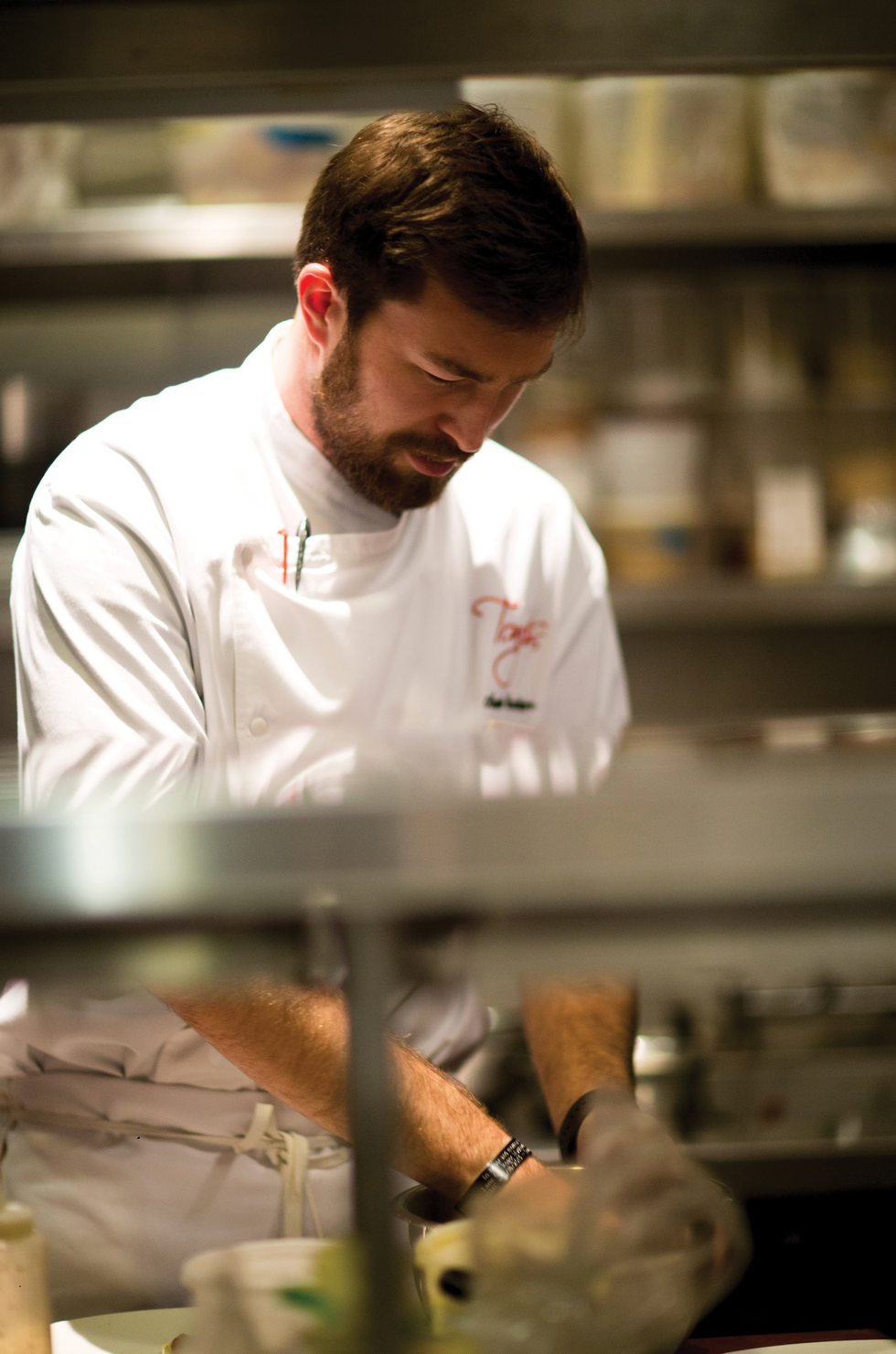 Austin Waiter of Tony's. Photo by Dailey Hubard
People
New Guard
Houston's hottest restaurants have earned their reputation at least in part through their notable chefs. And while folks like Chris Shepherd and Ryan Pera have expanded their foodie footprints to make room for talented cooks they deem the Next Big Thing — Food & Wine says Nick Wong is making the most interesting brunch in America at Shepherd's UB Preserv — fine-dining stalwart Tony's has promoted former chef de cuisine Austin Waiter to executive chef. Waiter utilizes the restaurant's signature ingredients in inventive new ways, as in the Alba-white-truffle-topped vegan corn risotto, prepared tableside.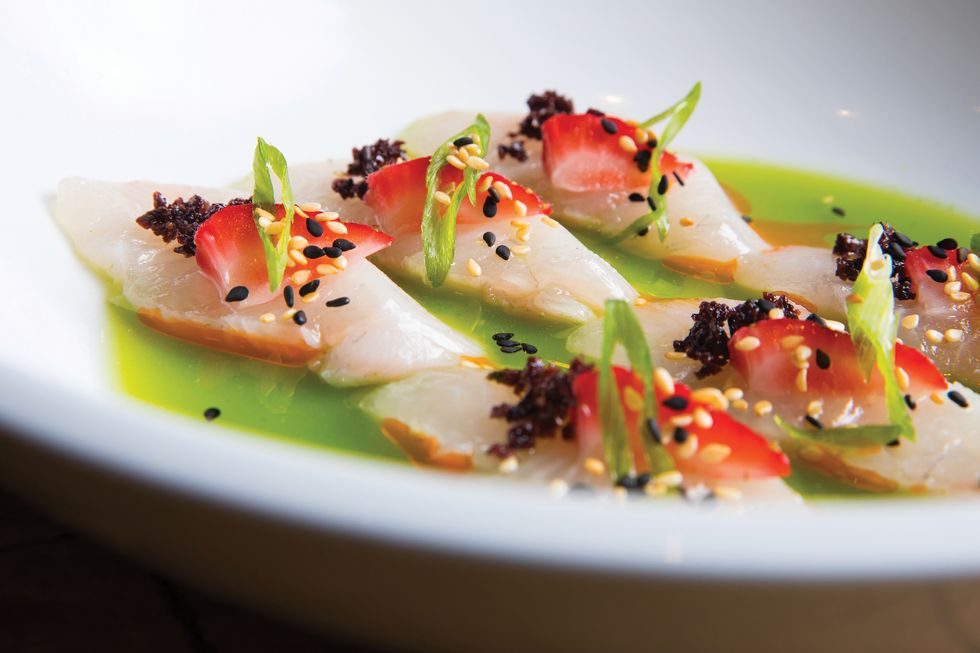 Hamachi with candied olives at Benjy's. Photo by Shannon O'Hara
Trend
Classics Reborn
Foodies who like their nostalgia with a side of new and trendy have a lot to feast on. Chef Robert Del Grande's Café Annie has debuted an urbane new look, enlarged bar, new name and new owner — restaurateur extraordinaire Ben Berg of B&B Butchers. At The Annie Café & Bar, Del Grande sends out longtime faves like crab tostadas alongside new hits like steak tartare with green-peppercorn sauce. Rice Village's Benjy's also changed it up, with bright new L.A.-esque décor and a new shareable-savvy menu with sea urchin "carbonara" with squid-ink bucatini. Meanwhile, the venerable Goode Co. Seafood in Memorial has hopped across the parking lot to a larger location, near where steaks-and-seafood stalwart Masraff's will open in the spring.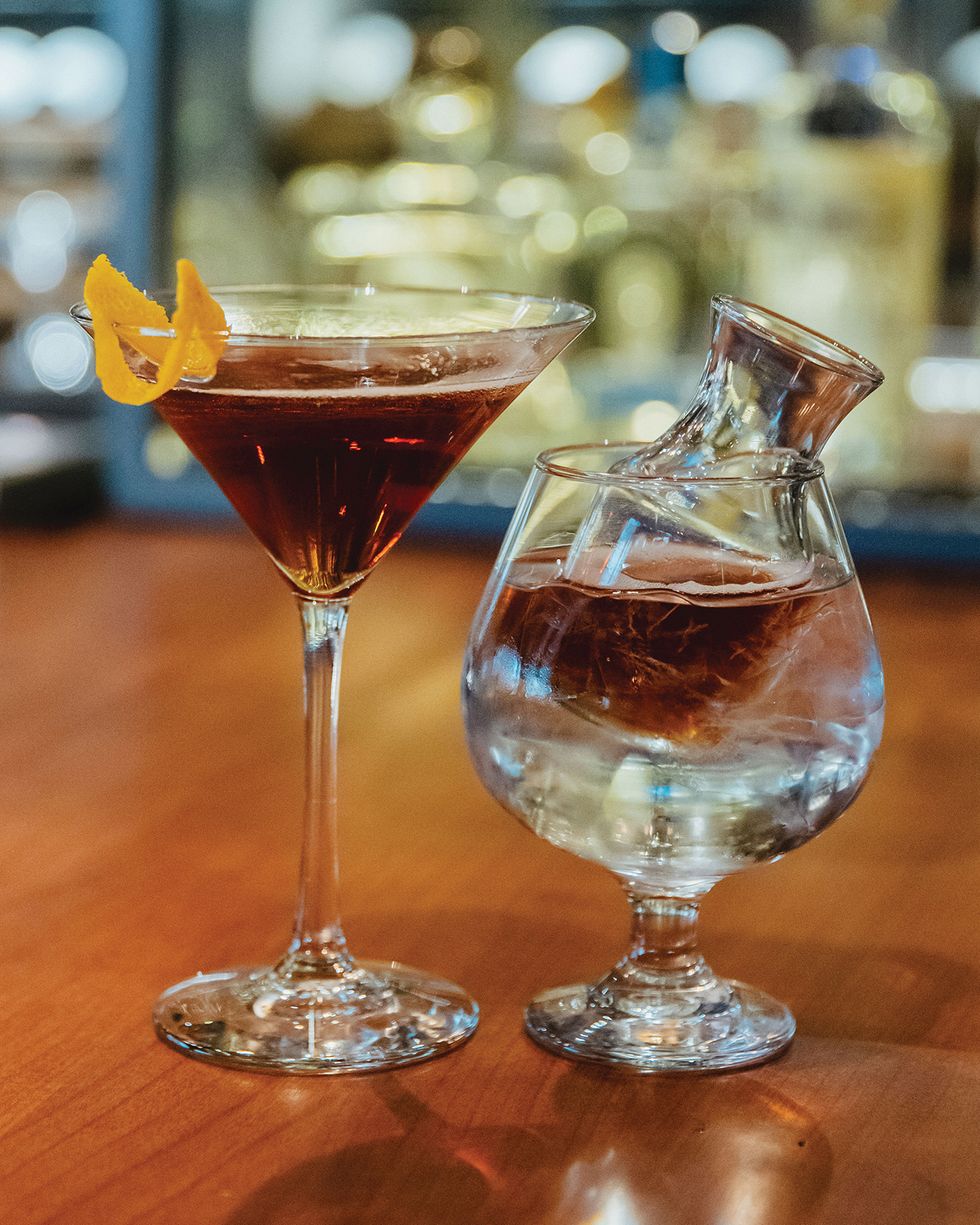 The Red Headed Martini at Merus Grill
Delicious District
What's 'Up'
Uptown Park's light, bright makeover is noticeable in 610 traffic — but is worth experiencing in person. Tasty additions include the health-minded Flower Child
and Mendocino Farms, along with Merus Grill, serving updated American classics, like pork chops with apricot-horseradish sauce. Meanwhile, Uptown Sushi and M&S
Seafood, Steaks & Oysters, formerly McCormick & Schmick, boast floor-to-ceiling renos.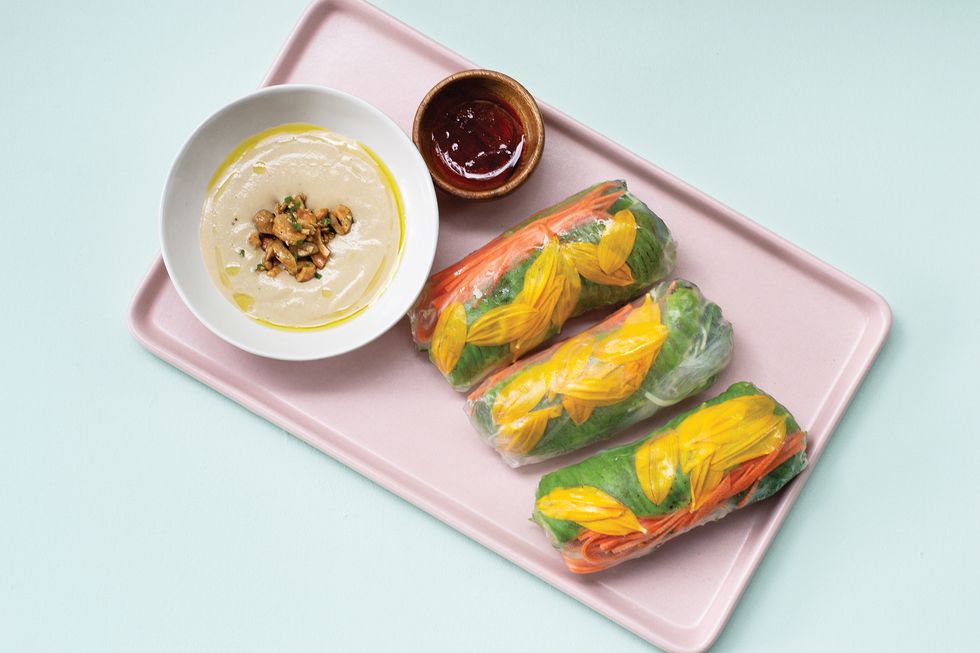 Veggie spring rolls with cashew-coconut sauce at Satisfy
Du Jour
Satisfied!
A new decade brings a new chapter for Clark Cooper Concepts, the group behind date-night hot spots like Ibiza in Midtown, Rice Village's Coppa Osteria and Brasserie 19. With The Dunlavy, overlooking Buffalo Bayou Park, the restaurateurs branched out to include the morning crowd. Now, just as Ibiza shuts its doors in February, The Dunlavy seeks to fill a void by offering dinner service for the first time, no longer reserving its chandelier-bedecked space for private evening events. Another all-day dining experience from Clark Cooper, Satisfy, opens in River Oaks later this year, with clean-eating options for a sit-down meal, and grab-and-go bites, too.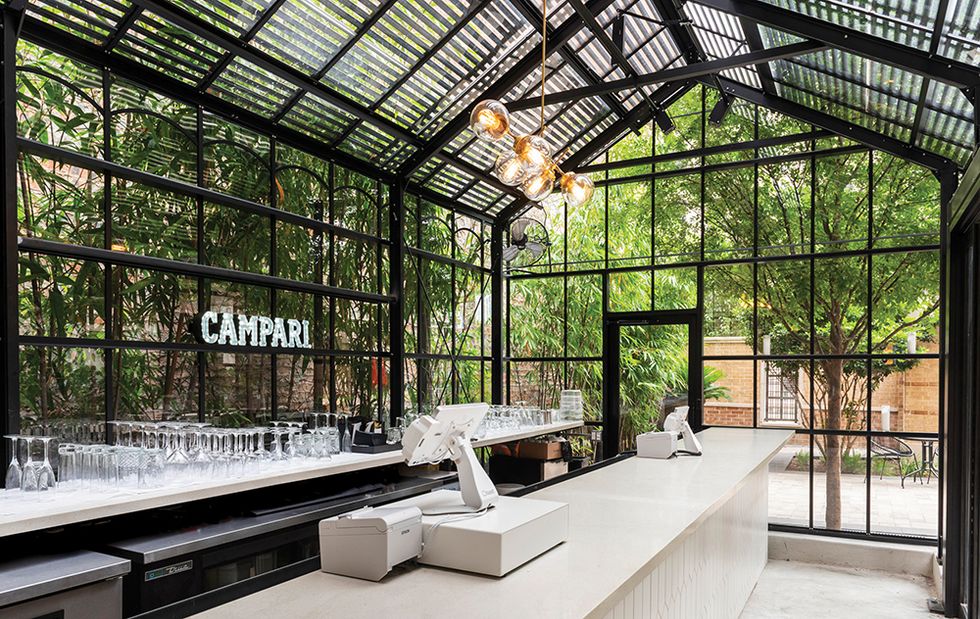 Bravery Chef Hall's Secret Garden bar by Claudia Casbarian
Trend
Hall Pass
Has the food-court craze reached its peak? The latest food halls to bow include
Politan Row
in Rice Village, featuring vendors like food-truck fave Breaking Bao, Indonesian soft-serve joint Susu Kopi & Boba, and Bar Politan, a lively spot with an agave-focused beverage program.
Bravery Chef Hall
— with stalls such as Richard Knight's Atlas Diner, Chrstina Ha's The Blind Goat and Ben McPherson's BOH Pasta — joins the 10-vendor
Finn Hall
 and tunnel-centric
Understory 
in Downtown. H-Town's original food hall,
Conservatory
, will reopen as the reimagined Underground Hall, also in Downtown, while 
Lyric Market 
will offer patrons of the Theater District some new dining options, including an underground speakeasy and multiple al fresco "dining terraces," later this year. The crowd-funded
Railway Heights
— a 64,000-square-foot development that includes a huge beer garden and farmer's market — will also open within the year, off Washington Ave. just north of I-10.
The prime bone-in New York strip with grilled cipollini onions at Fleming's. Photo by Al Torres
Trend
We Meat Again
Steakhouses remain perennial musts, with smart newbies joining longtime favorites on the regular. Per the latter, Fleming's Prime Steakhouse in the River Oaks area draws loyal fans to its classic fare and polished, clubby environs — but keeps things fresh, thanks partly to Caribbean-raised chef Frankie Vazquez and his worldly roots. Witness his "Chef Frankie's Table" menu, proffering lamb chops with blackberry tzatziki and grilled cucumber. Nearby, Perry's new River Oaks location is hopping, with a popular "social hour" with bargain bites including escargot. Still newish entrants in the fray — billionaire Tilman Fertitta's Vegas-y spectacle Mastro's in the shadow of his Post Oak Hotel, and lauded chef Chris Shepherd's Georgia James in Montrose, which serves up cast-iron seared steaks in a warm space named after his folks — are buzzy draws. The latest star is Downtown's Guard and Grace, an ultra-modern affair with soaring city-street views.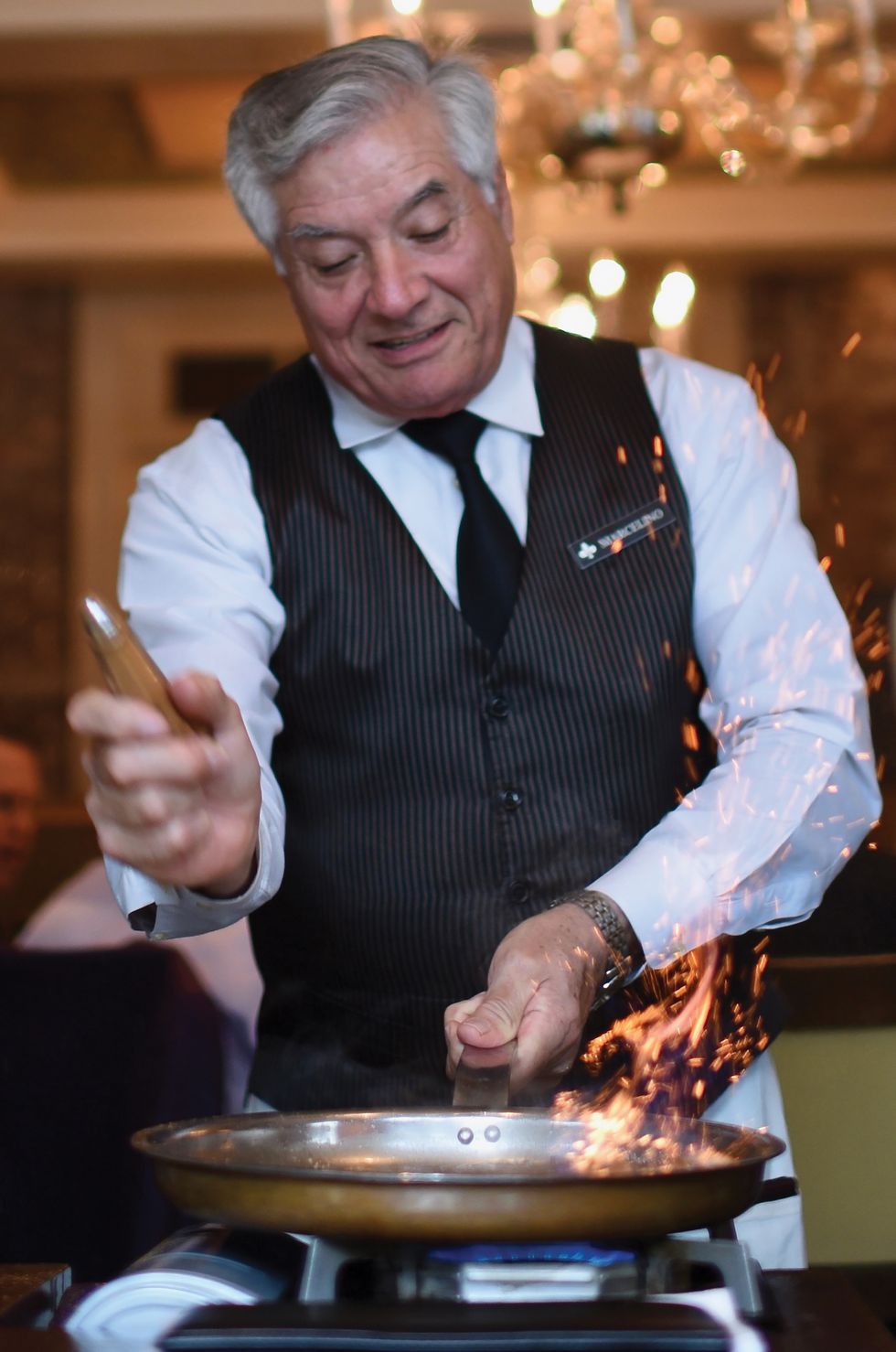 Du Jour
Creole Chic
The city's dining buzz is often all about the new and newly notable, but don't overlook the historical and delicious significance of places like Brennan's of Houston. The beloved restaurant opened in 1967, in a John Staub-designed building that uncannily resembled the original Brennan's of New Orleans; the structure just turned 90 years old. Long-celebrated Creole dishes are best prepared and presented by staff who themselves are fixtures of the restaurant scene — like Bananas Foster flambéd tableside by server Marcelino Cantú, who has spent his 45-year career at the Midtown institution.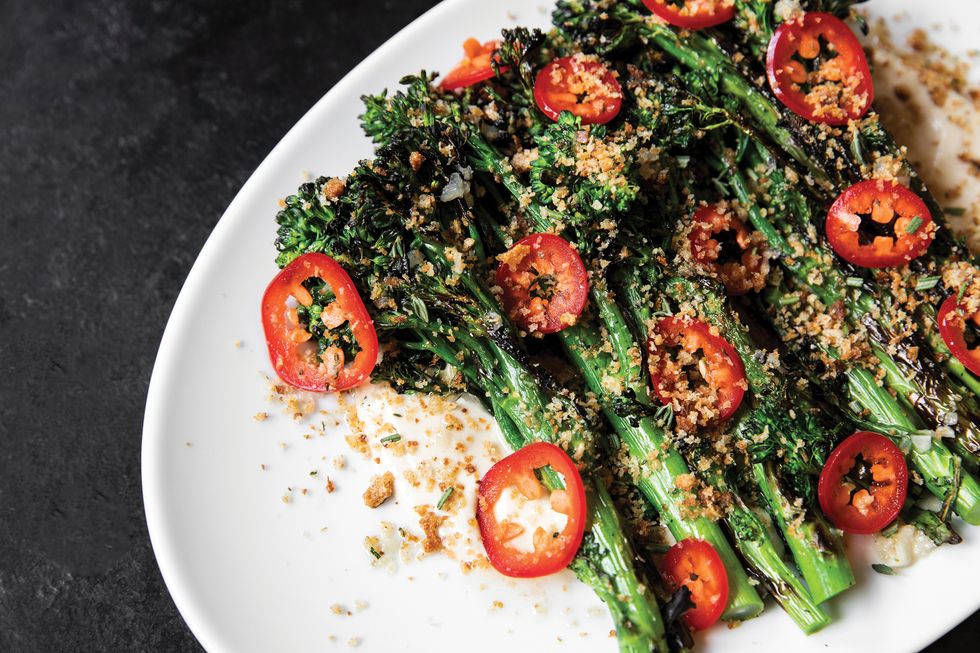 Grilled broccolini at Indianola. Photo by Julie Soefer
Trend
On a Roll
These days, there's more to do in EaDo than just imbibe — although that's still fun, especially with the addition of stylish cocktail bar Miss Carousel and 8th Wonder's distillery, which is next-door to its popular brewery (and which is open for tastings of its eight-times distilled vodka and hop-infused gin Thursday through Sunday evenings). Restaurants like Indianola, Nancy's Hustle — just named by Esquire as one of America's most important restaurants of the last decade — and the just-opened Koffeteria bakery from Top Chefs: Just Desserts chef Vanarin Kuch solidify the 'hood's foodie-fabulous status. Don't miss Kuch's pho kolache.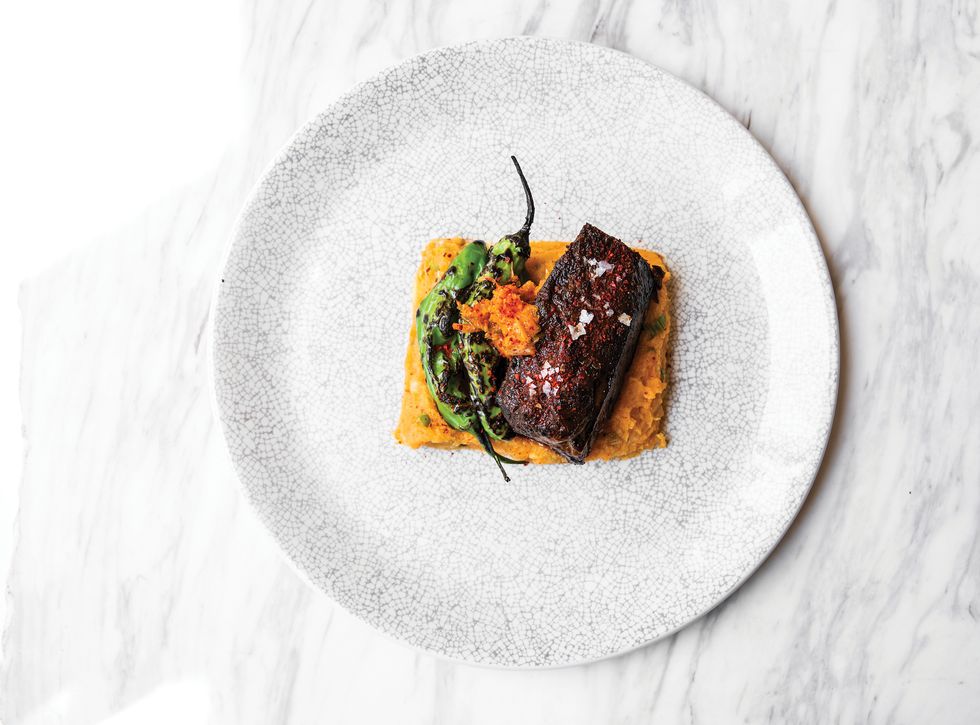 Short ribs with kimchi-mashed potato and shishito peppers. Photo by Julie Soefer
Delicious Districts
Savory Suburbs
In sprawling H-Town, flavor isn't confined inside the Loop. Venture north to Tris, chef Austin Simmons' year-old global-eats restaurant in The Woodlands; or head west to Katy, where Malaysian street food joint Phat Eatery has become the standout of Katy Asian Town, and just reopened after an anticipated expansion that doubles its footprint. And in Sugar Land, State Fare brings its menu of comfort-food-chic eats to Town Square soon.
On the Menu
More food news, in small bites! 
Snag a slice of pie, a savory snack or grab-and-go gift boxes at Salt & Sugar Texas, a new bakery in Katy. ...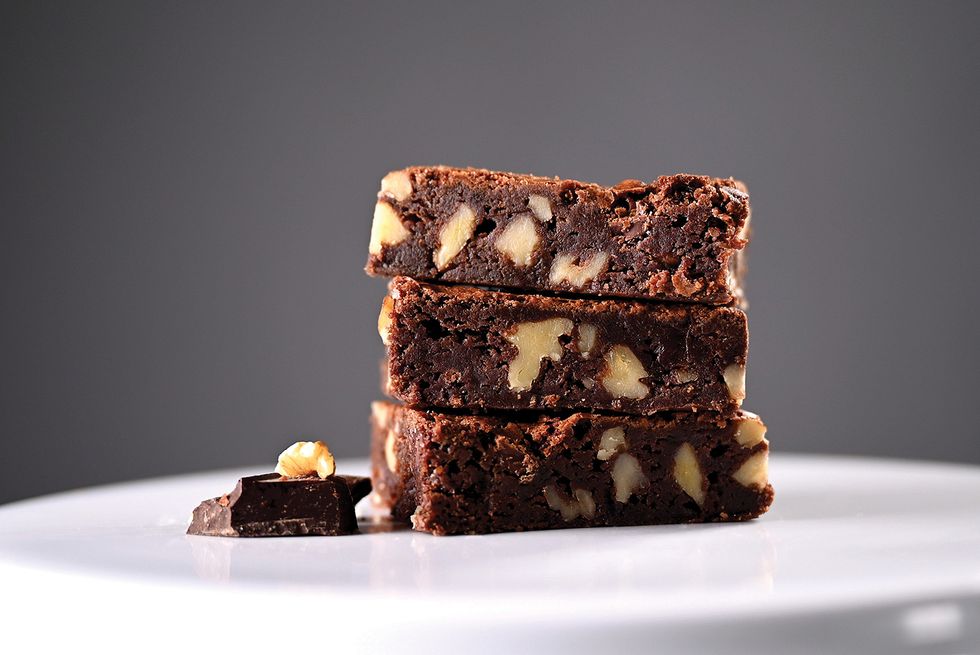 Salt & Sugar
...Ronnie Killen opens his second inside-the-Loop restaurant in the old Hickory Hollow space later this year. ...
..A new restaurant from James Beard-winning Hugo Ortega and his biz-partner wife Tracy Vaught is slated to open in Uptown Park later this year; details about the project are very hush-hush. ...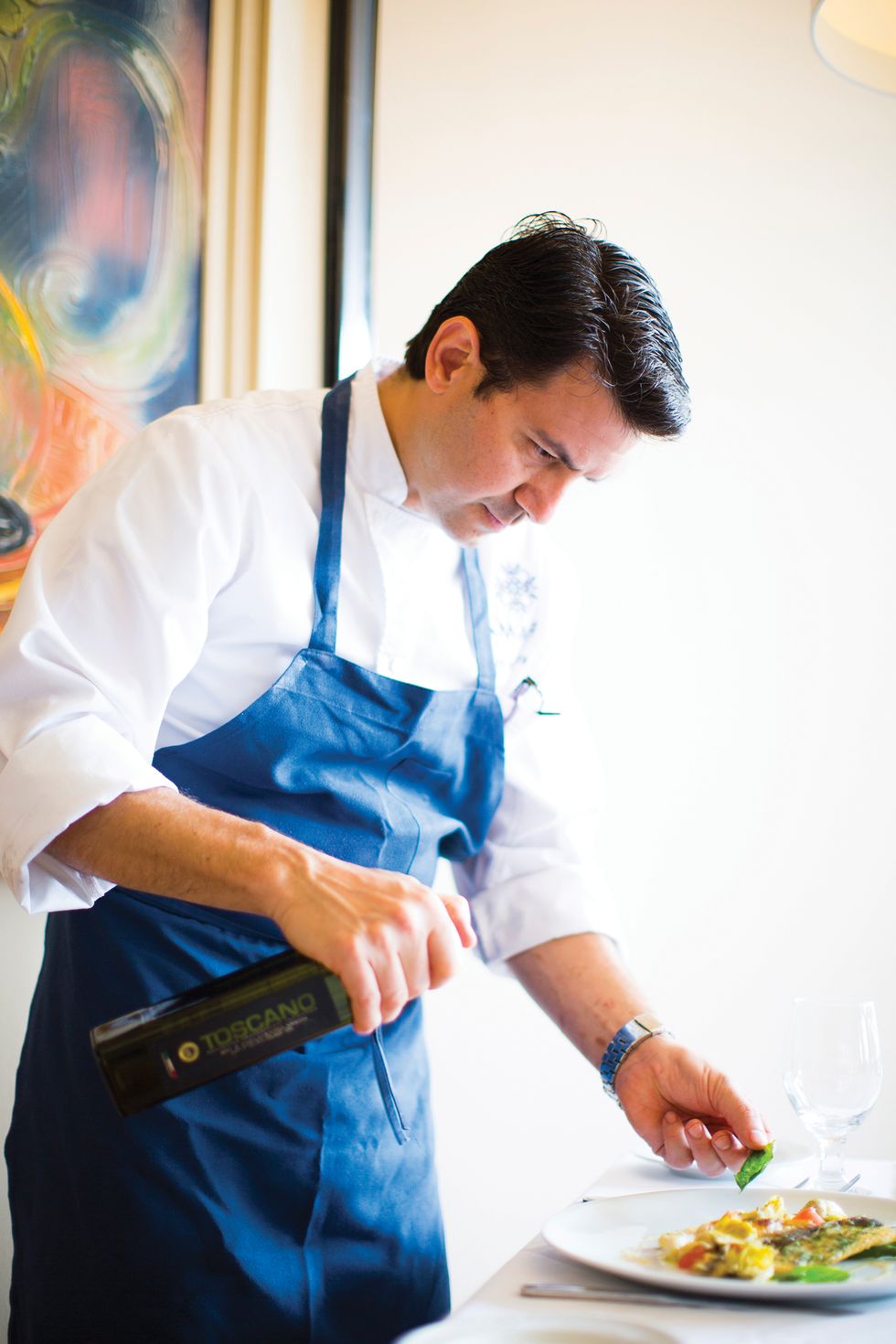 Amalfi
...Chef-owner Giancarlo Ferrara serves up Amalfi's sixth annual Black Truffle Wine Dinner on Jan. 29. ...
...The dudes behind The Pit Room in Montrose opened Tex Mex hot spot Candente just down the block. Don't skip the deliciously smoky chicken flautas. ...
...At the new InterContinental hotel in the Med Center, Safina dishes out Eastern Mediterranean food, prepared with local proteins, all day. ...
...Crawfish season is coming! Ragin' Cajun serves up tons of seasonal specials — and custom catering for your own backyard boil. Killer po-boys, too, of course. ...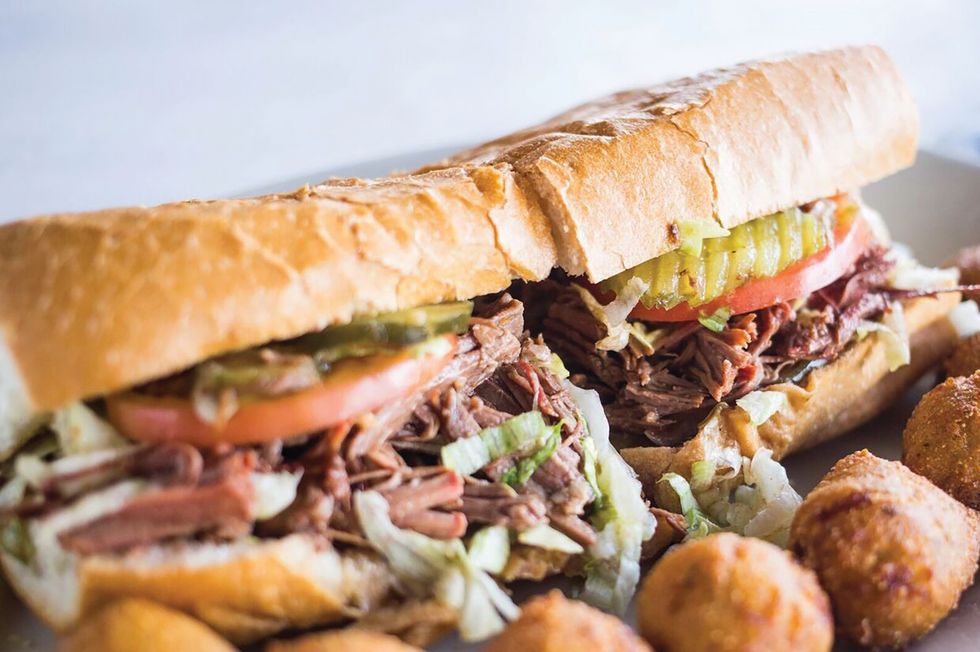 Ragin' Cajun
...Swing by Upper Kirby's Dessert Gallery, celebrating its 25th anniversary in 2020, for giftable Valentine's Day treats, like these sweet — and Insta-worthy! —mini raspberry paplovas. ...
Dessert Gallery
..At the end of 2019, El Tiempo opened two new locations, one in Kingwood's Centre on Northpark development and the other in Indian Springs in The Woodlands, taking the now 11-location Tex-Mex giant a step closer to world domination. ...
...Weekend brunch at Tribute in the Houstonian brings a Bubble Bar, with mimosa add-ons like rose syrup and grapefruit bitters. ...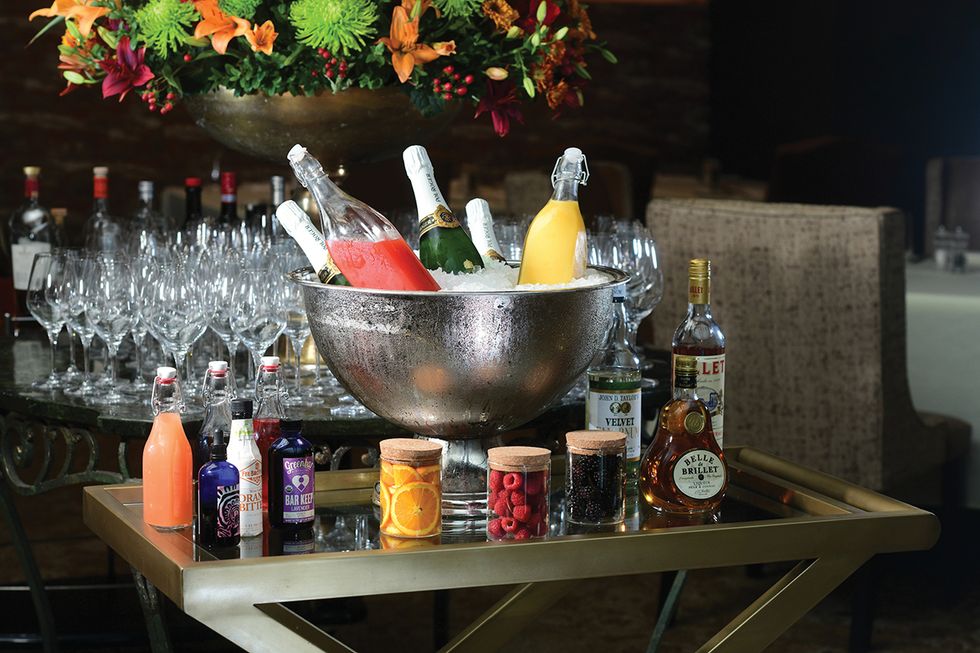 Tribute
...Gypsy Poet is gaining a cult following for its pizzas — the pepperoni one is drizzled with hot honey — and funky vibe in Midtown. ...
...Artisans' six- and seven-course tasting menus, $85 and $100 respectively, are still one of the city's most savory steals. ...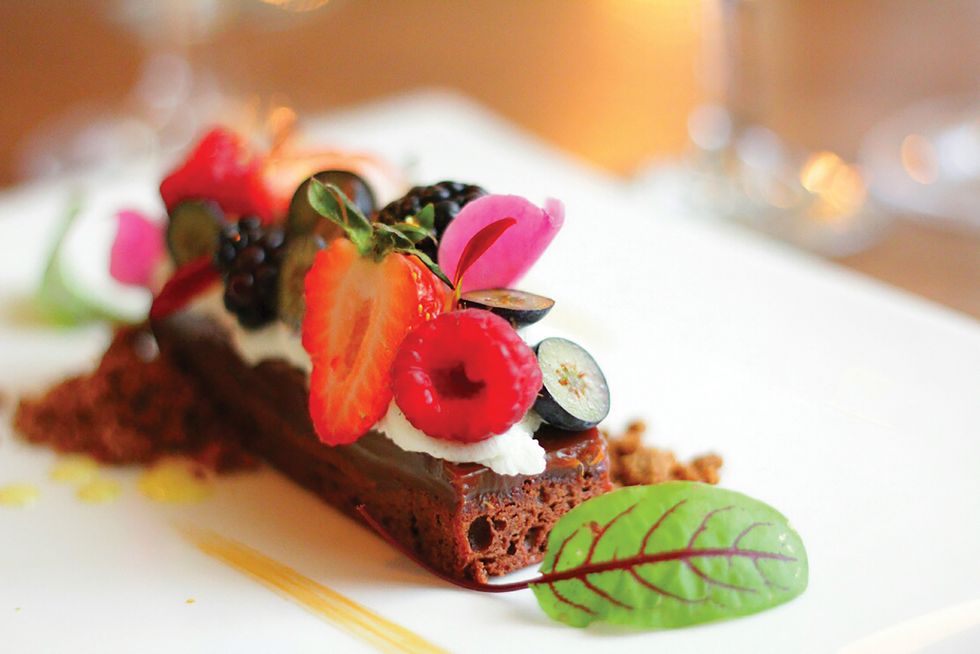 Artisans
Food+Travel