Amazing Rays
On a barrier island off Florida's west coast, a pink palace with hot amenities and cool culture awaits.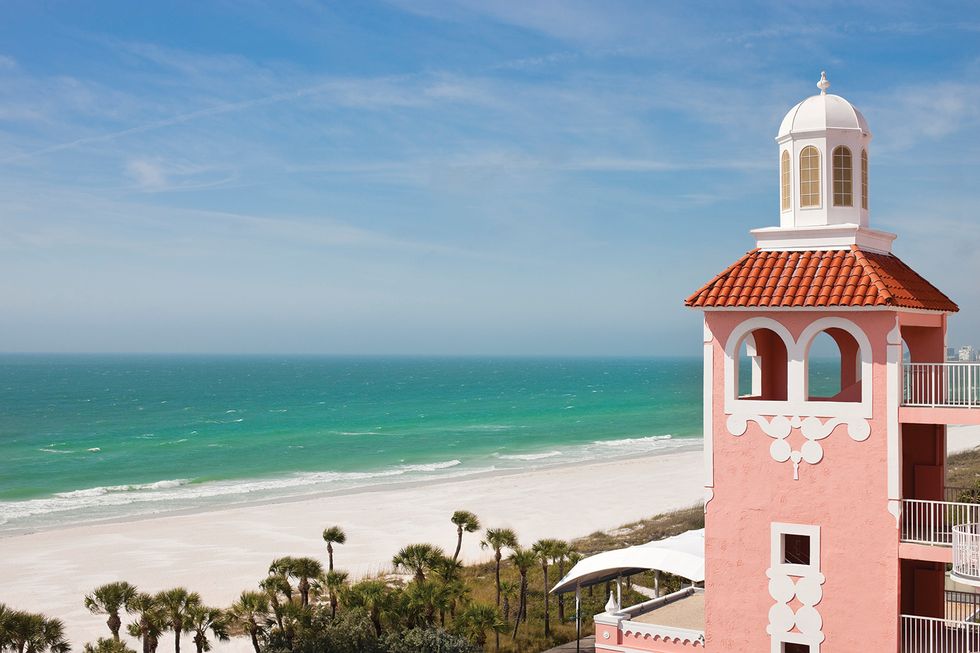 They don't call it the "Sunshine State" for nothing. And perhaps the time and place on Florida's winding west coast
---
at which you are most dramatically reminded of this is at dusk on St. Pete Beach.
The City of St. Pete Beach — actually a barrier island, not to be confused with, but situated just west of, the town of St. Petersburg — has all the resort essentials: sand, surf and a killer sunset. And although you can witness the pink sun illuminate the sky from almost anywhere along the 30-mile stretch of beach, there is something magical about experiencing the moment at St. Pete's historic "Pink Palace," the Don CeSar Hotel.
Since its launch in the Roaring '20s, the landmark Don CeSar hotel — just 30 minutes from the Tampa airport — has seen its fair share of celebrated names walk the sunlit corridors, from F. Scott Fitzgerald to Franklin D. Roosevelt. It boasts Moorish and Mediterranean design elements, and nostalgic touches, as in Uncle Andy's old-fashioned ice cream parlor, housed now where the hotel's original entrance once was. A recently renovated sister property boasts 70 larger, extended-stay accommodations just a half-mile from the
main hotel.
Guests at both can soak up the sun and the sunset with the hotel's new Don at Dusk ritual. Take in the beauty at the beachfront Rowe Bar, with a soundtrack of dramatic gong-ringing and some celebratory Champagne sabering.
Days at the Don are just as satisfying. Spend a lazy morning strolling the lush grounds, or kick off the day with a sun salutation at a complimentary beachfront yoga class. A visit to the 11,000-square-foot Spa Oceana should most certainly be followed by lunch or cocktails on the building's rooftop terrace, where sweeping views of the Gulf of Mexico serve as a calming finish to a hot-stone aromatherapy massage. Splashing around in one of the two pools or skipping down to the beach, where jet skis are readily available to rent, may fill the remainder of your day.
At dinnertime, the soft glow from the Don's saltwater aquariums create a dreamlike atmosphere at Maritana Grille. Seafood dishes here include tender scallops, seared and served on their shells, appearing on the table with bright pops of melon gel. The duck is equally as striking, served with purple rice and sweet grilled peaches. Plates often feature produce hand cut by the chef herself from nearby Brick Street Farms.
While the resort life may entice many, the local scene has much to offer if you do venture out of the bubble. In nearby St. Petersburg, the SHINE St. Petersburg Mural Festival takes place each October, spotlighting local and national muralists through original works displayed on public spaces throughout the town. Here, you may come face to face with a pastel-faced Twiggy in a back alley or a fiery, blood-red shark two-stories tall, charging toward you around the corner.
Produced by the St. Petersburg Arts Alliance, the street fest allows past and participating artists the opportunity to discuss their work, which are showcased year-round by way of walking tours, but it is also a time when artists are invited to add new murals to the scene.
Creative minds may also treat their inner artist by paying a visit to The James Museum, where current happenings include an exhibit titled Art and the Animal; next month brings the work of Tampa-based pop-expressionist artist James Michaels. Alternatively, the new Imagine Museum opened earlier this year and houses a collection of contemporary American glass art, including Paul Stankard's botanical-filled glass orbs.
Back at St. Pete Beach, the beach bum life awaits. Another evening at The Don will no doubt bring another spectacular sunset followed by live jazz music in the lobby bar — and maybe a cocktail or two, like a picture-perfect Paloma.
Just another day in Florida's pink paradise.
AT TOP: St. Pete Beach's historic 'pink palace' overlooks a pristine swath of sand.
Food+Travel