I LEFT A notecard for my neighbor, Terron Schaefer, whom I'd never met, asking if I could sneak a look at the house in my neighborhood in Sugar Land that he'd been reconstructing for nearly three years. This was no simple remodel, and, with its starkly contemporary exterior shape, newly paneled with horizontal driftwood-gray cedar planks, it was not looking like any other home in the subdivision. It was a lotus blooming in the desert.
Weeks went by, and I assumed he'd written me off as a nosey neighbor, when I finally received a voicemail begging forgiveness for not responding earlier. He explained that he'd been traveling abroad: Morocco, Paris, London, Berlin, Milan and Dubai. It was becoming more obvious to me that this was no ordinary home — and no ordinary homeowner. I had a lot of questions.
My new neighbor in suburban Houston is, it turns out, a former Saks Fifth Avenue global exec and TV star with a roster of glamorous friends and international exploits that would make a Kardashian jealous. And his home interior is a museum-white showplace for an art collection featuring meaningful bits of antiquity, nostalgia and primitive totems, mixed with hundreds of exquisite black-and-white photographs, mostly in crisp black frames.
In some places, there's no more wall space for the photos, so they're simply set on the edge of the floor against the wall in long, informal rows.
Helmut Newton, Graciela Iturbide, Bruce Weber, Terry O'Neill, Irving Penn, Matthew Rolston and Herb Ritts are all represented here. There's a closeup of Naomi Campbell's lips by the Brit Nick Knight — and a shot by Cuba's Alberto Korda of Che Guevera, and also his tiny, reverent Fidel Castro at the base of the Lincoln Memorial. There's a depiction of lounging gents, called "Sailors, Key West," by the usually deep-color portraitist Marie Cosindas; the one owned by MOMA is in color, but at Terron's insistence the version Cosindas gifted him is printed in black-and-white. Newer pieces include two, with another on the way, by the red-hot Brazilian Guilherme Licurgo, whose bendy, athletic male dancers — presented nude in leafy outdoor settings — are celebrations of the natural world and rather erotic.
The Sugar Land home, now awash in images, had belonged to his parents, and he had inherited it, he explained. He also has a home in New York and one in Rio de Janeiro. Born in Brazil, raised in Argentina and schooled in Switzerland, he came back to Texas upon his parents' death to put the house in order.
Terron asked noted Rice architect David Guthrie to help with an expansive renovation, with loads of natural light and wall space — and the ability to bring the outside in. The home now reads a bit like the piazzas seen in Italian residences. It's an L-shaped, glass-walled affair that bends around a rectangular pool with azure-colored plaster; its Carrara marble coping and graceful fountain add to the Euro feel. The vibe is heightened yet more when the floor-to-ceiling glass doors slide open, and world music pipes throughout.
The architecture and furnishings are a shrine to both his travels and his sensibilities, which are certified first-rate. After all, he still holds what's said to be the Christie's record, and has the framed auction paddle to prove it, for the most expensive single piece of furniture ever sold at auction by a living designer. It was a "pod of drawers" — imagine a riveted-together aluminum cello with legs in which you might store your socks — by the Aussie industrial designer Marc Newson, sold for more than $1 million. Terron had originally purchased the piece directly from Newson when Terron was living Down Under and designing surfboards for a company he owned at the time.
Terron has had a long and eventful career in and around the world's retail fashion industry — including but not limited to surfboards. For years, he was the EVP and chief international creative officer for Saks. At turns he also starred on NBC's Fashion Star, served as a senior marketing exec at Warner Bros., ran Harrod's of London at the personal behest of then-owner Mohamed Al-Fayed, and oversaw a design and branding "refresh" of Britain's Savoy hotel and its sister properties.
Terron recalls when Blackstone co-founder and hotelier Peter Peterson tapped him for the Savoy gig, which eventually entailed details such as enlisting John Galliano to design bathrobes: "In my very first interview, he asked me straightaway if I knew the hotels in London in the chain. I'm not sure he really knew the extent of my travels and experience, but I immediately started listing Claridges, the Connaught, the Berkeley, the Clarendon. Stopping me before I could finish, he hired me on the spot."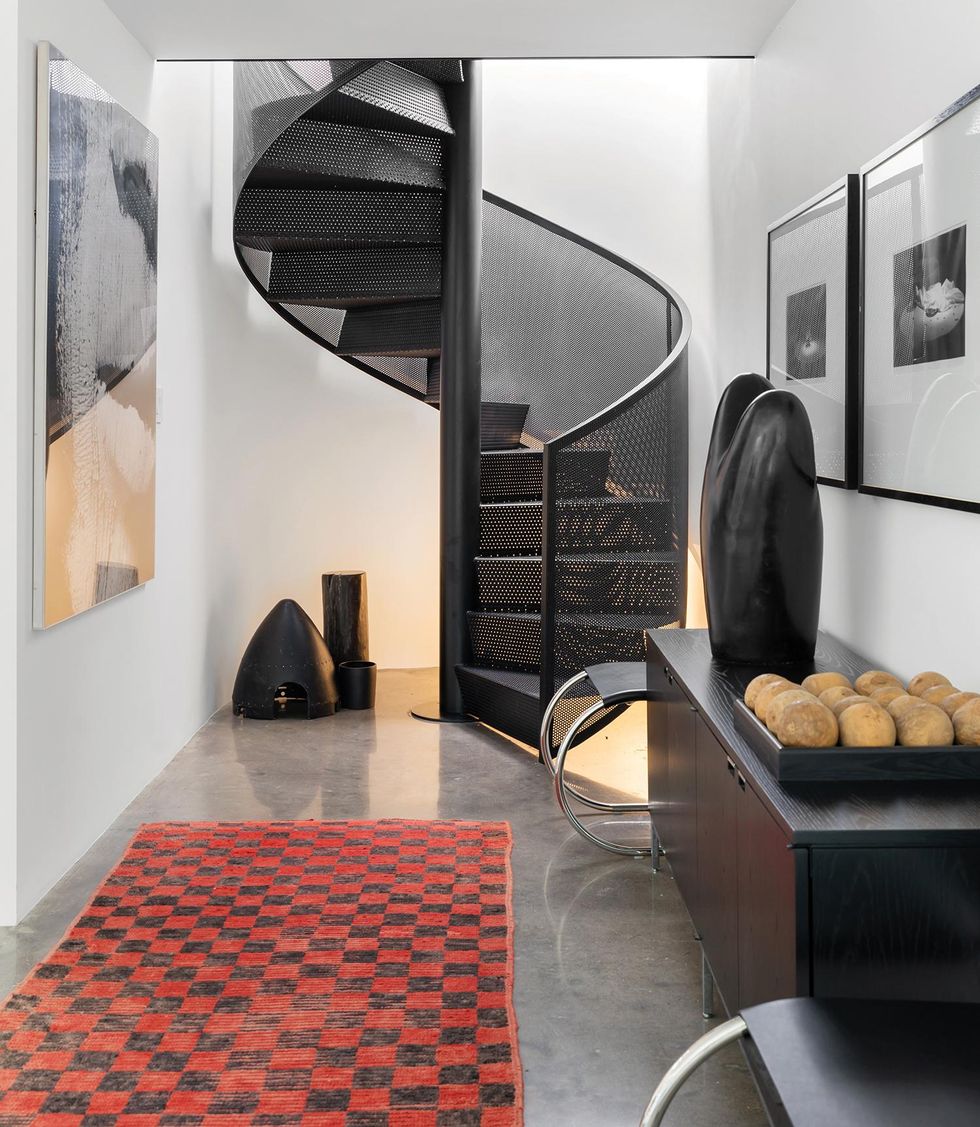 Globetrotting bon vivant and former fashion exec Terron Schaefer worked with architect David Guthrie to design a backlit staircase in his unique Sugar Land remodel. Objets d'art include, to the right, a heart-shaped Mexican sculpture called 'Corazon Negro' and, under the stairs, the nosecone of a 1950s-era Lockheed Super Constellation aircraft, a nod to the homeowner's aviation obsession.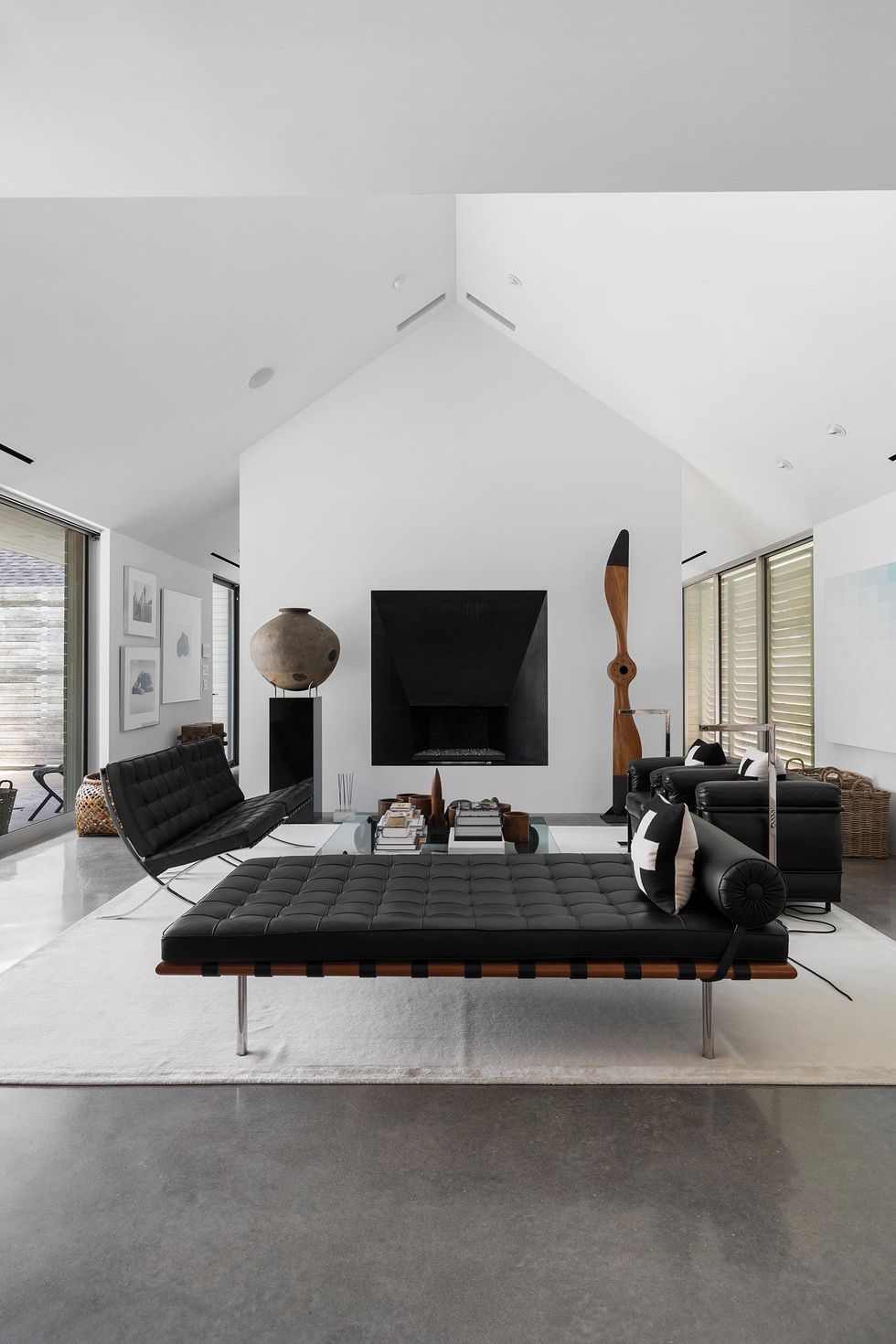 A Burmese water urn purchased in Bangkok, an antique plane propeller and a coffee table by Italian artist Gae Aulenti are among the living room's treasures.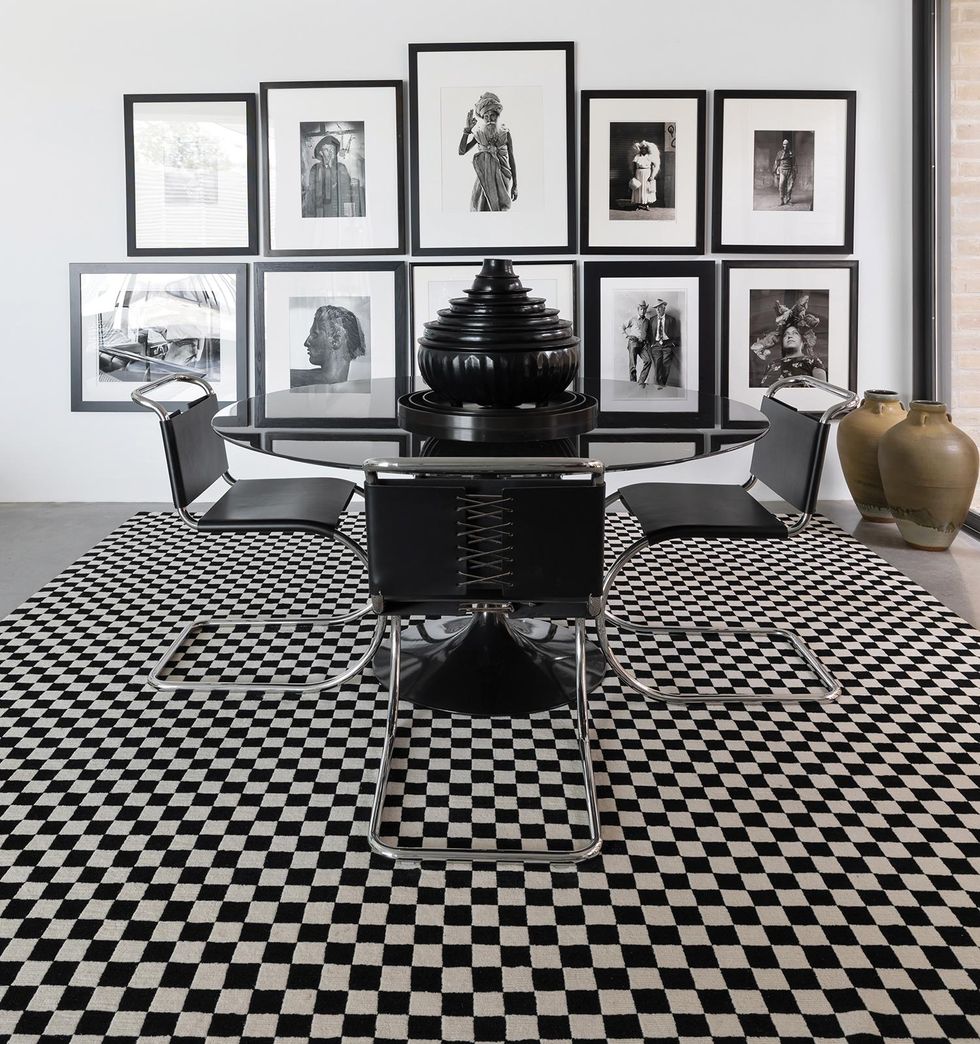 A collage of images in the open dining space boasts a cowboy-cool portrait of Paul Newman and Lee Marvin by Terry O'Neill.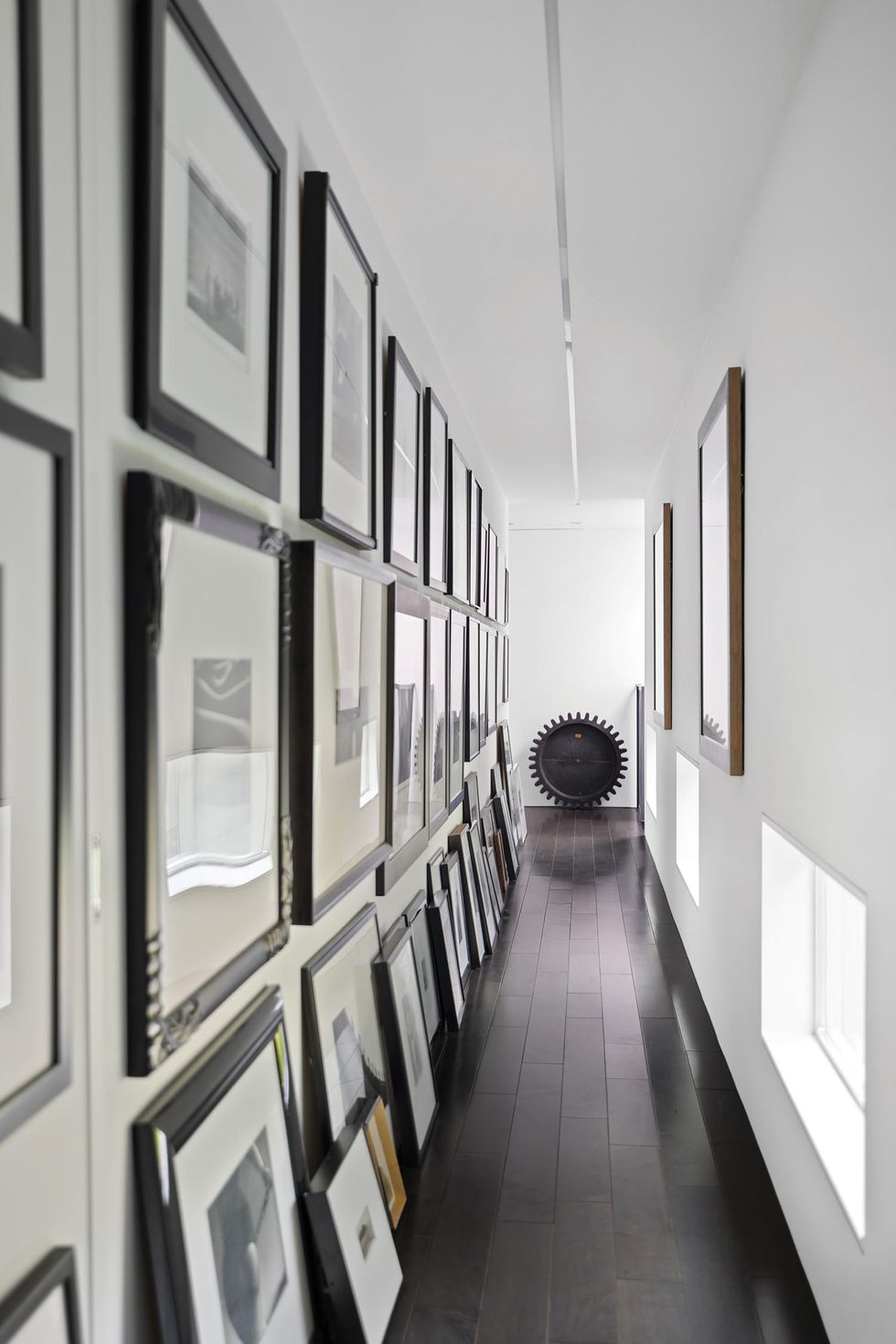 Hundreds of black-and-white images by the world's most famous photographers, past and present, fill almost every wall in Schaefer's home. Provocative pictures by current hotshot Guilherme Licurgo of Rio are among those presented in this upstairs hallway.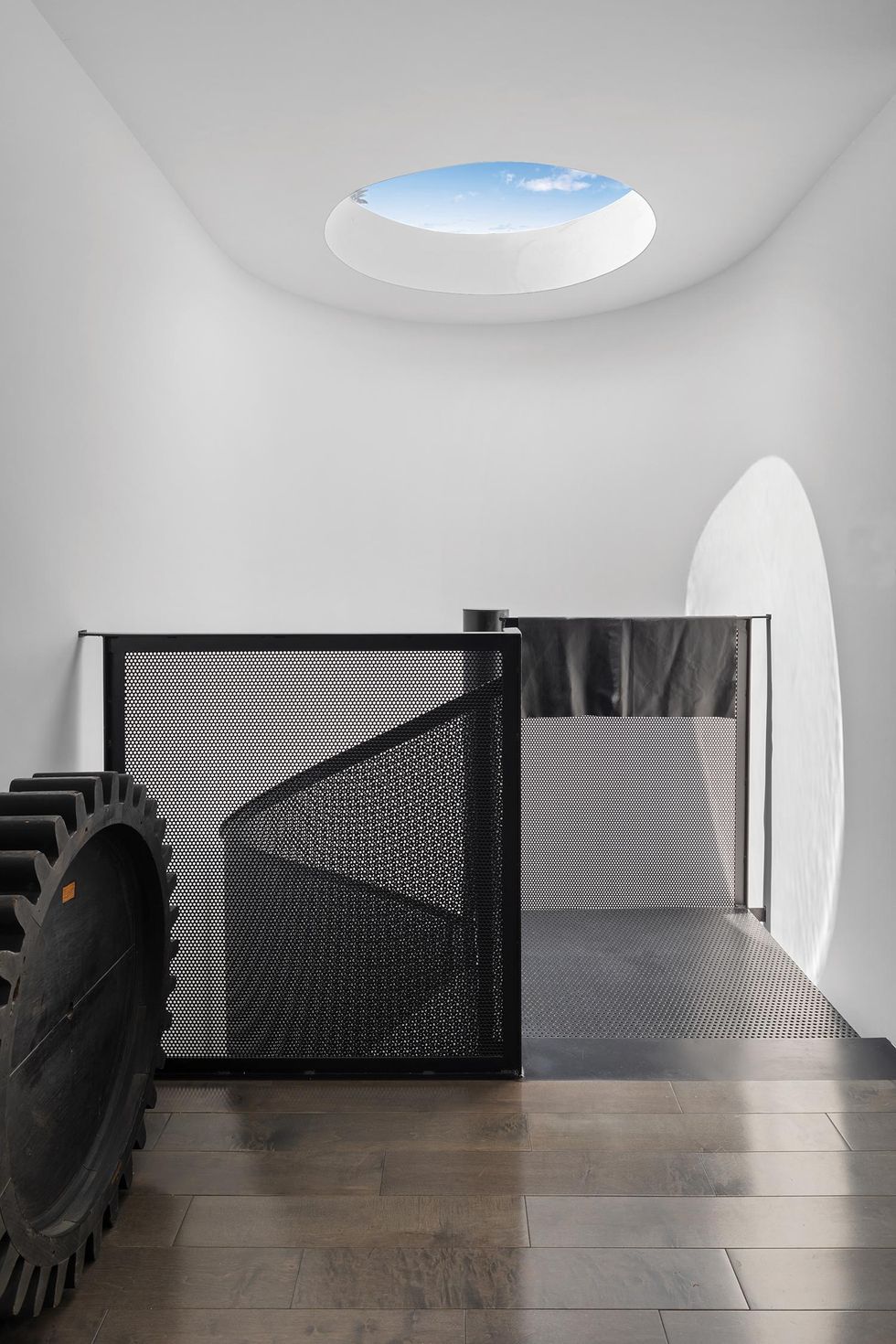 A newly added skylight at the top of the stairs illuminates a landing appointed with a large cog from a ship's engine, doubling as a rotary art piece.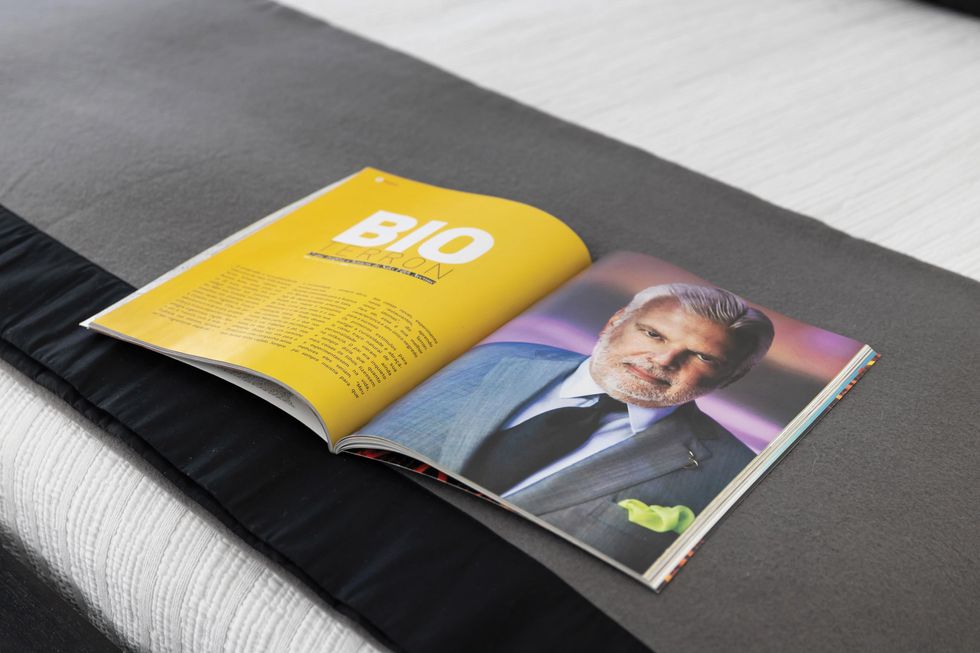 The homeowner, per a previous magazine profile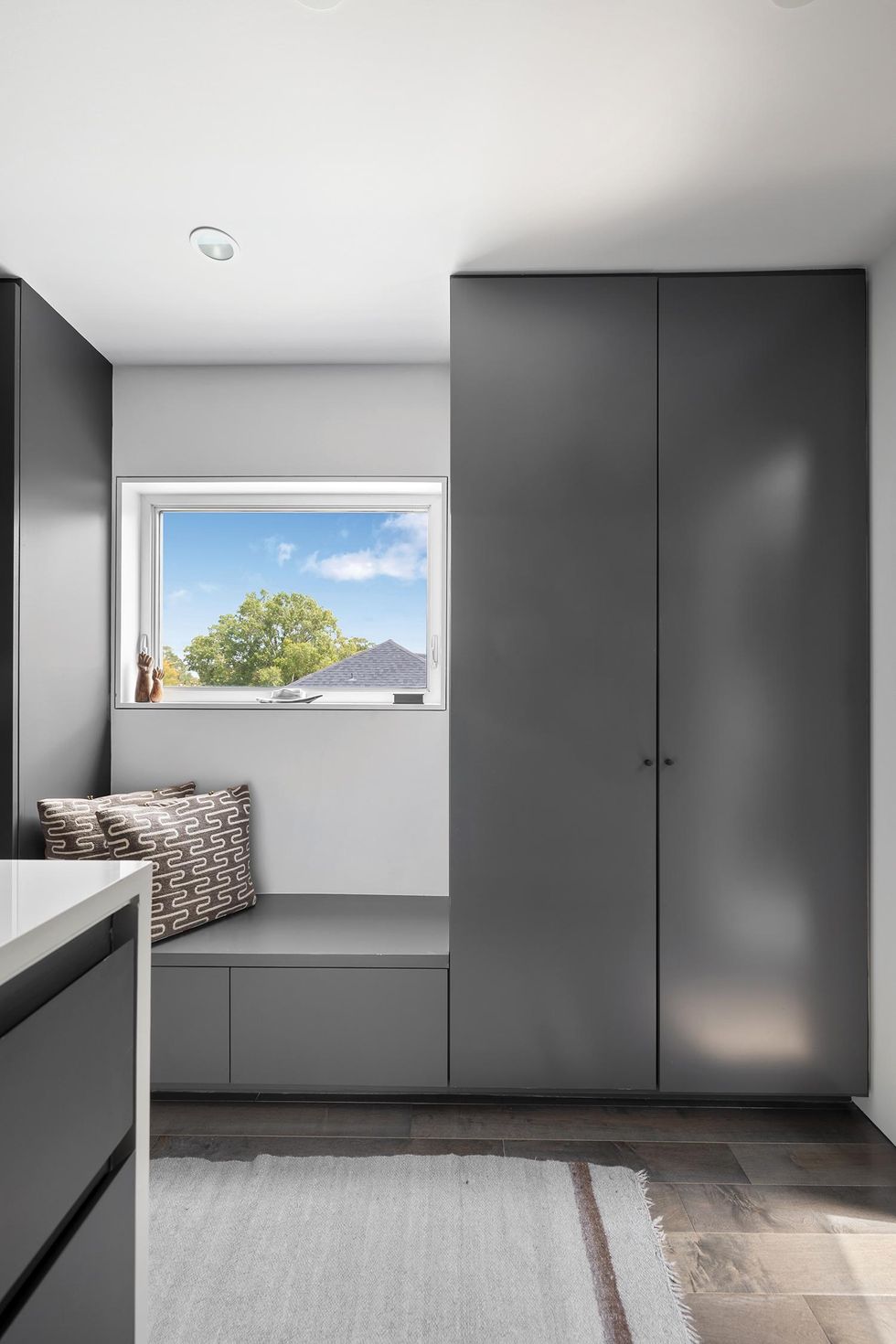 The master closet, in which a window with a skyward glimpse becomes art.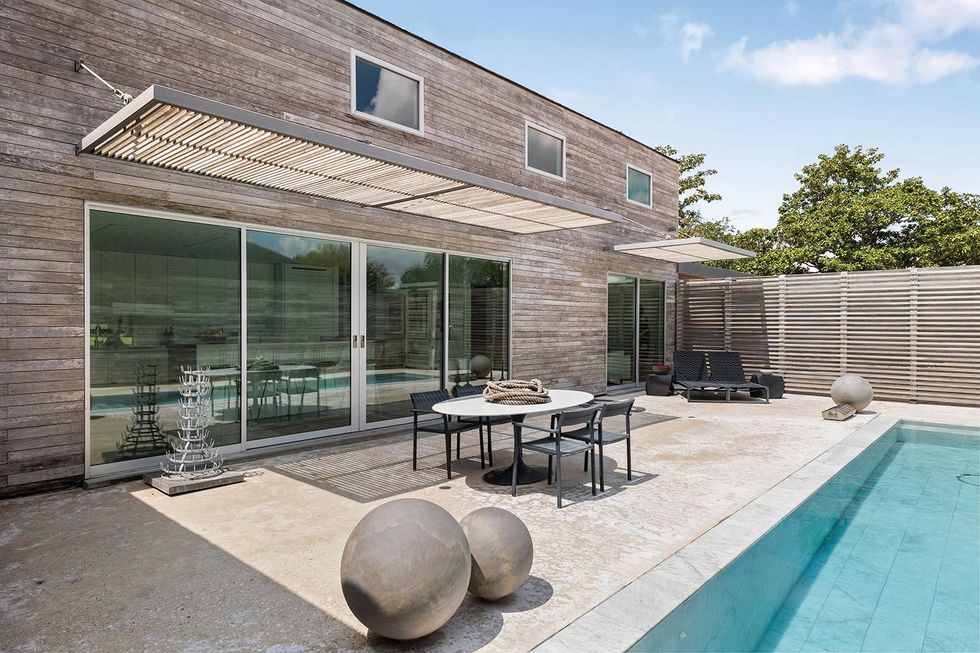 The pool deck is sprinkled with chic curios, like a bottle-drying rack sourced in Round Top, and concrete spheres from New York.
Still a jetsetter, Terron returned to his beloved London last fall, as soon as the UK reopened as Covid waned, to celebrate his birthday with 22 of his closest friends at The Wolseley, a long-time favorite hangout at 160 Piccadilly. And what friends this man has made along the way! He's close to famous models in every country, movie stars across the U.S. and Europe, musicians, Indian maharajas, Iranian shahs. I've seen pictures of him with Kanye West, with Penelope Cruz and Javier Bardem and the kids in the backyard, with Russell Crowe.
"Russell is a prince," Terron says. "I first met him when he was nominated for an Academy Award, and his parents had flown up from Australia. He was stressed because his mother had no idea what she was walking into and had no clothes to wear to the various Oscar parties. I told him not to worry, and we all headed off to the nearest Saks where she was splendidly outfitted. We've been pen pals ever since."
Terron's most noteworthy association may have been with Salvador Dalí, which began when he was introduced to the surrealist artist by wealthy industrialist and gallerist Armand Hammer. "I think I became his muse in a sense," says Terron of Dalí. "He thought my eye discerning, and I guess he knew a little of my reputation in the fashion world. I had given him my Polaroid SX-70, which was the rage then, and our friendship was sealed. Every time he was in New York, he would insist I meet him at the St. Regis, where he held court with Woden, his pet ocelot." There are a couple shots of Dalí in Terron's photo collection.
There are lots of stories like this, that can be told in a variety of tongues. Sitting in his home, I've witnessed him seamlessly slip between at least four languages when the phone rings.
This day, he succinctly explains in English the passions of his life. "Nothing can replace travel for erasing prejudice," he says, pointing to a photo of an Italian pal having tea on her terrace in the Dorsodoru sestiere of Venice. "And nothing can duplicate having friends across the world in different cultures to promote understanding and compassion. It's so beautiful."
Mark A. Anawaty is a design-driven developer and sometime freelance writer whose byline has appeared in many regional publications.
Home + Real Estate