Mamma Mia! New Restaurant in Highland Village Adds to H-Town's Profusion of Great Italian Spots
Becca Wright
OVER THE PAST year or so, Houston has experienced an influx of Italian eateries —Il Bracco, Marmo, Lulu's, Davanti, and more on the way. Numero28 in Highland Village is the newest kid on the block. Charming, family-friendly and affordable, here's how Numero28 dials up the fun.
---
The snug, light-filled restaurant, which seats about 50 indoors and more on the petite patio, turns to southern Italy for inspiration, with an authentic menu based on classics from the "old country." The vibe is bustling with an all-Italian soundtrack, as well as an eye-popping Italianesque cocktail list, and an emphasis on presentation and service.
Co-owner Bernardo Nolfo, a restaurant industry veteran and native of Sicily, moved to Texas to open Numero28 Austin and a location in Dallas with the endorsement by the founders of the original Numero28 in New York. "We are just making good food that we can be proud of, and that guests will like. It's not modern or nuovo — just food we grew up with and something for all ages," says Nolfo.
For antipasti and salads, there's everything from arancina (stuffed and fried risotto cakes) to a wide-ranging selection of cheeses and cured meats. Veal meatballs, arugula salad, caprese salad, and an impressive high-quality carpaccio garnished with lemons and drizzled with EVOO and reduced balsamic, round out this section of the menu. To sip, the bright green basil martini with lime juice is a refreshing way to start. But take it slowly: This delicious cocktail made with Tito's vodka packs a punch.
Most of the pastas are handmade, including the crowd favorite cacio e pepe, the Roman dish rich in cheese and black pepper. At Numero28, it's a showstopper, finished tableside with the spaghetti tossed inside a wheel of pecorino cheese the size of a hubcap. We relished a weekend special of squid-ink pasta draped in a tangy, slightly spicy seafood marinara. For something heartier, there's a lasagna Bolognese layered with bechamel sauce and Parmesan, as well as chicken Parmigiana and a rolled and roasted Italian pork belly entrée.
Pizzas feature prominently on the menu, with more than a dozen combos and a choice between tomato sauce, white sauce or gluten-free dough. It's easy to love the blistered, thin Neapolitan-style with a light application of Italian ingredients. Of the 12-inch pies, the signature Numero28 — touting smoked prosciutto, mozzarella, mushrooms, and truffle cream — is among the most popular. For the finale, go for the real-deal tiramisu or one of many gelato flavors.
Outside of Texas and New York, Numero28 restaurants are open in Miami and Bergenfield, New Jersey.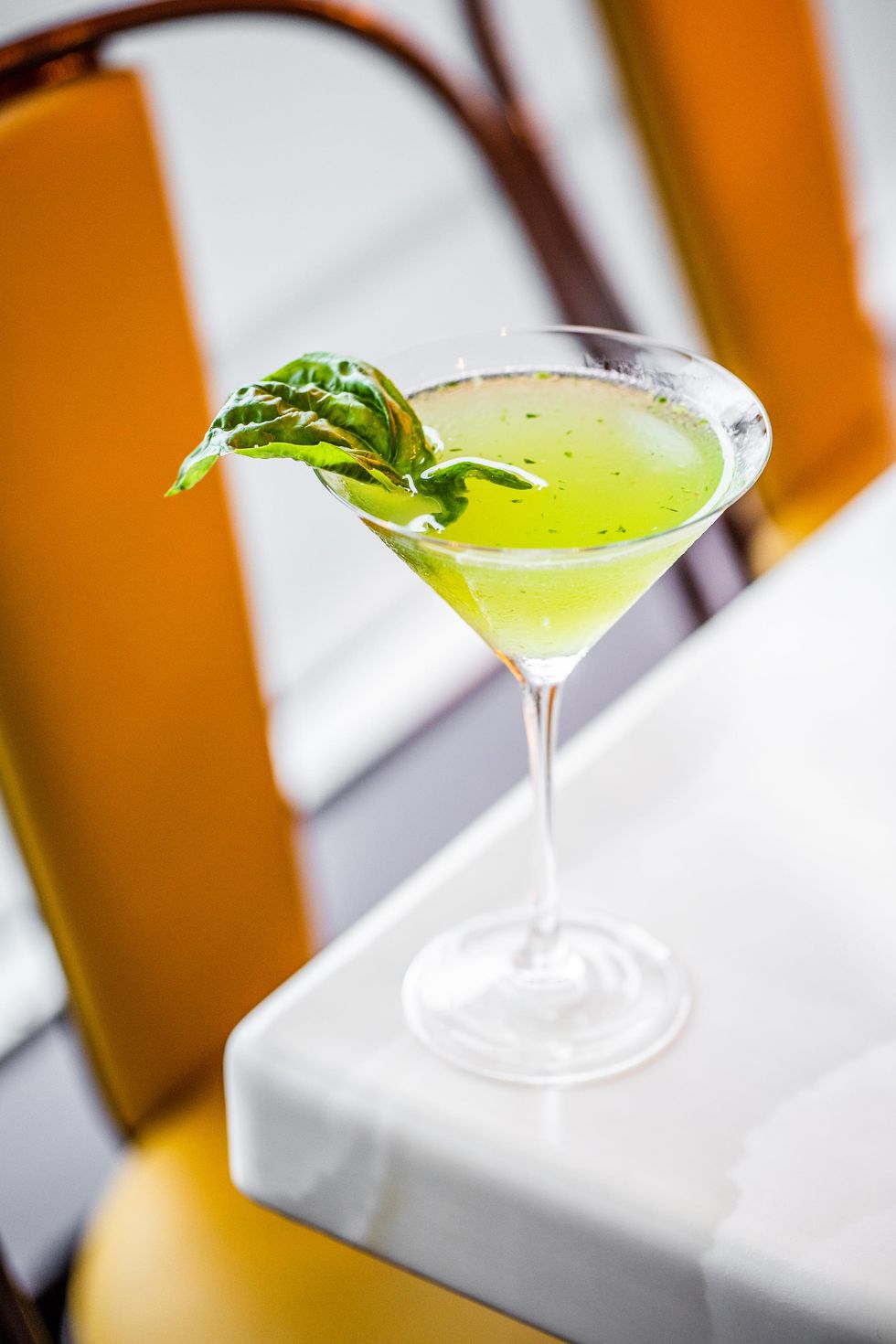 Basil martini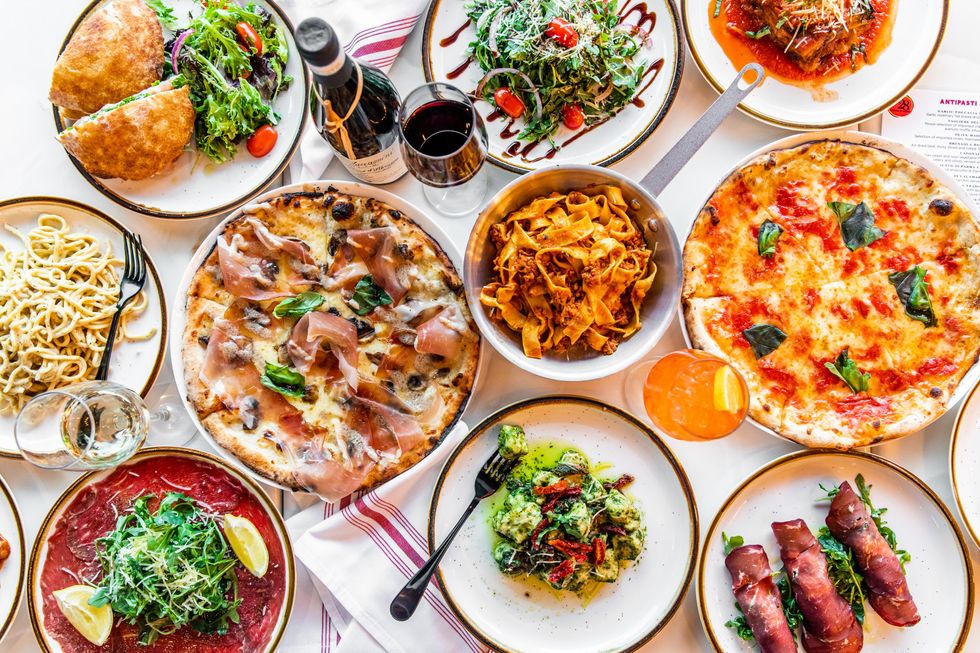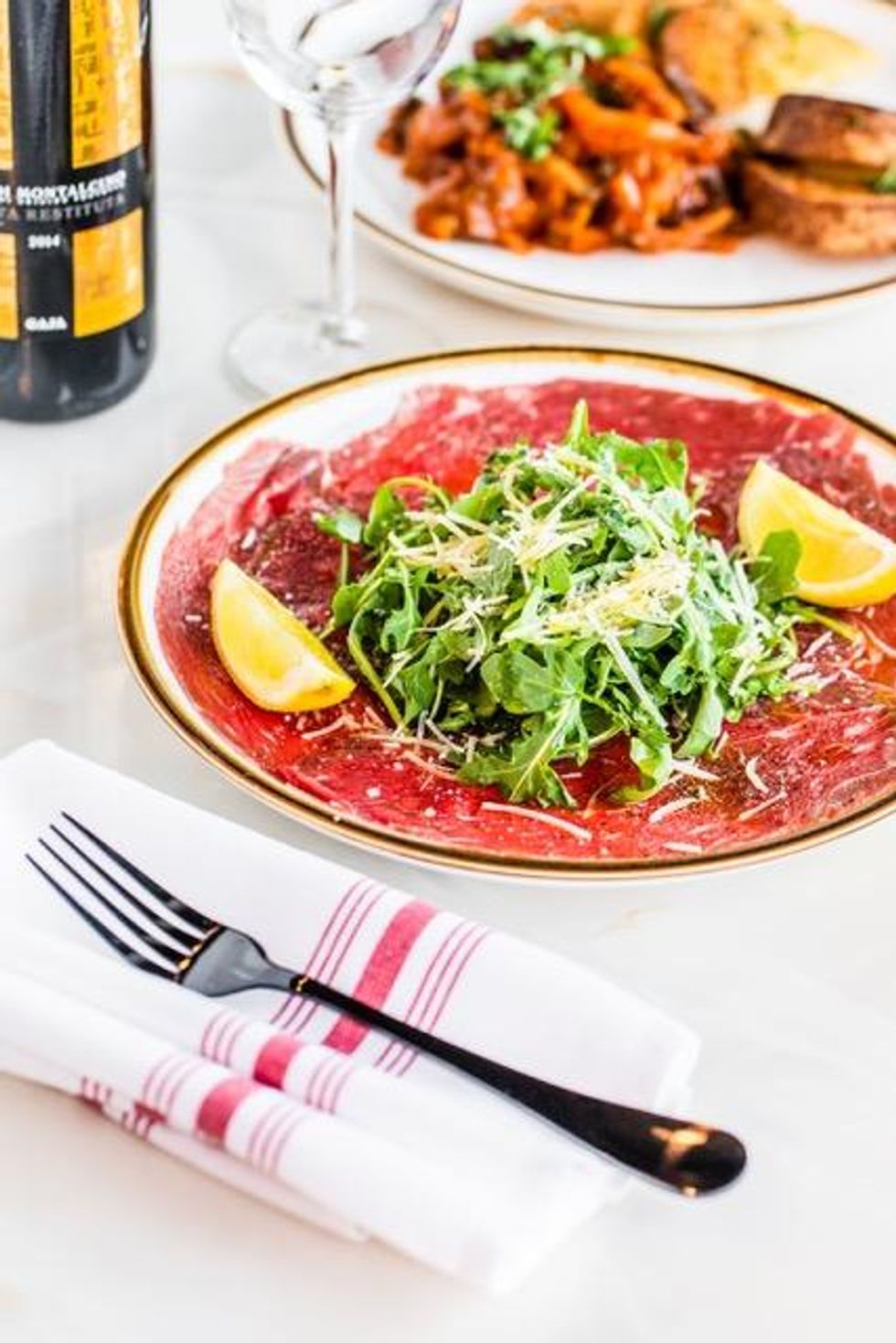 Carpaccio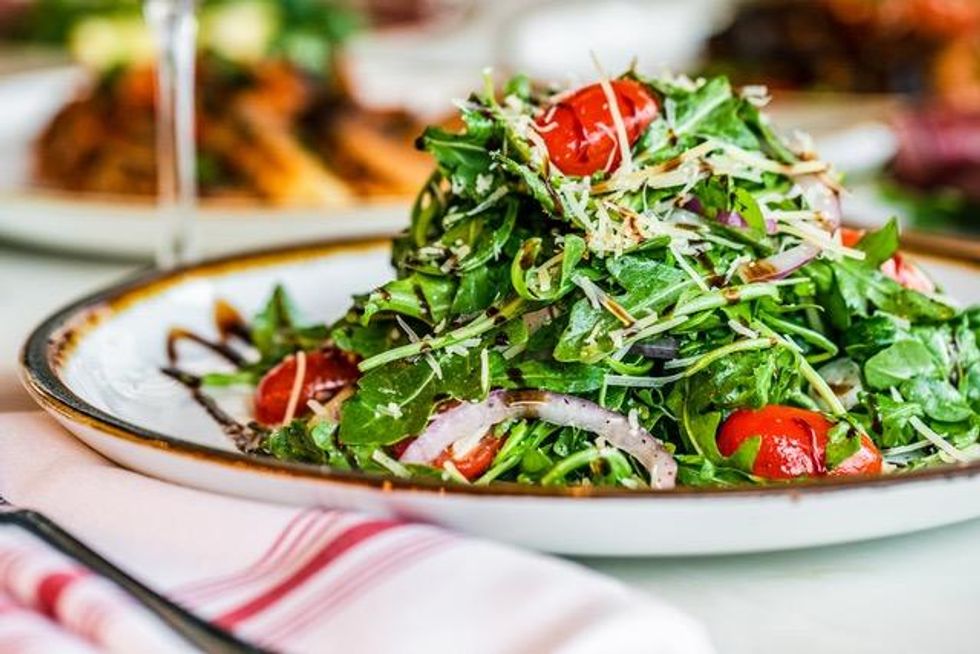 Arugula salad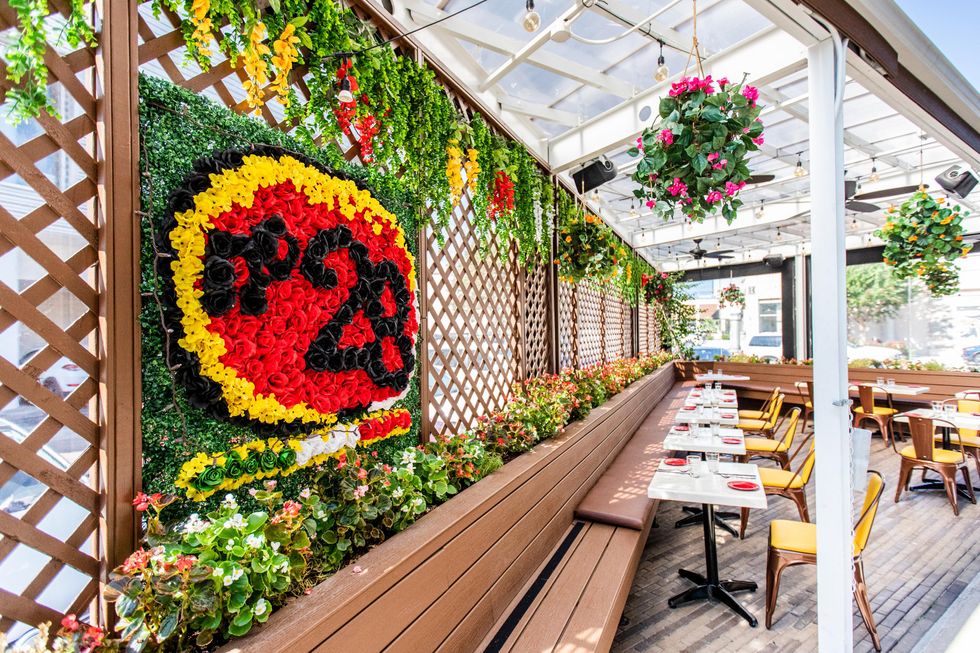 Food