Bush Airport's Underground Installation Wins Prestigious Art Award
EXCITING NEWS FOR Houston — and anyone traveling in or out of the city by plane: The Aquarius Art Tunnel at George Bush International Airport, located in the 240-foot tunnel between Terminal D and E, has won a prestigious award.
---
The art installation received the 2023 CODAawards People's Choice award, which celebrates projects, individuals, and creative teams who creatively and successfully integrate commissioned art into interior, architectural, or public spaces.
Created by Mumbai-born, Houston-based artist Janavi Mahimtura Folmsbee and commissioned by Houston Airports, the stunning, site-specific and scientifically accurate Aquarius Tunnel includes a floor-to-ceiling mural, lenticular lenses, filtered lighting, custom carpeting, an original soundtrack, and an augmented reality feature that allows travelers to interact with the tunnel on social media. In an earlier feature about Folmsbee and the project, we described the tunnel as emulating the experience of an ocean dive (Folmsbee is a skilled scuba diver), and a celebration of Houston as an interconnected, global community. "It is an honor to be amongst these gifted individuals and to have been congratulated and celebrated in person amongst the world leaders in public art," said Folmsbee in a statement.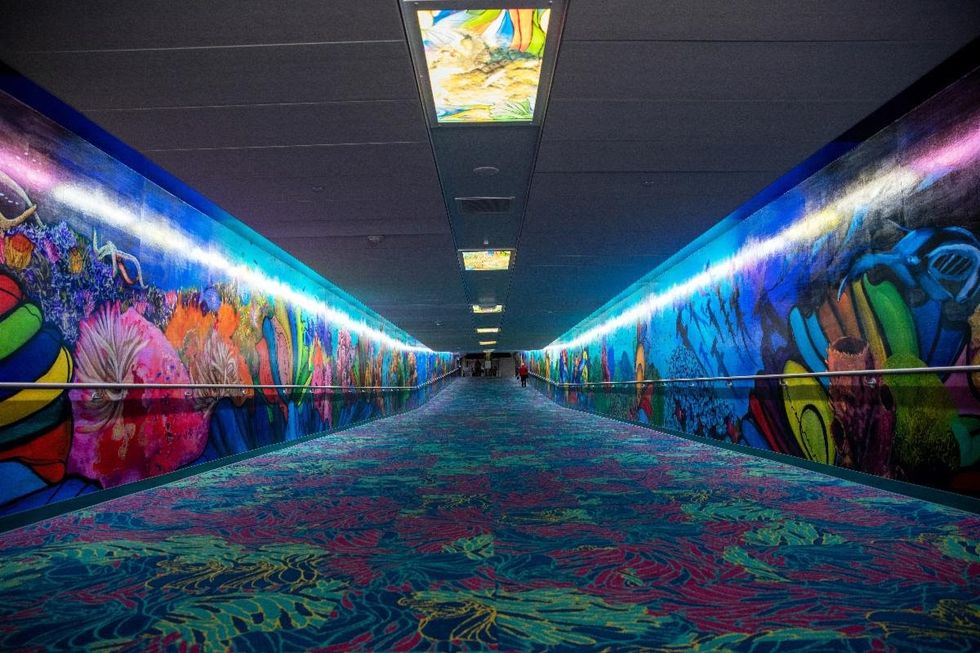 The recognition is significant for Folmsbee, who has created several large fine-art murals throughout Houston, as the CODAawards received a record-breaking 411 entries for this year's competition, from 24 different countries and representing over $54 million in commissions. Earlier this month, Folmsbee, her sister and architectural collaborator Shruti Mahimtura, and fellow artist Alton Du Laney, who, as the curator of art for Houston's three airports, has brought national attention to the city, traveled to San Jose, Calif., to receive the award. Folmsbee and her team were the only winners from Texas among the international group of awardees. Du Laney proudly told Scuba News, "Now the world's best airport art program officially has the world's best public arts project." The Aquarius Tunnel received more than 20 percent of the total votes cast, the most votes of any artwork in the history of the award.
As a self-described "global marine conservation artist," Folmsbee keeps busy in between commissions by collaborating with marine organizations that endeavor to preserve our oceans. More about Folmsbee and her projects can be found on her website.
Art + Entertainment