A Day in the Life of the Arts
In H-Town, culture never takes a day off. From a black-tie dinner at which patrons rub elbows with a superstar, well into the wee hours of a new day, to a drag queen putting on her face 'round midnight. Photographers Fulton Davenport, Jhane Hoang, Shannon O'Hara, Daniel Ortiz and Todd Spoth capture it all, and many more everyday wonders of making art in Houston, over the 24 hours of Thursday, Sept. 27. With Reporting by Chris Becker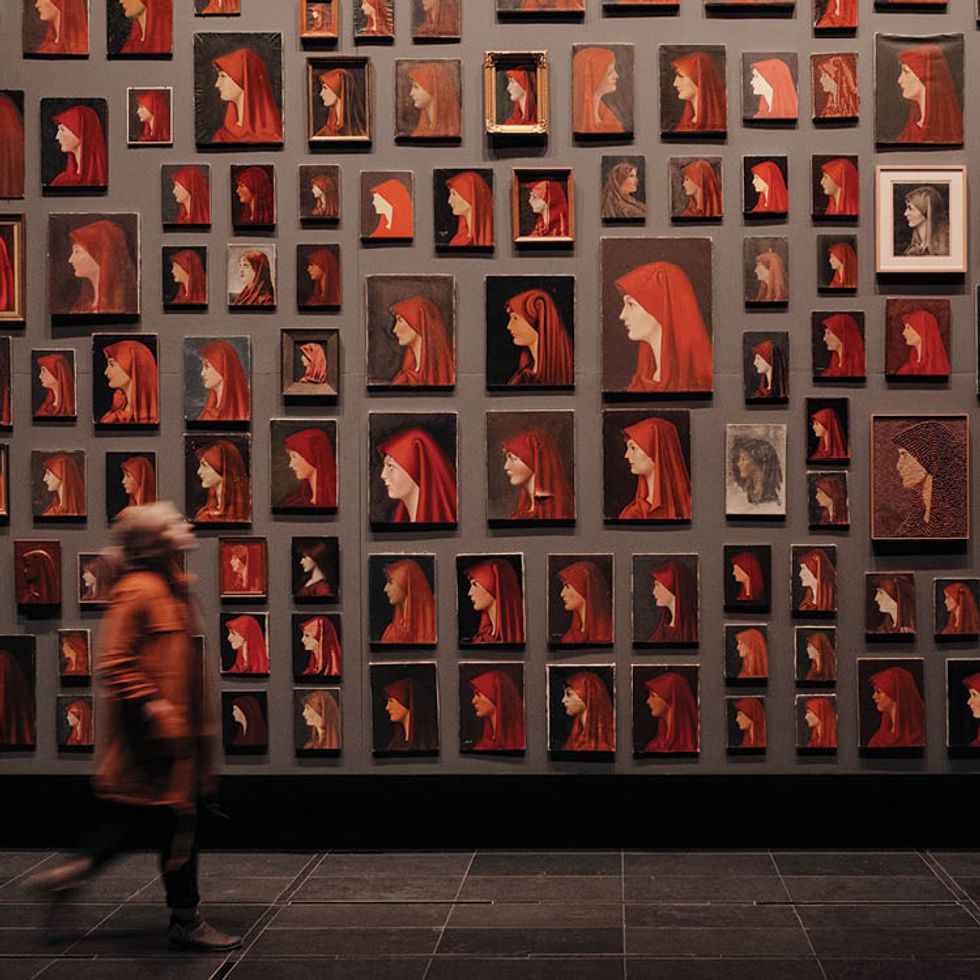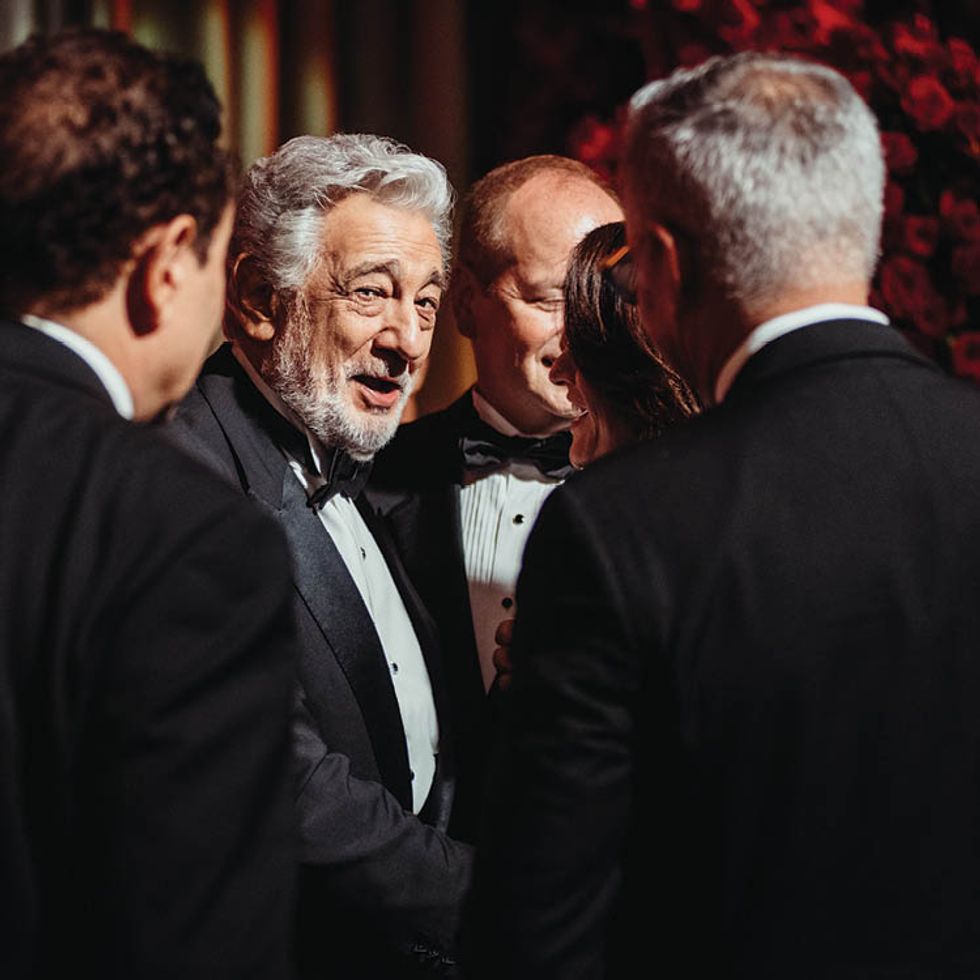 ---
12:50am
Plácido Domingo makes the rounds after his Sept. 26 concert, the first HGO event in the Wortham since Harvey. Organizers anticipated the Spanish tenor, 77, would depart the post-show dinner at The Post Oak Hotel around 11pm. But well into the morning of Sept. 27, he gamely greets friends and admirers. For more on the dinner, see "Homecoming Haute" in Party People. Photo by Jhane Hoang.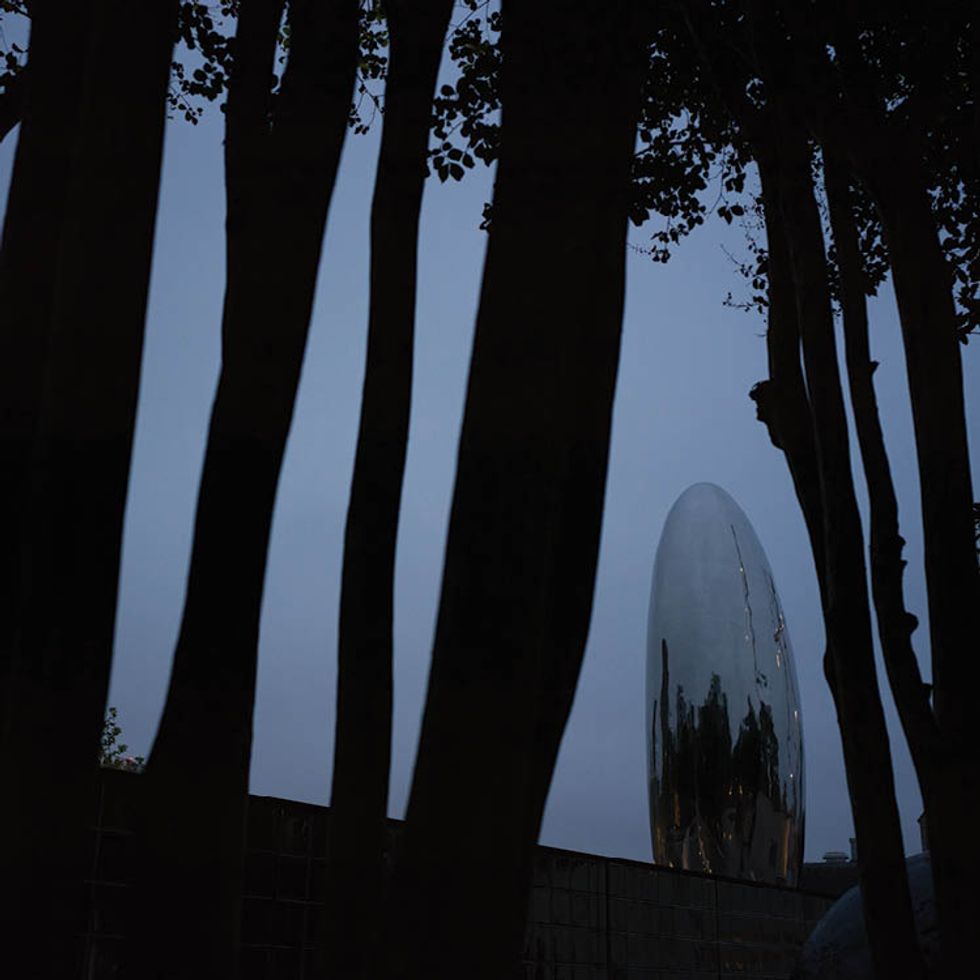 7:16am
Anish Kapoor's stainless steel "Cloud Column" strikes a moody, majestic pose on the plaza fronting the MFAH's new Glassell School. The sculpture sparked a war of words with Chicago when it was installed in March, as it resembles the Windy City's famous "Bean," also by Kapoor. "Our bean is … the better bean," insisted a Houston Chronicle columnist at the time. Photo by Daniel Ortiz.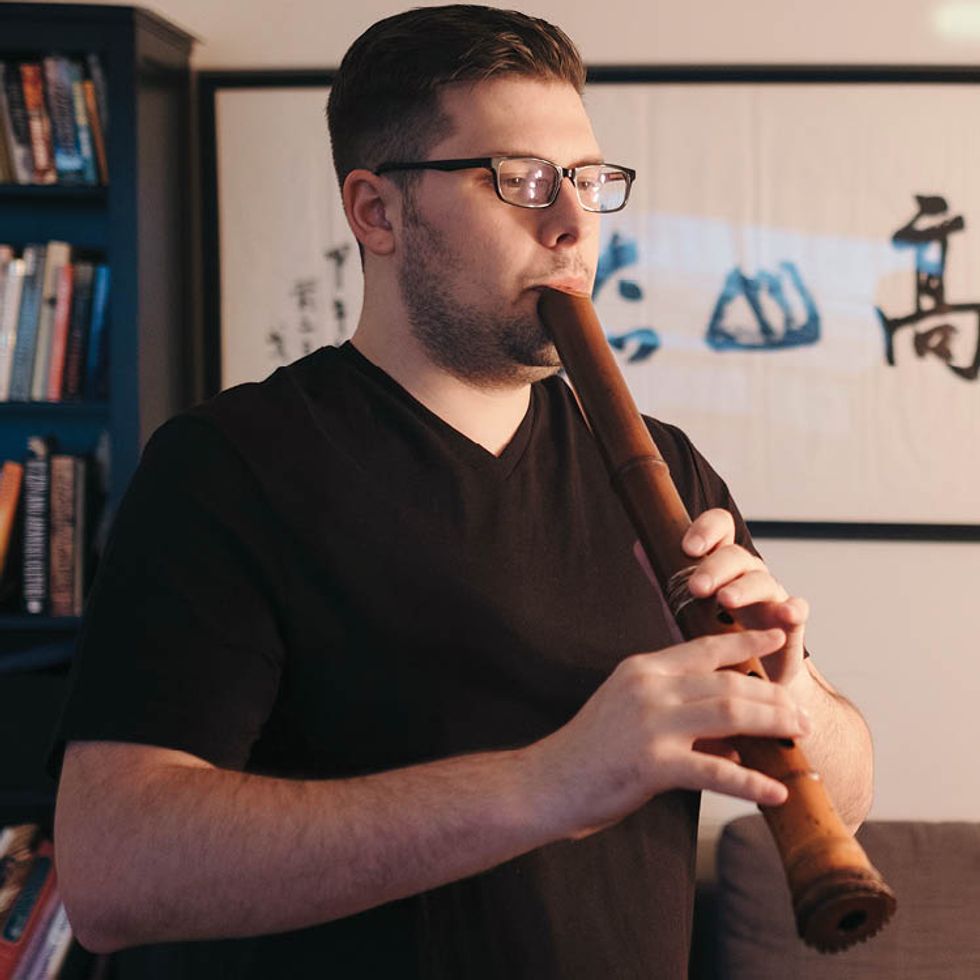 7:49am
Shawn Renzoh Head fills his sunlit studio in northwest Houston with sound of the shakuhachi, a bamboo flute that demands years of study to master. Head is rehearsing for a concert of newly composed music for this ancient instrument, Nov. 18 at 14 Pews. Photo by Todd Spoth.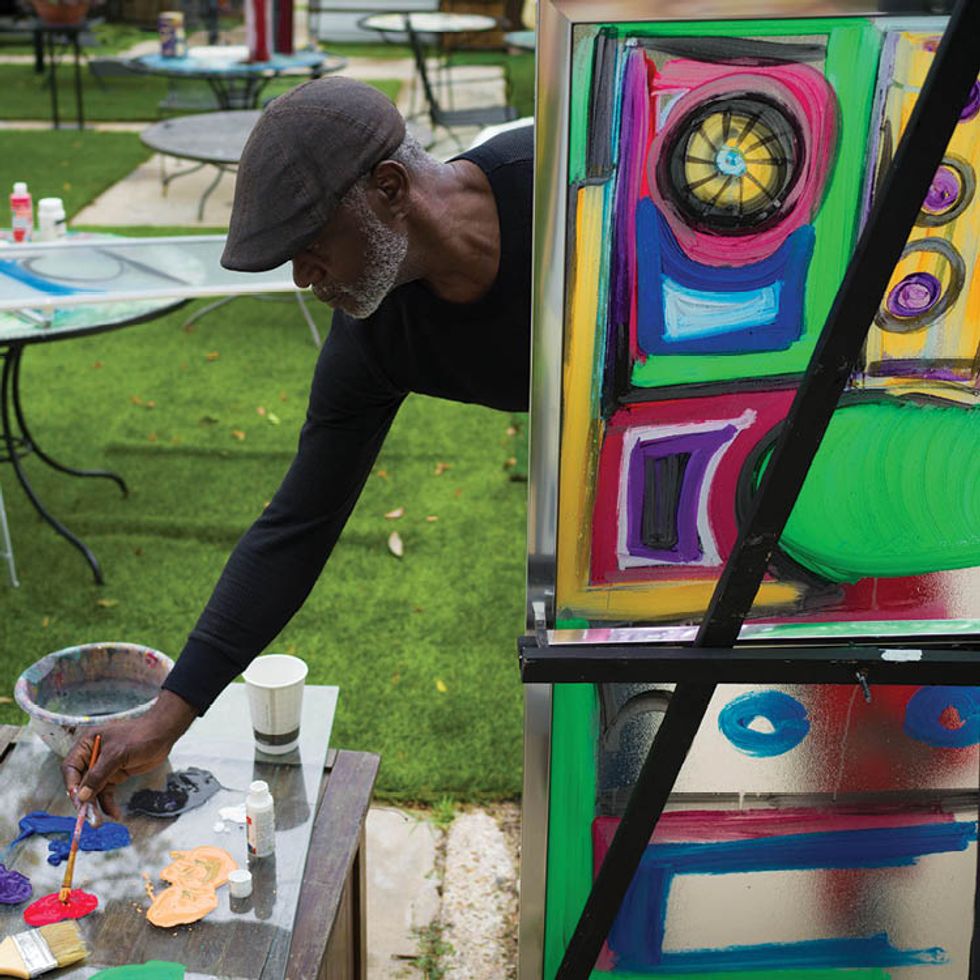 10:23am
Painter, sculptor and environmental artist Charles Washington touches up a painting at The Pop Up Place, his immersive, community venue for arts activities and live music on Almeda Road. Using recycled and repurposed materials, Washington celebrates the history and vitality of Houston's Third Ward. Photo by Daniel Ortiz.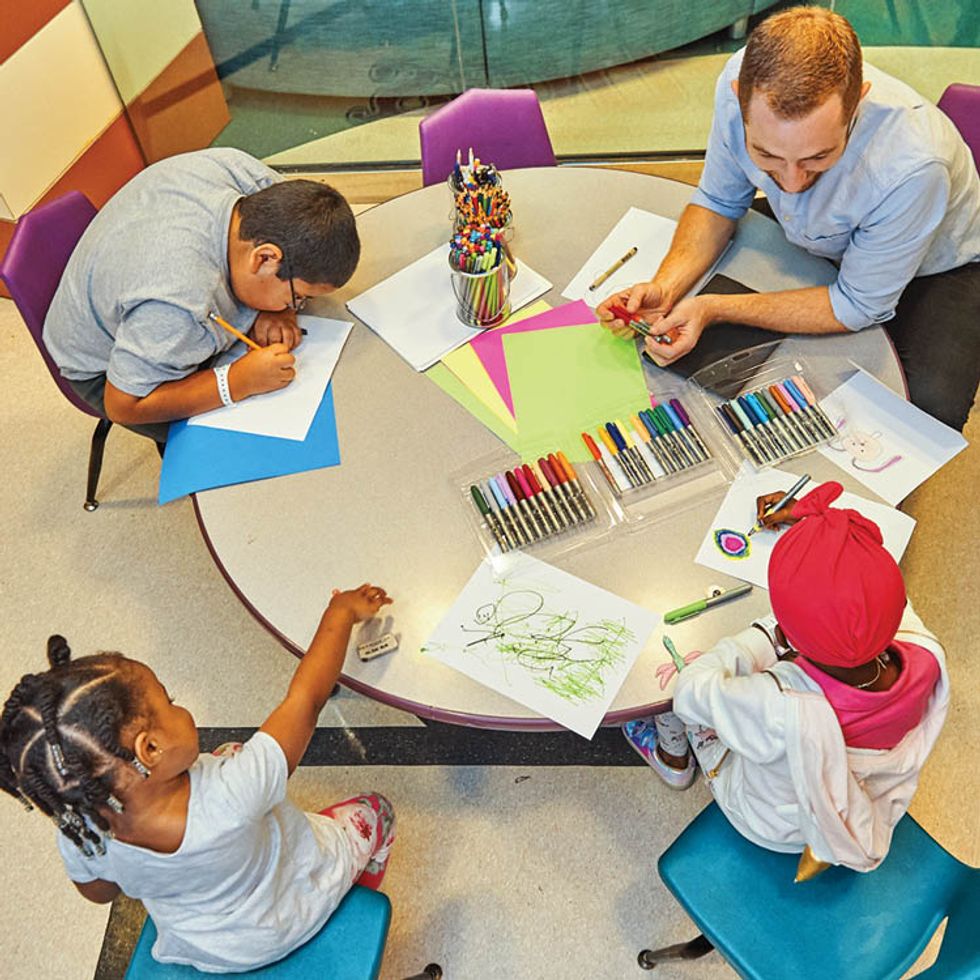 10:25am
Zach Gresham, MD Anderson's Arts in Medicine program manager, leads an art class at the hospital's Children's Cancer Center. His sessions are designed to give the kids a sense of control and purpose, make them feel more at home, and build community. Photo by Fulton Davenport.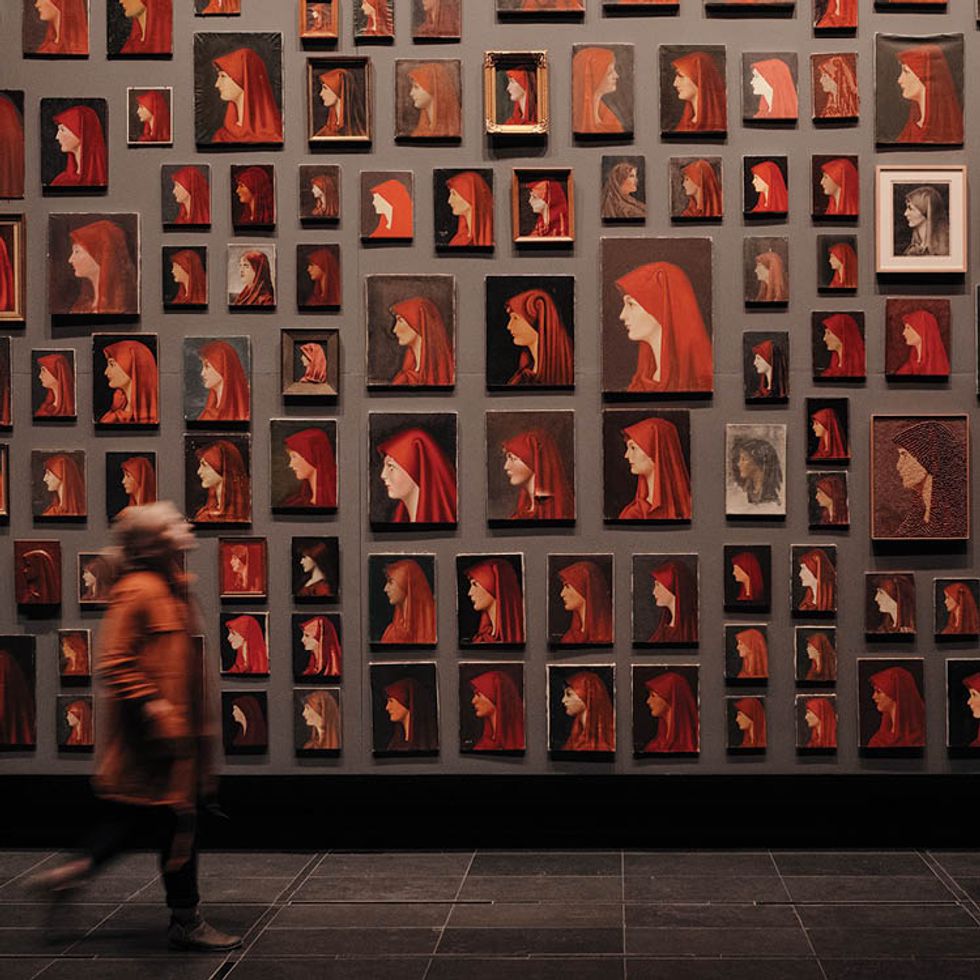 12:07pm
Inside the Byzantine Fresco Chapel hang more than 450 reproductions of Jean-Jacques Henner's 1885 painting of Roman Saint Fabiola. Once a consecrated church, the Chapel is part of the Menil Collection, which reopened its renovated main building in September and opens its highly anticipated Menil Drawing Institute in November. Photo by Todd Spoth. 
12:14pm-1:39pm
Houstonians enjoy public art around the city. In order: murals on McKinney St. are selfie-central (photo by Shannon O'Hara); kids meander through the Orange Show's Smither Park (photo by Jhane Hoang); Heights Blvd. is dotted with colorful installations (photo by Fulton Davenport); a new street mural outside Jones Hall is right on key (photo by Daniel Ortiz); Saint Arnold's new beer hall showcases Art Cars (photo by Todd Spoth).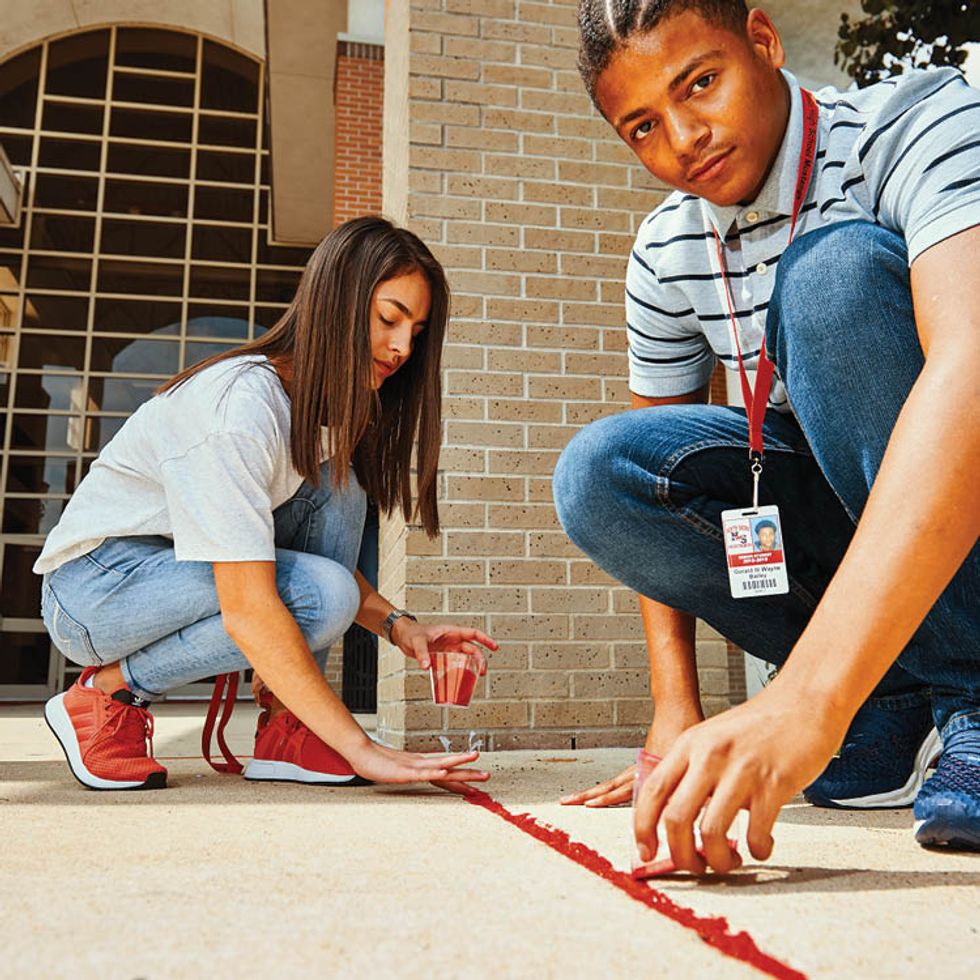 1:30pm
Students at North Shore High School in northeast Houston pour scarlet dust into sidewalk cracks, creating an installation. It's part of a much bigger series of works: Artist Molly Gochman created the Houston/New York-based Red Sand Project in 2014 and has since engaged 1.5 million people in what she calls "participatory artwork" intended to increase awareness of human trafficking. A similar 700-feet-long piece is being installed on a mesa at Bush airport which will be visible to aircraft above for three months. Photo by Fulton Davenport.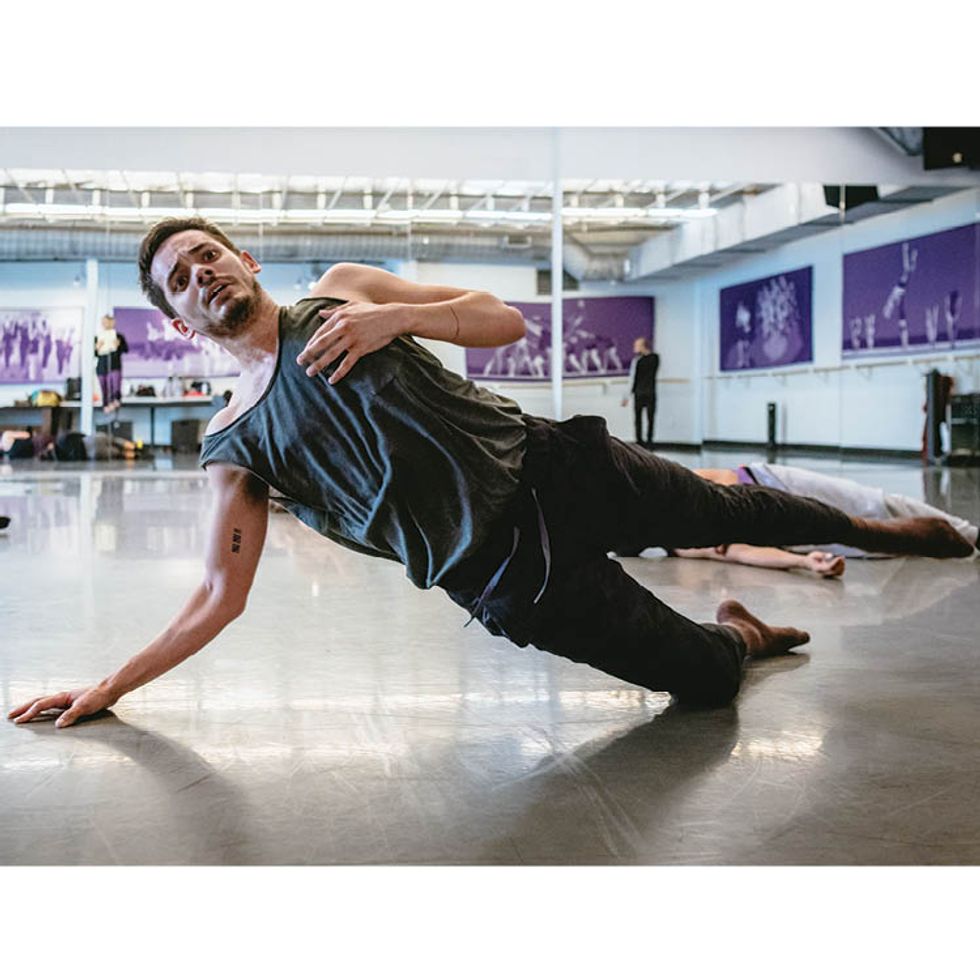 1:44pm
METdance's Dwain Travis rehearses at its Midtown headquarters. Travis, who joined the company last year, also cofounded the Juxtapose Arts Collective in south Houston. METdance performs 'When We Take Flight' at MATCH, Nov. 15-17. Photo by Jhane Hoang.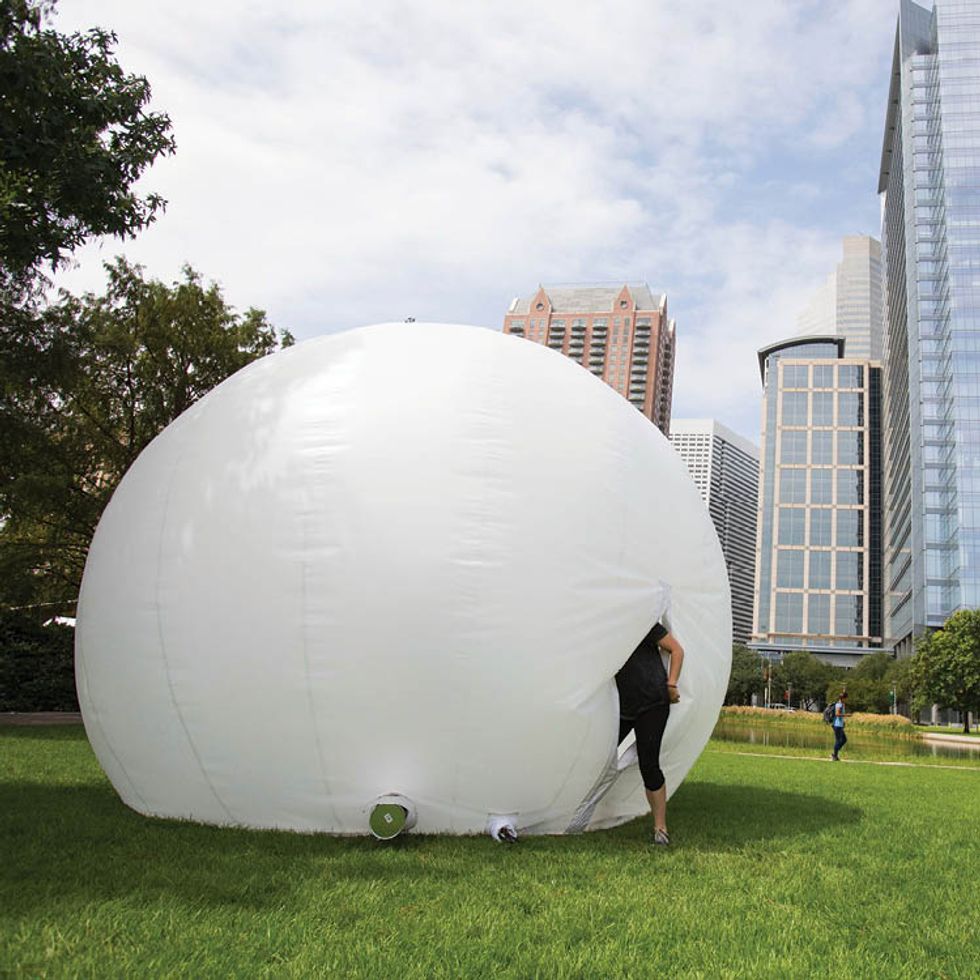 1:45pm
Artists put the finishing touches on one of 11 "shadow theaters" that make up MoonGarden, an installation at Discovery Green. At night, the orbs, which were as large as 30 feet in diameter, glowed, revealing dancing shadow puppets. Photo by Shannon O'Hara.
2:46pm
Grass is applied to the center island of the set for Twelfth Night, designed by Todd Rosenthal, at the Alley Theatre. In the days to follow, an intricate water feature would also be added. The show runs through Oct. 28. Photo by Daniel Ortiz.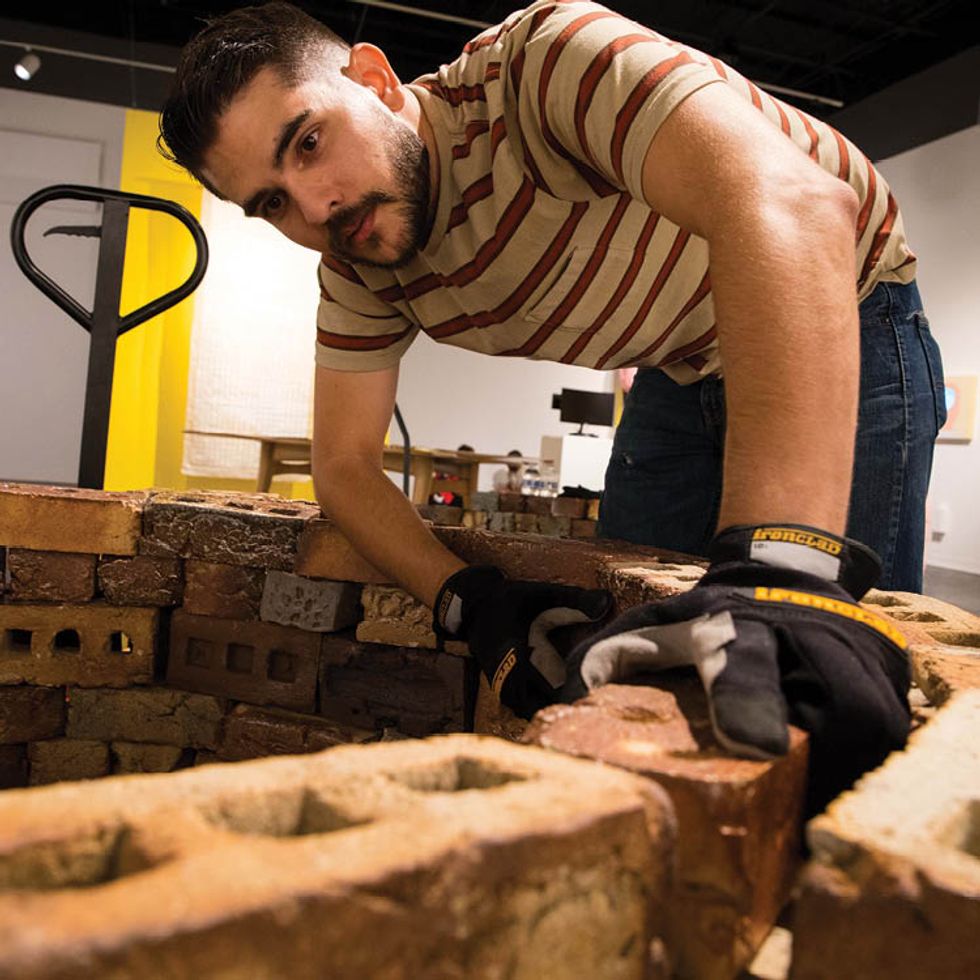 3:31pm
At the Houston Center for Contemporary Craft, Horacio Casillas adds another brick to his sculpture "Community Well." Casillas is one of 36 artists selected for CraftTexas 2018, in which traditional craft materials are used in decidedly non-traditional ways, on view through Jan. 6.  Photo by Shannon O'Hara.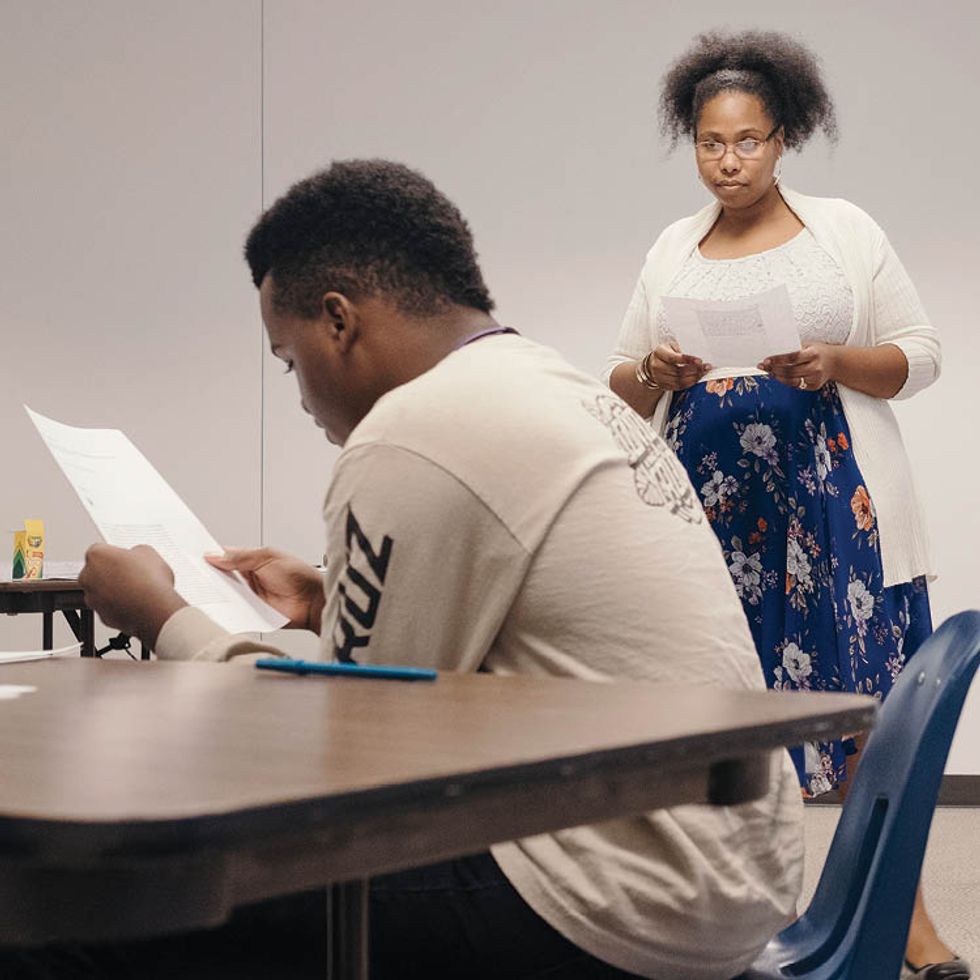 4:15pm
Deborah D.E.E.P. Mouton, Houston's poet laureate, teaches a youth poetry workshop titled Undoing Generational Stereotypes at the Houston Public Library's Carnegie Branch. While the workshop is open to everyone, its target audience is middle and high school students. Photo by Todd Spoth.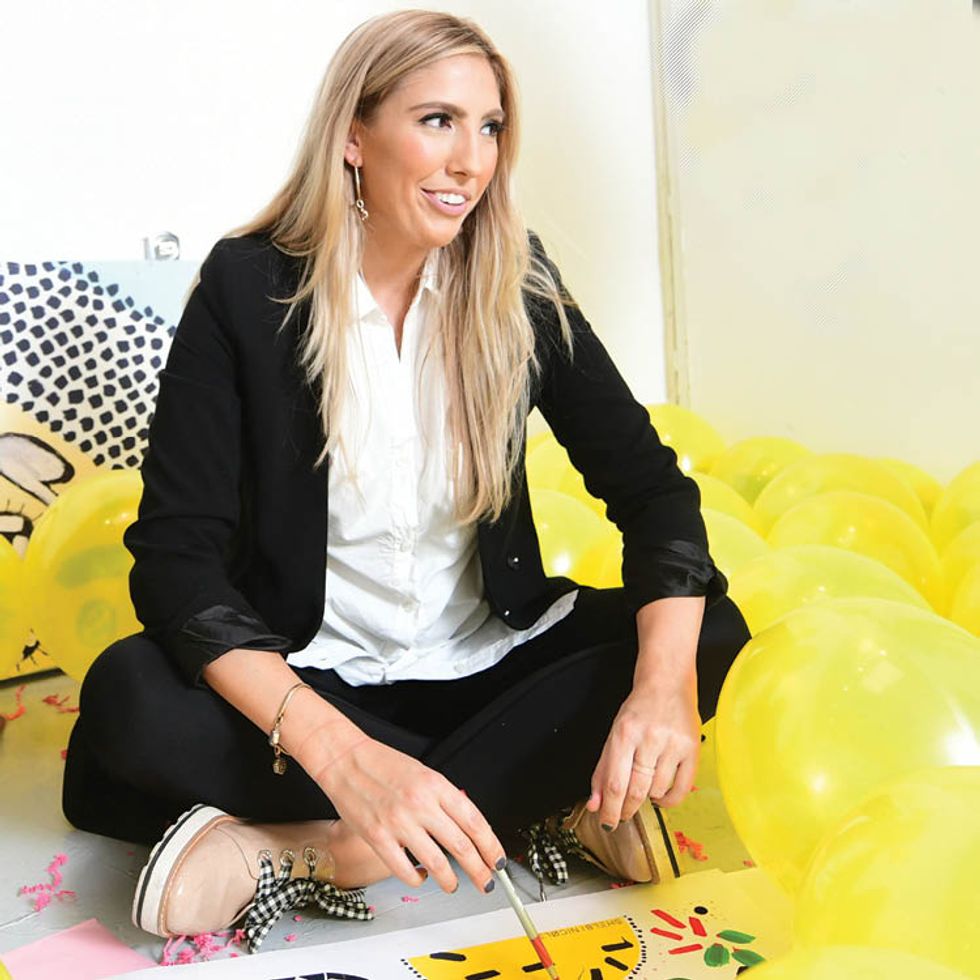 4:52pm
Muralist Shelbi Nicole hangs out at her Whimsy World pop-up gallery, which opens Downtown in February. The artist is known for her colorful, abstract, self-described "feel-good" works with recurring 3-D-like patterns. Whimsy World aims to be the most "Instagrammable" art space in Houston. Photo by Daniel Ortiz.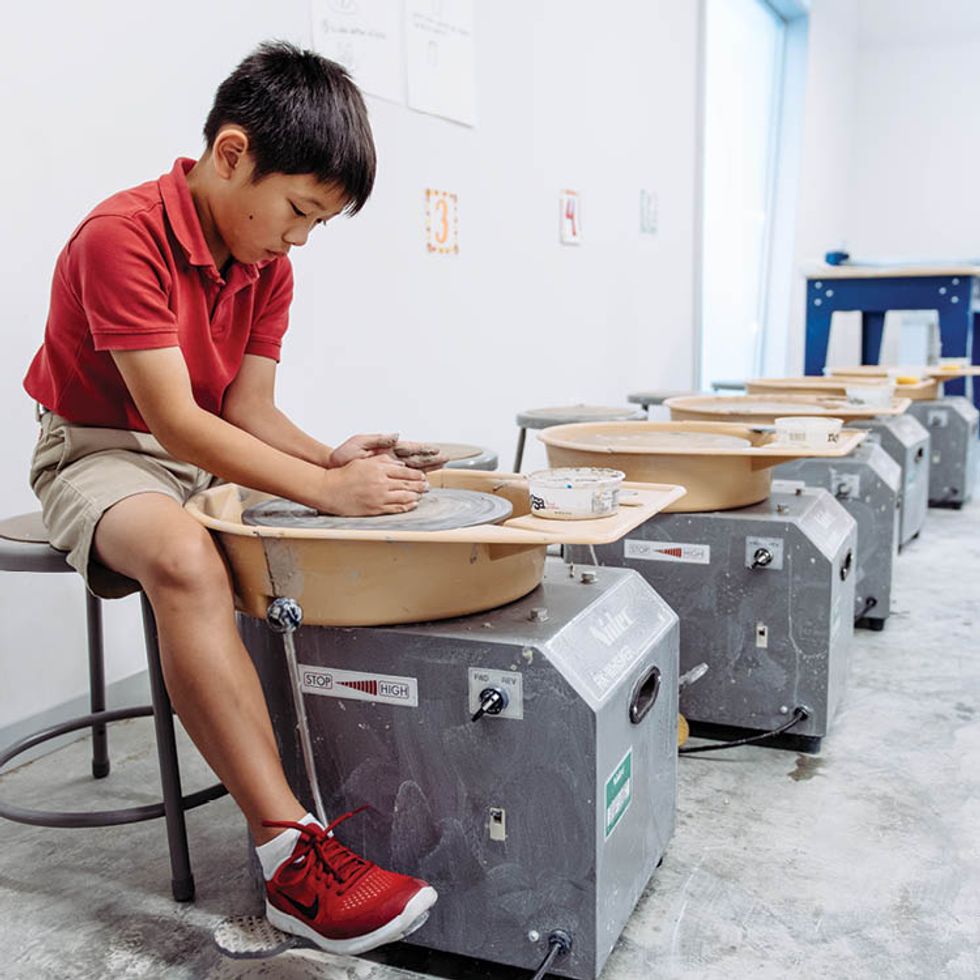 5:04pm
Using just his hands, a pottery wheel and a little imagination, a student in the newly built Glassell Junior School's ceramics class transforms a bit of clay into an original piece of art. The Glassell's after-school programs nurture budding artists ages 3 to 18. Photo by Jhane Hoang.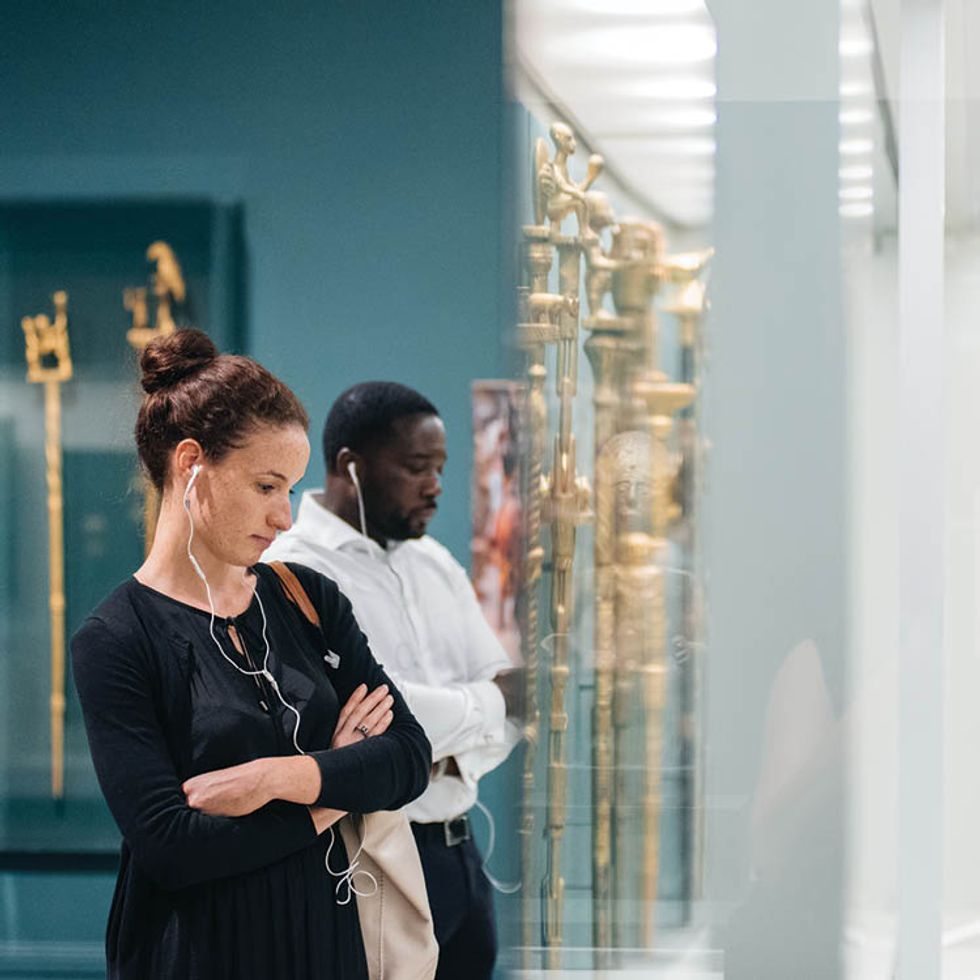 7:08pm
Arms crossed, deep in the groove, visitors dance in their heads during a "silent disco," a special live broadcast from KTRU of contemporary African music, while exploring the African art collection at the MFAH in the Museum District. Photo by Jhane Hoang.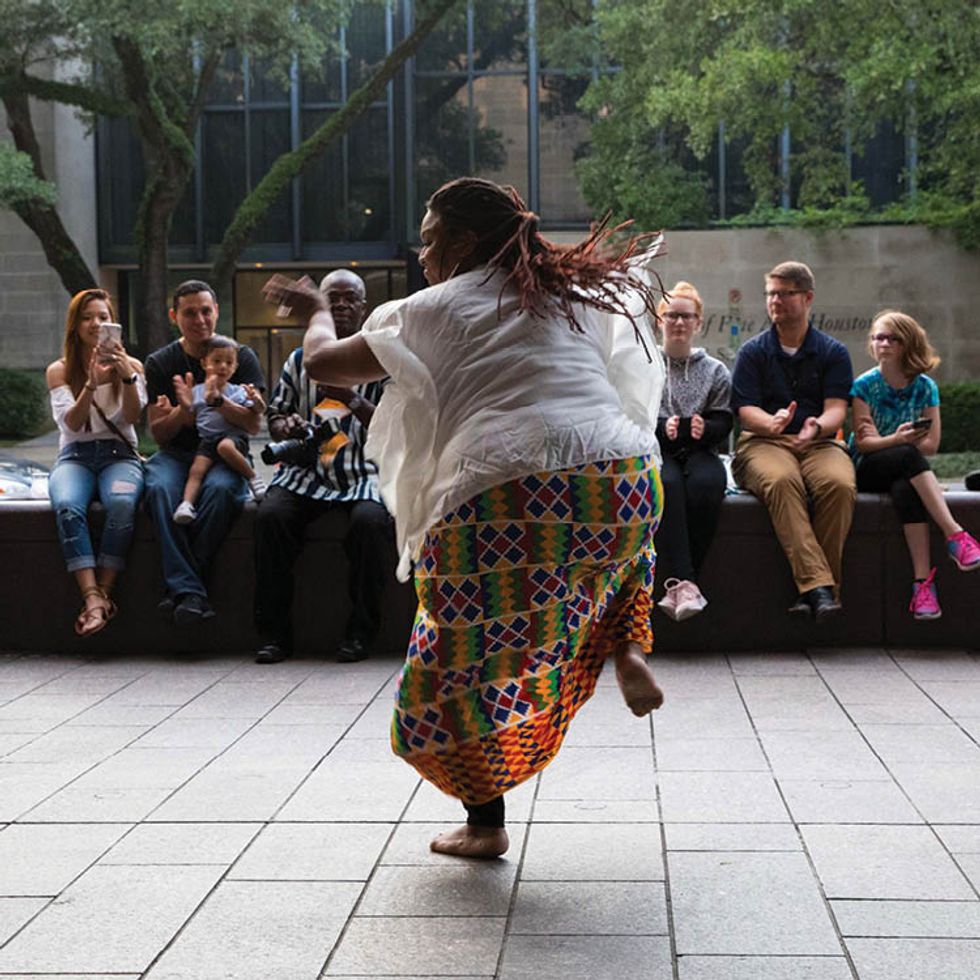 7:11pm
Happy hour at the MFAH gets even happier, thanks to the dynamic movement and sounds of the KoumanKe'le' African Dance & Drum Ensemble. On Dec. 1 at the Hobby Center, the ensemble performs in Houston's Urban Nutcracker. Photo by Shannon O'Hara.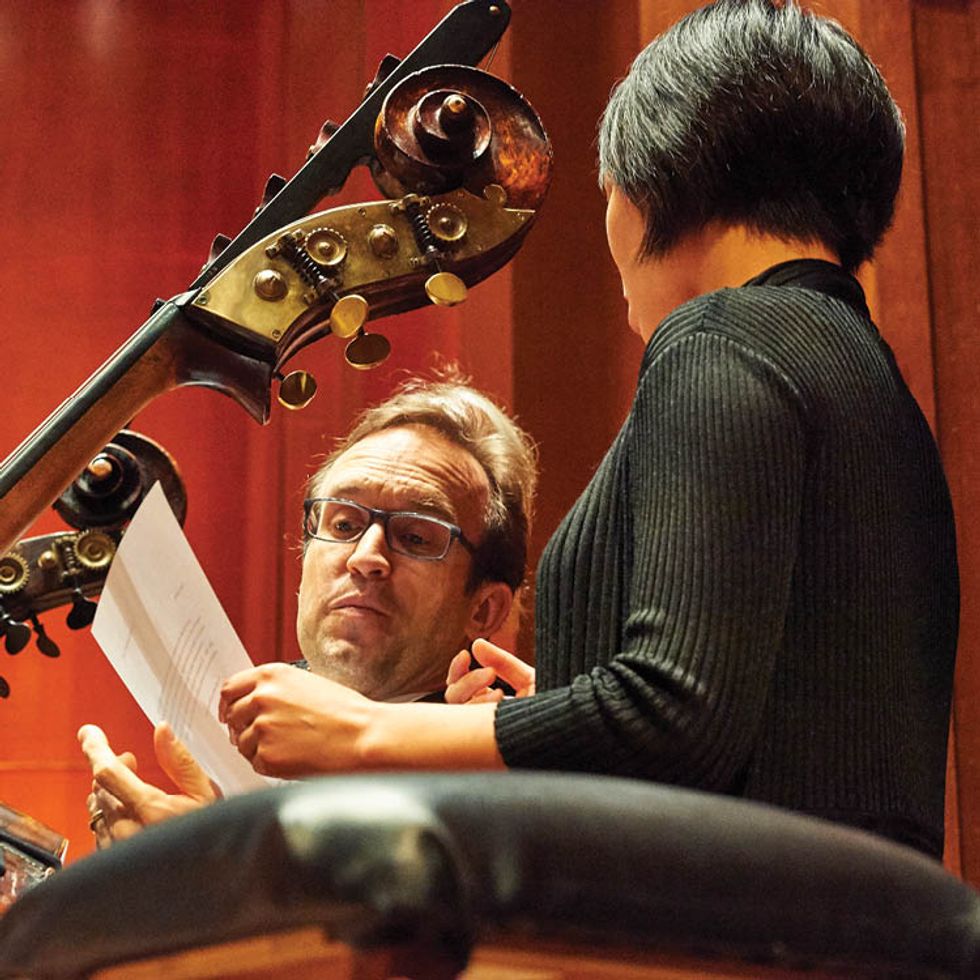 7:54pm
Houston Symphony double bassist Burke Shaw warms up ahead of the group's performance of Dvořák's rarely heard choral masterwork "Stabat Mater," featuring the Houston Symphony Chorus and four stellar guest vocalists. Photo by Fulton Davenport.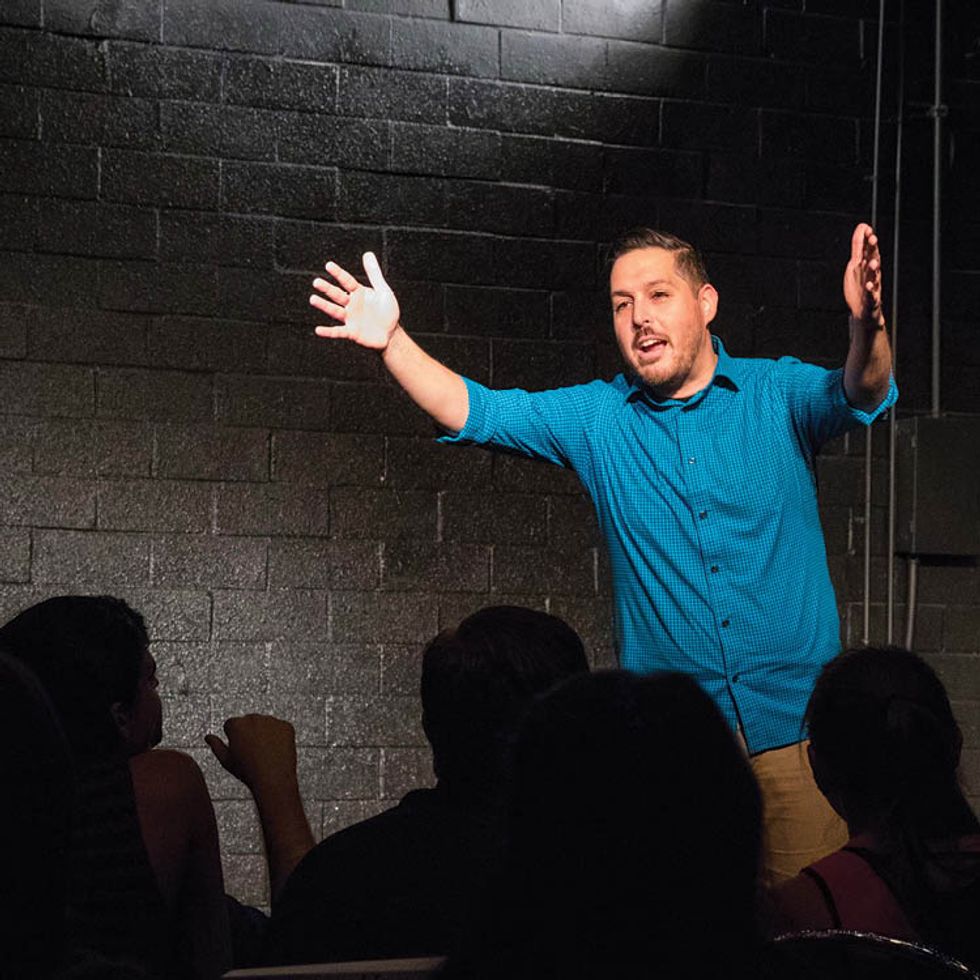 8:06pm
Samir Mojaddedi, a member of ComedySportz Houston, introduces the troupe's long-form improv team, Better Linda, at its weekly EaDo Comedy Show. Mojaddedi has been a CSz member for nearly a decade. Photo by Shannon O'Hara.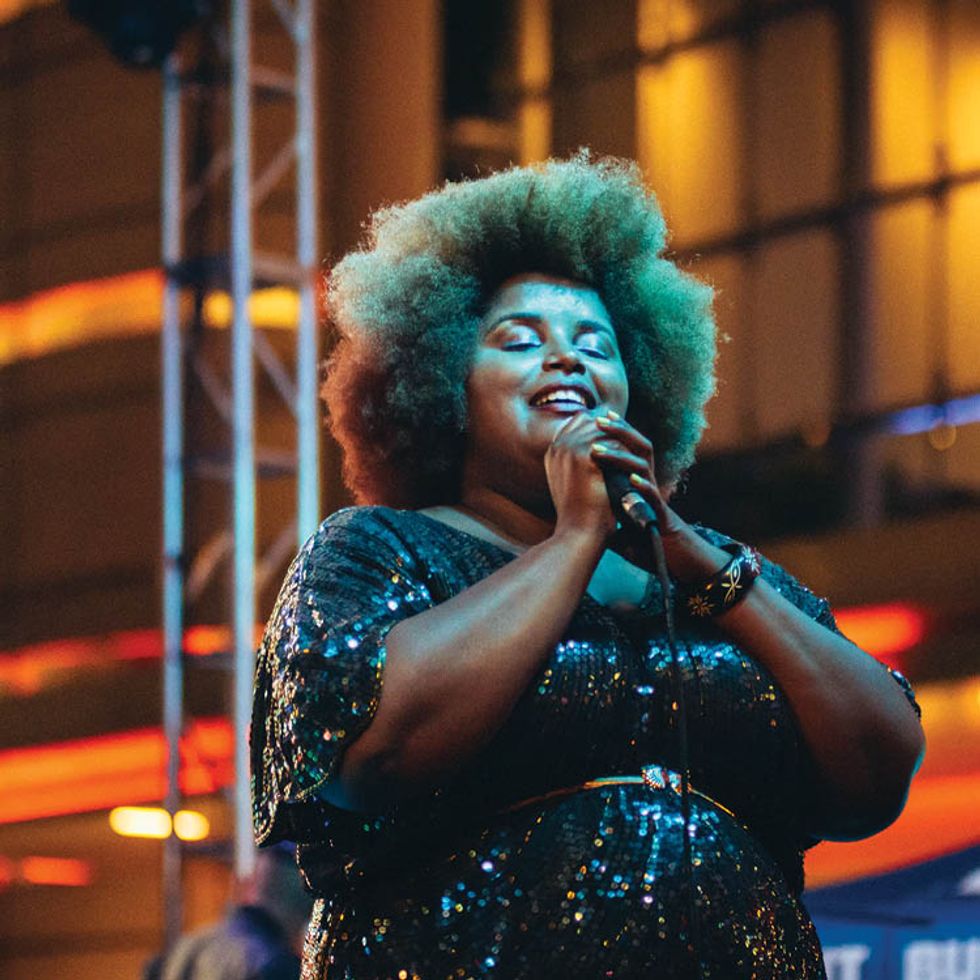 8:49pm
Lead singer Kam Franklin soaks up the spotlight during the Suffers' Party on the Plaza performance, a free concert presented by the city, at Avenida Houston across from Discovery Green. Photo by Jhane Hoang.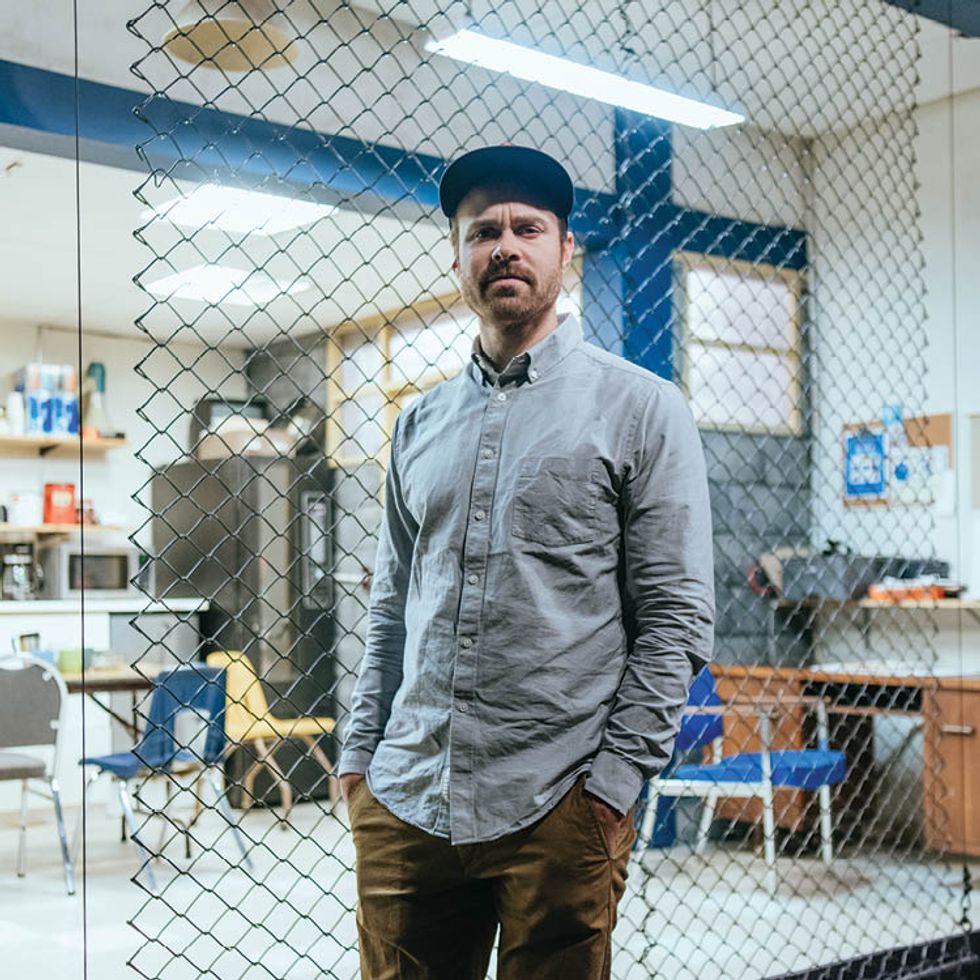 9:33pm
Rec Room Artistic Director Matt Hune strides the set of Exit Strategy, moments after the curtain closed on the second show of its two-week run. The play tells the story of a Chicago public high school slated for closure at the end of the school year. Photo by Jhane Hoang.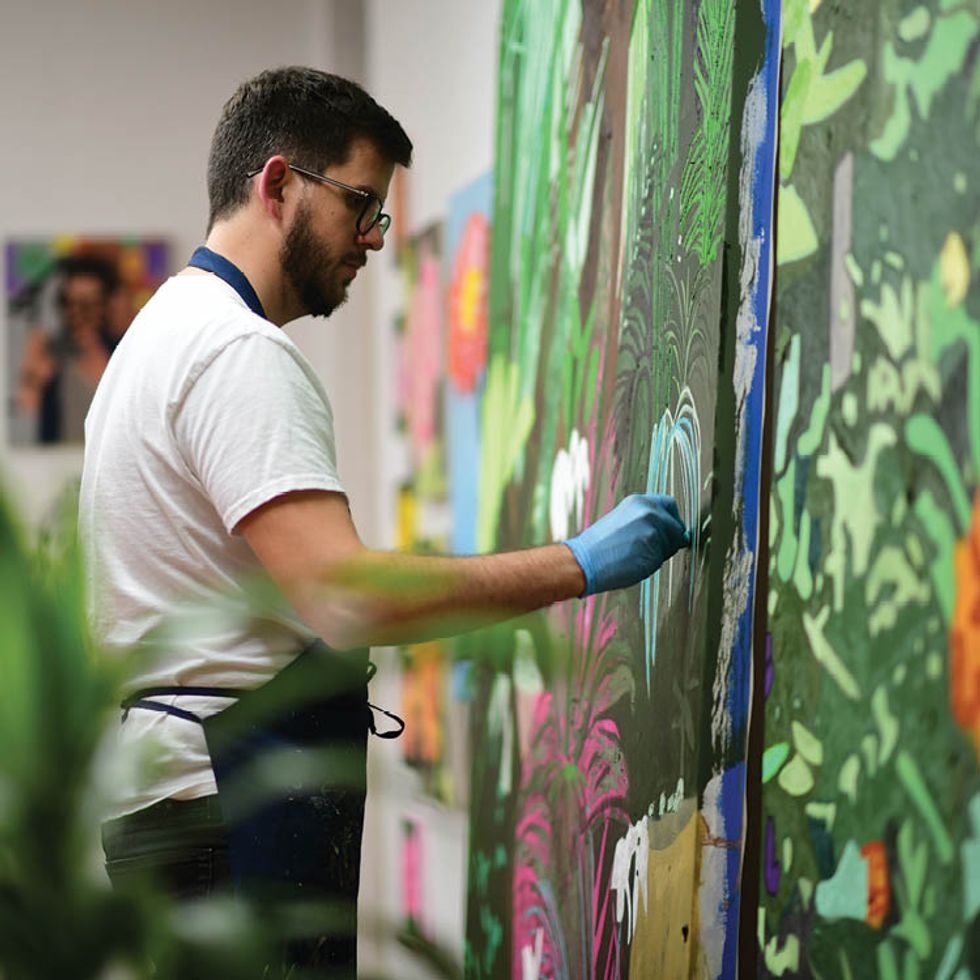 10:51pm
Bradley Kerl readies several large-scale paintings for his upcoming show at Jonathan Hopson Gallery, on view through Dec. 2. Days later, Kerl departed for a month-long residency program at Villa Lena in Tuscany. Photo by Daniel Ortiz.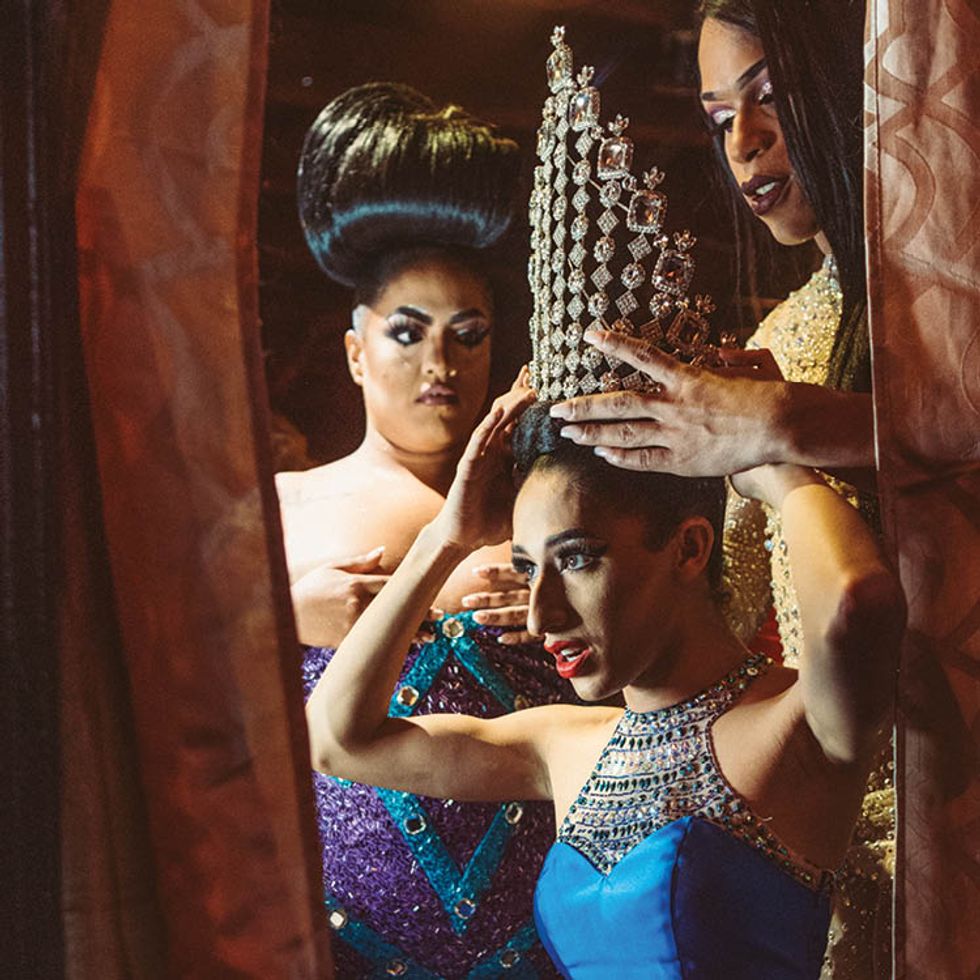 10:52pm
Queen for a day? Yasss! Angelina DM Trailz gets an assist from her drag sisters before entertaining rowdy patrons at JR's bar in Montrose. In recent years, drag has bounded out of the counterculture's shadows, with shows highlighting self-engineered feats of costume design, makeup artistry and bold performance staged around Houston almost nightly. Trailz, 24, is a regular at Guava Lamp Lounge. Photo by Jhane Hoang.
Art+Culture