City's New Poet Laureate Aims to 'See Full Gamut of Houston'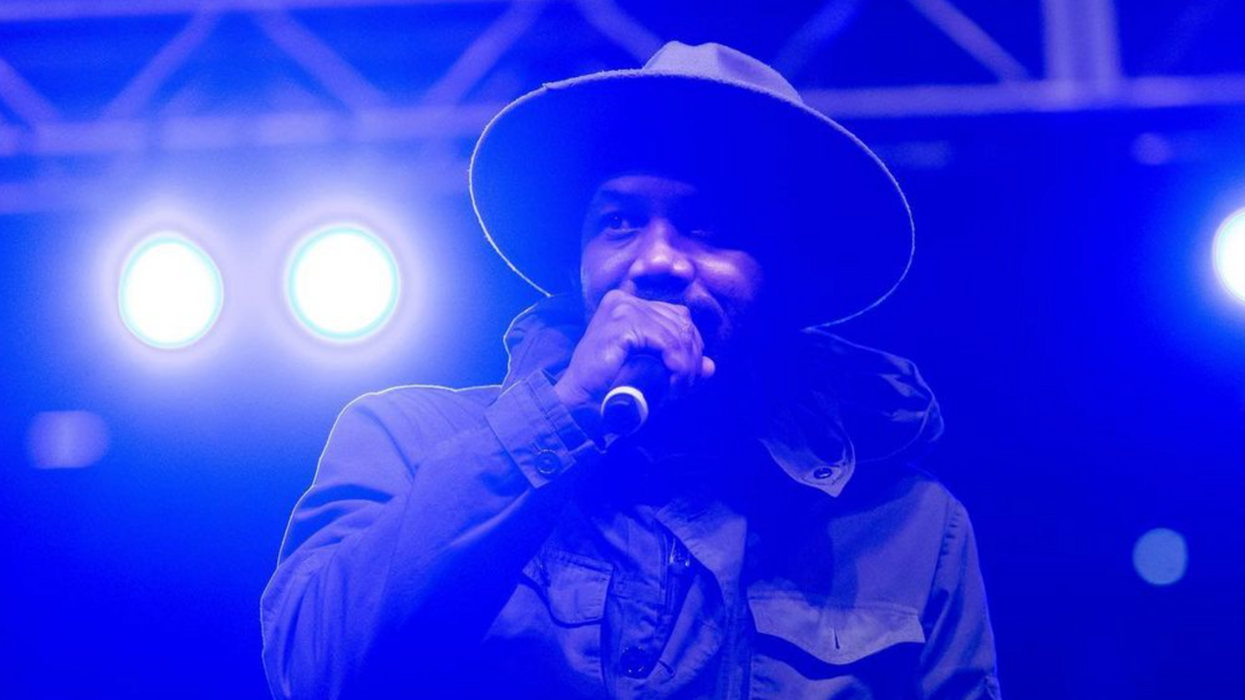 "I'M SO HOUSTON I'm not from here," laughs performance poet, writer and educator Outspoken Bean, who was just named by Mayor Turner as Houston's new Poet Laureate, between sips of his particularly foamy chai tea latte on the patio of eclectic Third Ward coffee shop Doshi House. "And that's the most Houstonian thing."
---
Although he's not from here, as he says, he seems to know almost everyone who makes an appearance on the patio of the shop. That could, however, just be a mirage created by his confident friendliness, undoubtedly developed through years of learning how to connect authentically with audiences onstage through the outspoken verses of his spoken word poems.
Raised as a self-described military brat in San Antonio, Outspoken Bean, who has family roots in New Orleans, first fell into the performance lifestyle while in high school when he would do lunchroom table rap battles with his friends. "I was good," he remembers. "Like, really, really good."
It wasn't until he entered into college at Prairie View A&M, where he majored in drama, that Outspoken Bean was introduced to poetry slams and found his true calling in the performance of poetry. Although he didn't fully understand how poetry slams worked during his first time participating in one of them — he left after the first round, thinking he was done — the organizer of the slam, a man named Shaggy, gave him the instruction he needed for him to win his second slam.
Shaggy, seeing Outspoken Bean's potential, gave him a list of people involved in poetry slams in Houston, and things really kicked off for Outspoken Bean from there. "I started calling those people," he says, noting that he also eventually founded and coached a poetry slam group at Prairie View A&M during his senior year at the university. "And that's how I got started in Houston, and now here I am."
Since setting up roots in Houston back in 2009, Outspoken Bean has been a force to be reckoned with in the local poetry scape. He was the first poet to perform in a main-stage production with Houston Ballet. He is the creator of his own poetry festival, and he's performed in more than 35 states and at 200 universities. He was also commissioned by Pabst Blue Ribbon and Vice to write and perform a national campaign on diversity.
While balancing his busy touring schedule — at least before the pandemic, which he likes to refer to as the "panorama"— Outspoken Bean also serves as the project coordinator, lead coach and mentor of Meta-Four Houston, a local youth poetry slam group for youngsters aged 13-19. Originally founded in 2007 by former Houston journalist Shannon Buggs, who now works in the mayor's office, Writers in the Schools adopted and started funding the program in 2014.
"I'm pretty black about it," says Outspoken Bean of the subject matter of much of his work. "When I talk, I'm very black. And when I do my shows, they're centered around that. I do a lot of personal narratives, a lot of observations."
He says he's going to draw on that familiar subject matter through much of his work for his two-year term as the city's new poet laureate, and he will continue his own personal projects. In one of those projects, titled "Space City Mixtape," he will hold writing sessions at different locations all over the city in partnership with the Houston Public Library. He'll then record some of the people who participated in those writing sessions reading the pieces they developed, which will eventually be available on both free and paid streaming platforms like Spotify.
"I'm really interested in seeing the full gamut of Houston," he says of the project.
Outspoken Bean also helped organize an experimental interdisciplinary micro-festival at UH's Blaffer Art Museum that kicks off on May 23 and runs through June 5. A survey of performance across dance, theater, music, spoken work and visual art, the micro-festival, organized in tandem with guest curators Aisha Tida Abbassi, Rivkah French, Julia Barbosa Landois, Jake Sandridge and Sixto Wagan, will be free and open to the public.
Based in the Heights, where he has lived for the past eight years, Outspoken Bean jokes that if he hadn't been named as the city's poet laureate, he would have just named himself as the "Heights' Poet Laureate" and sent out a press release announcing his newly created position. In all honestly though, he says he's very excited about using his latest honor to build some bridges through his words and his work.
"I see this as a launching pad for me. This is the biggest honor I've ever gotten, and I've gotten some big honors before, but not this big, and I don't want this to be the last one," he muses. "I don't know what all of these projects are yet, but I want to do all of them."
People + Places