In Praise of Young Poets
As the city hosts a national youth poetry competition, Houston's local all-stars prepare for battle — although their real challenge is to learn from each other's life journeys, and their own.
Jhane Hoang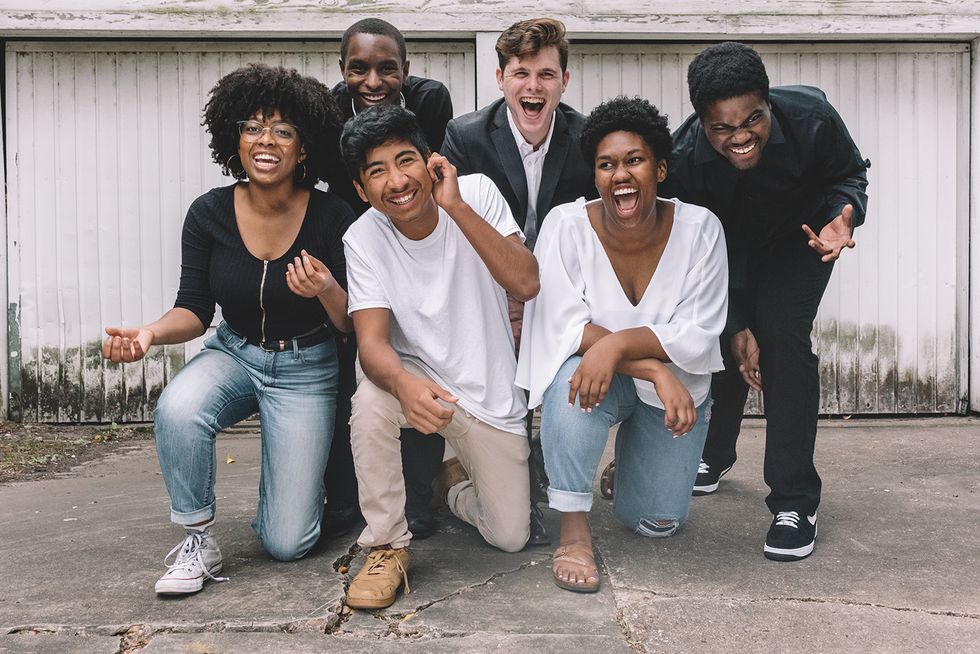 "I promise we're not like this when we remember the poem!" says 17-year-old Ashlyn "Lyn" Stewart, slightly embarrassed, her eyes widening behind her thin-framed glasses, after flubbing up a bit in rehearsal. She is a three-time member of Meta-Four Houston, the city's premier youth poetry slam team. This summer, Meta-Four competes in the Brave New Voices International Youth Poetry Slam Festival, which for the first time in its 20-year history, will take place in Houston, July 18-21.
---
On a Friday afternoon after school, in a bungalow near the Menil, Stewart and teammates Jackson Neal, 18, and Sebastian "S.E.A.K." Avila Katine, 15, are practicing a complex, emotionally charged group poem titled "Kill Bill." They're still working out the kinks. "Trudge right through it," says assistant coach Loyce Gayo, who teaches for Writers in the Schools. "Just be in it, and try to get through as much as you can."
WITS adopted the Meta-Four Houston program in 2012, and in the months leading up to the festival, Gayo and head coach and WITS "Evangelist" Emanuelee "Outspoken" Bean help the team refine their writing and performing skills. But for Bean, who has toured internationally as a spoken-word artist, the opportunity to compete against hundreds of teenage poets from across the U.S. in Brave New Voices is "a by-product" of what each poet actually gains as a member of Meta-Four.
"I hate losing," admits Bean. "I do not like it. But I've really lost when a student goes through a whole summer with me, and doesn't grow. I'm not trying to raise an army of poets, but I am trying to raise a crop of people who put their best efforts into whatever it may be, be it schoolwork, a protest, mentoring, whatever."
After returning to their positions, the trio takes a collective breath, ready to stare down the festival judges who will score their performance — along with those by other teams from around the world — from 0 to 10. They begin again: The movie is Kill Bill, where Uma Thurman plays The Bride, and let's fly loose steel, as she and all assassins without cause do so easily.
Co-written by Stewart and Neal, "Kill Bill" addresses the visceral pleasure of movie violence, and the 2016 killing of Philando Castile, who was shot to death by a police officer after being pulled over for a broken tail light, the aftermath live-streamed to Facebook. The subject matter is tough, but for each member of Meta-Four — Kylie "Oasis Jazzelle" Harris, 18, Jadon Eugene, 18, and Shunn Brown, 17, round out the six-person team — poetry is both a medium for personal expression, and a way to speak to the social injustices of our time. After a second, much tighter run-through, the trio return to the front room's meeting table, where the team will have their poems-in-progress critiqued by Gayo and Bean. Everyone speaks, but nobody speaks over the other, and Gayo and Bean keep the group focused — no small feat when working with teenagers.
"A lot of people construe writing as a 'gift,' or some airy talent that just comes to you," says Neal, whose poems speak to the personal and the political, and his being Catholic and gay. "But it's very much a skill set. You put the time in consistently, that's how you get better."
Putting in the time has helped Katine learn how to perform his poems with a power equal to that of his older teammates. Though initially inspired to write after a romantic heartbreak at age 13, Katine has drawn upon on his background as a Guatemalan-American and an adoptee with two dads for his poems. "In elementary, I had a really bad stutter," says Katine, who credits Meta-Four with helping him to overcome. "Now, I can go onstage and perform and spread positivity through my words."
Meanwhile, Brown began writing poetry only a year ago. Before that, he rapped, but found he liked the way his words sounded without beats. "I started writing about things I've been through, or stories people would tell me," says Brown, who wrote his first poem about the legacy of slavery after seeing the 2016 mini-series Roots, and reads with the powerful voice of an emcee. "I get really emotional onstage."
Proudly wearing a "Red Poets Society" club t-shirt, Harris speaks quietly when recalling a time in middle school when she was ostracized, and began writing as a way to cope. Like Brown, she is new to writing collaboratively, but welcomes the opportunity it provides to see the world from different perspectives. "We each use lots of different allusions," she says, "because we're from all over the city, from all different walks of life."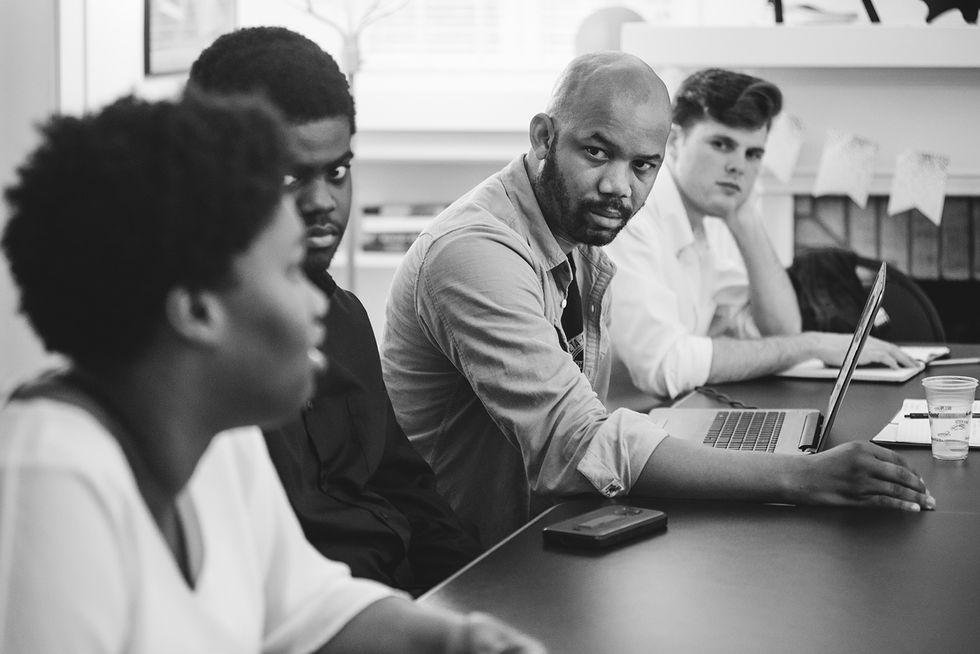 Meta-Four head coach Emanuelee "Outspoken" Bean
On a sunny Saturday morning, Meta-Four are sharing first drafts of poems born out of topics selected by the group. (A list on a nearby white board includes "Black Parents," "Nature" and "Old Kanye vs. New Kanye.") Today, the subject is the human cost of providing the West with palm oil, which is found in much of the food products we consume.
"Jade, whatcha' got?" says Bean, turning to two-time Meta-Four member Eugene, a college freshman studying computer science at Texas A&M, who was inspired to write after seeing his brother compete in slams. Looking down at his smartphone, he reads: Sometimes I swear I can hear muffled screams hidden within the sizzle, as if we can squeeze small villages in the handshakes with the distributors. Even outside the kitchens, the smell carries. … I try to scrub the taste out of my mouth with the essence of felled palm trees, uproot them entirely with a finger dipped into facial cream. Hundreds of years of Indonesian identity dissected alive.
The group applauds. The power of poetry is evident, when words flow as if pulled out of thin air, after labored over by a young writer, maybe at three in the morning, probably before a full day of classes and schoolwork.
"Good, good," says Bean quickly, and then it's on to the next poem.
Art+Culture