Changing the Routine
More than a passing fad, boutique fitness is bigger than ever, and these Houston entrepreneurs are kicking it to the next level.
Traci Ling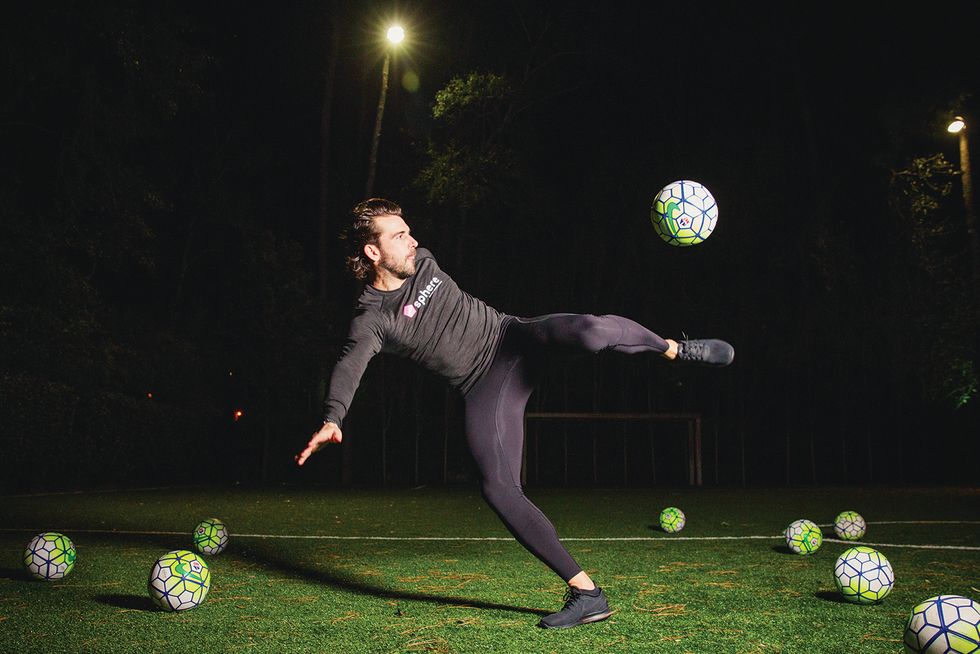 The so-called "boutique fitness" movement is still hot. Studios devoted to stylized workouts, a la SoulCycle, have been popping up across the city for a few years. Classes priced per session and offered in intimate groups — some with lighting effects and music more like a nightclub than your dad's athletic club — appeal to a generation of young people who prefer an alternative workout plan without the commitment of joining a luxury gym.
---
Now several entrepreneurs are taking the craze to the next level.
Houston's first-ever soccer-inspired fitness concept, Sphere (sphere.club, 206.550.4081), by retired soccer pro Mike Chabala, offers 45-minute, cardio-intensive out-of-the-box — and out-of-the-gym — workouts. The concept, which focuses on soccer-inspired exercises, officially launches this summer, but Chabala, who helped the Dynamo achieve back-to-back MLS Cup championships in 2006 and 2007, has garnered a loyal following with "kick-ups" around town — his version of pop-up classes.
"We work out at the Four Seasons and use fields around the community for our kick-ups as we play toward our first location," says Chabala, who uses a series of exercises — some with a medicine ball, some without — to target the upper body, lower body and core. Expect cutting drills and simple ball touches, tailored to an individual's fitness ability. "Sphere is not just for avid soccer players and athletes," he says. "It's for anyone looking to push their personal boundaries to the extreme."
With classes of 15-20 people, the group setting generates energy, but Chabala says the attention given to each individual is not lacking. "We believe the highest level of fitness is achieved as a team," he explains. "The whole premise is team-inspired but individually focused in all the workouts. It's fun, it's unique — and it's over before you know it."
ABOVE: It takes balls to do Sphere, Mike Chabala's new workout.; Defy Pilates owner Christa Taormina inside her Heights-area studio
Over in the Heights, Defy Pilates (3620 Katy Freeway, 713.725.2558) is garnering a similar reputation for its music-filled pilates-fusion classes. Bringing a flirtatious, sexy edge to the studio with her Lululemon crop-tops and her long, blonde, beachy waves, bubbly owner Christa Taormina says, "We aren't trying to be any different than the next guy. But we aren't trying to be the same either. We are just doing what feels right, what comes natural."
And that easygoing approach is what draws customers. Acknowledging that pilates can be intimidating, Taormina, who's been teaching for three years, says a goal for her studio — industrial-chic, with simple concrete floors and exposed ceilings — is to offer both classical and high-intensity pilates taught by spirited instructors, each of whom brings the energy — and her own playlist. "I love the Chainsmokers, but we play everything from country, hip-hop and house to '90s music," says Taormina. And, she claims, it doesn't take long to get addicted. "You'll probably want to curse your instructor, but then take her out for wine, download her playlist, and be new best friends."
Meanwhile, in Upper Kirby, Ashley Stevens and her husband John have just opened PosturFit Pilates & Barre (3451 Kirby Dr. 713.554.0200). Here, not unlike at Defy, classes are based on the classical principles of Pilates — but also add variety using current fitness trends and choreography, an idea that Stevens stumbled upon after teaching at several different studios around town. She seeks to combine the best elements of multiple workouts in one reformer class.
The 50-minute classes range from Newbie Reformer — which attracts a crop of new students weekly — to Fit Cardio Barre, which sets a high-energy, low-impact workout to upbeat music at the ballet barre. Stevens, who for years was a drill-team instructor at Stratford High, is thrilled to welcome her former students to her studio. "It has been such a joy to catch up with them, hug their necks, see them interact with one another … and, of course, kick their booties again, too!"
John, who caught the pilates bug and began taking mat classes alongside his wife early on, feels there is a market for more men to get involved with pilates, and is doing his part to spread the word about PosturFit. "We have so many options with how to care for our bodies," he says, "but there is no quick fix. And it is important to give yourself the time and chance to be stronger."
Uncategorized