As Comicpalooza Nears, Top Cosplayers Get into Character (and There's More to It than You Think)
Ivy Gonzalez
COMICPALOOZA, THE ANNUAL multi-day pop-culture festival, is about to return to the George R. Brown Convention Center over Memorial Day weekend.
---
The expansive, colorful expo — with many thousands partaking in shopping, special attractions, e-gaming, tabletop gaming, entertainment, family-friendly activities and programing that span anime, comics, gaming, literature and more — also touts glimpses of fan-fave celebs; this year, William Shatner, Vampire Diaries' Ian Somerhalder, and cast members from hot shows like The Boys and Arrow are expected.
But the most curious and compelling aspect of Comicpalooza might just be the attendant cosplay — defined broadly as the practice of dressing up as a character from a movie, book, or video game — and the vibrant cosplay culture that's so prevalent at the fest.
Who does cosplay and why? What drives those who love the artform so? Why is being nerdy cool? We asked four deeply committed, multi-award-winning cosplay devotees from Houston these questions. Here's a bit of what we learned.
Jess Ontiveros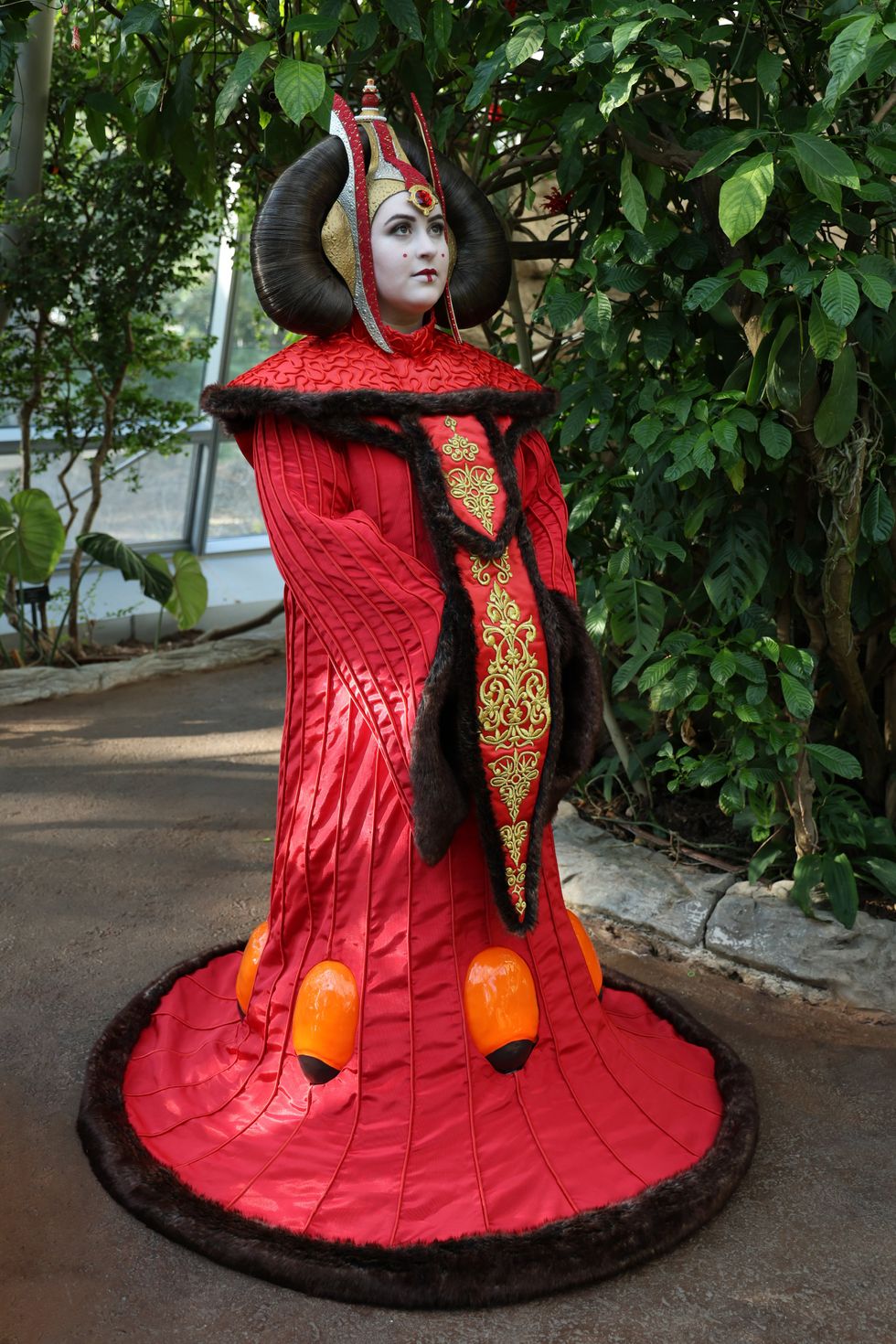 Jess Ontiveros, as Padme from 'Star Wars,' at the Houston Museum of Natural Science
We know you won Best in Show at last year's Comicpalooza. Tell us a little bit more about yourself. I live in Spring, and just bought a condo — yay adulting! I currently work in real estate and have been for the past six years. I have two cats. I went to Sam Houston State University for college, majoring in theatre technology and design. I worked on cruise ships after graduating college and love to travel. I do costume design for local theatres in the Houston area. I love watching and listening to true crime shows and podcasts. I love to read and collect random knowledge, which helps at bar trivia.
What does cosplay mean to you? It's a great way to flex my skills and show them to other people. I also love the cosplay community; they are all so helpful and kind. I get such an endorphin boost.
When and why did you start cosplaying? I learned how to sew when I was young and then fell in love with costuming for theatre. I went to college for costuming, and I have always loved making my own costumes for Halloween and Renaissance Faire. but I started cosplaying later in life. I guess when I was in high school and college, being nerdy wasn't quite as cool. I'm also an introverted person, so actually wearing the costume myself has always been a little outside my comfort zone.
Walk us through the process of bringing your ideas to life? I start with the original images or art and try to find out what the individual parts of the costume are made up of. Then I either find a commercial pattern that closely resembles it or figure out how to draft my own pattern. A lot of my schooling in costuming focused on patterning so that's always been my favorite part. Next is choosing fabric and notions, then I can start sewing! I recently learned how to "tambour" embroidery and beading, so that has been my newest skill obsession. I've also been adding prop/jewelry making with resin casting and lights, so that's been fun.
Tips for other cosplayers? Drink lots of water and take breaks. If you can, build pockets and ventilation/fans into your costumes. Bring a buddy, either to cosplay with you or to be a handler to make sure you're doing ok.
What is your favorite memory at Comicpalooza? I met Emilia Clark at Comicpalooza a few years ago and that was amazing! I love watching people's expressions as I walk by. My friend who helps me says the double takes I get are her favorite part. My favorite cosplay memory was meeting Ewan McGregor in my Amidala dress, he was so shocked and then accidentally pulled my hair.
Tell us more about the cosplay you're being photographed in. I am one of those weird people who enjoyed the Star Wars prequels, probably because Padme had such amazing costumes. This has always been on the top of my list of costumes to make, the shape and the hair are just so iconic. I have a distinct memory of buying fabric for this dress in January of 2020, I had been talking about making it with a friend and my old boss at the end of 2019 and pulled the trigger after New Years. My goal was to be finished by Comicpalooza in May — in hindsight that was very ambitious! — but then COVID shut everything down and that didn't happen! I had a bit of Covid depression and stopped for a few months. but another cosplayer put up tutorials for when she made the dress, and that helped get me out of my funk. I think by the time I was done, I spent about 600-700 hours. I did all the embroidery by hand.
Any other looks for this year? I am currently working on two cosplays that a friend and I will be wearing. It is the Historical-Ish Maleficent and Sleeping Beauty by Claire Hummel. I've always loved historical costuming, so I love doing an accurate-ish spin on classic Disney characters. It was also fun researching historical patterning and sewing for this project.
Jordan James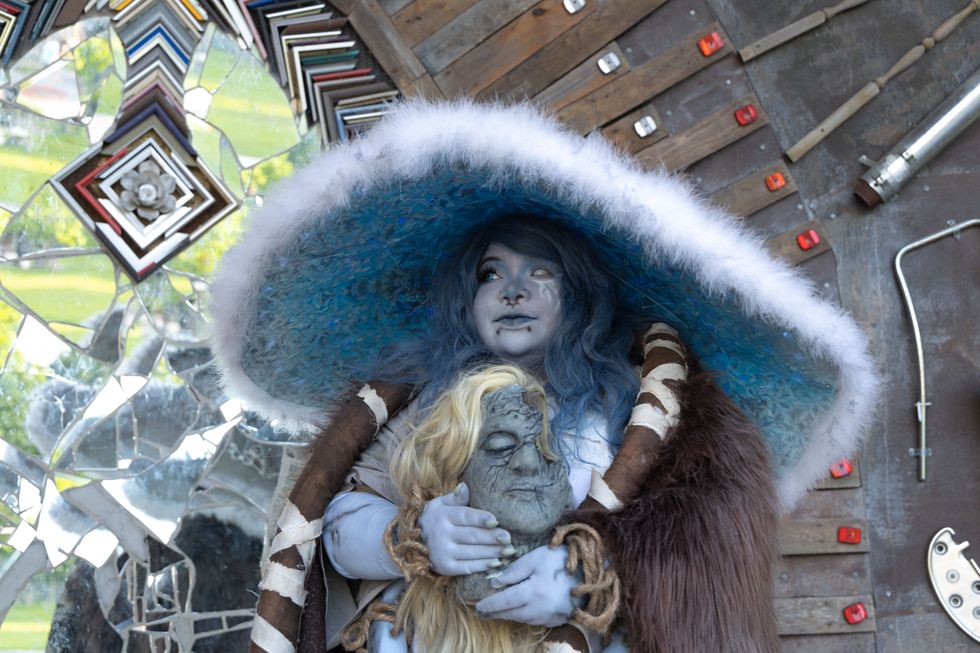 Jordan James, as Ranni the Witch from the Elden Ring game, at Smither Park and the Orange Show for Visionary Art
Tell us a little bit about yourself. I am SaiyanGodCosplay or Jordan! I'm a biracial, plus-size cosplayer that encourages other people to feel amazing in their bodies and live their lives how they want! I'm unapologetically myself, and I love making cosplay that makes my brain hurt — and giant props! I specialize in props and foam smithing, as well 3D printing, wig styling and special effects.
What does cosplay mean to you? It means to have fun and bring those crazy characters to life!
When did you get started cosplaying? I got into cosplay around my freshman year of high school. It was very new and a lot of fun! I enjoyed altering things and making what little I had work. Seeing people like kamui cosplay, yayahan and cowbutcrunchies made me realize that cosplay was more than just putting on a costume, but that it's a beautiful form of art.
What inspires you? I draw inspiration from other fellow cosplayers that share their knowledge and findings on social media to keep me going and striving to do new things.
Walk us through the process of bringing your ideas to life? I start off with getting multiple in-game screenshots and finding as many references as I can and collecting all of them and start pinpointing what is something new I would need to learn, or if it's skills I already know. From there I move on to materials needed and costs to see what I have, don't have, and may need. As well as time frame! Then I start patterning out and going to town! I normally start off with the most difficult piece of the costume! My theory is, if I can do the hardest part, then rest will be a piece a cake.
What is your favorite memory at Comicpalooza? My favorite Comicpalooza memory is probably last year's when I brought my Sundrop cosplay, and there was a group of kids that wanted to take a picture with me but were to terrified to and they started crying and ran away but then came back to try to tackle me! My favorite as memory as a cosplayer in general definitely is winning my first award. It was a sign of hope that maybe I was kinda good at making things, and that all my time spent watching tons of videos came to something great!
What advice would you give to someone who is just starting to cosplay? Don't be afraid to just try. Some cosplays might seem difficult or you can't wrap your head around making a cosplay. My advice is: Get crafting, don't let it stay a curiosity. Let your imagination and skill take over, and test your hand at all the skills! There's so much material out there for you to learn and master your skills.
Tell us about the cosplay you're being photographed in? Elden Ring is one of my favorite games of all time, and being able to cosplay Ranni the Witch makes me very happy. She took about two months to make. Getting into character is hard for me as someone who is a bit more socially awkward, but once my makeup and everything is on, it's a completely different feeling.
Rumple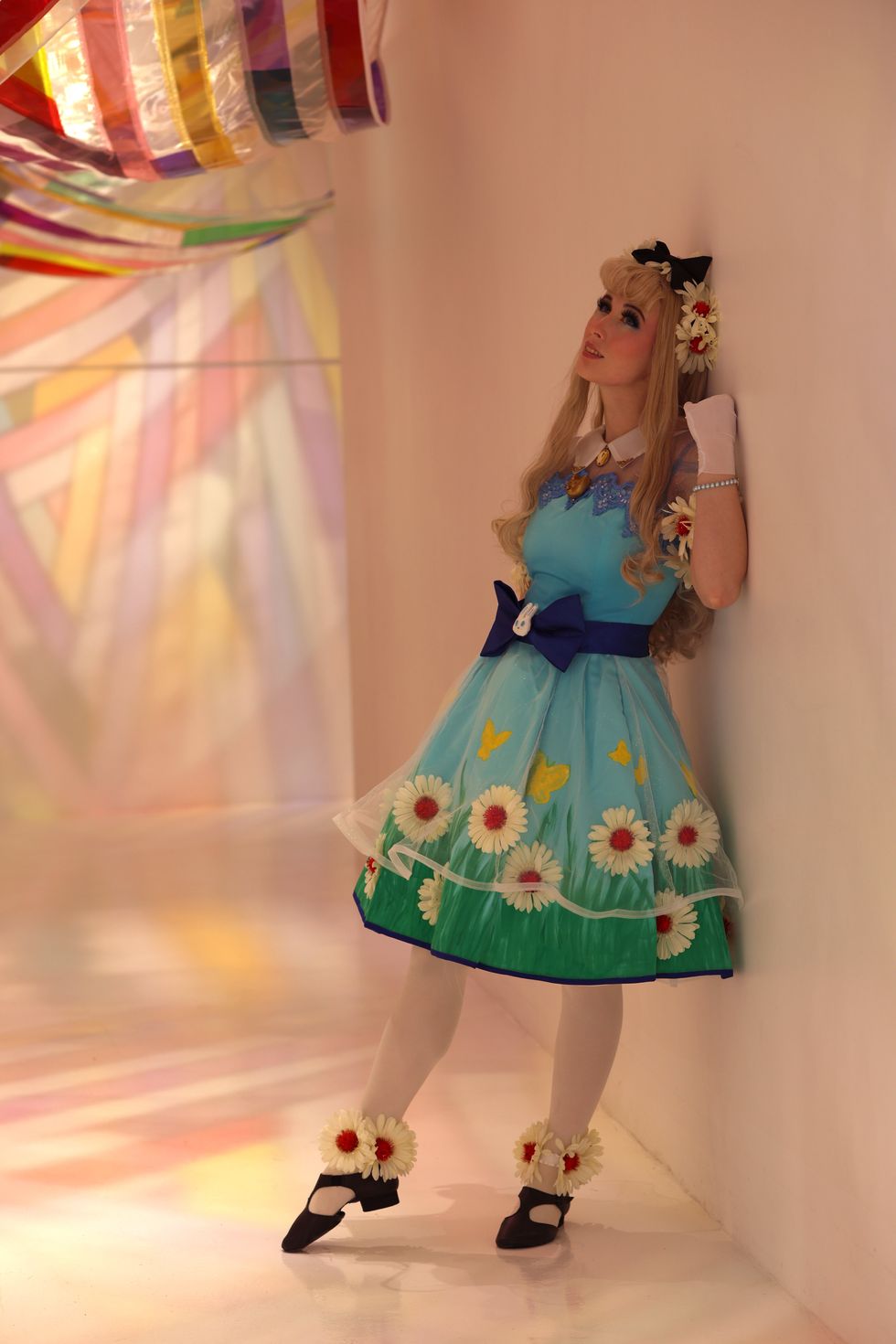 Rumple, as an 'alternate' Alice in Wonderland, at The Color Factory
Tell us a little bit about yourself. I've been doing this fun little hobby as a cosplayer since 2011! I am primarily self-taught through Youtube and books, and I have a theater background as a professional dancer. And in my mundane life I am a chiropractic assistant's assistant, and I dabble in 3D animation and VFX.
What does cosplay mean to you? The answer to this has definitely grown and changed over the years. But the one thing that still stands out is the community. There's just such a tight knit comradery in the cosplay community and I really enjoy seeing and being a part of it. From a logistical side, I also enjoy the challenge of creating something 3D from a 2D or non-existent form.
When did you get started cosplaying? This is always such a fun story. So in 2011 I was asked to volunteer at a local church's vacation bible school, and they had a theme that year, being "Video Game Characters." We were all allowed to dress up as Nintendo characters to volunteer, and I chose Princess Peach. When I say this was the lowest budget Princess Peach you would have ever seen, that is not an exaggeration! I had a pink thrifted prom dress circa the '80s, paired with a Party City Dolly Parton wig and a silver plastic tiara that was definitely meant for a child. I was a sight to behold for sure, but what made me fall in love with the idea of dressing up was the interactions I had. I may have looked a mess, but to the kids I was Princess Peach. And that feeling kind of just stuck with me and carried me on into what I now know as "cosplay."
As a cosplayer, what continues to inspire you? I like to tell stories with what/how I make things. This probably stems from being a dancer, but I like to incorporate a more theatrical approach to my cosplay. This is one of the main reasons I am a craftsmanship cosplayer, and I compete. I get very inspired getting into a design space and working out ways to show people the characters I make more texturally than say the roleplay/acting approach.
Walk us through the process of bringing your ideas to life? On the logistical side, the first thing I do is decide if I'm actively going to take whatever I'm making to compete. If I am, will I be doing a walk-on or a skit? This decision will heavily influence what I make since there may be space constraints for the stage. Onto the costume itself, I then go to break it down into pieces so I know how and where to start researching. Then I go a step further and look at and decide what textures are there. For example: Is the character royalty or a commoner? A commoner wouldn't have a gown made of satin, so I would need to find more earthy and organic materials that a commoner would have access to, and so on, for whatever I'm making.
What do you want people to know about cosplaying? You don't need to look like the character to cosplay them. Unless you are actually applying to be a face character for a party company or amusement park, you are not obligated to look exactly like a person that doesn't exist. This is a hobby not a job (unless you want it to be), so don't let anyone make you feel inadequate because you don't have the proportions of an anime character. The other big thing would be, you also aren't expected to make everything you wear; buying a costume to cosplay is absolutely valid! Cosplay is a hobby, it's meant to be enjoyed, and that means enjoy it how you like.
What is your favorite memory as a cosplayer? Probably my favorite cosplay memory was when I was with a group of friends and we ran into Finn Jones on the exhibit hall floor. One of my friends says, "Wow, that guy would make an excellent Iron Fist cosplayer! He looks just like the actor!" And I pointed out that it was the actor. She kind of squealed a little which got his attention, and he commented how lovely we all were and it was great.
How long have you been attending Comicpalooza? Since 2016. I've met so many friends and had so many experiences. It's difficult to count them all. It's also a bonus that it is local and an easy travel commute for me.
What advice would you give to someone who is just starting to cosplay? Beware of toxicity. I know I said there is comradery in the cosplay community, and that does account for 99 percent of the cosplay experience. But there is always going to be that 1 percent, and it's usually the people that make you feel inadequate over your social media count, or for not looking exactly like the character. On that note, social media numbers are a lie and have no bearing on your talent or ability to cosplay. So don't get swept up in trying to grind out content, unless you really want to.
What is your favorite cosplay? Ciri from The Witcher 3. I wore that costume so many times over the course of eight years — until she fell apart — and I've had so many memorable experiences. She's my favorite because I not only learned so much from making that costume, but the character herself is such a great character from one of my favorite IPs.
Tell us more about the cosplay you're being photographed in. This particular costume is one from an artist that designs alternate outfits for existing IP. These artists are known as "Original Design Artists," and there are quite a few that make cosplayable designs. This one specifically is of Alice from Alice in Wonderland. When the artist released the design, I was drawn to it immediately since Alice in Wonderland was one of my favorite Disney films growing up — I wore out the VHS tape and DVD — so this basically to appease my inner child. She initially took me about a month to make; all of the grass and butterfly designs were painted on and heat set, and the flowers are fake daisies I found at Walmart.
Sparrowhawk Cosplay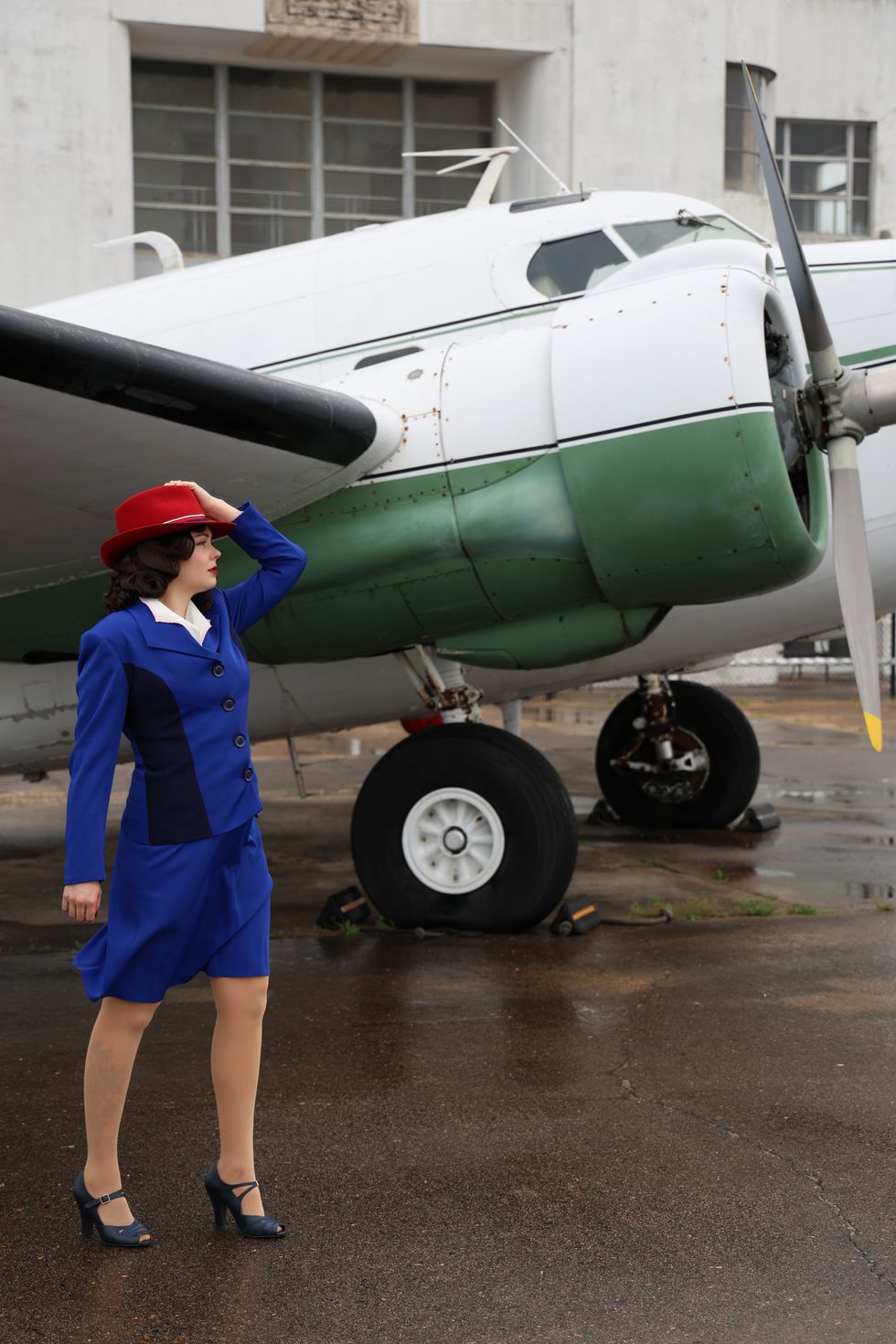 Sparrowhawk Cosplay, as Peggy Carter from 'Marvel's Agent Carter,' at the 1940 Air Termimal Museum
Tell us a little bit about yourself. My name is Alexandria, I am 27 years old, and I was born and raised in Houston. I'm a customer support specialist by day and a small business owner 24/7. Although I've been cosplaying for about 10 years, I just recently turned my hobby into a small business. I make costumes from various types of genres like cyberpunk, fantasy, sci-fi and horror. I create blueprints and patterns for cosplay armor and larp (live action role play) weapons. Outside of my business life, I love to cook, make terrariums, go camping and hiking and spend time with my loved ones.
What does cosplay mean to you? It means being myself. I know it sounds weird, because I'm dressing up as someone else, but it just amplifies how I feel and who I am on the inside. Cosplay gives me so much confidence and makes me stand a little taller. Gives me courage to be outgoing. It helps me put myself out there and go for my dreams. Cosplay helped me open up and find who I was. It helped me find the best of friends. It is what I look forward to every day when I get off work. It is more than just a hobby to me. It is my life.
When did you get started cosplaying? After my first Comic Con experience in 2013, I really wanted to cosplay. Everyone looked like they were having so much fun. Either with their friends or making friends with the same interests. My first time cosplaying was a year later in 2014. This was around the time one of my all-time favorite video games came out, The Last of Us. The game absolutely hooked me visually and emotionally. The main character, Ellie, really captured my heart. Her personality and story resonated with me on an incredibly deep level. I bought different elements of her outfit to create her look. At the time I didn't know anything about wigs, so I rocked my natural hair and added a little weathering to the clothing I bought to make it look apocalyptic.
As a cosplayer, what continues to inspire you? The cosplay community first and foremost inspires me greatly. Seeing how others solve puzzles to create things, the knowledge they share, the techniques people come up, how they reinvent the craft and how they show their failures or imperfections while encouraging others to keep going. Everyone in it has something unique to add to the table, and it's such an honor to be part of it.
Walk us through the process of bringing your ideas to life? When I find a design or character that strikes me, I find every possible photo, screenshot or 3D render of it. I will collect all of the photos then start brainstorming ideas, patterns, fabric, textures and colors. I'll think about how to break down each individual item to simplify it, then build it up. Reference photos are like a big puzzle I'm deconstructing just to put back together. After I have everything figured out, I will make a checklist of all the materials I need, my budget, and a checklist for each item that needs to be constructed. From there I focus on one aspect of the costume to work on, like sewing or foam work. Once that portion is finished, I move onto the next category, like props, details and wig styling. The final touch is always weathering! If I'm unsure about how the costume looks, weathering is what seals the deal for me. It makes all the colors flow together and all of the textures pop.
What do you want people to know about cosplaying? There's a common misconception about cosplayers and how we create our costumes. Most people don't have a team helping them build their costumes, most of us don't have a big budget like a movie studio does to create something. Most of us have full-time or part-times jobs while doing what we love on the side. We don't have unlimited resources, and we're all going at our own pace. A lot of people like to compare a piece of work that was created by one cosplayer in their home to Hollywood productions with a team of people in a fully equipped studio. It just is not the same and can't be measured on that scale.
What is your favorite memory at Comicpalooza? My favorite memory at Comicpalooza was when I got to meet Hayley Atwell, aka Marvels' Peggy Carter. I was cosplaying her outfit from Captain America: First Avenger. I was so nervous going over the things I knew I wanted to say. When it was my turn to in line, I showed her my Peggy Carter tribute tattoo. It is of a quote from the Agent Carter TV show, "I know my value." To my surprise, she jumped up and screamed, "Oh my gosh! I saw your tattoo online, and I've been looking for you!" I absolutely died. I will literally never forget that moment.
What makes you come back to Comicpalooza year after year? I've been attending Comicpalooza for about 10 years. It is my favorite convention in my hometown. I love coming back to see all my friends and what they created in person. I love seeing others show off their creations on the con floor and being so proud of their work. Another thing I enjoy is supporting local artists. Houston is filled with some of the most diverse and talented artists. It's incredibly hard to get noticed as an artist, and supporting them in any way you can makes a huge difference for their business.
What advice would you give to someone who is just starting to cosplay? Cosplay what you love and never let someone else bring you down about it. Cosplay is about having fun. You do not need experience, fancy tools or professional skills to cosplay. If you want to buy a costume, do it! Commission an artist! If you want to make it, do it! Believe in yourself, take breaks when you need to, and remember, safety first! No matter what just make sure you are doing something you love and having a blast while doing it.
What is your favorite cosplay and why? If I had to choose, I'd say my Malenia Blade of Miquella from Elden Ring costume is the one I'm most proud of. It was a huge challenge to build and took so many different techniques to create. From drafting my own sewing pattern and armor, making my own trim, 3D modeling the belt, resin casting the gems, sculpting the wings on the helmet, creating vectors of the filigree for the armor, and hand embroidering the shirt. It's a costume that taught me so much and got me Best in Intermediate at the Comicpalooza 2022 cosplay contest.
Tell us more about the cosplay you're being photographed in? I am wearing Peggy Carter's iconic blue suit she donned in season one of Marvels' Agent Carter. This costume means a lot to me in many ways, and has a lot of sentimental value to me. This was a dream costume of mine, and I wanted it to be perfect. I commissioned a very dear friend named Niamashina, a master seamstress. She has always been such an inspiration to me, she is a supportive friend and I always want to support my friends or other costumers when I have the chance. The blue heels by B.A.I.T. Footwear and the red hat by Stetson are all screen-accurate accessories. The other reason why this costume means a lot to me is the character herself, Peggy Carter. She is strong, courageous, honest, fights for her friends and is, most of all, humble. When I feel like I can't overcome the impossible, Peggy is a character I look to for confidence. While wearing her I feel unstoppable. Before I put on any costume I like to watch clips of the scenes or source material they're from to get into character. Sometimes I'll even practice facial expressions, mannerisms and poses in the mirror to bring them to life. It might sound silly, but trust me it really works!
What is your favorite memory as a cosplayer? Being stopped by con goers and their children to take photos together. Seeing children's faces light up when they see their favorite character or something that inspires them is awesome. To be able to see the next generation of cosplayers be inspired by me just reminds me of how I started. It's little moments like this, making someone's experience at the con better or making the day brighter is what makes cosplay so powerful.
Art + Entertainment