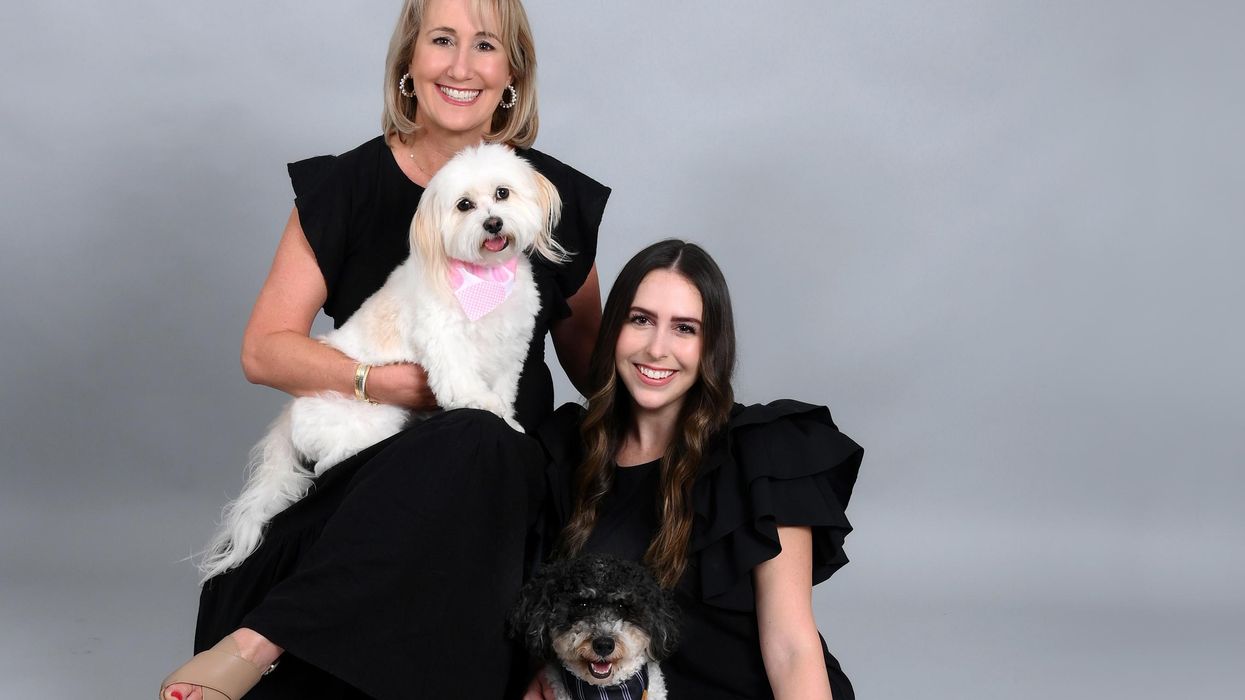 HOW DID YOU come together as a team? This fall, we are celebrating the introduction of an exciting real estate collaboration between Clare Leppert, longtime Houston Realtor®, and daughter Leigh Leppert. Clare shared a 20+ year real estate partnership with her mother, Bette Carpenter, until Bette's death in 2016. Having worked solo for several years, Clare in 2021 was awarded Houston Business Journal's No. 2 Luxury Realtor® in Houston. Leigh, who has been working in marketing for the past decade, has always shared a passion for real estate and watched Clare successfully balance family and career. We are excited to re-create the next generation of a mother-daughter duo at Compass!
Tell us about your business. What's unique about your partnership and how does the relationship benefit the business? Clare's experience in the luxury market for the last 20+ years is enhanced by Leigh's fresh take on marketing and insight on the ever-evolving Houston neighborhoods. We recognize that real estate is so much more than just "the house." Exceeding client expectations, marketing, negotiating, hand-holding, and successfully maneuvering in changing markets are what we do best.
What is the Leppert Ladies' secret to success? We take a family approach to real estate. Clare and Leigh provide a combination of grit and grace, constantly striving to protect and honor clients' privacy and to prioritize clients' best interests.
What makes your partnership effective? Clients benefit from the expertise of not one but two Realtors! Clare is a top-producing, seasoned agent in the luxury market who grew up in River Oaks and knows the tried and true Houston neighborhoods. Leigh offers knowledge about current marketing and advertising strategies and is a connoisseur of Houston hotspots and happenings.
What can Houston expect from this duo? We specialize in assisting clients in all seasons of life. From leasing or purchasing for the first time to empty-nesting and beyond, Clare and Leigh will be there! Our goal is to be your real estate partner for generations to come.
FORGET MARCH MADNESS — mudbug madness has arrived. Fans think the little critters taste like baby lobsters, so they can't gobble up enough. Here's where to hit for the most badass boils in town.
Food
THIS WEEKEND, FEB. 3-5, the Museum of Fine Arts, Houston presents Through the Lens of African American Women, a mini-festival of four films and one short, all directed by Black women. The lineup was curated by UH graduate Autumn Johnson, who interned with the MFAH film department last summer and produced the short film This is Real Life, which has earned 70,000 views and counting on YouTube. As Houston is home to such talented Black female film directors as Candice D'Meza, Lisa E. Harris and Brittany Bass, and this being Black History Month, the festival is timely and will resonate with anyone interested in great, independent filmmaking.
The festival kicks off with Alma's Rainbow (1994), directed by Ayoka Chenzira, a coming-of-age drama starring Victoria Gabrielle Platt as Rainbow Gold, a teenager trying to make sense of societal standards of beauty, her self-image, and the rights Black women have (or lack) over their own bodies.
Preceding the screening is Chenzira's animated musical satire Hair Piece: A Film for Nappyheaded People (1984). On Saturday, the festival screens the buzz-worthy surreal art-school-meets-art-world satire The African Desperate (2022), directed by Martine Syms, and starring Diamond Stingily as an MFA candidate desperately trying to get out of upstate New York and back home to Chicago. Saturday is also the date for The Watermelon Woman (1996), directed by Cheryl Dunye, in which a filmmaker, played by Dunye, explores the legacy of a fictional Faith Richardson, a "lost cinematic ancestor glimpsed in 1930s race films." Described as a landmark of the New Queer Cinema, the film switches from 16mm to grainy video tape, with black-and-white "archival" footage of Richardson. A live, virtual Q&A with Dunye follows the screening.
The festival concludes on Sunday with the experimental feature-length film Compensation (1999), directed by Zeinabu irene Davis. Inspired by the poem of the same name by African American poet Paul Laurence Dunbar, and set in turn-of-the-century and present-day Chicago, Compensation tells the story of a deaf woman and a hearing man, two couples living decades apart, who fall in love. With the needs of both hearing and deaf viewers in mind, Davis uses silent film techniques and subtitles throughout, as the unfolding narrative addresses issues of racism, disabilities and discrimination.
Art + Entertainment