Destination: Doing Good
Its look is brightly arty, but what really makes new Hotel Ylem so hip is its big heart.
Anthony Rathbun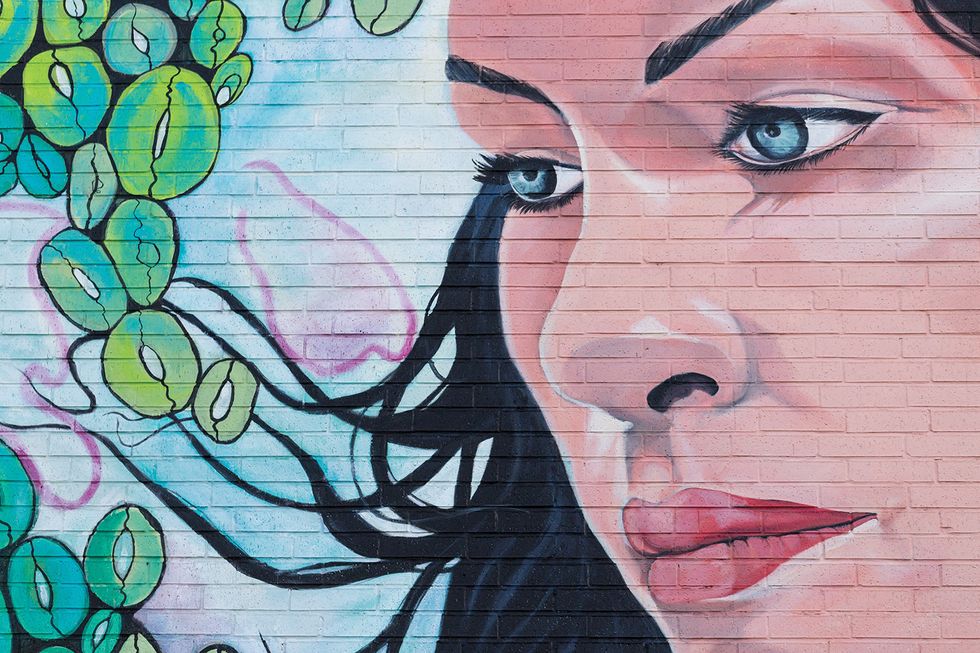 Nestled among the no-frills retail strips and busy convenience stores near NRG Stadium on Main Street, the recently transformed Hotel Ylem stands out. Mostly because of its charitable mission, but also because you can't miss the huge mural outside on the front wall. A blue-eyed, dark-haired woman in abstractly aquatic environs glances down from 20 feet. "The mural, a positive female force illuminated by water elements, represents the source from which all things come," says Maneesha Dalwadi, who runs the hotel with her siblings Amitha, Shital and Sumit. "For us, that is mother and water."
---
The overhauled former Holiday Inn Express is not only unique in its look — unexpected pops of color and mod accents at every turn, and text-driven art pieces above the beds with messages like "Dance All Day…" and "…Sleep All Night" — but also in its philanthropic focus. Not coincidentally, given its marquee mural, Hotel Ylem (pronounced EYE-lum) gives generously to Charity: Water, which provides clean water to villages around the world.
In addition to 9 percent of everything lobby bar Esperanto takes in — there's an impressive cocktail menu here, curated by Hal Brock — 100 percent of sales from the minibars in all 79 guest rooms is donated. And the hotel offers guests the option of booking online using the "Charity: Water room rate," with a flat $10 going to the organization. Furthermore, the lobby walls are exhibition spaces, selling the works of Houston artists, who in turn are asked to give a portion of their proceeds to Charity: Water. "Without clean water, nothing is possible," says Maneesha of the family's commitment to the cause.
The Dalwadi siblings, whose dad Jay is an Indian immigrant who built and ran hotels all over the Southwest, also partner with Clean the World, which sanitarily recycles soaps discarded from other hotels every day, helping to reduce environmental waste. They also use paper cups made by Lighthouse Louisiana, an organization that employs people with disabilities. "It's the little things," Maneesha says.
Despite its off-the-beaten-track location, Hotel Ylem is getting pretty busy. Complimentary shuttle service to NRG Park and the Med Center make it an affordable option for out-of-towners, and the feel-good factor is icing on the cake. "All of the things our dad achieved, we want to take those things to the next level," Maneesha says. "And to surround yourself with people who are truly committed to a cause — it gives us a purpose and a reason to get up in the morning."
AT TOP: The larger-than-life mural outside Hotel Ylem by Houston artist Jana Folmsbee
Food+Travel