Devouring Houston
H-Town has Super Bowl fever, and the hottest restaurants and night spots are expecting capacity crowds hungry for fun and thirsty for trouble. Here's where the Big Game throngs are sure to gather ­— plus audacious alternatives for the in-the-know.
Debora Smail & Julie Soefer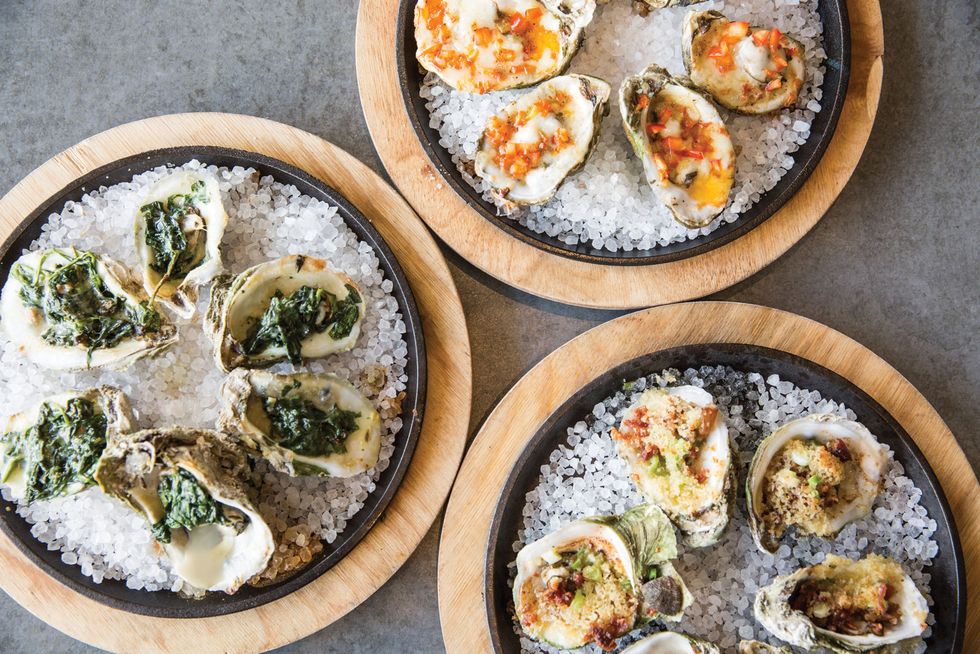 Get Crafty
---
IF ANVIL IS BOOKED... The comprehensive menu at artisan-cocktail capitol Anvil (1424 Westheimer Rd., 713.523.1622) groups libations in categories like Herbal & Spirituous, Sour & Short and Bitter & Bold. Grab a seat at the industrial-chic bar to witness all the boozy action: Warm spices, fresh fruit, whole eggs and housemade bitters all may turn up in your beverage.
...MAY WE SUGGEST WOOSTER'S? Don't let its casual Midtown locale fool you: Three-year-old open-air patio bar Wooster's Garden (3315 Milam St., 713.520.0015) is far from basic. There are 40-plus craft cocktails, all served in pretty glasses with garnishes galore, and unique bar bites. Bone marrow with pickled mustard seeds, anyone?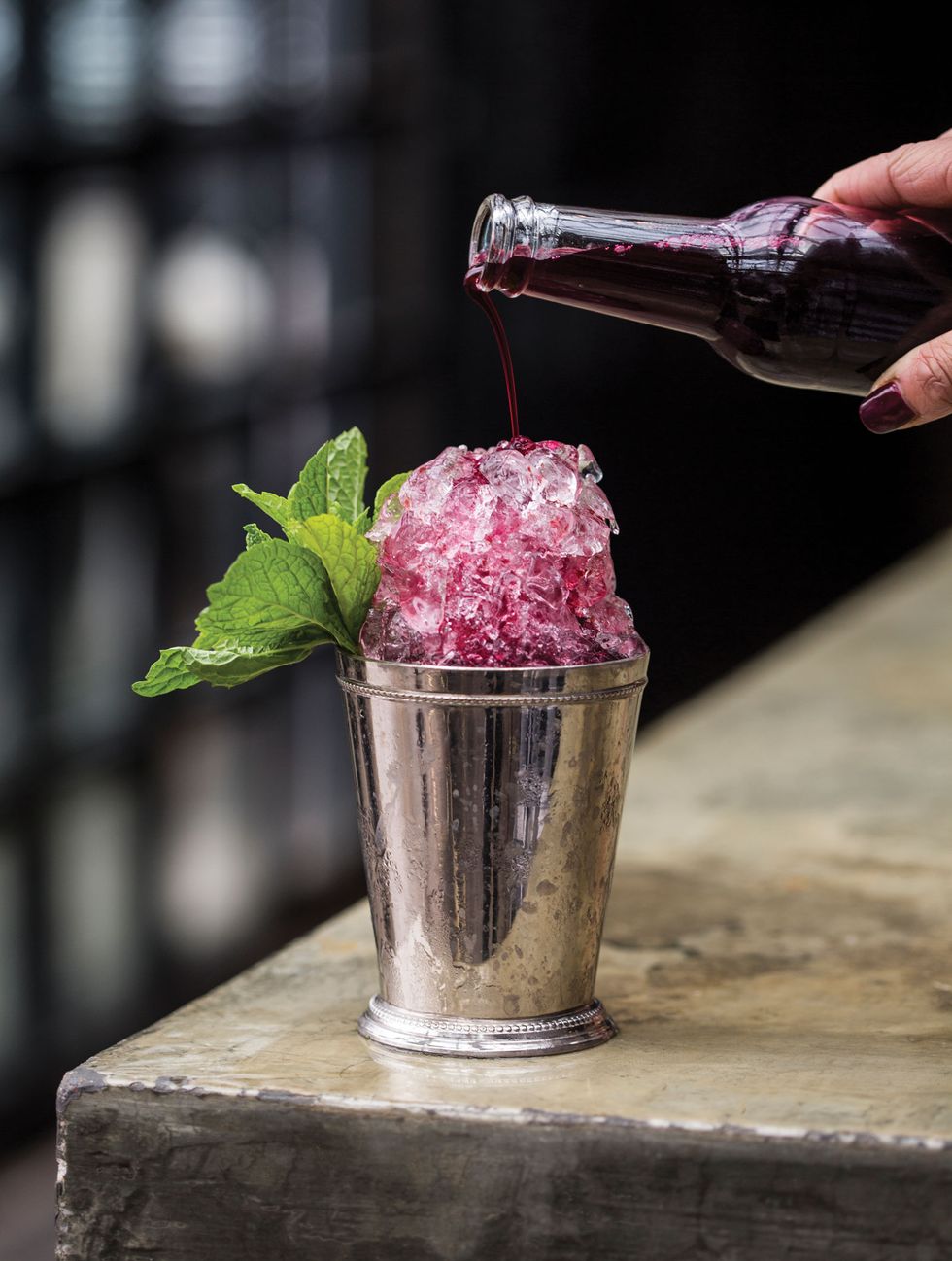 At Wooster's Garden, beautiful, thoughtful cocktails are served in a fun indoor-outdoor setting.
Montrose Mainstays
IF PAX AMERICANA IS BOOKED... With an evolving roster of small plates sourced from local farms and a carefully chosen list of U.S. and European varietals, Pax Americana (4319 Montrose Blvd., 713.239.0228) is a hot Montrose pick. The six-course family-style meal, with dishes like slow-roasted carrots with goat cheese, is the best way to indulge fully.
...MAY WE SUGGEST CANOPY? Down the street, casual café Canopy (3939 Montrose Blvd., 713.528.6848) has an unstuffy, straightforward take on the farm-to-table trend, as in the pulled pork tostadas with Black Hill Ranch meat.
Brunch Bunch
IF THE DUNLAVY IS BOOKED... The line for avocado toast and buttermilk drop biscuits at beautiful chandelier-bedecked The Dunlavy (3422 Allen Parkway, 713.360.6477), nestled on the banks of Buffalo Bayou, grows long on weekends, but if you just want a smoothie, use the backdoor and order at the bar.
...MAY WE SUGGEST BENJY'S? After 20 years, Benjy's (5922 Washington Ave., 713.868.1131; 2424 Dunstan Rd., 713.522.7602) is still a good time for brunch. There are even mocktails, for those who want a tamer Sunday Funday. Try a fresh orange no-jito.
Night Vibes
IF CLÉ OR VRSI ARE BOOKED... Vegas-style, EDM-savvy Clé (2301 Main St., 713.955.2302) — Afrojack, Steve Aoki, and Chris Malinchak have all spun here — is popular for its poolside patio. Meanwhile, expect a 25-and-up crowd at VRSI (820 Holman St., 281.414.2235), less than a mile away. Pronounced "Versailles," the club boasts interiors inspired by the famous French palace.
...MAY WE SUGGEST RICH'S? Don your dancing shoes and turn up at hetero-friendly gay club Rich's (2401 San Jacinto St., 281.846.6685). The two-tiered, laser-light-happy space is manned by hunky bartenders, natch. It's quite a scene with its resident DJ spinning electronica and '80s and '90s hits.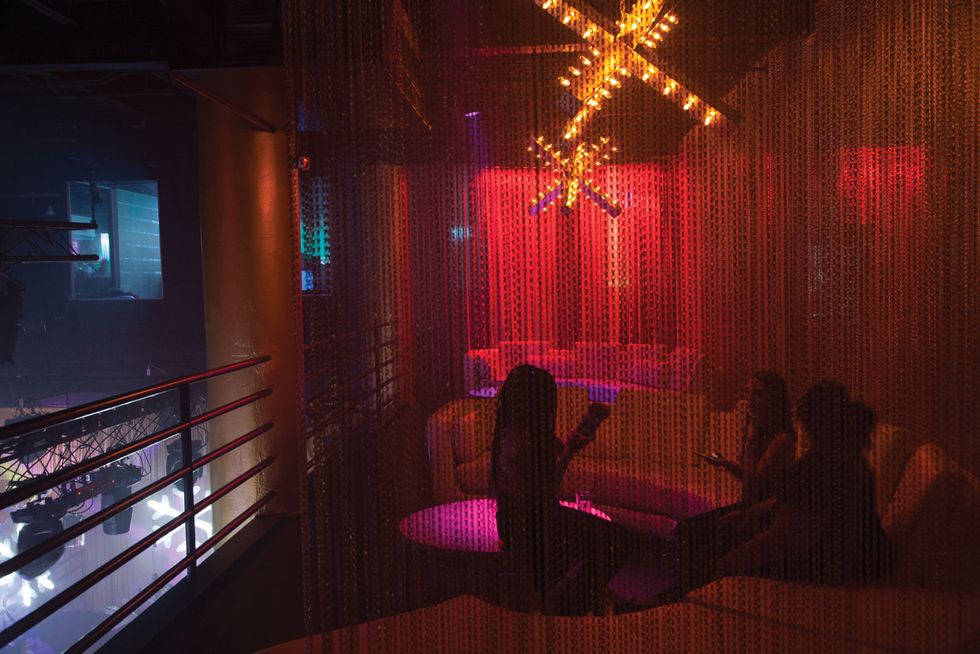 Rich's
Slice of Life
IF NEW PIZZA PLACES ARE BOOKED... Houston boasts lots of hip new pizza joints, including the psychedelic Mellow Mushroom and two outposts of Cane Rosso. And restaurateur Lee Ellis opened Pi Pizza (181 Heights Blvd., 832.767.2433) in the fall, with late-night delivery and unique combos like Brussels sprouts and blue cheese.
...MAY WE SUGGEST STAR PIZZA? Star Pizza (2111 Norfolk St., 713.523.0800; 77 Harvard St., 713.869.1241) has been serving slices of saucy deep-dish cheesy goodness for more than 40 years. With a huge lunch buffet — great deal! — and gluten-free crust upon request, there's something for everyone.
On a Roll
IF KATA ROBATA AND UCHI ARE BOOKED... At Upper Kirby standout Kata Robata (3600 Kirby Dr., 713.526.8858), tucked in a nondescript strip center, the miso-marinated Alaskan black cod is a nice grilled option, while raw selections from the sushi bar vary based on the freshest seafood available. And a seat at the sushi counter of Uchi (904 Westheimer Rd., 713.522.4808) in Montrose is just as coveted as a table — reservations far in advance are recommended — but opt to go during happy hour for discounted dishes and half-off wine.
...MAY WE SUGGEST KUU OR AKA? Its slight drive time is Kuu's (947 Gessner Rd., 713.461.1688) only drawback for inner-Loopers. Artfully plated sushi and seafood by former Nobu London chef Addison Lee include the refreshing hamaccio with yellowtail, ponzu, jalapeño and cheese. Back in the Loop, Aka (2390 W. Alabama St., 713.807.7875) is a promising option with its regular and reverse happy hour during which nigiri, rolls and sake cocktails are discounted.
Southern Comfort
IF STATE OF GRACE IS BOOKED... ATL celeb chef Ford Fry returned to H-Town to open Southern-tinged State of Grace (3258 Westheimer Rd., 832.942.5080) across the street from his alma mater, Lamar High. Seats at the intimate oyster bar are in high demand. Finish with the deconstructed lemon-curd pie.
...MAY WE SUGGEST STATE FARE? Comfort-food chic godfather Lee Ellis' new State Fare (947 Gessner Rd., 832.831.0950) also touts several iterations of oysters, from fried with creamed spinach to roasted with spicy bourbon butter. You might also try the dill pickle dip with housemade barbecue potato chips.
¡Delicioso!
IF HUGO'S IS BOOKED...
James Beard-nominated chef Hugo Ortega has been recognized for his traditional Mexican — read: not Tex Mex — dishes since he opened Hugo's 15 years ago. The resto (1600 Westheimer Rd., 713.524.7744) has topped lists for everything from its braised suckling pig to its wine program. The Sunday brunch, accompanied by local Latin band Viento, is a must.
...MAY WE SUGGEST CUCHARA? Houston boasts myriad options for Tex Mex cuisine, but colorful local outposts showcasing interior-of-Mexico flavors, like Cuchara (214 Fairview St., 713.942.0000), are worth hitting up. Sliced cactus with Serranos and cheese? Yes, please.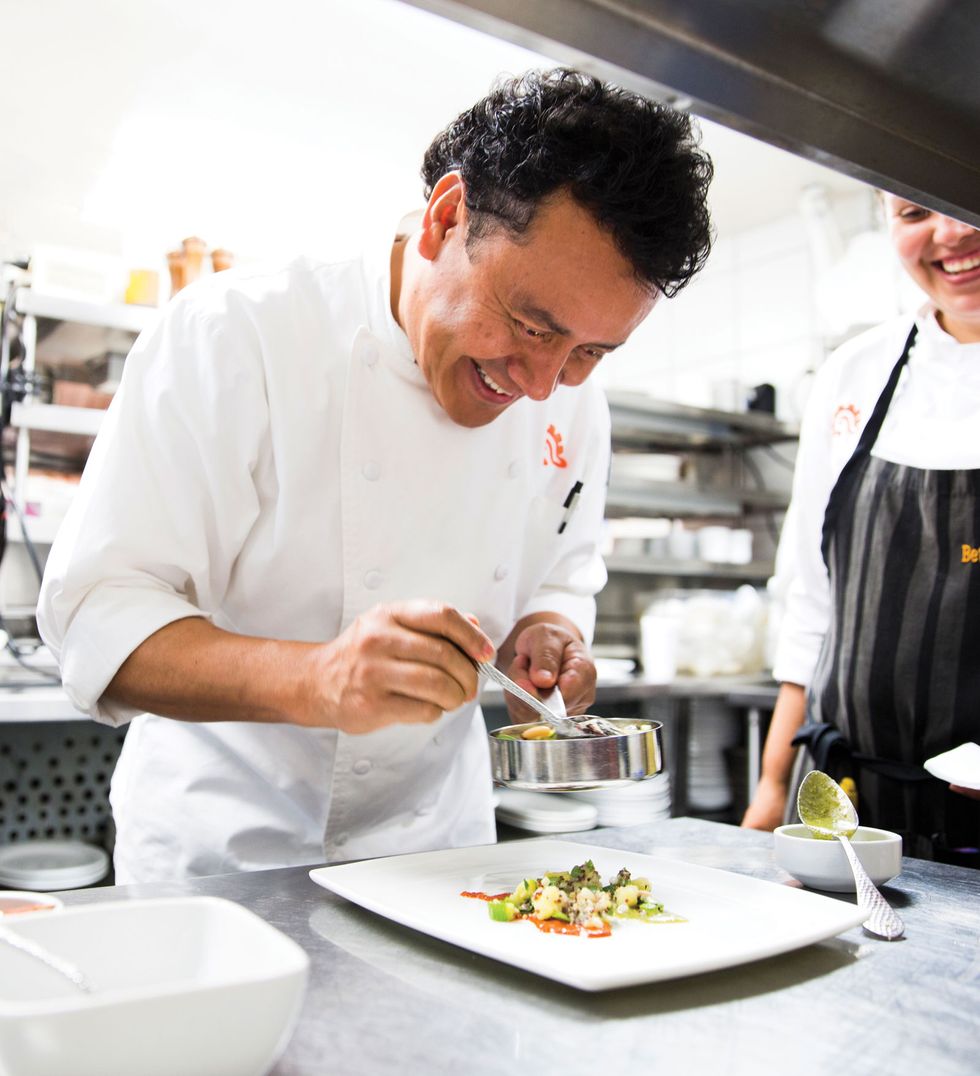 Chef Hugo Ortega's namesake restaurant is world-famous and Houston-beloved.
Latin Flavor
IF AMÉRICAS IS BOOKED... With a crimson interior and dreamlike furnishings, Américas (2040 W. Gray St., 832.200.1492) offers a bold take on pan-Latin cuisine, a la char-grilled Churrasco beef tenderloin with chimichurri.
...MAY WE SUGGEST ANDES CAFÉ? Andes Café (2311 Canal St., 832.659.0063) brings the warmth of South American home cooking to EaDo. The Ecuadorian potato stew, topped with queso fresco and avocado, is a meal in itself. There are also fresh juices — prepared with fruit, milk and honey — and purple corn drinks.
Belly Up
IF UNDERBELLY IS BOOKED...
James Beard-winning Chris Shepherd applies a whole-animal philosophy to Underbelly (1100 Westheimer Rd., 713.528.9800); there is a butcher shop onsite. Telling the story of Houston through food, Underbelly's Korean braised goat and dumplings are spectacular.
...MAY WE SUGGEST HAI CANG?
Shepherd is inspired by Hai Cang (11768 Bellaire Blvd., 281.564.4288) in Chinatown. Think platters of
pan-fried, cracked whole crabs with sweet, spicy tamarind sauce.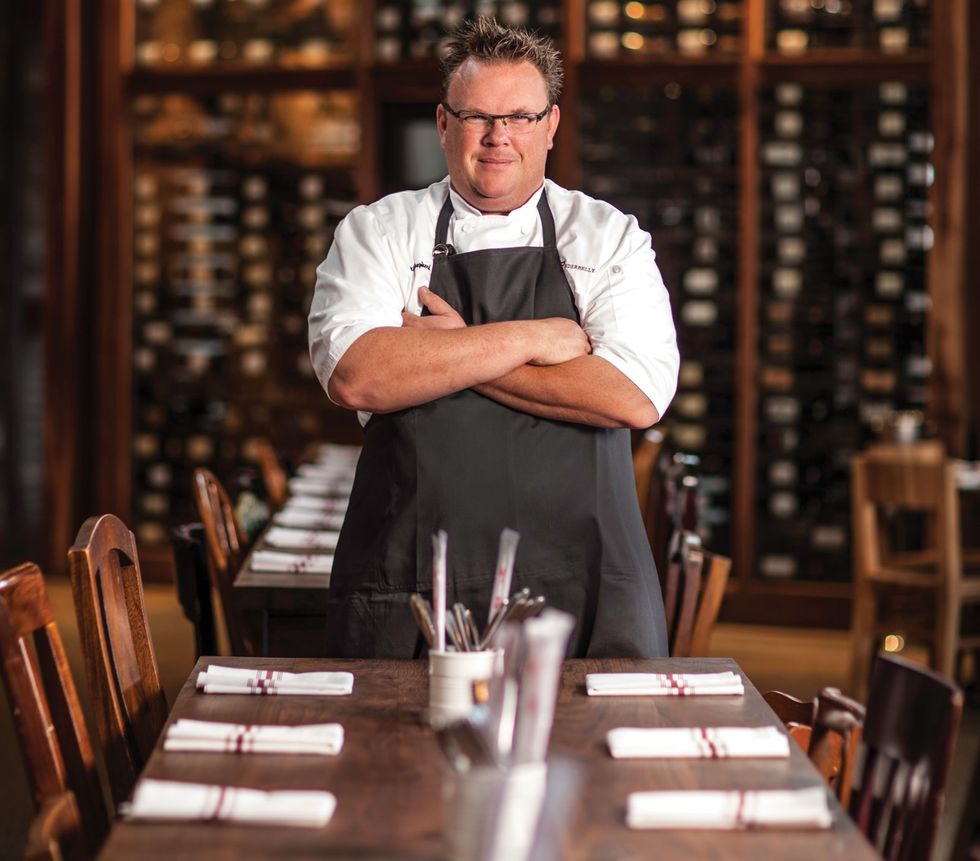 Chris Shepherd at Underbelly
Indian Supper
IF PONDICHERI IS BOOKED... Order-at-the-counter Pondicheri (in West Ave, 713.522.2022) offers fusion Indian street food by veteran chef Anita Jaisinghani. Try the meatless Buddha burger served on a pumpkin pav bun. Its upstairs bakery counterpart is perfect for grab-and-go items like cold-pressed juice and the sought-after gulab jamun donut.
...MAY WE SUGGEST KIRAN'S? Recently reopened in River Oaks, chef and owner Kiran Verma's namesake restaurant (2925 Richmond Ave., 713.960.8472) offers an upscale, contemporary spin on traditional Indian fare. Afternoon tea service, with Verma's special chai, is offered daily.
Farm Fresh
IF COLTIVARE IS BOOKED... With its no-reservation policy, a wait is almost guaranteed at Coltivare (3320 White Oak Dr., 713.637.4095). But it's nicely spent in the restaurant's onsite garden, where much of the produce used in the dishes is grown. The menu of Italian-inspired items like pasta and pizzas changes seasonally, of course.
...MAY WE SUGGEST BERNADINE'S? Also in the Heights, Bernadine's (1801 N. Shepherd Dr., 713.864.2565) offers more in the way of sea than land with a menu of Gulf Coast-inspired dishes. Daily oyster offerings are listed at the bar, and the signature I-10 Platter is the ideal starter for a group — raw oysters, fried seafood, chicharrones, and oh so much more.
Soul-Food Savvy
IF BREAKFAST KLUB IS BOOKED... It's arguably the most exclusive "klub" in town, so waiting in line is almost a guarantee at the Breakfast Klub (3711 Travis St., 713.528.8561), known for its soul food classics. The wings and waffles — a fluffy Belgian topped with a half-dozen fried chicken pieces and powdered sugar — is legendary. The catfish and grits are pretty awesome, too.
...MAY WE SUGGEST LEE'S FRIED CHICKEN AND DONUTS? Head to the Heights for a colorful spin on soulful breakfast at newbie Lee's Fried Chicken and Donuts (601 Heights Blvd., 713.880.3550). The mouthwatering menu lends more than the name lets on: In addition to Southern fried chicken with hot sauce, expect breakfast kolaches and chicken tacos stuffed with coleslaw and served in a paper cone for minimal spillage.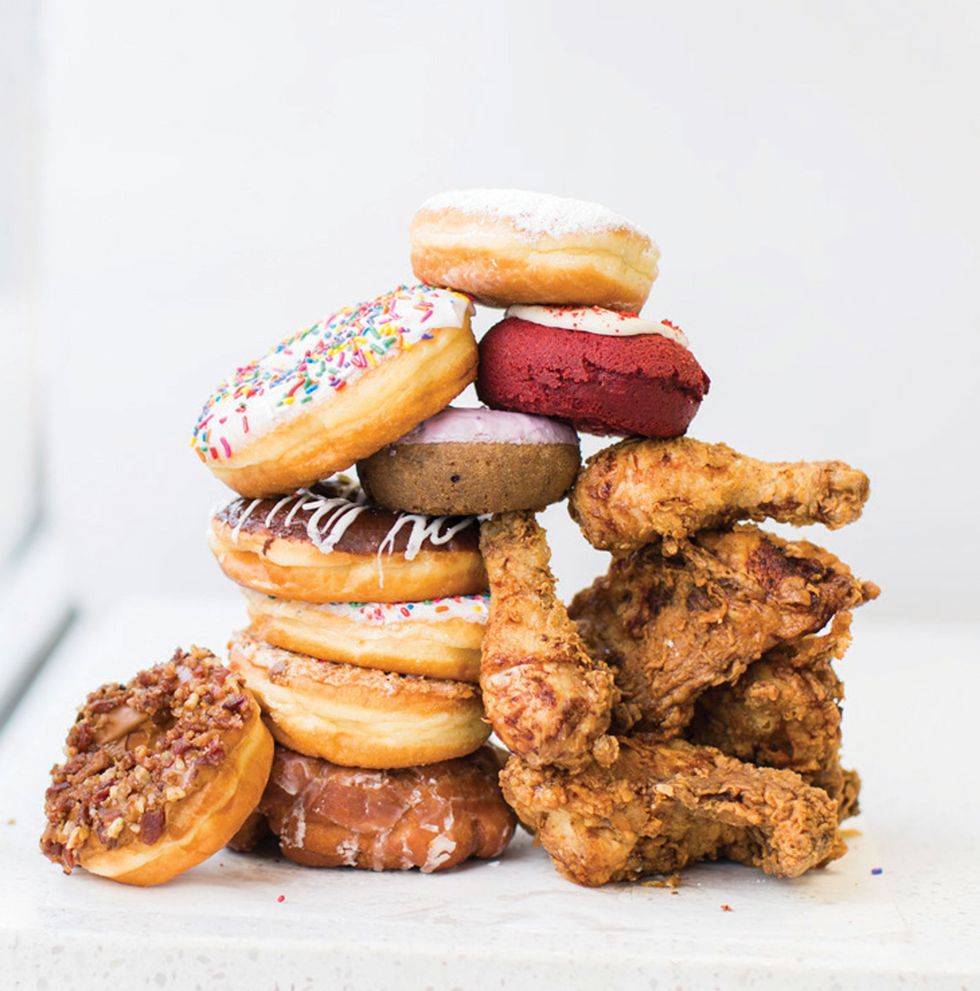 Lee's Fried Chicken and Donuts
Big Game
IF BIGGIO'S IS BOOKED... At new Biggio's (1777 Walker St., 713.654.1777), an elevated sports bar within the Marriott Marquis named after Houston Astros Hall of Famer and owner Craig Biggio, towering walls above the main bar are covered with flat screens. A spacious viewing room — complete with cushiony chairs — stacks two theater-size screens to provide an all-star experience.
...MAY WE SUGGEST LUCKY'S? Steps from the BBVA Compass Stadium in nearby EaDo, Lucky's Pub (801 St. Emanuel St., 713.522.2010) offers room to spread out, plus ample flat screens, bar games and craft beer, including some from down-the-block 8th Wonder Brewery.
Bar-Hop Hip
IF MAIN STREET IS PACKED... Bar hopping on Main Street is a must. Hit Bovine and Barley, if for no other reason than to snap a selfie in front of the HTX wall ­— and the Honeymoon, where boozy coffee cocktails are served hot and iced — and all of the tightly packed bars in between. Other hotspots include music-savvy Nightingale Room, sexy Captain Foxheart's Bad News Bar, and do-gooding Okra Charity Saloon.
...MAY WE SUGGEST PUBLIC SERVICES? A short walk from Main Street central, Public Services (202 Travis St., 713.516.8897) is less frenetic, but just as much an experience. With its locale in the historic Cotton Exchange Building and a distinguished list of wines and whiskeys, it boasts an understated elegance — antique furniture and oversized archways connecting the various rooms.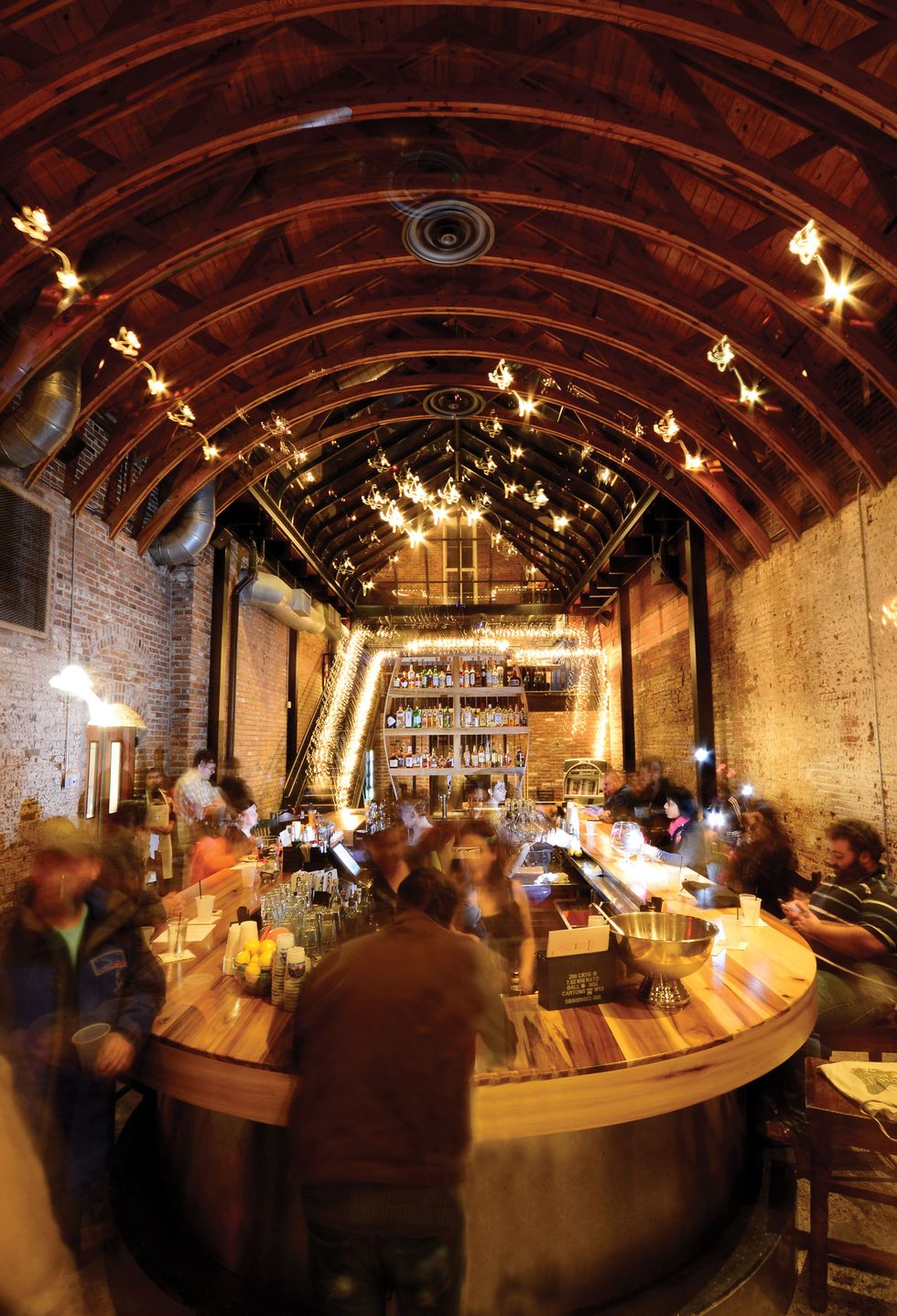 Okra Charity Bar
Village People
IF HELEN IS BOOKED... Romantically hip Helen (2429 Rice Blvd., 832.831.7133) has garnered national attention for its creative, mod takes on Greek cuisine, as in the lamb-stuffed baked pear with Greek yogurt and pearled barley. Also find one of the largest selections of Greek wines in the country.
...MAY WE SUGGEST CAFÉ RABELAIS? Also in Rice Village, quaint and smartly sophisticated Café Rabelais (2442 Times Blvd., 713.520.8841) updates its chalkboard menu — quiche du jour, steak frites — once or even twice per day.
Late-Night Bites
IF MAI'S IS BOOKED... A night on the town is not complete without an after-hours visit to Vietnamese hot spot Mai's (3401 Milam St., 713.520.5300), open until 4am on weekends. There are classics like pho and fried chicken wings, but the Vietnamese fajitas — with fresh lettuce, cucumber, carrots and mint — are a little more guilt-free (and just as delicious).
...MAY WE SUGGEST CHAPULTEPEC LUPITA? Chapultepec Lupita (813 Richmond Ave., 713.522.2365) is popular for its large late-night menu — served 24/7! — and its fiesta plates, with generous heaps of refried or black beans and priced under $10.
See-and-Be Scene
IF STEAK 48 IS BOOKED... Since its opening this fall, Steak 48 (in the River Oaks District, 713.322.7448) has earned a reputation for more than just the food (but don't skip the crab and rock shrimp mac and cheese). Its glam, multi-level interior makes it a go-to for a fancy girls-night-out or raucous celebratory dinner. On the most crowded nights, don't expect to even get your foot in the door without a rez.
...MAY WE SUGGEST SALTAIR? By the restaurateurs of Brasserie 19, which was named one of the top places in America to pick up a millionaire, seafood-savvy SaltAir (3029 Kirby Dr., 713.521.3333) is equally social ­— but just a bit less of a spectacle.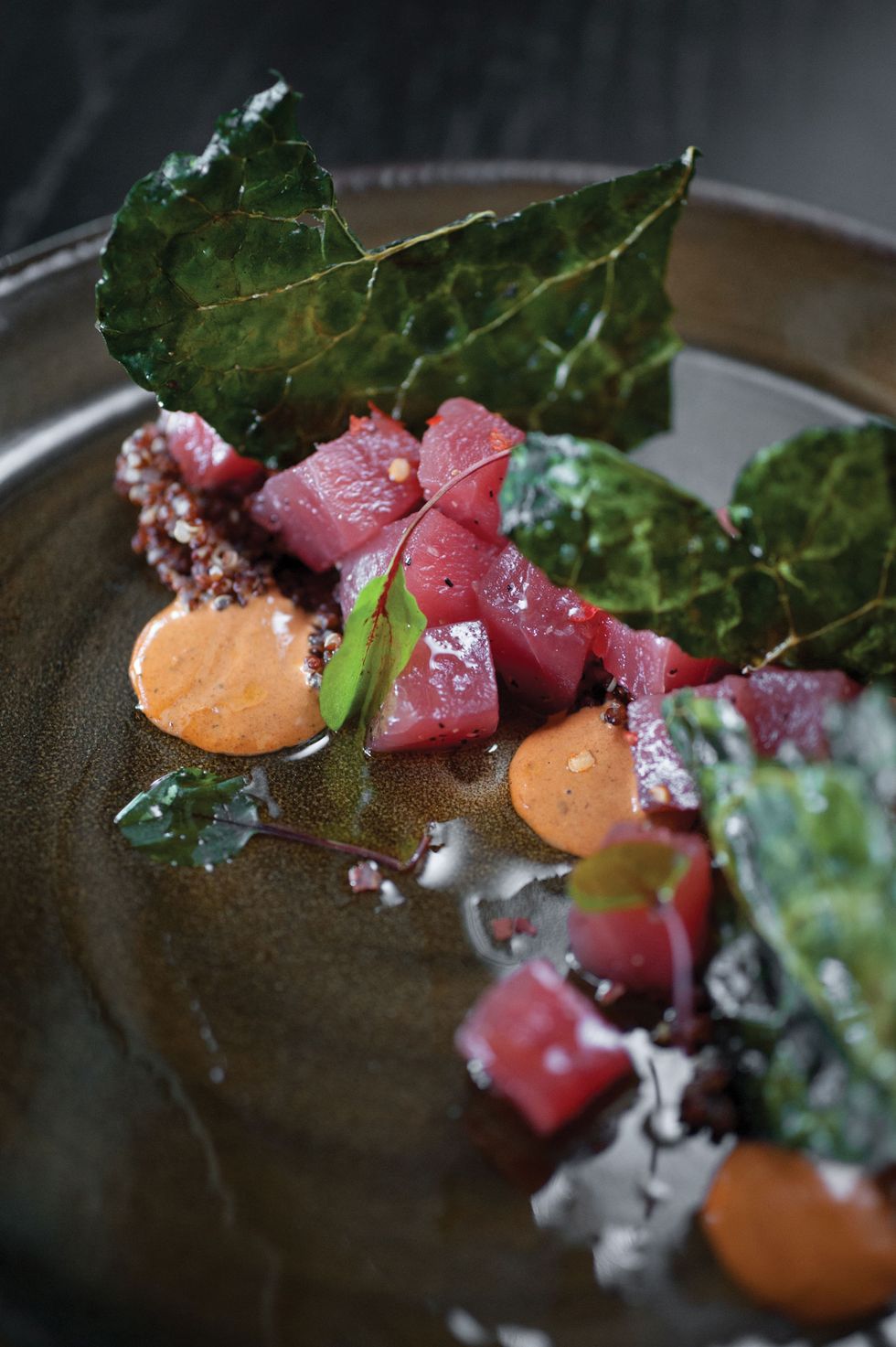 Tuna with seaweed at SaltAir
'Cued Up
IF KILLEN'S BBQ IS BOOKED... The line forms well before opening time at Killen's Barbecue (3613 E. Broadway St., 281.485.2272), known for smoked ribs, housemade link sausage and bone-in pork belly served with classic baked beans and creamed-style corn. Don't skip Killen's BBQ sauce, whose flavors include coffee, tangy and sweet.
...MAY WE SUGGEST GAITLIN'S OR THE PIT ROOM? Centrally located Gaitlin's and The Pit Room offer backyard barbecue favorites. In the Heights, Gaitlin's (3510 Ella Blvd., 713.869.4227) features rib platters and meaty loaded baked potatoes, while Montrose newcomer The Pit Room (1201 Richmond Ave., 281.888.1929), has a Feast option — brisket, ribs and more — to feed four to six.
Vietnamese, Please
IF LE COLONIAL IS BOOKED... Le Colonial (in River Oaks District, 713.629.4444) is the place where Houston's pretty people alight — to enjoy fabulous fare by French-Vietnamese chef Nicole Ruthier in the airy dining room or in the dimly lit, treetop-style upstairs lounge. Cocktails like the Ginger Blossom, made with Glenmorangie 10 and honey water, are dangerously smooth.
...MAY WE SUGGEST HUYNH? Locals rely on EaDo-area home-style Huynh (912 St. Emanuel St., 713.224.8964) for Vietnamese classics like vermicelli bowls with stir-fried beef and char-grilled pork. Soybean milk and jackfruit smoothies are refreshing beverage options, but the restaurant's BYOB policy is popular among regulars.
Creole Cravings
IF BRENNAN'S IS BOOKED... After 50 years, it's hard to think of Brennan's of Houston (3300 Smith St., 713.522.96711) as a "spinoff" of the food family's Commander's Palace in New Orleans, but it is. And it shows. In sophisticated but convivial environs worthy of its Big Easy roots — the building was designed by John Staub — chef Danny Trace offers NoLa classics a la turtle soup, plus "Texas Creole" inventions like whiskey-glazed rabbit sausage.
...MAY WE SUGGEST HOLLEY'S? By Brennan's alum Mark Holley, Holley's (3201 Louisiana St., 713.491.2222) touts a slightly more urbane setting, and haute-style cuisine that still manages to be unfussy and comforting. The dark-roux gumbo incorporates duck confit, shrimp and fried oysters.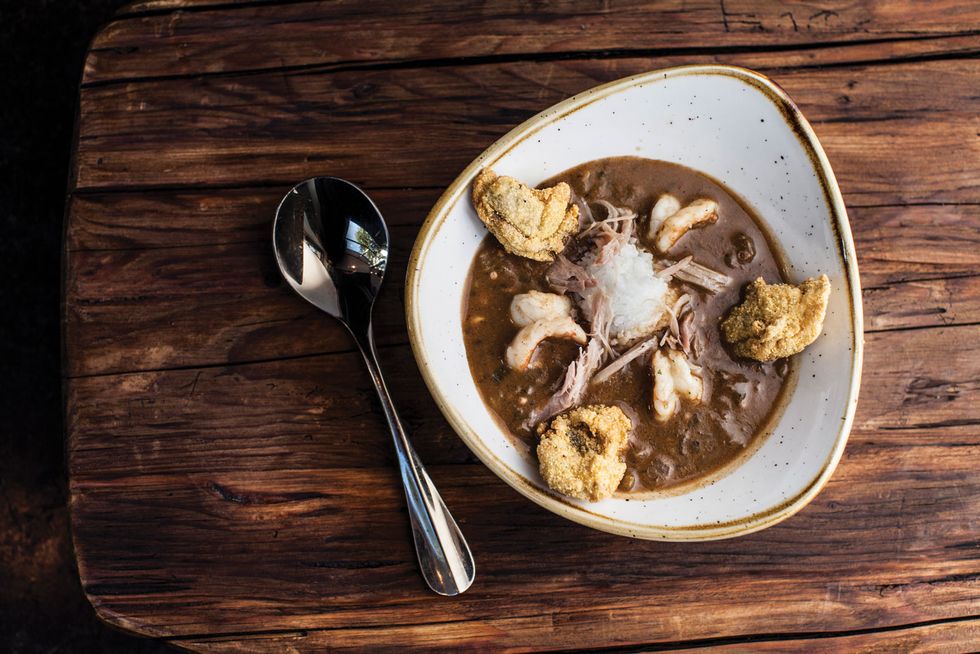 Gumbo at Holley's
Steak Acclaim
IF B&B IS BOOKED... A rooftop terrace with views of Downtown and a first-floor butcher shop — pop in for a sandwich at lunchtime — make hip steakhouse B&B Butchers & Restaurant (1814 Washington Ave., 713.862.1814), with its exposed brick and white tablecloths, warm and welcoming. The meat-savvy menu boasts endless takes on beef — from the Gearhart Cowboy Cut and a beef "sushi" roll with truffle oil to brisket ravioli.
...MAY WE SUGGEST MKT BAR? Every Tuesday and Thursday at MKT Bar (1001 Austin St., 832.360.2222), attached to the massive Phoenicia market in One Park Place Downtown, is Steak Night. For $13, savor a chimichurri-topped cut of meat — chef's choice — with twice-baked potatoes and a house salad. On other nights of the week, dine to a soundtrack played by Houston bands or spun by local-celeb guest DJs.
Pub Grub
IF HUNKY DORY IS BOOKED... At Hunky Dory (1801 N. Shepherd Dr., 713.864.2450), pub fare gets a glam treatment, as in the rabbit porridge with smoked kielbasa and bacon.
...MAY WE SUGGEST RED LION? Pub and patio Red Lion (2316 Shepherd Dr., 713.782.3030) is a neighborhood gem serving favorites like Shepherd's pie and bangers and mash — plus Indian fare — until 2am nightly.
Tex Mex Appeal
IF YOU CAN'T GET INTO NINFA'S ON NAVIGATION... Said to have originated fajitas, the Original Ninfa's on Navigation (2704 Navigation Blvd., 713.228.1175), founded by Mama Ninfa (whose family went on to open El Tiempo Cantina) is still a Tex-Mex standby. Sip a Ninfarita on the outdoor deck. Have fajitas. Duh.
...MAY WE SUGGEST TEOTIHUACAN? Housed in a sprawling pink mural-bedecked building in the Heights, Teotihuacan (1511 Airline Dr., 713.426.4420) is a foodie favorite for authentic Tex Mex, often without a wait. The Christmas-light-strung patio is a nice perch for enjoying fish-bowl-sized margs.
French Twist
IF BRASSERIE DU PARC IS BOOKED... Brasserie du Parc (1400 McKinney St.), French chef Philippe Verpiand's newest endeavor, is spread over two levels with a view of Discovery Green. There's proper French fare — steak frites, coq au vin — plus Creperie du Parc, with a walk-up window for crepes to enjoy on-the-go.
...MAY WE SUGGEST ETOILE? Well-received since opening four years ago, Verpiand's original concept (1101 Uptown Park Blvd., 832.668.5808) boasts a bistro menu of dishes like decadent duck leg confit with risotto and truffle mascarpone. Cozy Etoile has a palette of warm finishes and walls of French liqueurs and wines.
Sweet Tooth
IF TINY'S IS BOOKED... With its Pinterest-perfect décor, Tiny's No. 5 (3636 Rice Blvd., 713.664.0141) is popular for brunch, but regulars make a meal out of the chocolate chip cookie and lemonade.
...MAY WE SUGGEST COMMON BOND? The chocolate-chip-walnut cookies at Montrose's Common Bond (1706 Westheimer Rd., 713.529.3535) are so fluffy and buttery they require a knife and fork.
Chinese New Year
IF COOKING GIRL AND MALA SICHUAN ARE BOOKED... As American Chinese food in America evolves past General Tso to include organic, authentic, individualized flavors, Cooking Girl (315 Fairview St., 832.649.7175) and Mala Sichuan (1201 Westheimer Rd., 832.767.0911) are two Montrose restaurants embracing the trend. Dishes like the hot fried beef cubes at Cooking Girl leave taste buds happy — and slightly numb.
...MAY WE SUGGEST GINGER & FORK? Ginger and Fork (4705 Inker St., 713.861.8883) offers can't-miss Cantonese plates like the Char Siu pork sliders with hoisin, washed down with an almost-too-pretty-to-drink cocktail.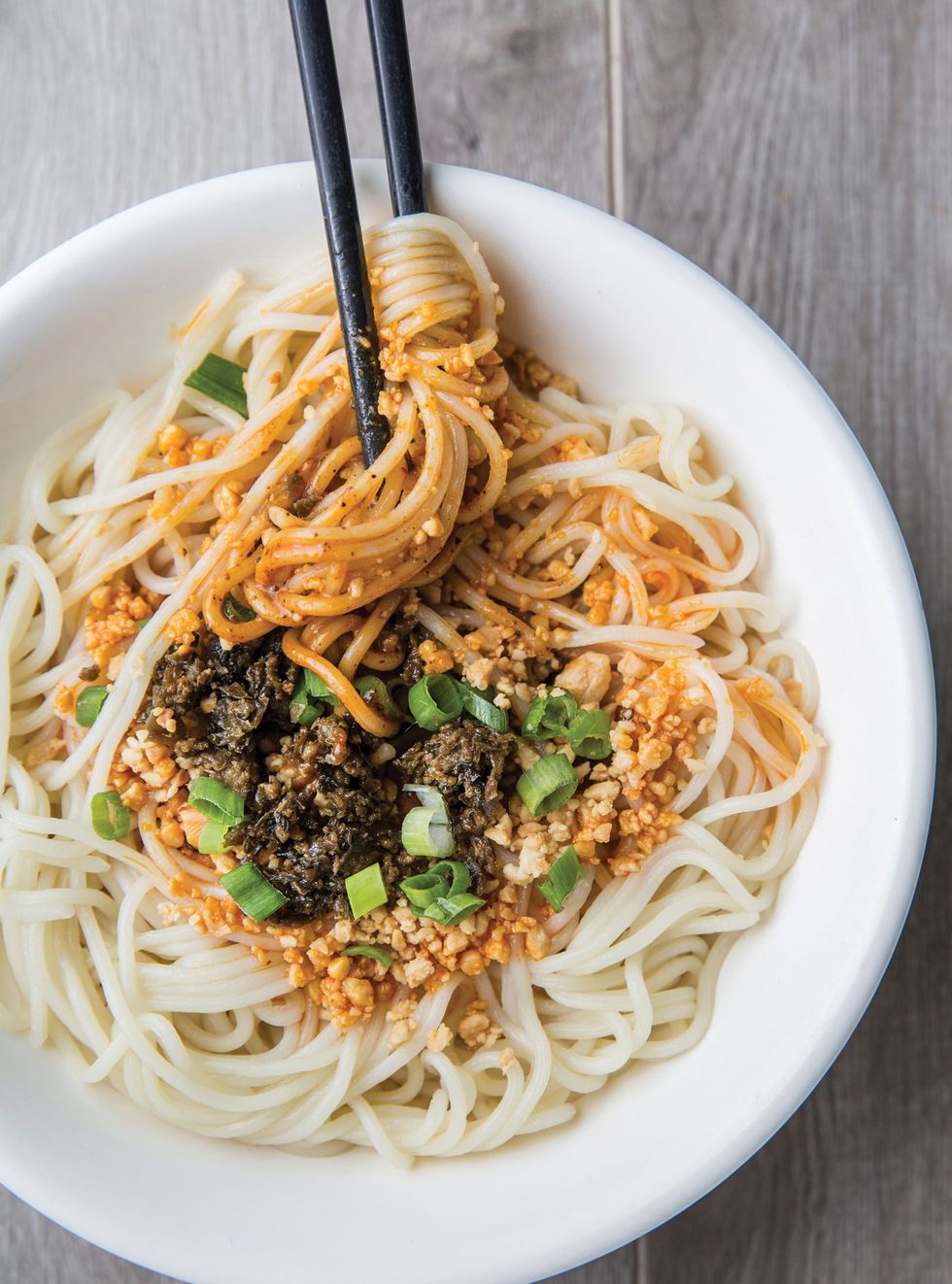 DanDan Noodles with scallions at Cooking Girl
Fine Dining Destination
IF TONY'S IS BOOKED... Tony's (3755 Richmond Ave., 713.622.6778), upscale dining with an Italian inspiration, offered in a cinnamon-hued space appointed with important art pieces by Rauschenberg, Jésus Moroles and others, is regarded as the pinnacle of fine dining in Houston. Staple dishes named after top Houston socialites such as Lynn Wyatt share menu space with the likes of Mediterranean branzino with lump crab, Corona beans and essence of Pinot Grigio and lemon.
...MAY WE SUGGEST DA MARCO OR L'OLIVIER? Nationally hailed for its combination of inventiveness and commitment to Italian style — think short ribs braised in chianti and served atop burrata-enriched risotto — Tony's alum Marco Wile's Da Marco (1520 Westheimer Rd., 713.807.8857) is the elder statesman of the Westheimer Curve's booming restaurant row. And nearby, former Tony's chef Olivier Ciesielski has L'Olivier (240 Westheimer Rd., 713.360.6313), a sexy little French number, where lately ravioli gets stuffed with honeyed goat cheese.
Spain Is the Name
IF BCN IS BOOKED... Tucked nondescriptly behind a Montrose car wash and named for the airport code for Barcelona, BCN (4210 Roseland St., 832.834.3411) flies ingredients in from Spain to serve on its imported plateware with its imported wine. Be sure to order a gin and tonic!
...MAY WE SUGGEST OPORTO? Mediterranean-tinged tapas — potato bread with chorizo, housemade hummus — makes Oporto (125 W. Gray St., 713.528.0115; 3833 Richmond Ave., 713.528.0115) popular among winos.
Rise and Shine
IF SNOOZE IS BOOKED... The saying "You snooze, you lose" rings true at Snooze (3217 Montrose Blvd., 713.574.6655), the popular breakfast café where wait times run up to two hours — even on a weekday! Find brunch items you may have only ever dreamt of: pineapple upside-down pancakes and an egg-topped breakfast pot pie.
...MAY WE SUGGEST BABY BARNABY'S? Trusted fast-casual concept Barnaby's Café boasts locations around the city, including the breakfast-only Baby Barnaby's (602 Fairview St., 713.522.4229) in Montrose. Expect no-nonsense classics like the buffalo scramble and buttermilk waffles, along with Texas-style breakfasts like the barbecue pulled pork and eggs.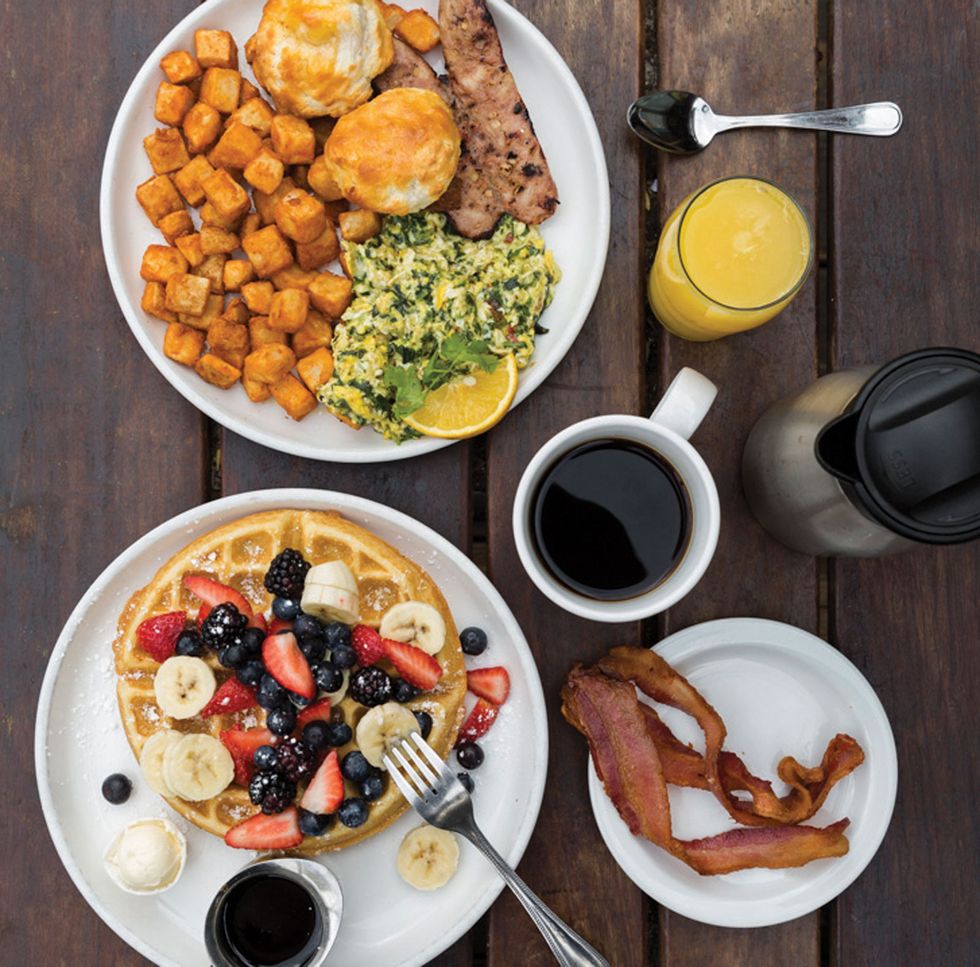 Baby Barnaby's
Food+Travel