Fantastical Art Fest Lights Up Florida's Emerald Coast for the Perfect Weekend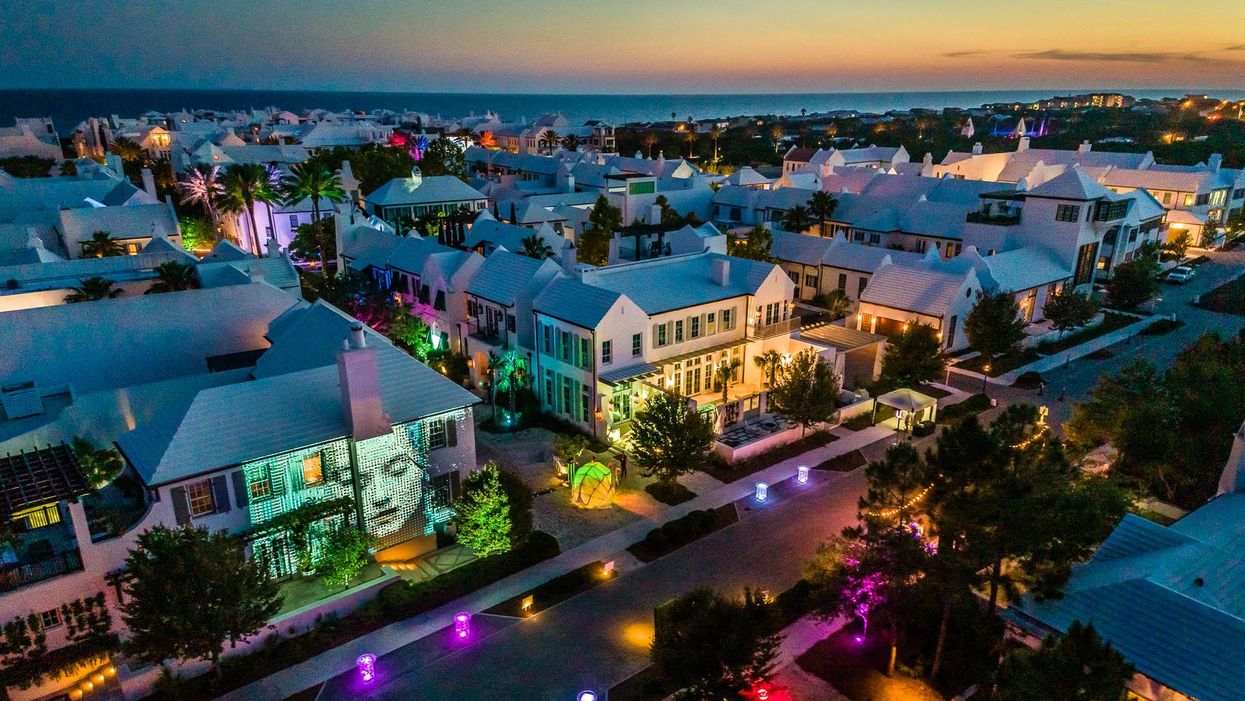 ART, ARCHITECTURE AND beach lovers will collide for a dose of sun, sand and play at the Digital Graffiti Festival at Alys Beach May 13-14 – and if you've never been to this luxury vacation getaway (just a two-hour flight from Houston) – you're in for a treat. With its white stucco buildings, cobblestone streets and Moorish-inflected architecture, the serene town feels worlds away from the Florida Panhandle.
---
The iconic, white-walled buildings of the dreamy Mediterranean-inspired community located along Florida's 30A, become a spectacle of swirling lights and colors every spring at this projection outdoor fest. As a matter of fact, it's the first of its kind in the world and was named one of the top "24 Unconventional Art Destinations Around the World" by National Geographic. Digital artists, photographers, filmmakers, and designers submit their work for consideration, and accepted entries can win in three categories: best in show, curator's choice, and special recognition. But it's the spectators who have all the fun at this organic, open-air celebration.
With the masonry as a large-scale blank canvas for artists to explore the visual intersection of art and architecture, the evening festival illuminates the town with the latest in design, animation, and projection technologies. Two glowing nights of innovation and inspiration – along with a few reception parties – spotlight works of projection mapping, generative art, experimental short films, and animation, as well as sound, motion, and light-responsive installations. It's like going to a drive-in movie, except you keep moving at this progressive cutting-edge art display.
Astute visitors will book an Alys Beach rental to have their own casa for a long weekend. Of the rental properties, there are 54 privately owned homes and condos, all gorgeously designed and some with private pools, garages, and courtyards. First time visitors get hooked on the walkability of the community with everything at their fingertips, including a master-designed nature trail and perfectly manicured private beach steps away complete with chair and towel service.
For rental guests and homeowners, lunch at Caliza Restaurant is the way to go – luckily, they will even deliver lunch or a drink straight to your beach chair. The Citizen is the newest eatery, a fine coastal tavern with a seasonal menu and raw bar. For drinks and small bites, pull up a chair at NEAT, or hit the patio at popular Raw & Juicy for smoothies, breakfast, and healthful lunch (go early!). Barefoot Princess, a Lilly Pulitzer store, recently bowed, as well as Merit, a locally-owned jewelry and accessories shop – both ideal for afternoon shopping. Yes, you'll need a massage before your night out, and Zuma, the fitness-yoga-aquatic-wellness center and spa, is the place for it. Services also include facials and body treatments.
Come dusk, you'll have the Digital Graffiti Fest to fill the evenings. On Friday, May 13, the event will kick off with a celebratory pre-party announcing the festival's award-winning artists. At 8pm the action starts with an adult-only all-inclusive food and beverage experience. Stroll the festival path lined with art installations intermixed with festive food and beverage presentations from the best local and regional chefs, restaurants, winemakers, distilleries, and breweries.
For the finale, May 14, 8-11pm, families and guests of all ages are invited to engage in the projection art installed along the festival path, pocket parks and thoughtfully designed amenity spaces. There will be food trucks and beverage stands positioned throughout with fun eats and drinks for purchase. (Tickets sold separately per date – here are details.)
This year, the Digital Graffiti festival welcomes the perspective of new curator John Colette, a motion media design professor from Savannah College of Art and Design. Colette views the festival as a chance for the audience to engage with art outside of the traditional gallery space in a presentation that "makes the art much more of a living experience." His hope is that the festival offers the audience a "cue for the imagination," an opportunity to step into a living, breathing town and allow the interaction between art and the environment, and possibly change the way they see the world.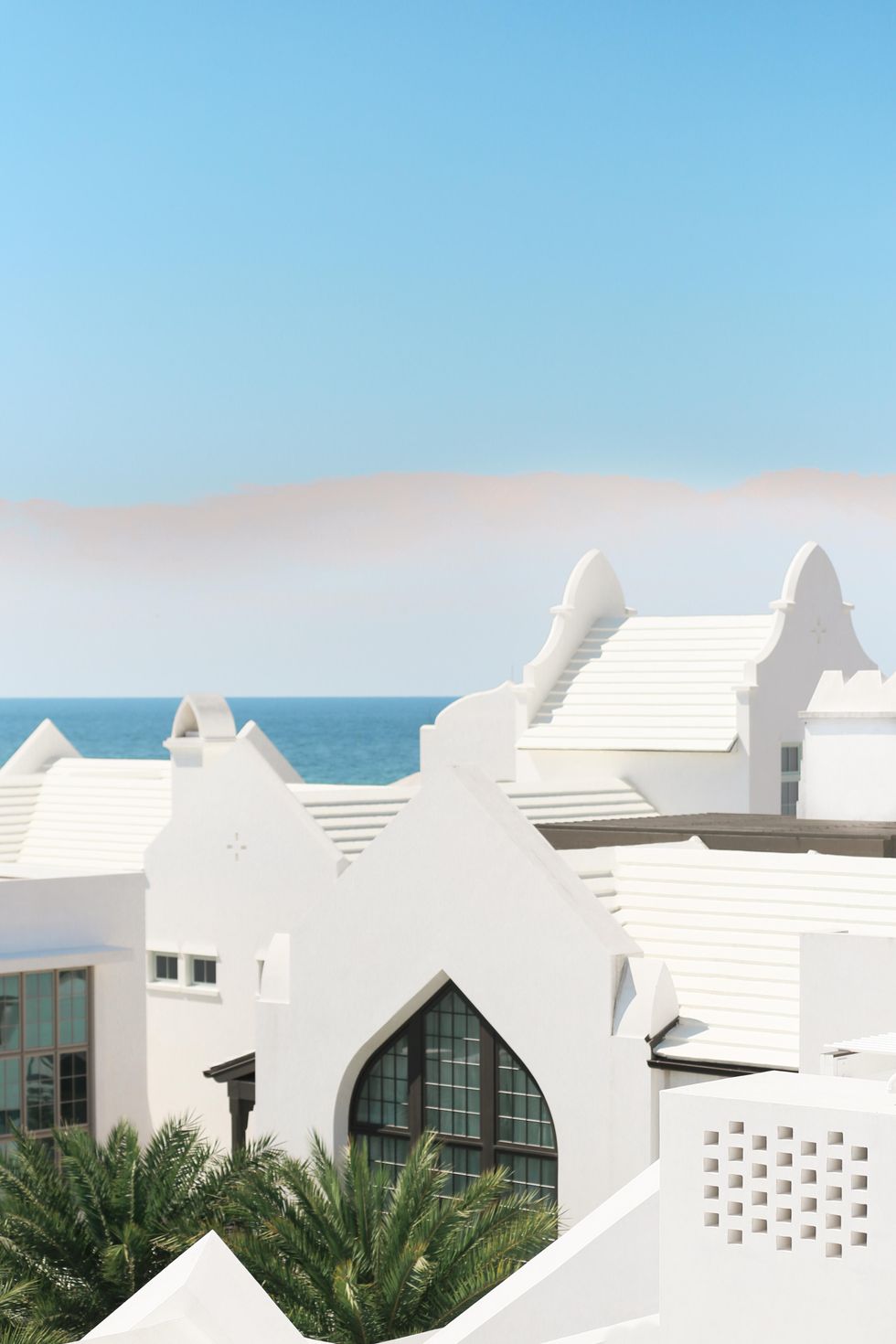 Alys Beach Rooftops are canvas for Digital Graffiti fest
Moon Creek Studios
People + Places