Doing It Write
As her first book since Enron hits shelves, celebrated scribe Mimi Swartz reflects on her fascinating journey from young paralegal to Houston's first lady of letters.
Jhane Hoang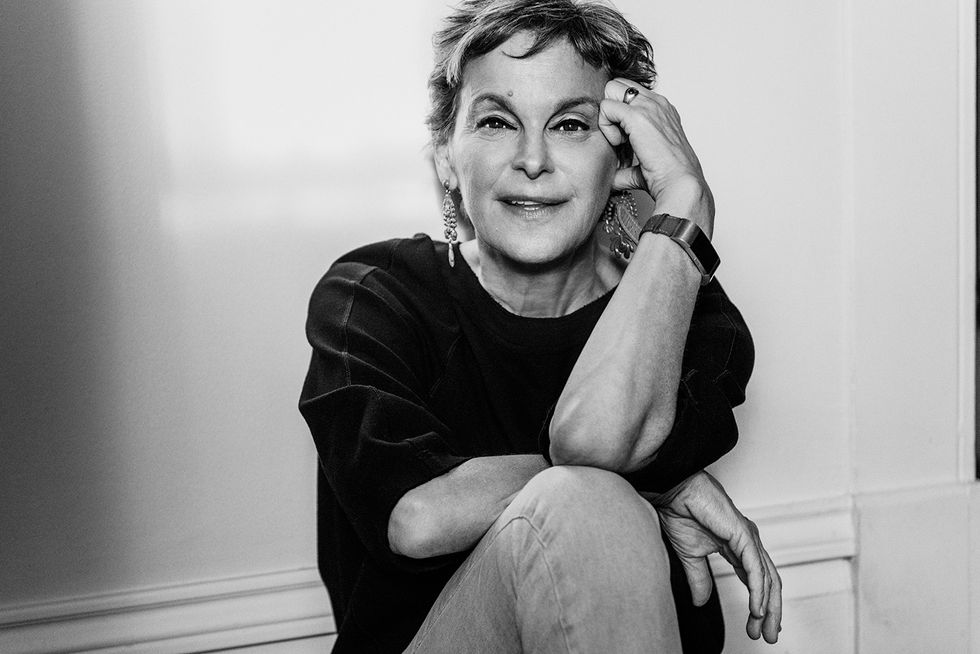 Superb writer Mimi Swartz, a longtime Heights resident, is an executive editor of Texas Monthly and contributor to The New York Times Magazine and, perhaps, simultaneously Houston's most effective critic and booster. In long-form TM pieces — like her recent one on the absurd, national-outrage-generating drama over a West U teen's Trump tee — to her 2004 book about the Enron scandal, she has proved consistently articulate about Houston's foibles and fascinations. She deconstructs them fastidiously, with endless hours of reporting, no small detail left unnoted, and then puts them back together again, in a disarming narrative style that feels a bit like a Saturday morning conversation over coffee with your next-door neighbor. She's the benevolent queen of making it look easy. Swartz's new book, Ticker, which tells the story of Dr. O.H. "Bud" Frazier and the creation of the artificial heart at the Texas Medical Center, and later its trailblazing Texas Heart Institute, just hit.
---
You were born in San Antonio and then went to college in Massachusetts. How'd you end up in Houston? It was after I graduated from this hippie college called Hampshire and I was unemployed that my mom — who thought I should go to law school — found me a job as a paralegal here in Houston. At the time, in 1976, it made sense to move here because the law firm was paying a living wage and the city was starting to boom. It was a fun time when it was changing from just being a large city in Texas to an international oil capital.
When people talk about that period of time in Texas, they often refer to the Cosmic Cowboy scene in Austin, or the TV show Dallas. What was special about Houston then? It was fascinating and the city was a lot of fun, in part because of the cast of characters. Maxine Messenger was covering society for the Houston Chronicle and everyone ate at the old Tony's on Post Oak. Lynn Wyatt would bring Princess Grace to lunch there and Maxine would write about it. I remember Maxine was always writing about Ernest Borgnine and his wife and the Shamrock Hotel was still open when I got here. People still had this great Texas expansiveness. Everyone would talk to you as a journalist and they were happy to see you. They were funny and not afraid to tell you what they thought.
How did you get your start as a journalist? The first story I wrote was about the Downtown Foley's, and what a great story it was. I wrote it for Houston City Magazine, which was starting up in 1979, and run by a guy named Tom Curtis. He was an investigative reporter and very interested in developing new talent — and he did. He taught me so many things. I am still indebted to him, and to Paul Burka of Texas Monthly.
What was your first story that really got people's attention, and convinced you that you were meant to be in this field? Tom [Curtis] wanted me to write a profile on Marvin Zindler — do you remember him? He was the "there's slime in the ice machine" guy, but more importantly, he was the guy who busted the Chicken Ranch and was a main character in The Best Little Whorehouse in Texas. Actually, the magazine provided me with both a career and a personal life: I met my husband [John Wilburn, a veteran Houston journo who's had senior posts at the Chronicle and other outlets] there, too, at the magazine, where he was the managing editor.
What has changed about Houston since your arrival? Maybe it is the growing inequality. This used to be a big blue-collar town, and there used to be a lot of opportunity for people who were not white-collar workers to build things. But those opportunities have moved overseas. I think that is very frightening to people, who see themselves getting priced out of their neighborhoods as their property taxes go up. One result of this is it seems that people are not as nice. There's a growing sense of arrogance or entitlement. It didn't used to be like that. This was the anti-poseur place; it was fun and people didn't take themselves so seriously. Like Mattress Mack, who is sort of his own conception. There just aren't as many people like that around.
What kinds of stories interest you about Houston now? One of my favorite stories from the past that I did was one about a man who worked for an oil company, but was kidnapped in Nigeria. It was a story for Texas Monthly. I really like that because it was about Houston and has global implications. Now I tend to look more for stories that work for Texas Monthly but also work as national stories. For example, one of Houston's problems is housing, and there is a housing crisis all over the country, so you can do a story and extrapolate from it.
How do you typically find your stories? My husband likes to say that when you walk out your front door in Houston, you stumble over a story. I go out and talk to a lot of people. That way you always hear fascinating things. You don't find a story sitting in your house and flipping through the paper. I go out to lunch a lot because I work at home, and otherwise I would not get dressed. Lunch is relaxing, and people are more inclined to tell you things than when they are in a crowd, like at a gala.
Can you name names? Tell us who has been a good source of stories for you. Paul Hobby, the owner of Texas Monthly [and a third-generation rich and famous Texan, the grandson and son of a governor and lieutenant governor] has been a great source for stories. He's smart, interesting and extremely well connected. But the truth is, now that I have lived here a long time, I have a lot of friends. Friends who are lawyers, friends at oil companies — they know to tell you when they think they've heard a good story. And, of course, if you've been doing this as long as I have, you develop an instinct for it.
What does the future hold for the type of long-form journalism that you do, particularly now, when we are told everyone's attention spans are shrinking? It's hard to say, because big, long stories are hard to do, particularly when you're doing an investigative story. You have to get them right, and it can take a really long time to be sure. Those stories have layer upon layer, and you have to talk to a lot of people. But when I keep hearing the same story over and over, I start to think I've got it right.
The biggest story you have done up until now was Enron. What impact did that have, now nearly two decades removed, on Houston? I thought at the time that it was a watershed story for Houston, but it really just turned out to be a harbinger of what was to come with these investment firms and hedge funds causing so many issues. It was really the beginning of Trump culture and all these inequities, where you have a small group of people with a whole lot of money, and the rest of us are just supposed to figure out how to get by. I really think it was the start of that period in American history.
Did the Enron story and subsequent book have an impact on your career? Not too much, to be honest. But what it did do is teach me how to write a book. And my friend Antonya Nelson [UH professor of creative writing] says you learn how to write your second book from your first book. I realized after that that you, as a journalist, can write about most things, so long as you can educate yourself. ν
Art+Culture