Drive-In Dreams Come True: Another Covid-Friendly Movie Option
The Moonstruck Drive-In Revs Up in East Houston on Sept. 3.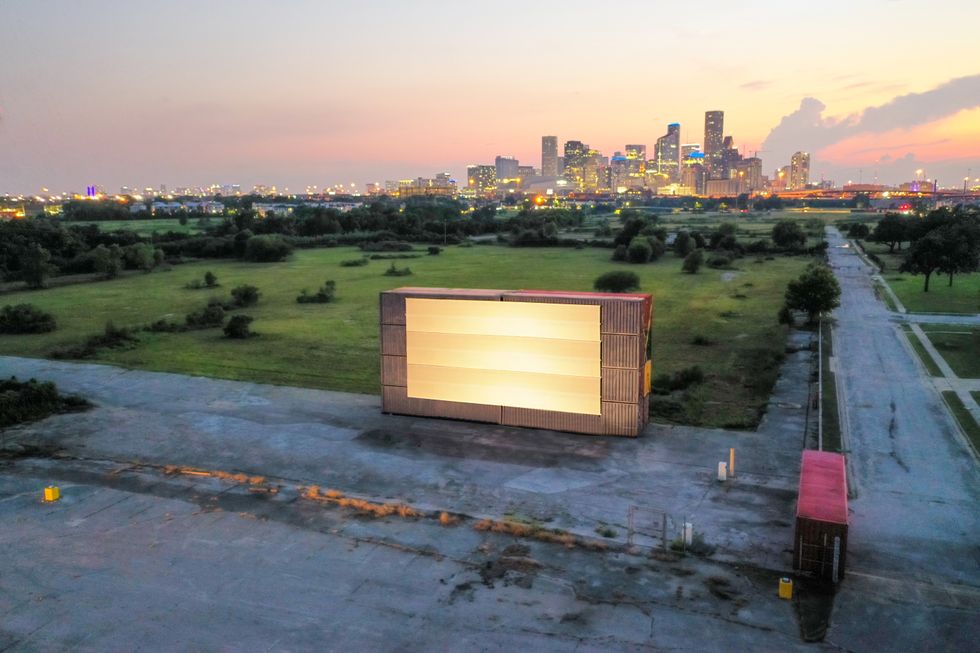 It's been the summer of the drive-in — and with Labor Day nearly upon us, the retro-savvy trend is sure to drive right on through fall.
---
Commercial real estate firm Midway is making progress on its 150-acre East River redevelopment project one mile east of Downtown. The East River mixed-use development will sit on the bayou, and is the future home of the Houston Maritime Museum, a five-story apartment complex, retail and office space, and will also connect to the Buffalo Bayou hike-and-bike trail system. And, just announced, it will also be the site of the Moonstruck Drive-In Cinema at East River, which opens on Sept. 3 with a screening of Christopher Nolan's new spy film Tenet followed by Bill and Ted Face the Music.
A lineup of new releases and classics will be projected onto 40-by-80-foot structures made of shipping containers, and audio will be broadcast on FM radio. Entrances open at 7pm, and films begin around 8:30pm nightly. The 200 parking spots are first-come, first-serve, and cost $25 each. Expect food (and drink!) trucks and other refreshments from East End-area restaurants. Tickets go on sale later this week.
Notably, the Moonstruck Drive-In Cinema is a collaboration between the owners of Blue Moon Cinemas — which pops up all across Texas with inflatable movie screens at parks, birthday parties and more — and the Showboat Drive-In, the largest and the only permanent drive-in theater in the region.
Art + Entertainment