Fairy Tales
It's prime time for the softly swirling electric soundscapes of Tee Vee.
Phoebe Rourke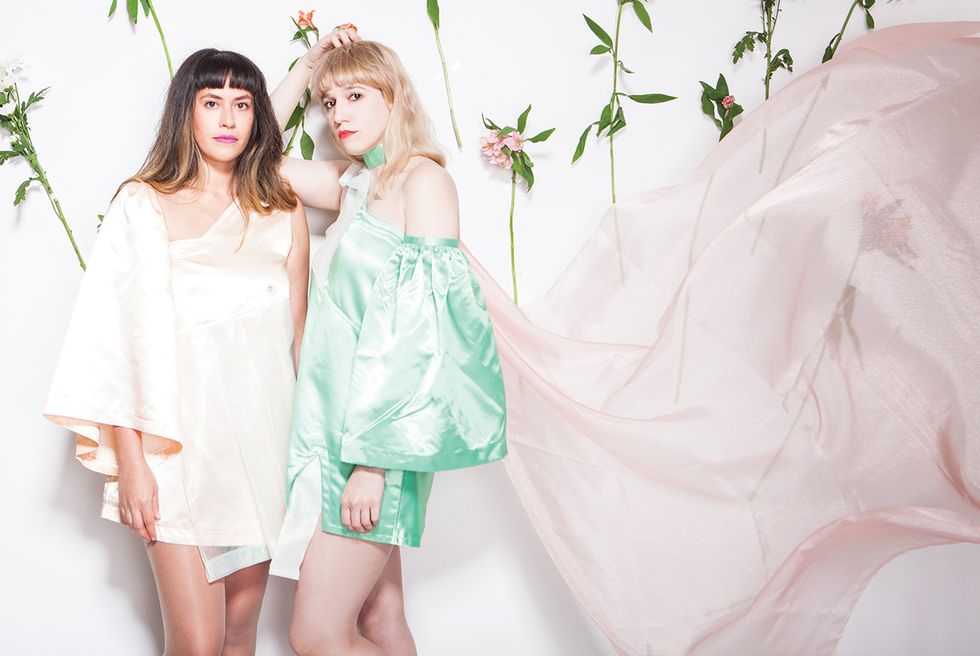 It's a muggy Saturday night in late April and, in spite of some inclement weather, a throng of young beer-toting and Trader-Joe's-Two-Buck-Chuck-sipping creative types has amassed inside Civic TV Laboratories, a hipster art gallery and performance space housed in an aged, graffiti-scrawled warehouse neighboring Tout Suite in EaDo. They've come to watch Teresa Vicinanza and Daniela Hernandez, both 28, perform tracks from their 5-track debut EP Soft Spot as electro-pop duo Tee Vee.
---
The duo takes the stage — a floor level, front corner of the warehouse decked out with a DIY-backdrop of sheets of shimmery, translucent tulle hanging in front of pastel-hued garlands of pink and blue string lights. It's late in the evening, right after their electronic-artist friend Miears, the last of the openers of the evening, has finished her set.
After a quick equipment check and some humorous banter with the crowd, the girls, clad in matching '80s-inspired, one-shoulder dresses custom-made for them by local avant-garde designers André Redou and Raquel Costilla, launch right into their set. Members of the crowd populate the hot box and start dancing expressively — some with excess blooms from the stage's spattering of cheery flower arrangements in hand — to the electric soundscape swirling out of the speakers. Unless they caught Tee Vee's performance at Day for Night a few months before, it's the first time many members of the crowd have heard the duo's songs. And based on the upbeat energy of the room, it's clearly to their liking.
Vicinanza, who also fronts local guitar-driven indie band Rose Ette, began her journey as Tee Vee about a year ago when she decided that she wanted to embark on a solo project. "In Rose Ette, it's really awesome to have people to work with, but sometimes I find myself wanting full control of everything," she explains. "I've always wanted to be more self-sufficient and be the writer and producer of my own work." She's since brought fellow Rose Ette bandmate and former New York City Queens member Hernandez onboard to add synths and harmonies to her live set, a decision that's freed her up to further delve into writing and creative decisions.
The end result of the effort, an EP that dropped in May, is a cohesive collection of cool, experimental pop songs bound together by their shared reverb-y qualities, simple harmonies and lush layers. Vicinanza's songwriting prowess is partially evidenced by the fact that she only had about half of the work on the EP done when she was asked, five weeks before Day For Night, to perform at the festival. While frantically finishing up her music, the UH art major also had her last semester of college to contend with. "I mean, it's Day for Night. I obviously wasn't going to say no," she says with a shrug. "I'm still not sure how I did it though."
Lyrically, all of the songs on the EP are vague, almost sounding like someone recalling a dream. "It's not easy," goes "Crystalline," one standout tune, "caught in between what's real and what's real to me." But Vicinanza says that each song has a specific meaning to her, even if the universality of the wording means listeners will glean unique meanings of their own from them. "I've written the songs," she say, "they've even sort of evolved and taken on new meaning for me as well."
ABOVE: Daniela Hernandez and Teresa Vicinanza of Tee Vee
Uncategorized