Frankly, Scarlet
In the Covid era, it's tough to safely produce a big fashion shoot — so we did 10 small ones instead. We sent great fall looks, all highlighting shades of crimson, to some of our favorite Houston photographers, and we asked them to take their best shot. The result is a study in vibrant eclecticism, and a sexy survey of the season's red-hot hue. Styling by Todd Ramos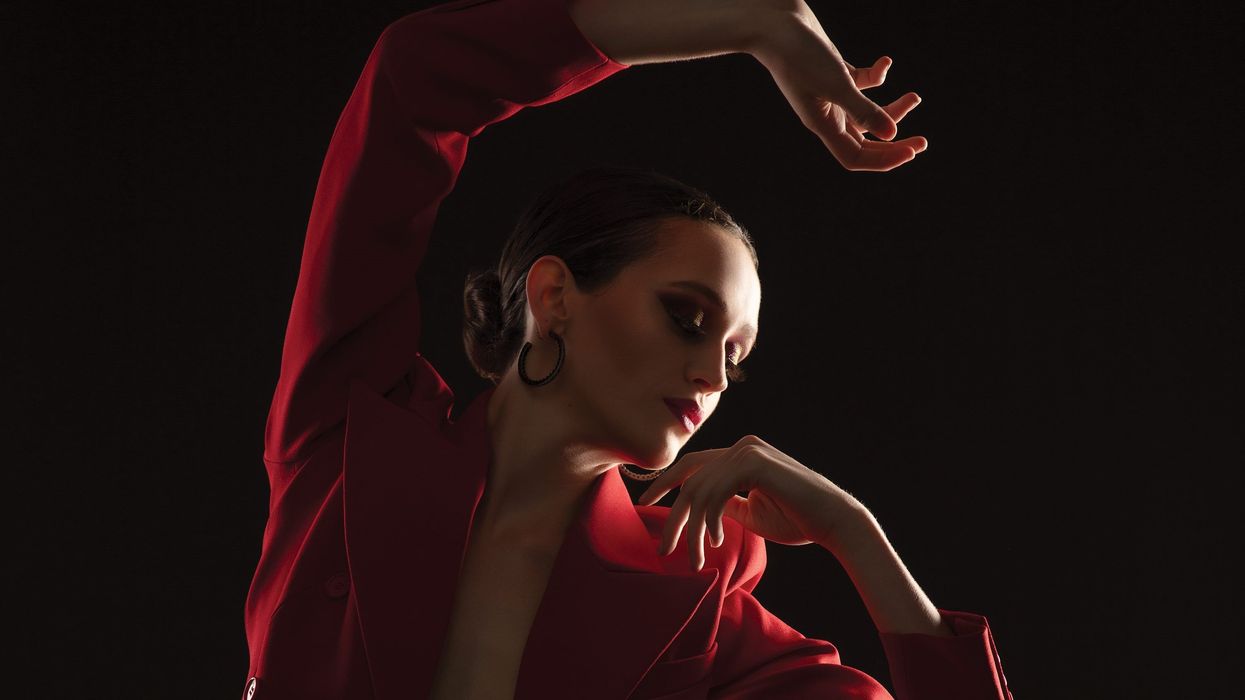 ---
The Photographer When he embarked on his career, Ashkan Roayaee set out to capture the beauty in movement, finding success in photographing dancers of all ability levels. But even as his subject matter has evolved, "I find myself completely immersed in dance, or the idea of dance, even when it reaches across commercial photography lines," he says.
The Look Model Ava Castillo wears a double-breasted blazer and pants, both by Michael Kors at Saks Fifth Avenue, with hoop earrings by MCL Design at Tootsies.
The Picture Using dramatic lighting to imitate a theatrical performance, Roayaee sought to evoke female empowerment in a way that "embodies both fragility and undeniable strength … showcasing abstract dance form and structural costuming."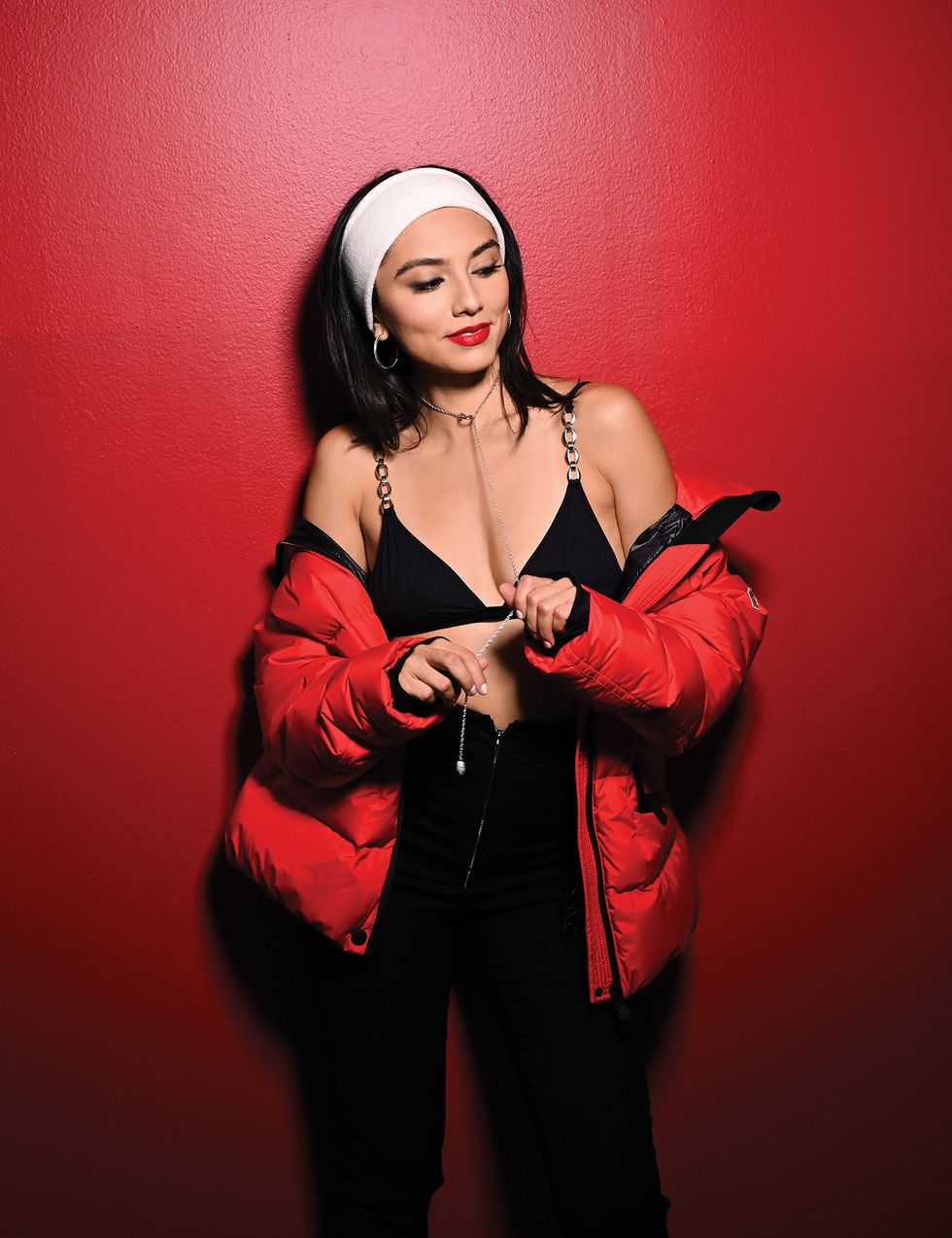 The Photographer Al Torres picked up a camera at age 15, "and never looked back." He's pursued fashion, food and wedding photography; regular clients include some of the city's top broadcast journalists.
The Look Model Cali Correa wears a jacket by Moncler, high-waisted pants by Off White from Saks Fifth Avenue, and accessories selected by Torres.
The Picture Torres shot "one of my favorite muses" against the already red walls of his Galleria-area studio. "I have worked with Cali for a couple of years, and I can count on her to be the chameleon that I need for a variety of photoshoots."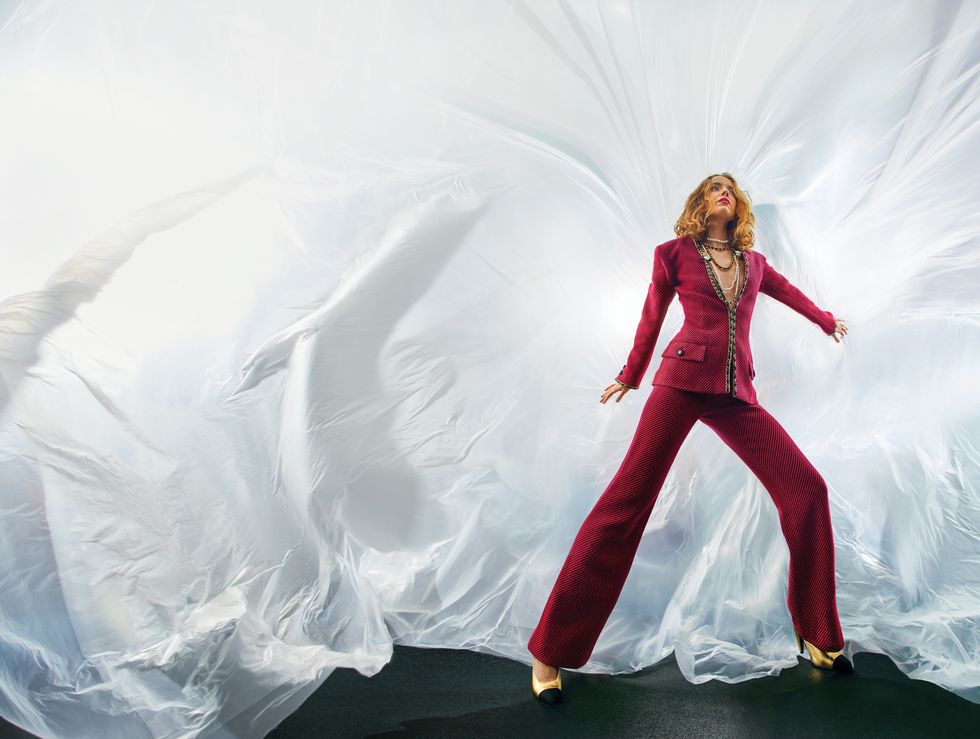 The Photographer Cody Bess' fashion photography career has taken off in recent years; in 2020, Bess has shot national campaigns for Brahmin and Hunter Bell. He and his wife, Jessica, have two kids, Lachlyn and Roan.
The Look Model Mary Harrison wears a wool and cashmere tweed jacket and trousers, with a glass-pearl and calfskin necklace and pumps, all by Chanel.
The Picture Bess shot Harrison at his studio off Washington Ave., aiming "to show strength and power in a chaotic moment. The objective was to create an environment to show the fluid unpredictability we are all surrounded by, and have a prevailing figure confidently holding her ground."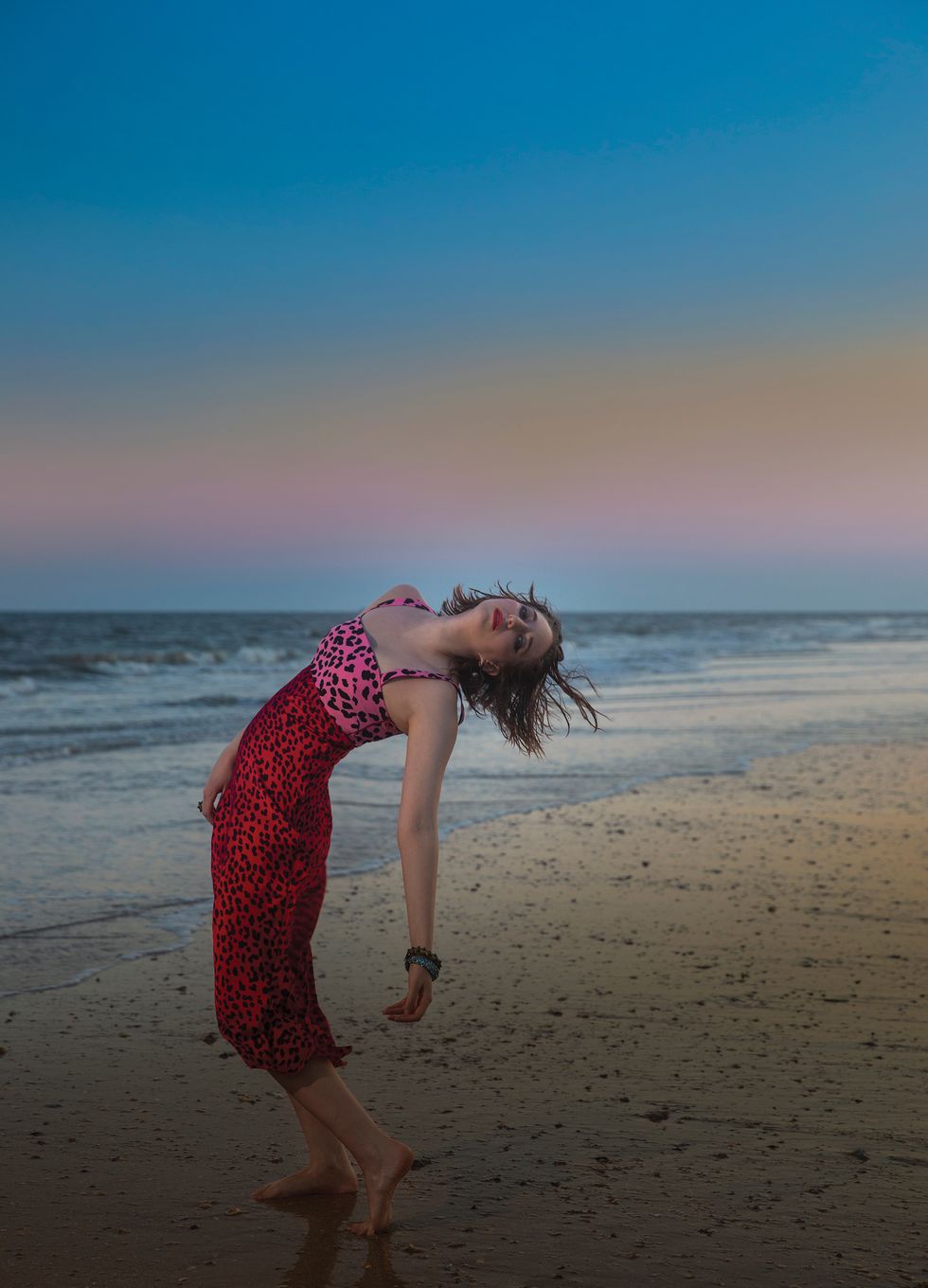 The Photographer A graduate of the Tisch School for the Arts at NYU, Julie Soefer cut her teeth working with legendary photographers Arnold Newman and Andrew Eccles. Her work has since been featured in such outlets as The Wall Street Journal, The New York Times, Texas Monthly,Food and Wine, and CityBook.
The Look Claudia Casbarian, Soefer's studio manager, wears a bias midi dress by Johnny with a spiked rocker ring and bangles by MCL Design, all at Tootsies.
The Picture When Casbarian was a Rice photography student, Soefer reviewed her portfolio — a book documenting each outfit she wore daily for a full semester. "Fashion is a part of her, as much as photography is," says Soefer, who snapped this shot at the Bolivar beach house she and her husband purchased during quarantine.
The Photographer Houston native Jhane Hoang spent more than a decade in New York, where she shot for Ford, Wilhelmina and Elite modeling agencies, and has photographed notable Houstonians like Simone Biles and Deshaun Watson since returning in 2016.
The Look Musician Youth Soul Love, known also as Soul, wears a red jacket with waistcoat and trousers by Burberry from Saks Fifth Avenue, and his own accessories.
The Picture "I met Soul at a fashion event a year ago," says Hoang. "I knew I had to photograph him. But he was in New York producing his latest album, which dropped in August. He made his way back to Houston just for this shoot. He's a gentleman — and a star in the making." Soul was photographed at Select Studios off Washington Ave.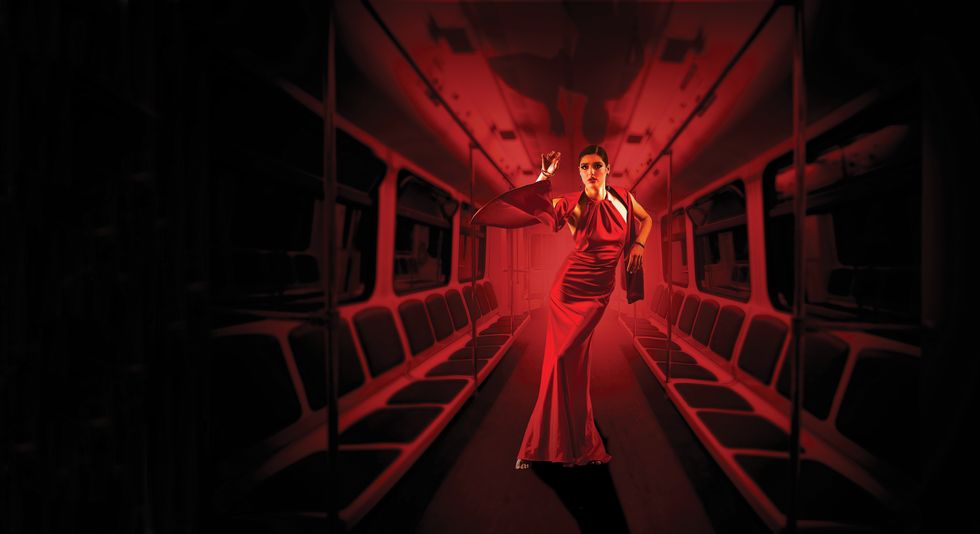 The Photograher Having discovered photography at a young age, Fulton Davenport would use his mom's Kodak instamatic camera to take pics of "the family cat, my tree house, the yard, myself." He graduated with an MFA from the University of Florida and moved home to Texas to pursue his career.
The Look Model Sarah Blakemore wears a gown by Dao Chloe Dao, with earrings and bangles by MCL Design at Tootsies.
The Picture "This project is about the element of experimentation," says Davenport, who worked with his colleague Jereme Brown to superimpose the crimson-tinged, sci-fi background.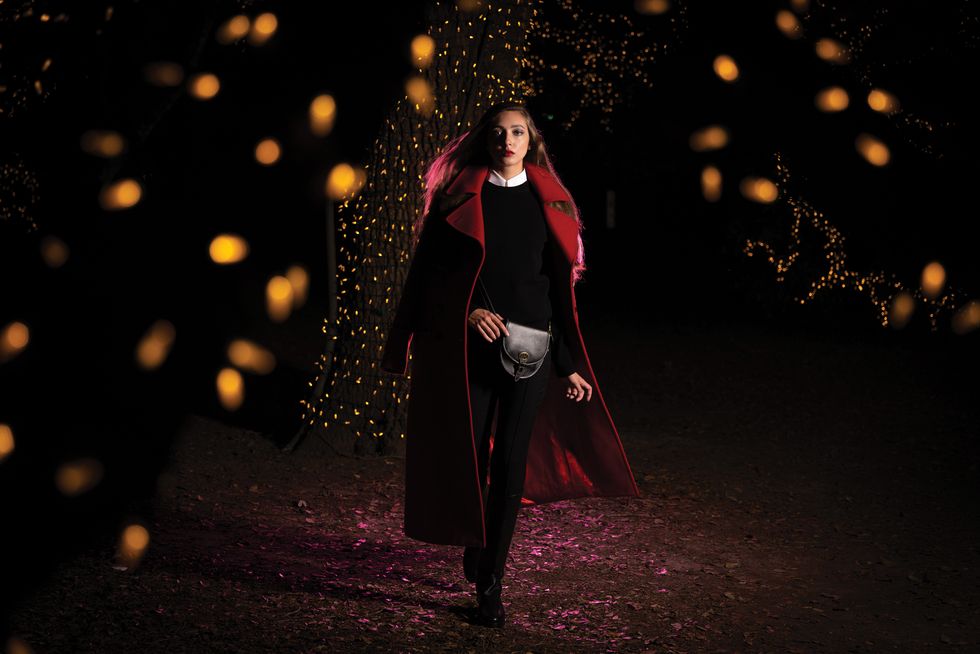 The Photograher New Orleans native Daniel Ortiz graduated with a degree in painting and photography in 2003 and relocated to Houston after Hurricane Katrina. He continues to pursue both artistic avenues out of his studio at The Silos on Sawyer.
The Look Page Parkes model Shannon Winger wears a coat, dickie shirt, cashmere sweater, handbag and boots, all by Michael Kors, and pants by Off White from Saks Fifth Avenue.
The Picture Ortiz depicts "a moody stroll through a magical forest" in this photo, shot on the grounds of The Houstonian. "It was a fun project from beginning to end," he says, "but difficult to focus many ideas into a singular image. Once I figured out what I wanted to do, it all came together."
The Photograher Select Studios' Arthur Garcia is a 25-year industry vet, having grown up the son of a photojournalist in Mexico City. He learned to print and develop film in the darkroom of his family home, and continues to draw inspiration from his father's work, as well as that of Richard Avedon and Henri Cartier-Bresson.
The Look Page Parkes model Whitney Ann wears a dress, jacket and handbag by Versace, with earrings, "wonder woman" ring, champagne-diamond ring, and a blue topaz necklace and ring, all at Leslie Ann Jewels.
The Picture Garcia took his inspiration directly from the color palette. "The color red demands your attention," he says. "It appears to be strong and harsh, but appears differently for each viewer, depending on feelings and experiences."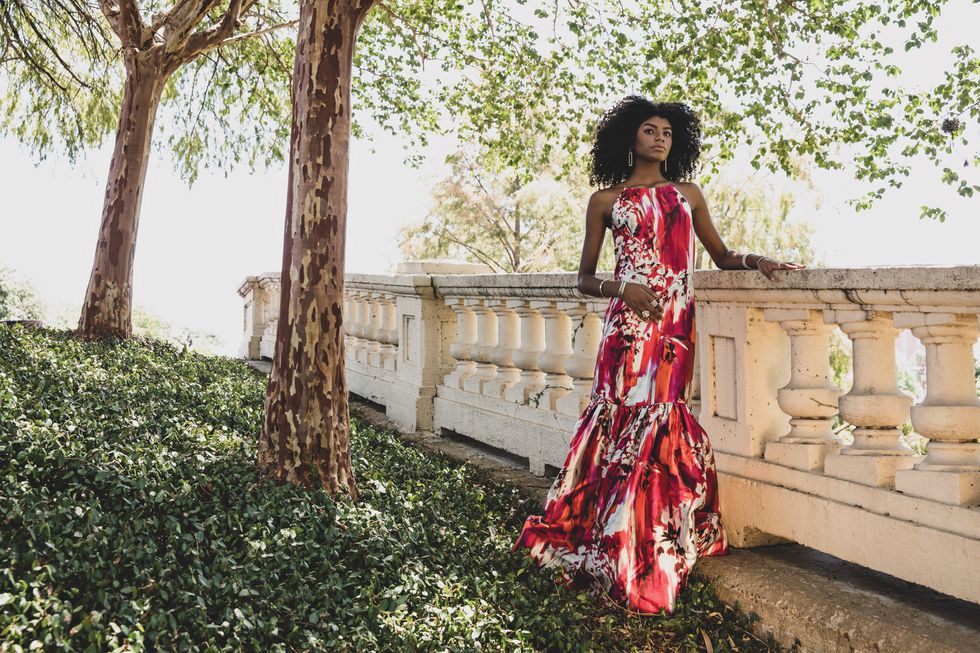 The Photographer Collin Kelly began shooting sporting events for his high school yearbook at age 15, and launched his career just five years later. In 2013, he was a top-five finisher in Vogue's New Exposure photography contest.
The Look Page Parkes model Bailey Flowers wears a sheath gown by Cesar Galindo at Sloan/Hall with white-gold and diamond jewelry from Deutsch Houston.
The Picture Kelly began this shoot at an "undisclosed location," but after about 10 shots, "a very irritated guard told us to 'get the f*** out of here," says Kelly. The shoot moved Downtown, where this photo was taken. "Sometimes where the day takes you is all that counts."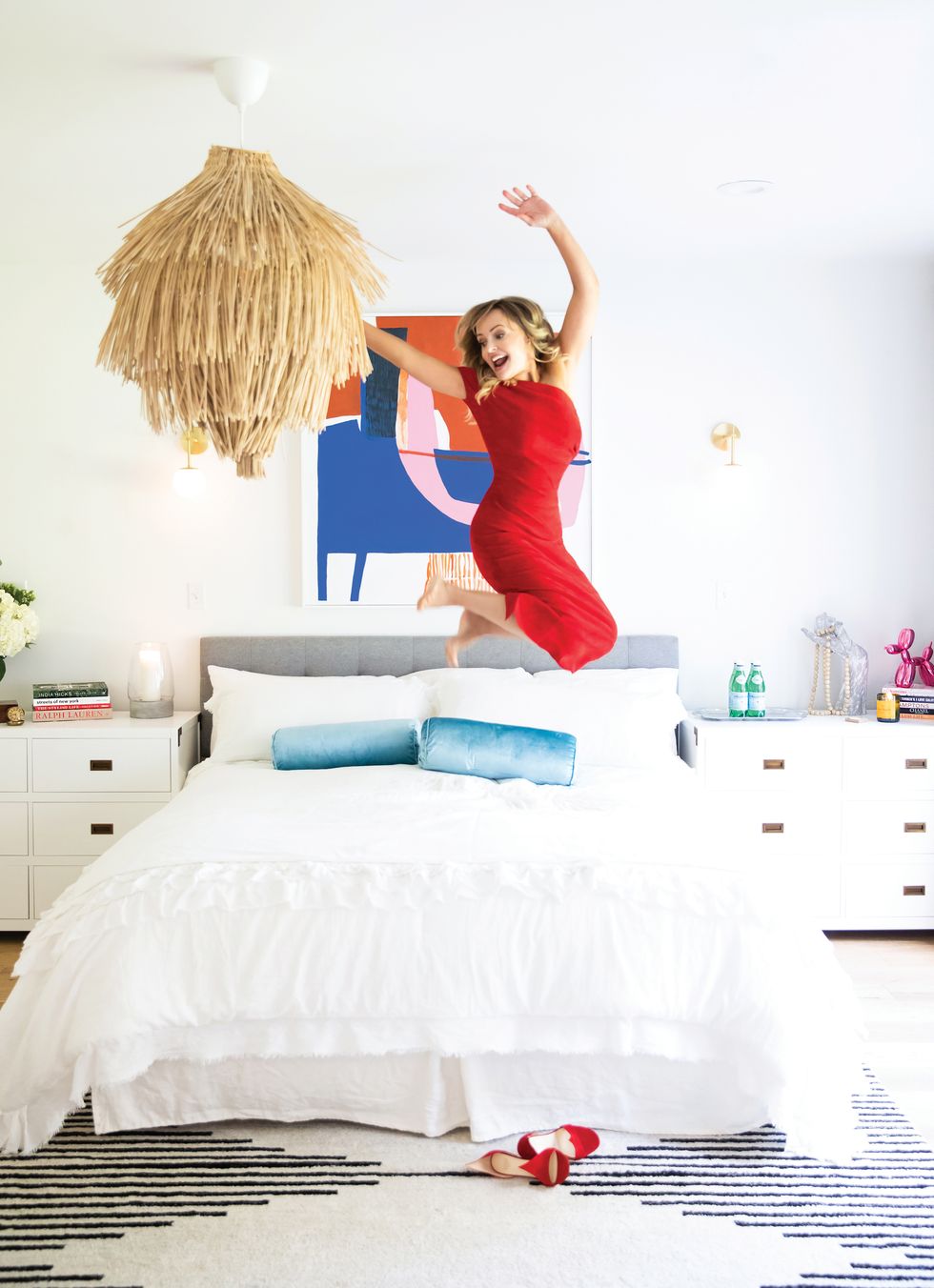 The Photograher Phoebe Rourke-Palomo specializes in modern, energetic and stylized portraits for ad agencies, magazines and celebrities — including Carolina Herrera, Naomi Campbell and Houston's own Lynn Wyatt. She has 11-year-old twins, Phoebe and George, and enjoys golfing, cooking and trips to the beach.
The Look Influencer and designer Jen McDonald wears a suede dress by Jitrois and heels by Francesco Russo, both from Tootsies.
The Picture Rourke-Palomo photographed McDonald in a space she designed in her signature Scandinavian-boho aesthetic. This shot was the very last of the day!
Credits: In the photo by Roayaee: hair and makeup by Darcie Teasley with photo assistance by Britt Deveau and Hallie Gluck. In the photo by Bess: hair and makeup by Cupcake Guerrero. In the photo by Davenport: hair by Todd Ramos with makeup by Lisa Capuchino. In the photo by Ortiz: hair by Michael Stribling with makeup by Tree Vaello.
Style