Global Entry
At Montrose's chill new Night Heron, spice is nice, beer is boss, and fun international cuisine is meant to be shared.
Julie Soefer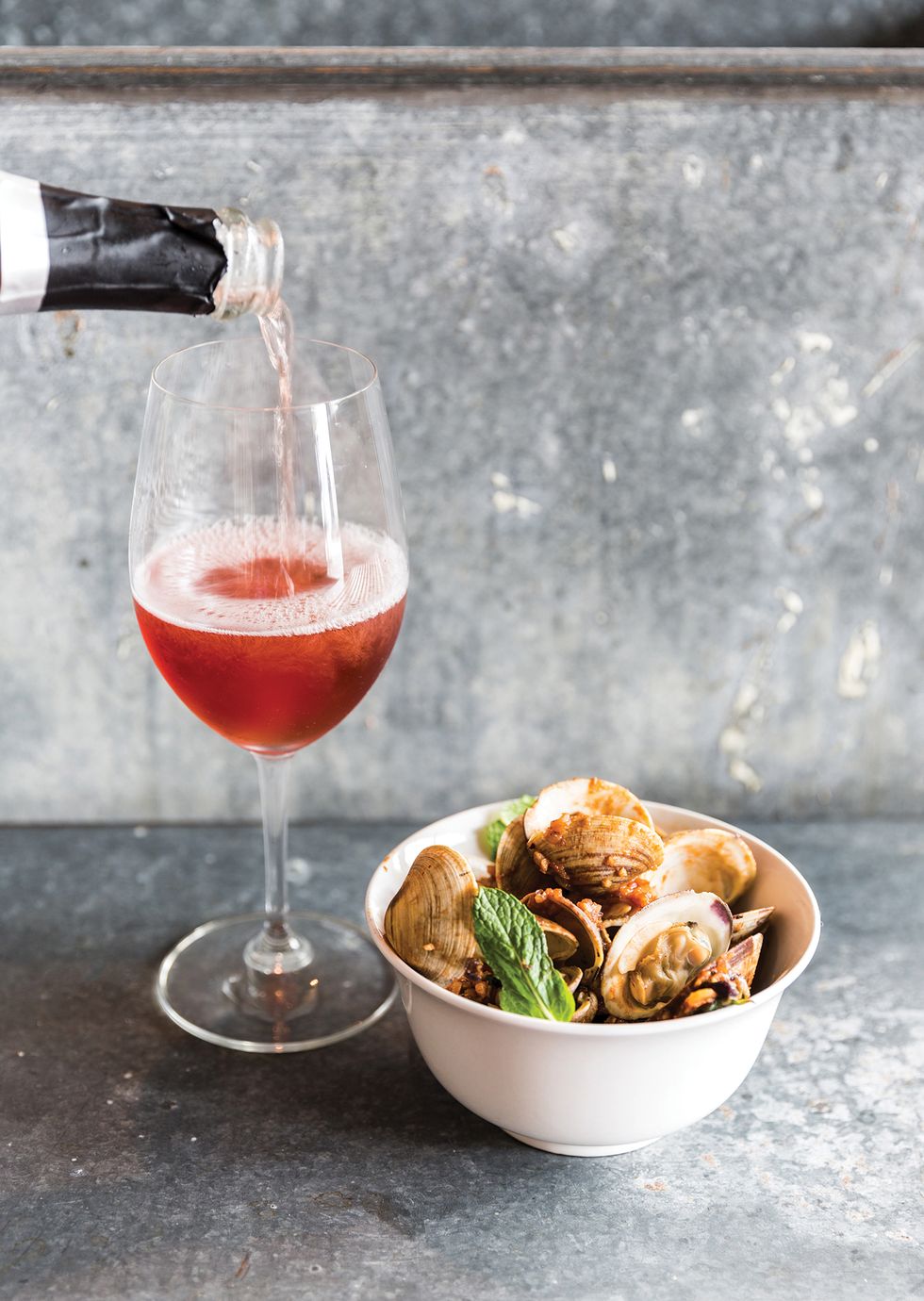 It's hard to believe that Ryan Pera, one of the most celebrated and prolific chefs in Houston over the last decade, has never had a restaurant in his home 'hood of Montrose, one of the most celebrated dining districts in town over the same time period. Well that peculiar omission has met its end at happy-hour-savvy and late-night-ready Night Heron (1601 W. Main St., 713.527.8010), the breezy gastro-hangout his Agricole Hospitality outfit has opened in the space previously occupied by Lowbrow.
---
The setup here is simple and spare and washed in shades of ivory and aqua with the odd leather sofa set here and there, comfy-living-room-style. The large front deck unpretentiously abuts the parking lot. A shorts-and-sandals crowd gets rowdier and more mingly as the dinner hours morph into party time, and Night Heron goes from laidback restaurant to buzzy bar, its zippy world-music soundtrack spanning Brazilian jazz and Nigerian pop setting the tone throughout.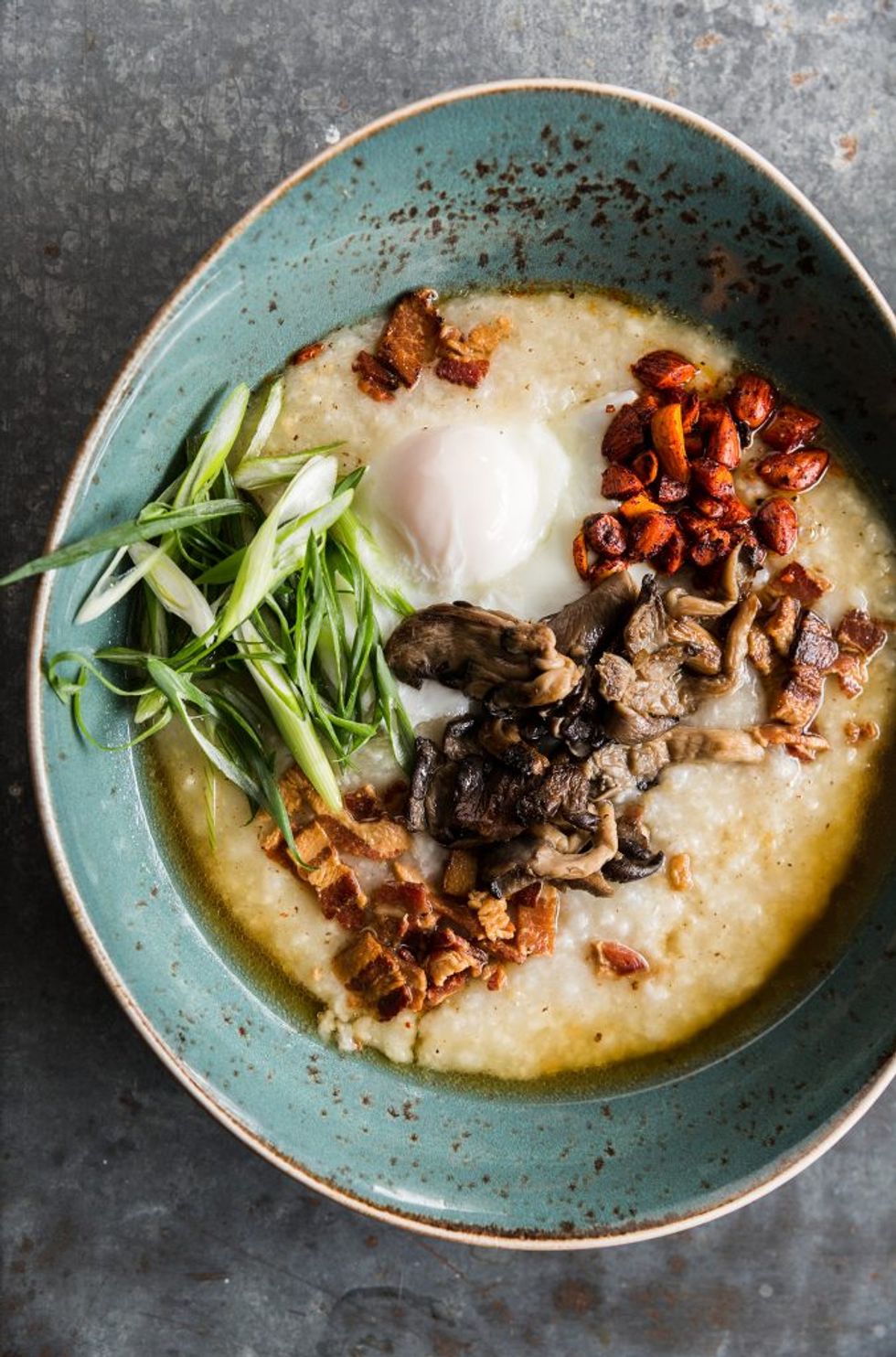 'Congee' rice porridge with mushrooms, almonds, bacon, scallions and a poached egg
It's an apt backdrop for a place that's at once intensely neighborhoody — its name references the birds that nest this time of year in the century-old oaks of North and South Boulevards a few blocks away — and global. Pera's exec chef, Jacob Pate, formerly of Agricole's flagship Coltivare in the Heights and also Nobie's, has developed a menu of shareable plates inspired by his travels.
You might worry that a bar menu that "explores cuisines from around the world," per the press release, would be a bit highfalutin and/or lacking in focus. But Pate's fun fare is neither. The thread that ties together such marvelously approachable items as Massaman-curried fried potatoes, scallion-topped congee rice porridge, and meaty "Salt & Pepper" ribs with lemon and sumac is his bold use of sometimes surprising spices.
High favorites include the Singapore Chili Clams, which find tasty little steamed Gulf clams jumping right out of their shells into a tomato-based broth with fermented black beans and a hint of mint — and, most especially, the Chicken Frites. The latter, which are so much more than gussied-up chicken tenders, get marinated in buttermilk and turmeric before being fried up and sent to your table, juicy as all get-out and sprinkled with spritely sprigs of fresh dill, with a yogurt dipping sauce on the side; they are addictive.
The Chicken Frites and the curried potatoes are, incidentally, among the dishes that appear on both the regular menu and the brunch menu. They are joined on Saturday and Sunday mornings by the likes of honey-sweetened black-pepper biscuits and free-range eggs poached in shakshuka tomato stew with meatballs.
Since Night Heron is principally a bar, it's to be expected that the beverage program is also solid and unique. The wine list is smart, varied and right-priced, with most bottles around $50 or less; the cocktail menu favors classics like Salty Dogs and Manhattans, with fun notes on their origins (it cheekily explains that frosé was born in New York City in 2016). But beer is the big story here.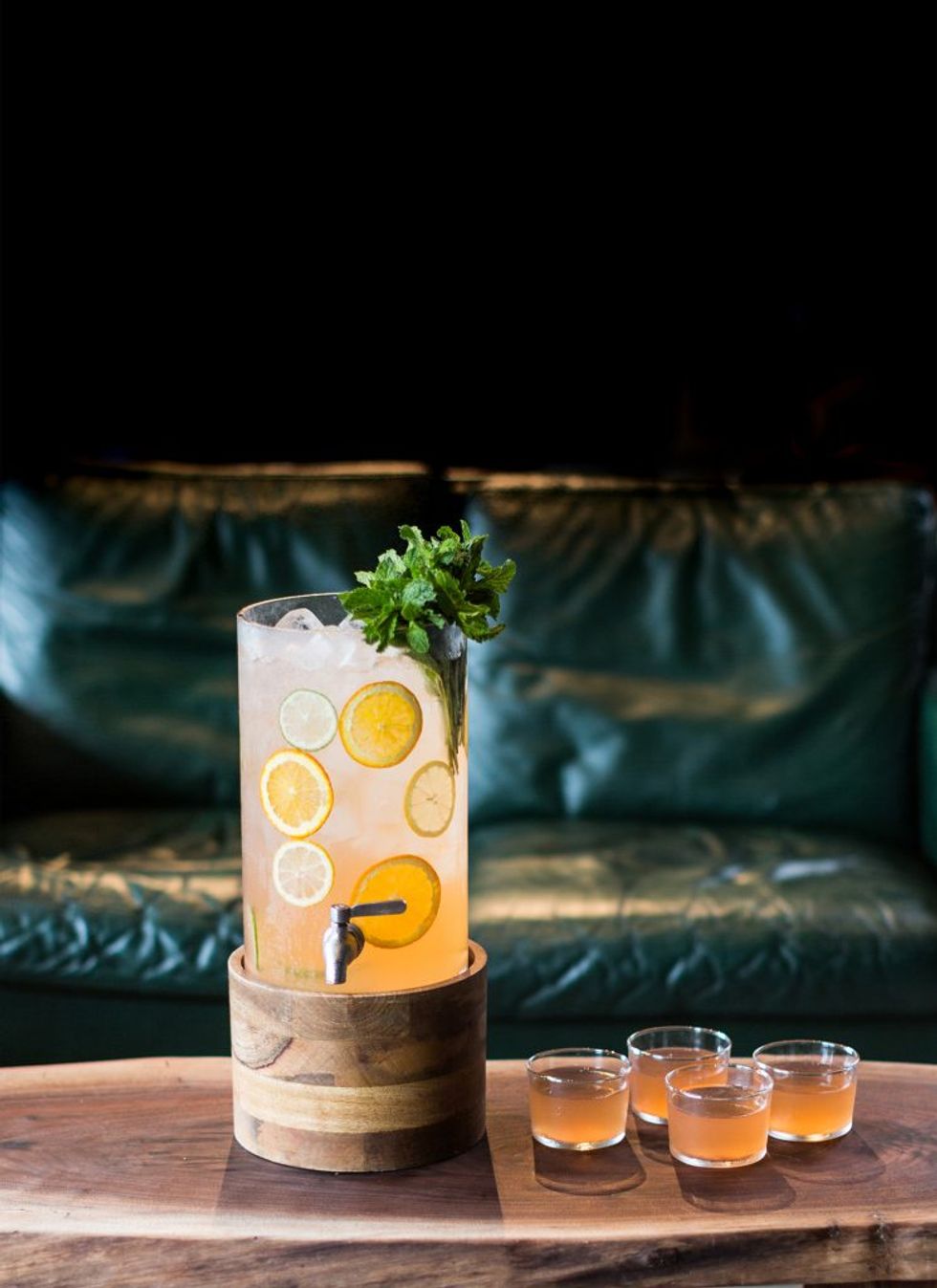 White sangria with Pimm's and Pineau de Charantes
General Manager Julie Rogers, also a Coltivare alum, is a certified cicerone, the beer world's version of a sommelier. Her draught selections highlight Houston brews like Eureka Heights "Buckle Bunny" Cream Ale, and the rest of her international list is divided into flavor profiles like "hoppy + herbaceous" and "roasty, toasty malts." She'll happily suggest beer pairings for your food.
With Pate and Rogers, Pera, who lives walking distance from the place, has finally brought his considerable gifts to Montrose. He has brought the world, on a share plate, to his own backyard.
Food+Travel