Grateful, To Go
Some say nothing beats a homecooked holiday meal; others might argue it depends on the chef. This Thanksgiving, some of Houston's best restaurants are making it easy to leave it to the pros, with fab feasts to-go!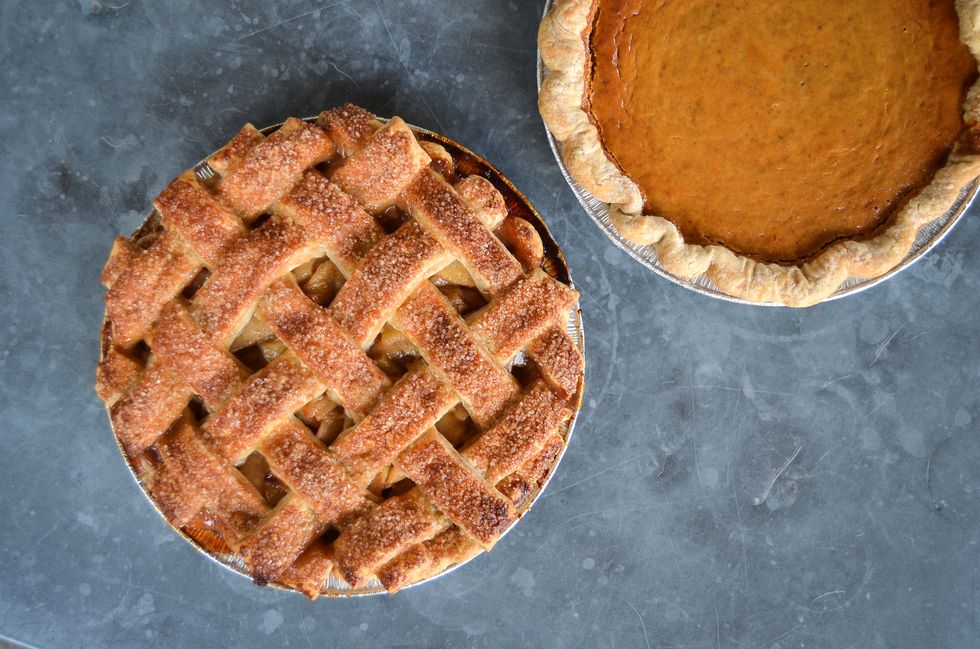 B&B Butchers
The butcher shop at this Wash Ave steakhouse has your Thanksgiving Day spread more than covered. A brined and ready-to-cook turkey is available, as is a pre-smoked one. But if you're thinking of splurging, the roasted prime rib with Yorkshire pudding is a mouthwatering option. Snag sides in servings of four, six or eight, and an apple crumb or deliciously dense pumpkin-pecan pie for dessert. Place orders within 48 hours of pickup, which is from Tuesday, Nov. 26, through Thanksgiving Day at 4pm.
---
Feges BBQ 
This nationally recognized barbecue spot serves up a smoky-savory Texan Thanksgiving — with a twist. Find Feges' smoked meats (a whole rack of pork ribs, anyone?), sides and extra spices, plus a handful of crowd faves like the Moroccan Spiced Carrots. Order by Wednesday, Nov. 20, at 9pm for pickup Nov. 26 and 27, 8am-3pm, at Feges BBQ in Greenway Plaza.
Frank's Americana Revival
This restaurant near Highland Village is a hidden gem — but with Thanksgiving to-go options that feed up to 30, folks are bound to catch on! Frank's Americana Revival is offering a package with two entrees — a French-cut turkey breast and a bone-in spiral ham — with gravy or bourbon-brown-sugar glaze; five side dishes including roasted butternut squash and a classic green bean casserole, available in full pans (serves 24-30) or half pans (serves 12-15). And bread, and dessert. A win for the whole fam! Order by 9pm on Friday, Nov. 22, for pickup Wednesday, Nov. 27.
Goode Company BBQ
Many native Houstonians might say it's not officially holiday season until Goode Co.'s famous Brazos Bottom pecan pies are available. Visit a drive-through pickup stand at any BBQ location on Nov. 26-27, 8am-5pm, for orders of pies and mesquite-smoked turkeys.
Lucienne at Hotel Alessandra 
The luxe Lucienne at Downtown's Hotel Alessandra is offering Thanksgiving Day pickup for a feast that feeds 10-12. Preorder a meal of apple and celery root soup, oven-roasted turkey, sweet potato casserole, homemade stuffing, doube-crust apple pie and more for $320. Order through lpoirier@valenciagroup.combefore Monday, Nov. 25, and pick up on Thanksgiving Day between 11am-2pm.
The Pit Room 
A la carte options from The Pit Room are perfect supplements to an otherwise homemade meal. There are smoked turkeys, whole briskets and smoked hams available, along with smoked-oyster stuffing from sister concept 1751 Sea & Bar, fig chess pie, and homemade cranberry sauce by the pint or quart. Order by Saturday, Nov. 23 for pickup on Nov. 26-27.
Revival Market 
Count on quality and quantity from this Heights favorite. Protein options include traditional ham and turkey, plus a whole duck or duck breast; small, large and family-style sides make it easy to customize your family's feast. And there's an easy option to tack on six-packs of beer or a basket of vino, making it a one-stop shop. Order by Friday, Nov. 22, at 4pm for pickups Nov. 25-27 during opening hours at Revival Market.
Underbelly Hospitality 
Foodies rejoice! Chris Shepherd has your holiday meal(s) covered from beginning to end. He suggests starting with the Shepherd Family brown-sugar-and-rum-soaked sausages, and serving up a house-smoked and -brined turkey breast with classic Georgia James steakhouse sides. Not in the mood to cook for visitors the rest of the weekend, either? Try Underbelly Hospitality's Day-After Thanksgiving Gumbo — "just add turkey." Pick up a signed copy of Shepherd's new cookbook, Cook Like A Local, too! Great gift idea. Order by Sunday, Nov. 24, at 9pm for pickup on Wednesday, Nov. 27, 11am-3pm in the parking lot behind Georgia James (1100 Westheimer Rd.).
Tony's
Famous for its world-class fine dining, Tony's has over time also become synonymous with good old-fashioned homestyle comfort food, too — at Thanksgiving, anyway. It offers package deals for either six or 12 and includes all the usual suspects that grandma used to make, as in roasted turkey, gravy, cornbread stuffing, mac & cheese, cranberries, sweet potatoes with both pecans and marshmallows, pumpkin pie and more! And for those wanting to add some of Tony's Italian touch to the holiday menu, a la carte sides include lasagna, meatballs and cannoli for dessert!
AT TOP: Apple and pumpkin pies at Revival Market
Dispatches