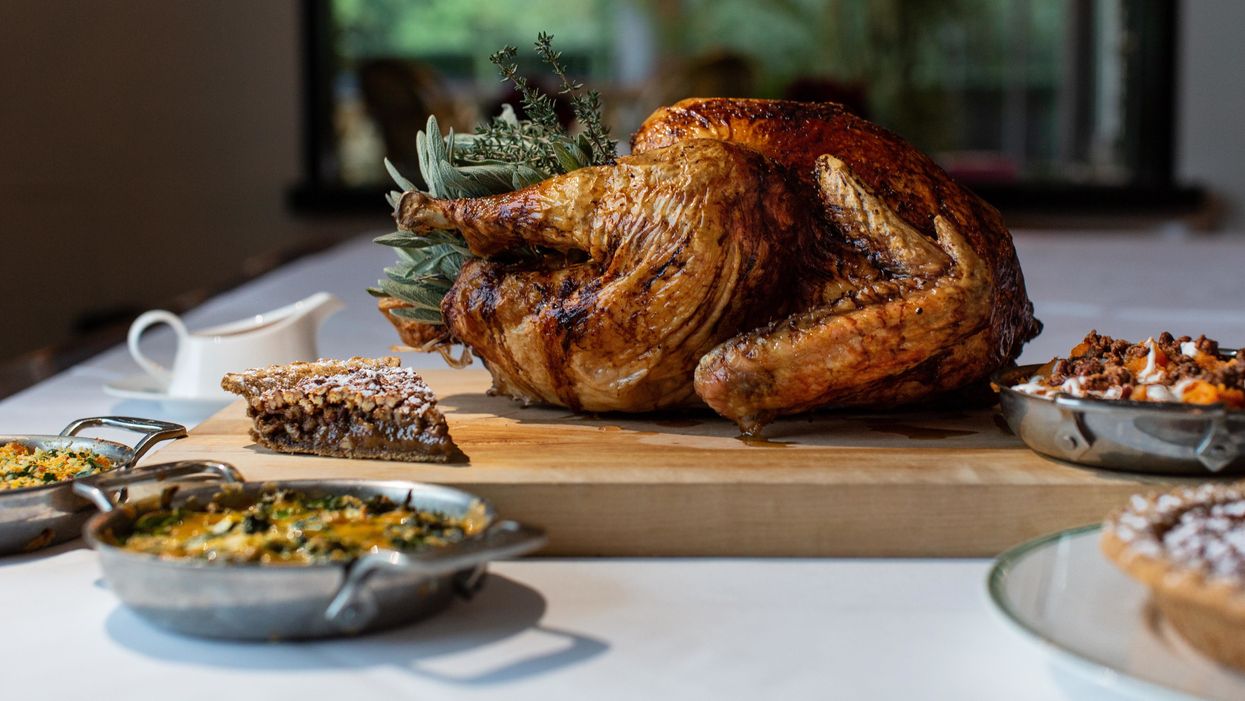 To cook, reheat, dine-in or takeout? For Thanksgiving 2020, that is the question. With Covid still on the rise, and officials advising the public to exercise caution, whether you choose to celebrate at a restaurant or at home will come down to a personal choice. Either way, Houston-area restaurants are ready to serve, with options ranging from an utterly decadent, eat-until-you-can-eat-no-more feast at Benjamin Berg's brand new Turner's, to the homier, take-out comforts tried and true places like Cleburne Cafeteria. Where will you and your family celebrate Thanksgiving? Here are 32 restaurants that will do the cooking for you.
---
Dine-in 1800 Post Oak Blvd Suite 6170, 713.804.1800
The Annie will be open on Thanksgiving Day from 10am-9pm, offering a 3-course prix-fixe menu or a limited dinner menu by chef Robert del Grande. The menu includes a starter of country style pate, followed by a choice of endive salad, butternut squash soup, or foie gras torchon. Mains include a choice of Heritage turkey breast, gulf red snapper with crab meat, and roasted tenderloin of beef, with three shareable side dishes — plus dessert! Cost for the prix-fixe menu is $78 for adults and $25 for children (11 and younger), excluding tax and gratuity. Departing guests will receive hot apple cider and pumpkin cookies on the way out! Reservations are required.
Takeout 1103 South Shepherd Dr., 713.521.2239
Backstreet will be offering a full menu of a la carte mix-and-match Thanksgiving items — from wild mushroom soup and apricot-mustard spiral ham, corn pudding and garlic mashed potatos — to-go. Deadline to order: Place orders by Monday, Nov. 23, for pickup from on Wednesday, Nov. 25, between 11am and 8pm.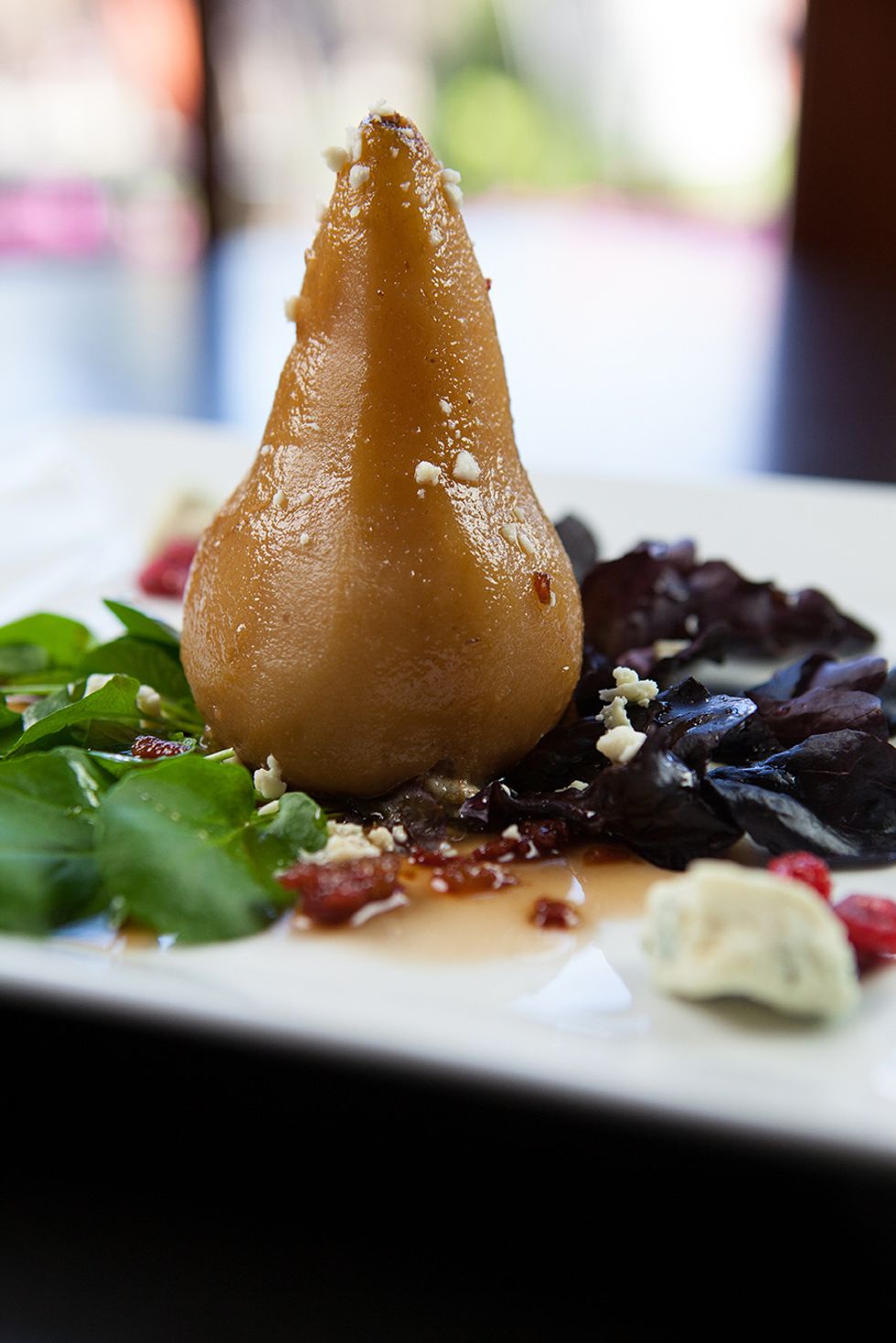 Backstreet Cafe
Dine-in and Takeout 1814 Washington Ave., 713.862.1814
Dine-in on Thanksgiving Day, 10am-9pm. In addition to the regular dinner menu, B&B will offer a $75 prix-fixe for adults and $35 for kids ages 11 and under, to include an amuse bouche, three courses (appetizer, main course and dessert) and family style side dishes. Complimentary hot apple cider and pumpkin cookies will be available at the door, and every guest will receive a special, take-home gift of leftover turkey sandwiches made in the Butcher Shop that morning with roasted turkey, stuffing, cranberry sauce and a side of gravy. The Thanksgiving to-go menu includes a main course, sides and dessert. Deadline to order: Orders must be place 48 hours in advance by calling the Butcher shop at 832.767.4828. Pickup begins Tuesday, Nov. 24, through 4pm on Thanksgiving Day.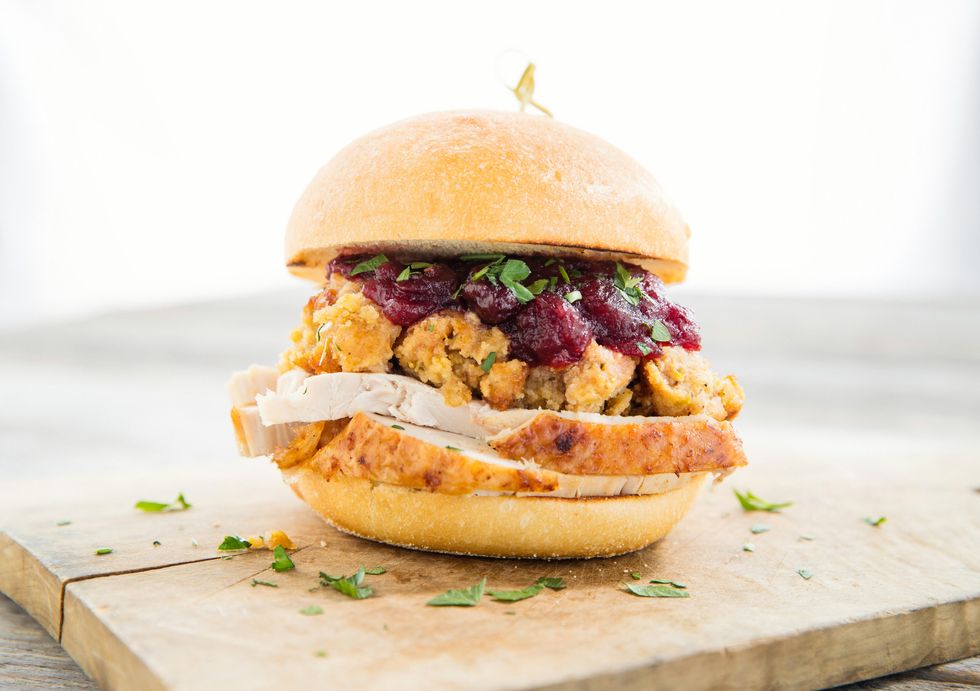 B&B Butchers, photo by Felix Sanchez
Dine-In, Takeout and Delivery 14795 Memorial Dr, 281.531.0696
B.B. Italia is offering a, 3-course prix-fixe menu from 11am-8pm on Thanksgiving Day. The cost is $55 for adults and $25 for kids (ages 11 and under). Adults will choose from three starters, roasted turkey or roasted prime rib as a main, with four sides and one dessert. The regular dinner and kids' menus will also be available. Or order to-go: This prix-fixe menu will also be available to order for curbside pickup or delivery on Thanksgiving Day, from B.B. Italia's website.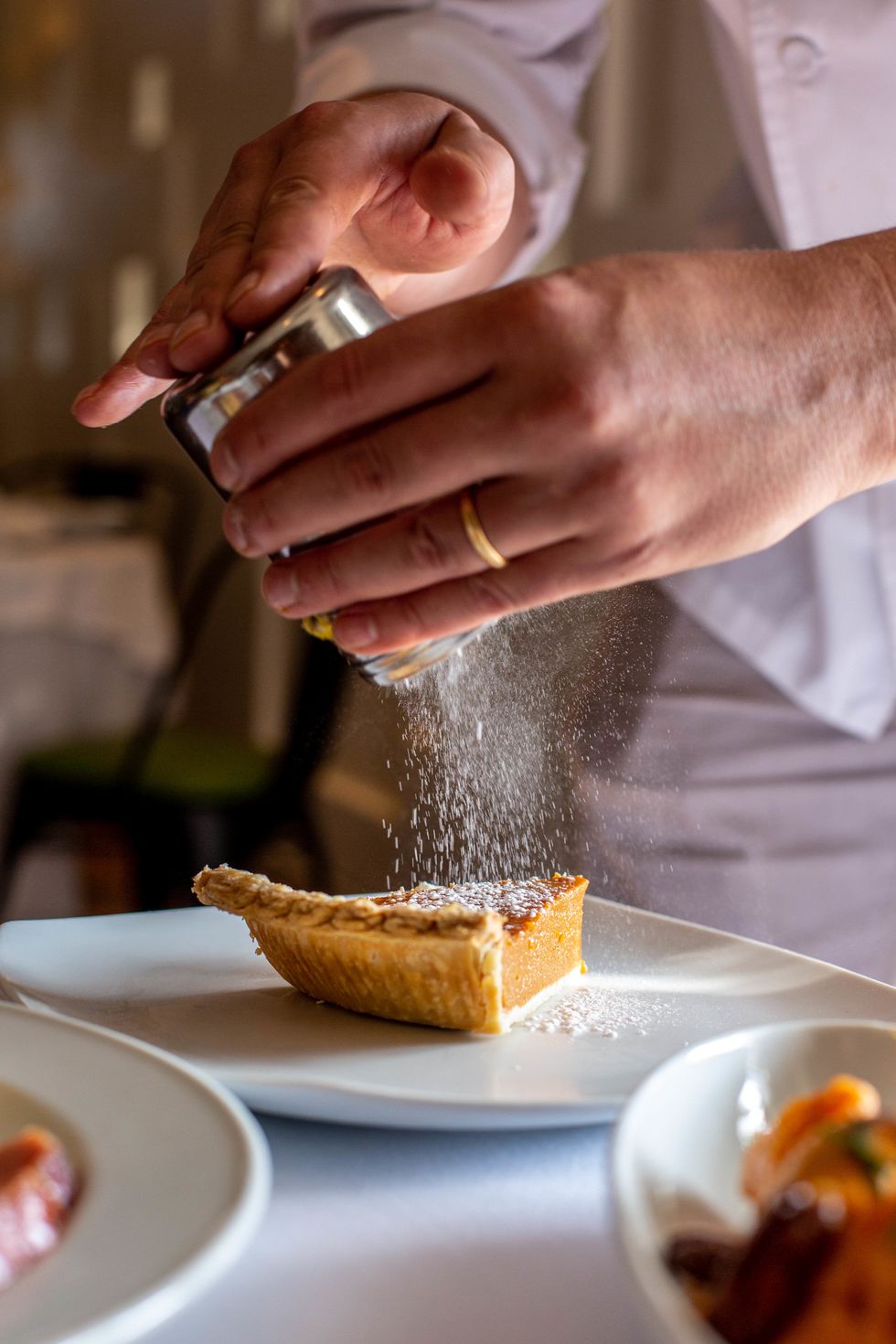 Pumpkin pie at B.B. Italia
Dine-In and Takeout 1600 W. Loop S, 346.227.5139
Bloom & Bee inside The Post Oak Hotel is offering a four-course prix-fixe $75 menu, which includes a butternut squash soup and fall kale salad to start, full Turkey Dinner featuring apple cider brined turkey roulade served with sides such as traditional corn bread stuffing and sweet potato gratin, and miniature desserts of pecan pie, pumpkin pie and warm apple cobbler. Available to-go at $65 per person.
Dine-In 3300 Smith St., 713.522.9711
Spend Thanksgiving Day at Brennan's of Houston with a three-course prix-fixe menu, priced at $62 per person. Full menu here. Reservations by phone only, for dine-in from 11am-7pm.
Dine-In and Takeout 1440 Lamar St., 832.879.2802
Brasserie du Parc will be open for Thanksgiving from noon to 7:30pm with a special Frenchy-themed prix-fixe menu, priced at $42 per adult and $20 per child. Options include tartine de brie to start, roasted turkey or braised beef short ribs as a main, and dessert of caramelized apple crepe and more. Deadline to order: Place orders by Nov. 23 for whole roasted turkey and gravy, sides and desserts, available on a mix-and-match a la carte basis.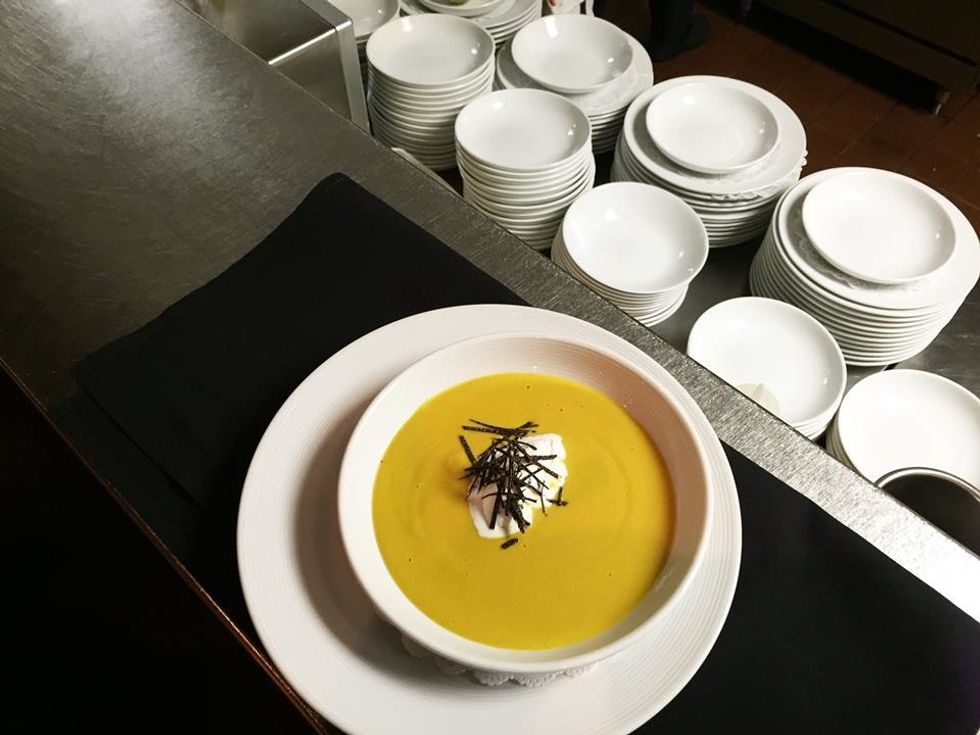 Butternut Squash and Carrot Orange Soup at Brasserie du Parc
Dine-In and Takeout 122 W. Gray St., 346.802.4969
Cafe Poetes is offering a special three-course, French-inspired Thanksgiving menu Wednesday, Nov. 25 and Thursday, Nov. 26, to include coconut corn chowder with leeks, a savory turkey eclair, and pumpkin creme brulee for just $29. Take-out orders will also receive complimentary mulled wine with each order.
Takeout 2200 Post Oak Blvd. #160, 713.622.9996
Caracol will be offering Chef Hugo's versions of traditional classics to make a Family Feast for 8-10 people, priced at $225. The feast includes pineapple-and-habanero whole spiral ham (no turkey!); coal-roasted sweet potato with condensed milk plus five other sides; and dessert options such as pumpkin meringue-and-cajeta pie, tres leches cake or flan de horchata. A couples feast is available for $95 as well, with additional a la carte options such as five-pound brisket, and tamales by the dozen. Deadline to order: Place orders by Monday, Nov. 23 for pickup Wednesday, Nov. 25, from 11am-8pm (you will select desired time).
Dine-In, Takeout and Curbside 3606 Bissonnet St., 713.667.2386
Cleburne Cafeteria will once again offer its holiday take out menu. Guests are also welcome to dine in from 11am-8pm on Thanksgiving Day.
Del Frisco's Double Eagle Steakhouse
Dine-In and Takeout 5061 Westheimer Rd., Suite 8060, 713.355.2600
Dine-In:Del Frisco's will offer a $49, three-course, prix-fix menu with choice of appetizers such as butternut squash soup, main course of slow roasted turkey breast with all the trimmings and four sides, and a dessert of pumpkin cheesecake or pecan pie a la mode.
The Galleria steakhouse will also offer family Meal Packs to-go for 2-4 people (starting at $175), or 4-6 (starting at $250).
Dine-In and Takeout 1101-11 Uptown Park Blvd., 832.668.5808
Dine-in: From noon to 7:30pm on Thanksgiving Day, Master Chef of France Philippe Verpiand will be serving a prix-fixe menu of holiday-inspired French dishes. Among the choices are a mushroom and leek veloute to start, free-range organic roasted turkey with pommes mousseline, stuffing, sautéed green beans, mushrooms, and pecan vanilla pie. Takeout:A la carte items include soup by the quart, foie gras torchon, whole pies, and a complete turkey meal ($190) or turkey and gravy only. Get the whole package — soup, turkey meal and pie — for $240. Deadline to order: Nov. 23.
Takeout 3 Greenway Plaza Suite C-210, 832.409.6118
Feges BBQ in Greenway will be offering large-format meat orders such as whole brisket, whole pork rib, and whole turkey breast alongside traditional sides, available in half and full pan orders, with sauces, desserts, and rubs, for order in a mix and max a la carte fashion. Deadline to order: Friday, Nov. 20 at noon, for pickup Tuesday, Nov. 24, and Wednesday, Nov. 25, from 8am-3pm at Greenway Plaza.
Takeout 3736 Westheimer Rd., 713,572,8600
Frank's is offering a build-your-own Thanksgiving with a variety of mains and sides: French cut turkey breast ($75) or bone-in spiral ham ($95) pair nicely with extras like seafood gumbo, giblet gravy and bourbon-brown-sugar glaze. Sides, serving 12-15 for $65 or 24-30 for $95, include cornbread-sage dressing, mashed potatoes, roasted butternut squash, green bean casserole and southern-style Brussels sprouts with bacon, onion, cranberry and pecans.
Deadline to order: Orders must be placed by 9pm on Friday, Nov. 20, and will be ready for scheduled pick-up on Wednesday, Nov. 25 between 2-6pm, and Thursday, Nov. 26, from 10-11am.
Takeout 500 Dallas St., 346.326.0789
Guard & Grace is offering a full Thanksgiving-in-a-box for four people. Every box includes turkey neck stuffing and French onion gravy, killer mashed potatoes, cultured butter, chives, roasted brussels sprouts, winter salad greens with lemon honey vinaigrette, G&G house rolls, sweet potato cake, and Chef Troy's signature triple-chocolate-chip cookies. Detailed instructions to heat and serve are included. Customers can choose the main protein: herb-roasted turkey breast with smoked turkey-leg sausage ($199); prime rib ($199); or without a protein ($119), with options for a la carte ordering as well. Deadline to order: Place orders by noon on Monday, November 23rd, for pick-up from 12pm to 3pm on November 24th and 25th.
Takeout 1602 Westheimer Rd., 713.524.7744
Let James Beard Award-winning chef Hugo Ortega and his team prepare a Mexican-themed Thanksgiving dinner this year. A whole family feast for 8-10 is $225, and a couple's feast is $95. Full menu details here. Deadline to order: Place orders online at www.hugosrestaurant.net by Monday, Nov. 23, for pickup on Wednesday, Nov. 25, from 11am-8pm.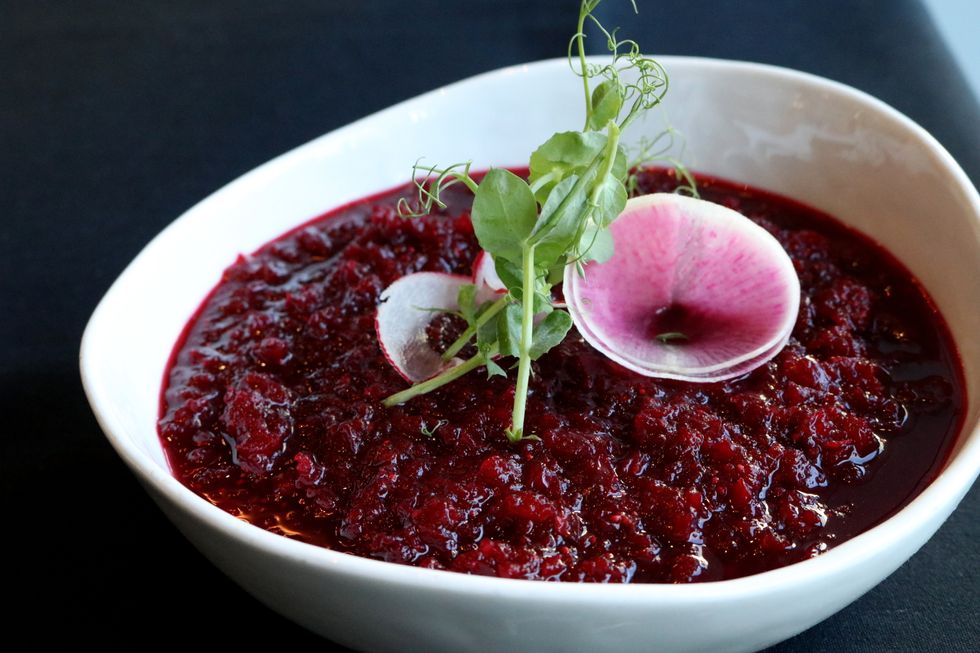 Sweet Cranberry & Spicy Jalapeño Relish at Hugo's
Dine-In 1201 St. Emanuel St., 832.582.7202
Reservations are available from 10am-6pm for a Thanksgiving buffet — without the line! Choose from a menu card and the servers bring the food to you. $55 per adult; $20 per child.
Jonathan's The Rub Memorial Green
Dine-In 12505 Memorial Dr., Suite 140; 713-808-9291
Dine-in: A set menu, to include choice of herb-roasted turkey breast with herbed-turkey gravy ($45 per person) or seared beef tenderloin with horseradish sauce ($58 per person), and seven family-style sides, will be available for dine-in this Thanksgiving. Kids 12 and under are $25 plus tax and gratuity. Full menu here.
Takeout 9061 Gaylord St., 713.465.8200
Their fried turkeys are sold-out, but you can pick up everything else to accompany your meal at the original Jonathan's The Rub — available in full-pan, half-pan, quart and pint sizes — for pickup on Thanksgiving Day.
Takeout 2327 Post Oak Blvd.; 713.871.8883
Choose a complete Thanksgiving meal for 10-12 for $275, or from a lengthy list of Eastern European a la carte items ranging from hors d'ouevres, soups and breads to salad bowls, entrees, sides and whole cakes. Deadline to order: Orders should be placed by Nov. 19.
Takeout 1801 North Shepherd Dr., 713.955.4765
La Lucha will be offering family packs to-go that feed four people and includes their classic fried chicken (eight pieces), a Superica entrée salad, boiled corn, collard greens, and a bottle of Bisol Prosecco, served with four biscuits, pickles, honey sambal, and jam ($59.95). Available via online ordering for curbside pickup or Door Dash delivery through their website.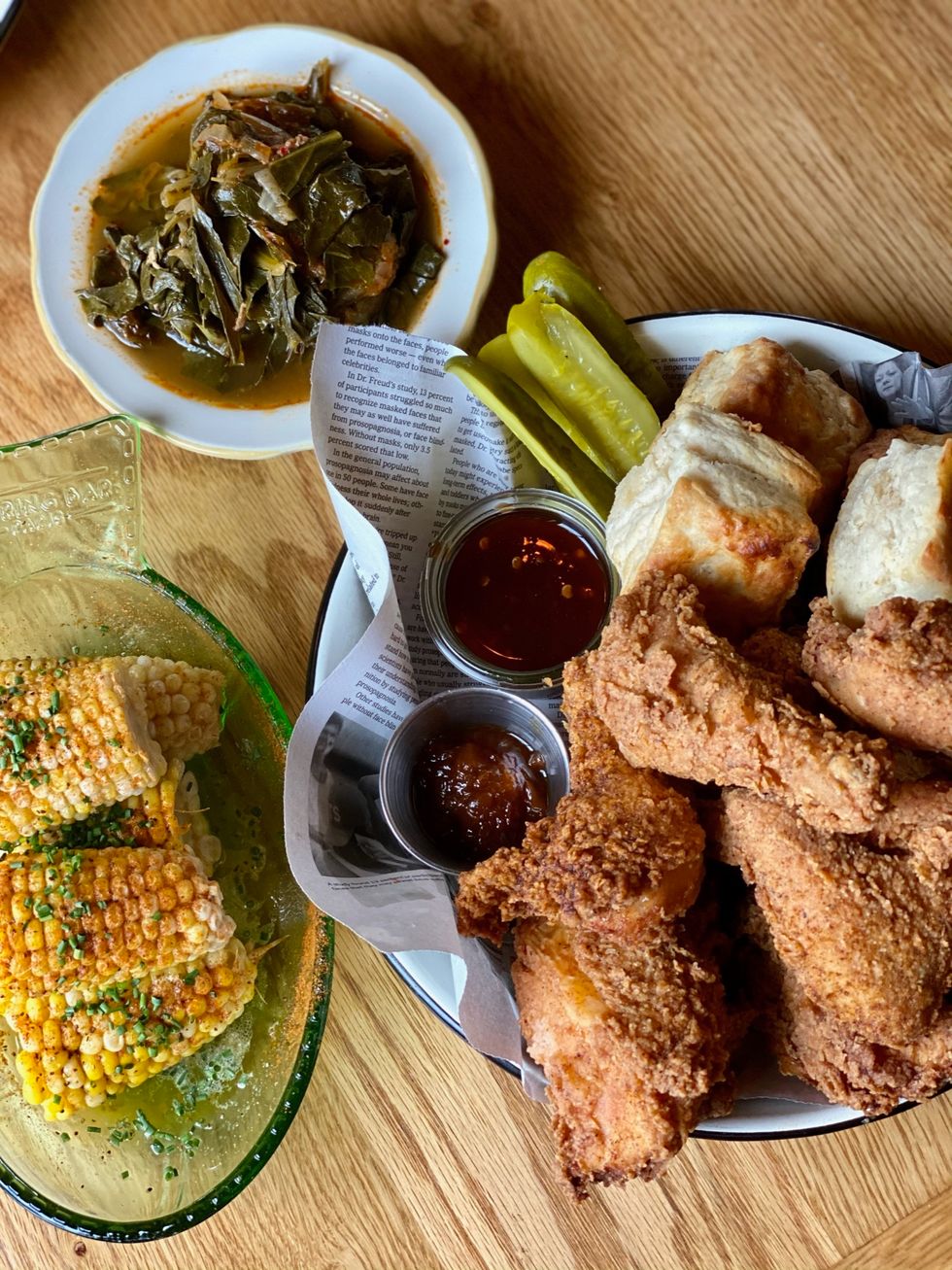 La Lucha
Takeout 1180 Uptown Park Blvd., 346.299.5775
This Uptown Park newbie has some deals that are hard to beat, including sides for 4-8 starting at $20. Snag some mac and cheese ($25), orzo and wild rice ($25), creamed spinach ($30), broccoli ($20) or mashed potatoes ($20). The restaurant's website also has video tutorials to make dishes like a sweet potato casserole with streusel topping! Deadline to order: Nov. 23 at 4pm.
CurbsideMultiple locations
For a Mexican-themed Thanksgiving feast, order Molina's tamalas ($12.95 per dozen) and supplement with Tex-Mex favorites — fajitas, enchiladas, Jose's Dip, taquitos, complete with all the fixin's, with margaritas by the gallon.
Day-After Thanksgiving Brunch2032 Dunlavy St., 713.324.9288
Skip the Black Friday deals and head to Ostia for a post-Thanksgiving brunch, 11am-4pm on Nov. 27. The menu will include fresh pasta, pizzas, seasonal salads, frittatas, a la carte meats, and other lunch/brunch menu items in their extensive patio area or dining room. Curbside also available.
Dine-In and Takeout 2011 Ella Blvd., 713.861.8666
Dine-in: Celebrate Thanksgiving with a three-course meal priced at $60 per person. Options include the traditional turkey dinner, seafood, smoked duck gumbo, grilled buffalo and venison, croissant bread pudding and chocolate pecan pie. Kids' menu is $45. Takeout: Order whole roasted turkeys and tenderloins, available through Dec. 24; details and menu on their website.
Dine-in and Takeout 6100 Westheimer Rd., 713.977.2544
Dine-in:The Palm is welcoming customers to dine-in with a $59 three-course prix-fixe, to include a choice of starter such as lobster bisque ; main dish of turkey served with gravy, stuffing, green beans, sweet potatoes, and cranberry sauce; and third course choice of cheesecake or chocolate pecan pie. Takeout: A Thanksgiving family meal pack to-go will be offered at $155 (serves four), inclusive of garlic bread, Caesar salad, slow roasted tenderloin, and choice of two family sides and seasonal desserts.
The Pantry at The Junior League of Houston
Takeout1811 Briar Oaks Ln., 713.622.4191
The Pantry at The Junior League of Houston will offer a complete Thanksgiving meal that serves 10-12 people for $250, or order items á la carte. Options include dishes like roasted turkey, cornbread dressing, giblet gravy, mashed sweet potatoes, cheesy broccoli rice casserole, cranberry-orange relish, pumpkin pie, pecan pie and more. All Thanksgiving orders will also include a complimentary copy of the League's Peace Meals cookbook. Deadline to order: All orders must be placed by Thursday, Nov. 19, and are non-refundable after that day. Order pick-up will be from 10am-1pm on Wednesday, Nov. 25 at the Junior League of Houston.
Takeout 550 Heights Blvd., 713.880.8463
Order whole raw turkey, bone-in ham, and prepared sides such as stuffing, roasted brussels sprouts and more at Revival Market. Deadline to order: Nov. 22, for pickup Nov. 25-27.
Takeout 3258 Westheimer Rd., 832.942.5080
In lieu of the full Thanksgiving feast, State of Grace will be offering a selection of take-and-bake desserts for purchase: Chocolate chess pie ($25), pumpkin pie ($25), pecan pie ($25), ginger snap cream pies ($3.50), and dozens of milk rolls with Steen's cane syrup butter ($18/dozen). Deadline for ordering: All pies will require 48-hour notice and come with a kit to make homemade whipped topping, for pickup will be on Tuesday, Nov. 24, or Wednesday, Nov. 25.
Takeout 3755 Richmond Ave., 713.622.6778
Offered in packages of six ($270) or twelve ($540) and priced at just $45 per person, chef de cuisine Austin Waiter and the Tony's team are preparing a Thanksgiving takeout feast so you don't have to! Each package includes: hand-carved, slow roasted turkey with gravy; rich cornbread stuffing; whipped mashed potatoes; Italian-style green beans; cranberry relish; pumpkin bread and decadent pumpkin pie. In addition to the Thanksgiving Meal package, Tony's is also featuring classics like meatballs, lasagna, prime beef tenderloin and Mrs. Vallone's Famous Whole Carrot Cake. Deadline for ordering: Reserve by Friday, Nov. 20, for pick-up Wednesday, Nov. 25, from 11am-3pm.
Dine-In or Takeout 111 North Post Oak Ln., 713.685.6713
Dine-In: Enjoy a seated three-course prix-fixe menu featuring holiday fare and "Tex-Lex" inspired favorites, with seatings from11am-3pm, and 5-9pm. Take advantage of the property's festive feel with family photos in the hotel's Great Room Lobby and inviting holiday décor throughout. Prix-fixe prices are $78 to the public, $68 for members, and $34 for children 10 and under. Call for dine-in reservations. To-Go: The $99 Thanksgivings Feast feeds four, and will be available for pick-up on Thanksgiving Day (call to reserve pick-up time) at the Manor House from 11am-5pm. The meal includes herb-roasted turkey with orange-cranberry sauce and sage turkey gravy, classic cornbread dressing, French green beans with caramelized shallots, Yukon gold whipped potatoes, Houstonian honey-butter yeast rolls, and your choice of the Houstonian Pie Shoppe's house-made pecan, pumpkin or chocolate ice box pie.
Dine-In 1800 Post Oak Blvd., 713.804.1212
For a decadent, lavish repast curated by Executive Chef Robert Del Grande and owner Benjamin Berg, make reservations for Thanksgiving at Turner's. Priced at $250 per person, and offered during two seatings only (11am and 4pm), the feast begin with a welcome flute of Champagne, then continues with unlimited hors d'oeuvres, choice of first course, an entree paired with six unlimited side dishes and dessert — all served table-side, with live piano music to set the mood. Reservations are required.
Underbelly Hospitality/Georgia James
Takeout 1100 Westheimer Rd.
Underbelly Hospitality restaurants will be offering a smorgasbord of items for online ordering — smoked turkey breast, turkey gumbo, bacon sausage creamed beans and more — at UnderbellyHospitality.com. The deadline to order is Saturday, Nov. 21, at 10pm, and will be available for pickup Wednesday, Nov. 25 between 11am-3pm.
Food