Last-Minute Turkey Day Treats: Sweeten the Day with Pies and More for Pickup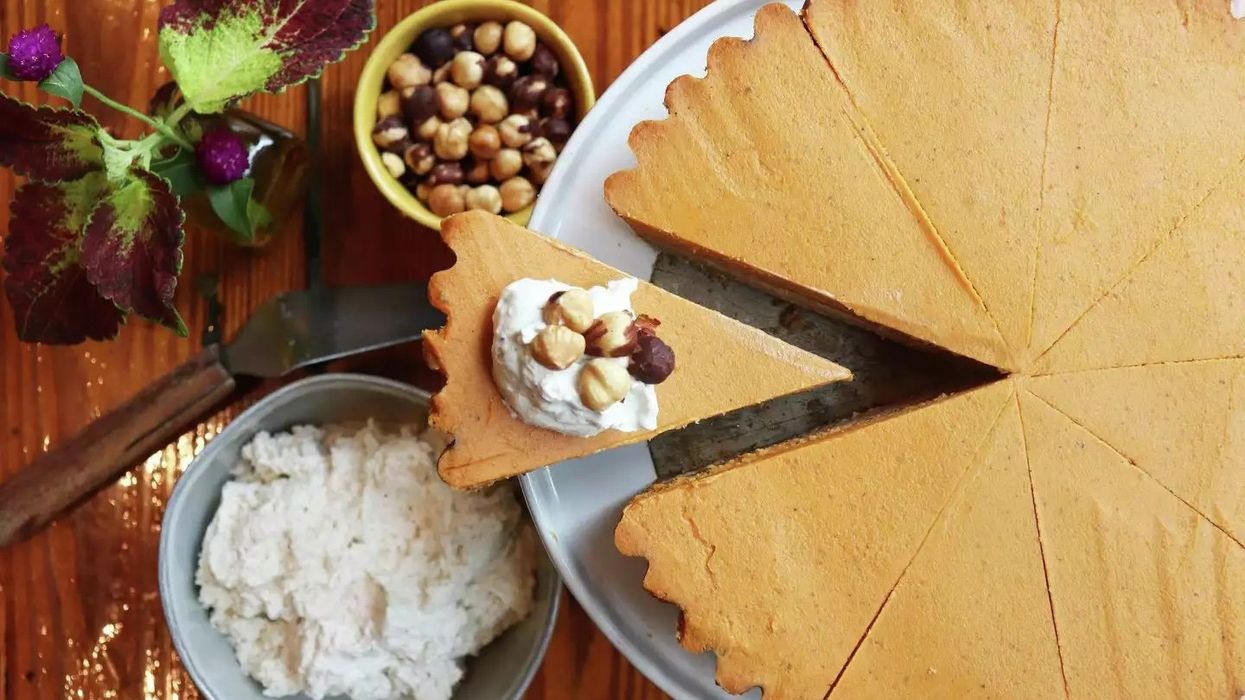 PIE SEASON IS in full swing! If you haven't planned your desserts for Thursday, give thanks for these bakeries and cafes who are baking up breads, cakes and holiday pies for pickup.
---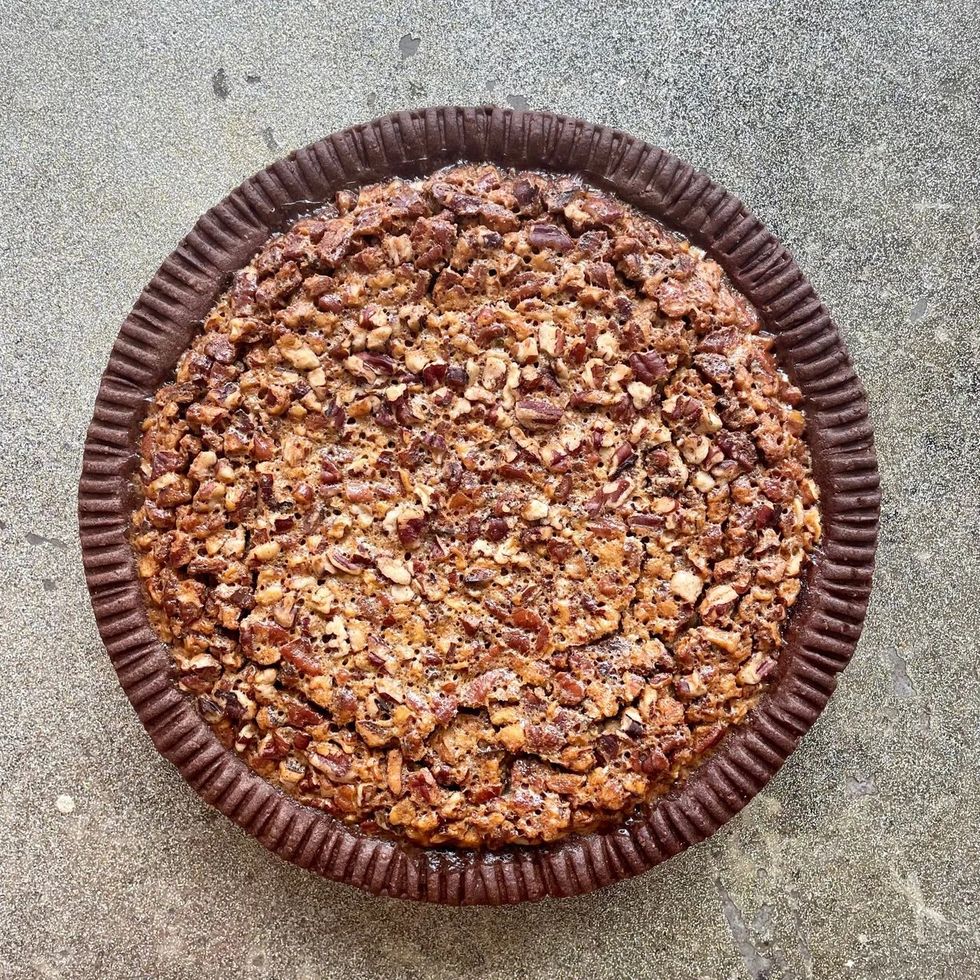 Fluff Bake Bar Chocolate Bourbon Pecan Pie (photo by Becca Wright)
There's still time to order myriad Thanksgiving pies from pastry chef Rebecca Masson's Heights bakery. Consider the Mountain Rose Apple Pie for a twist on the classics. Mountain Rose apples have a pink flesh and taste as if a Granny Smith apple was kissed by a strawberry. Prefer Granny Smith apples? Reserve the Dutch Apple Pie. A fave is the rich Chocolate, Bourbon and Pecan Pie filled with Texas pecans, chocolate chips and a Maker's Mark bourbon filling, as well as the Pumpkin Cream Pie: A ginger-molasses-cookie-and-graham-cracker crust with caramelized white chocolate pumpkin crémeux, and fresh whipped cream. All items ordered will be available for pick up at Fluff Bake Bar Tuesday and Wednesday, 10am-7pm. Order here.
Badolina Bakery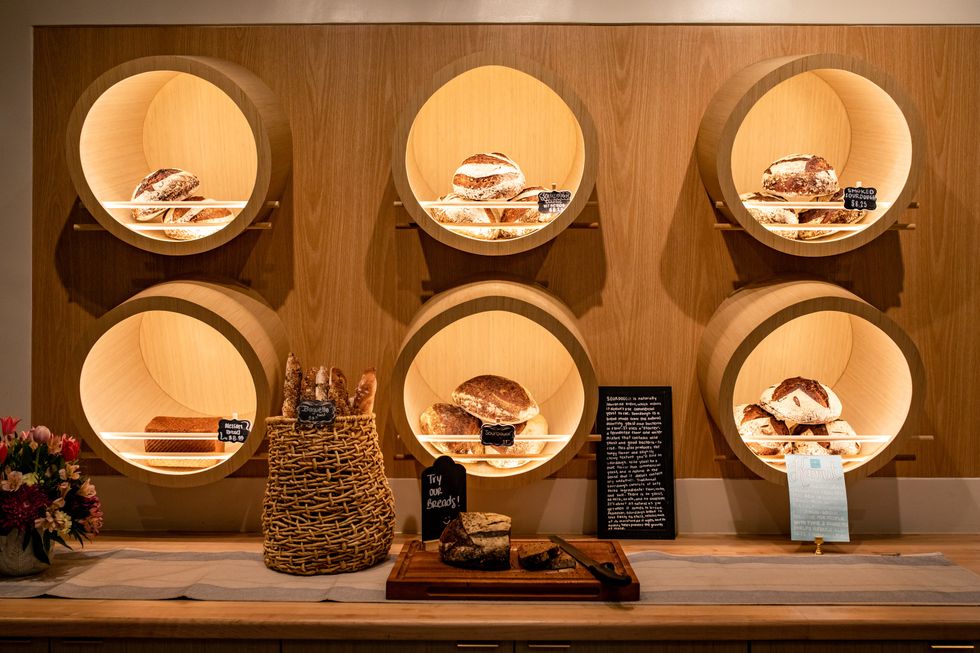 Badolina's bread wall (photo by Kirsten Gilliam)
Open on Thanksgiving Day, this Rice Village bakery will be stocked with exquisite pastries and breads like smoked sourdough with sour cherry, blackberry poppyseed and classic baguette, all sold on a first-come basis. Badolina's picturesque cakes are also a showstopper for the holiday table. They can be ordered with a 24-hour notice and are available in sizes of 7-, 8- and 9-inch, and in flavors like Raspberry Rose, Chocolate Mousse, Chocolate Cake and Orange Cake. Orders must be placed by Nov. 23 and picked up on Nov. 24. For special diets: Cheesecake, Chocolate Mousse, and Orange Cake are all gluten-free. Orange Cake is also dairy-free.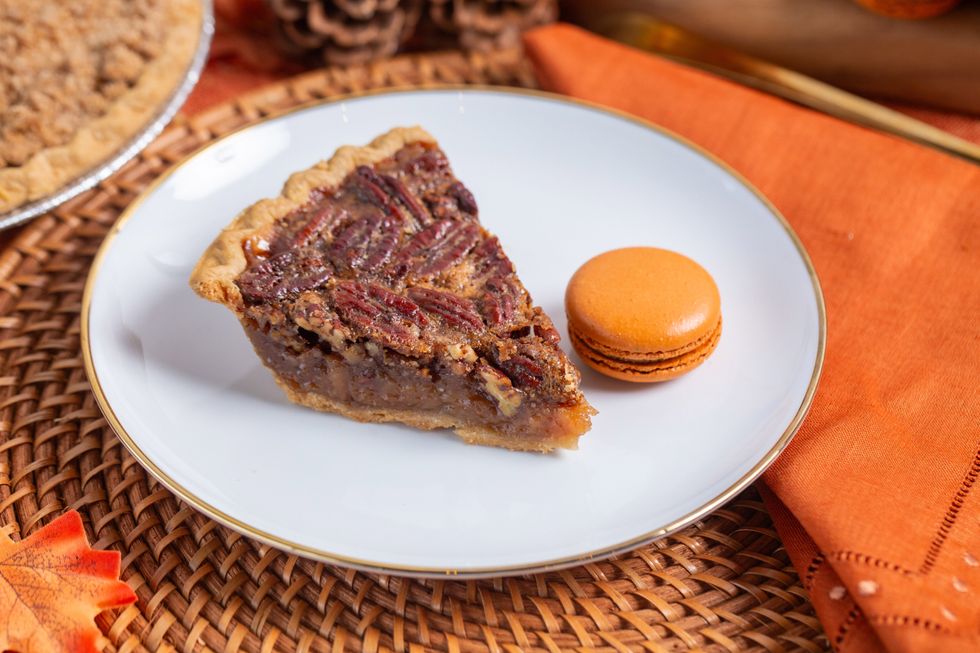 Common Bond's Thanksgiving desserts
All bistro and bakery locations have a selection of pies and desserts available for Thanksgiving takeout. Anticipate Dulce de Leche Tea Cake, Bourbon Brown Sugar Pecan pie. and pumpkin spice latte macrons in addition to other sweets. Fresh assorted breads are also on offer to pick up to go along with Thanksgiving dinner. Pre-orders can be picked up Nov. 21 and 22.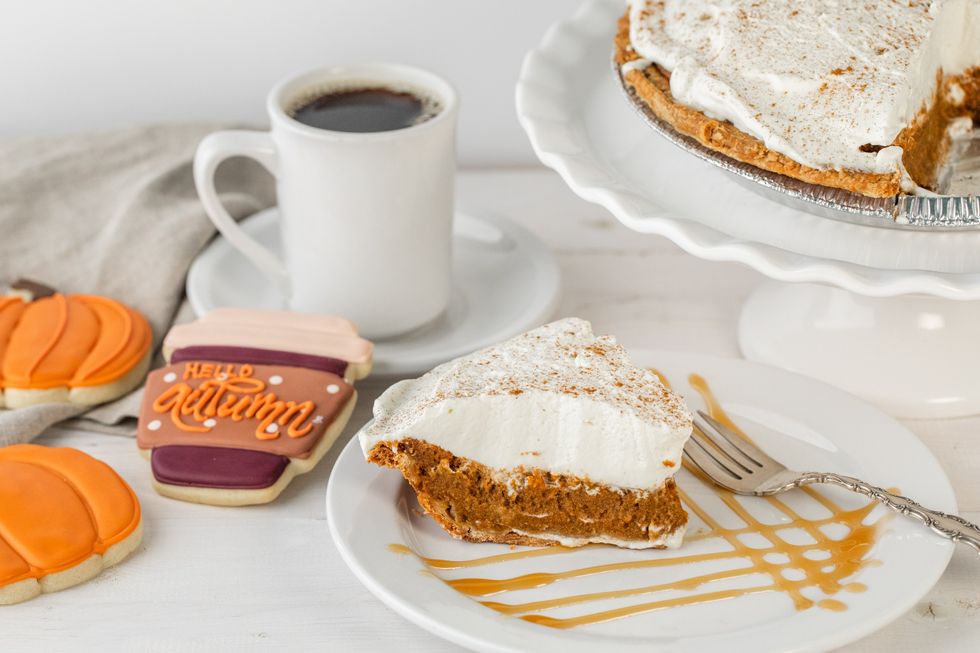 Dessert Gallery's pumpkin dream cake (photo by Becca Wright)
The always-reliable Houston sweet shop has a range of finales to impress. Consider the heavenly Pumpkin Dream Cake, To-Die-For Fudge Pecan Pie, and Double Crust Apple Pie. An array of cookies is on offer, as well as the festively decorated Thanksgiving Extravaganza with a special assortment of cookies and bars.
Looking for desserts with a little Mexican flair? Chef Hugo Ortega and his many restaurants, including Hugo's, Backstreet Cafe, Urbe, and Caracol, are selling pies-to-go. Score 9-inch bourbon pecan or pumpkin meringue pies from Urbe and Backstreet Cafe; good old-fashioned pecan from Hugo's; and pumpkin pie with meringue and cajeta from Caracol, $32 to $40 per whole pie.
Maggiano's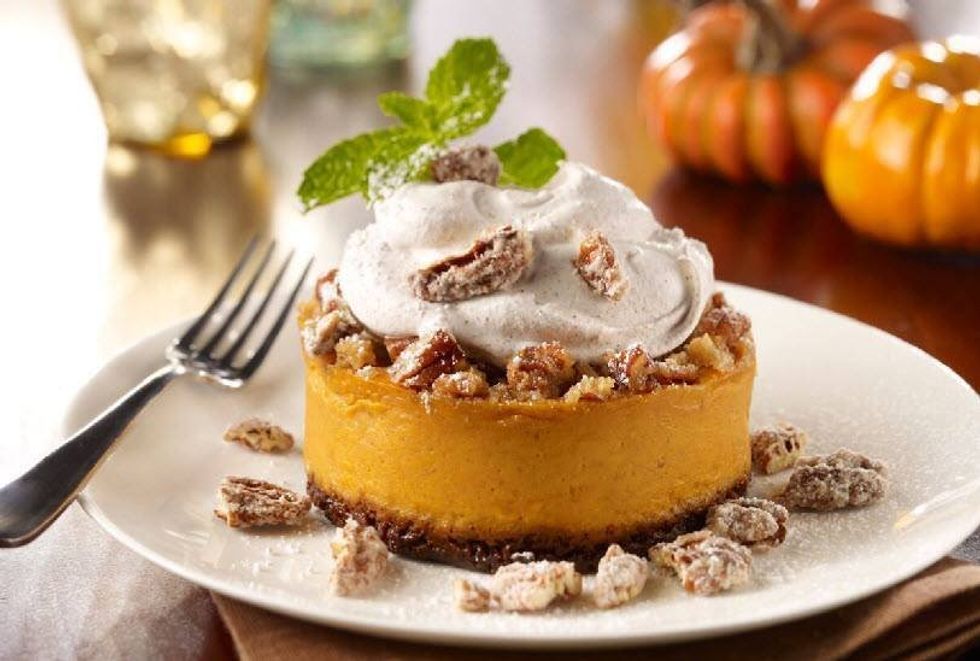 Pumpkin cheesecake
This classic Italian spot is offering Thanksgiving bundles, but you can order its amazing whole pumpkin-praline cheesecake separately online with 48 hours' notice. The giant creamy cheesecake is topped with spiced pecans and whipped cream.
NoPo Café
NoPo is also making Turkey Day sweet with its pies and treats available for pre-order. Learn more, view the menu and place your orderhere.Orders will be available for pickup starting Tuesday, Nov. 21,through Wednesday, Nov. 22.
Pondicheri
Chef Anita Jaisinghani's bakery offers sumptuous holiday pies including Pumpkin Chai Pie (chai pumpkin custard with ground-almond-and-cookie crust topped with hazelnuts and fresh whipped cream, $55 for 8-inch, $85 for 10-inch); Carrot Pie (topped with seasonal fruit, $55 for 8-inch, $85 for 10-inch); and pecan pie (with whipped cream and pomegranates, $55 for 8-inch). Pre-order for pickup on Nov. 23 from 10am to noon.
Three Brothers Bakery
Three Brothers' holiday pies
With four locations and dozens of pies and cheesecakes to choose from, you can expect all the usual suspects and then some (available for pre-order). From old-fashioned cherry and pumpkin pies to lemon meringue pies, your group will be pleased as punch. If pecan pie is your preference, go beyond the traditional with choices like salted caramel pecan, chocolate bourbon pecan, chocolate fudge pecan, and a pecan pie cheesecake.
Food