Go Inside a Houstonian's Hill Country Holiday Dinner Done Right
Harlow & May Studios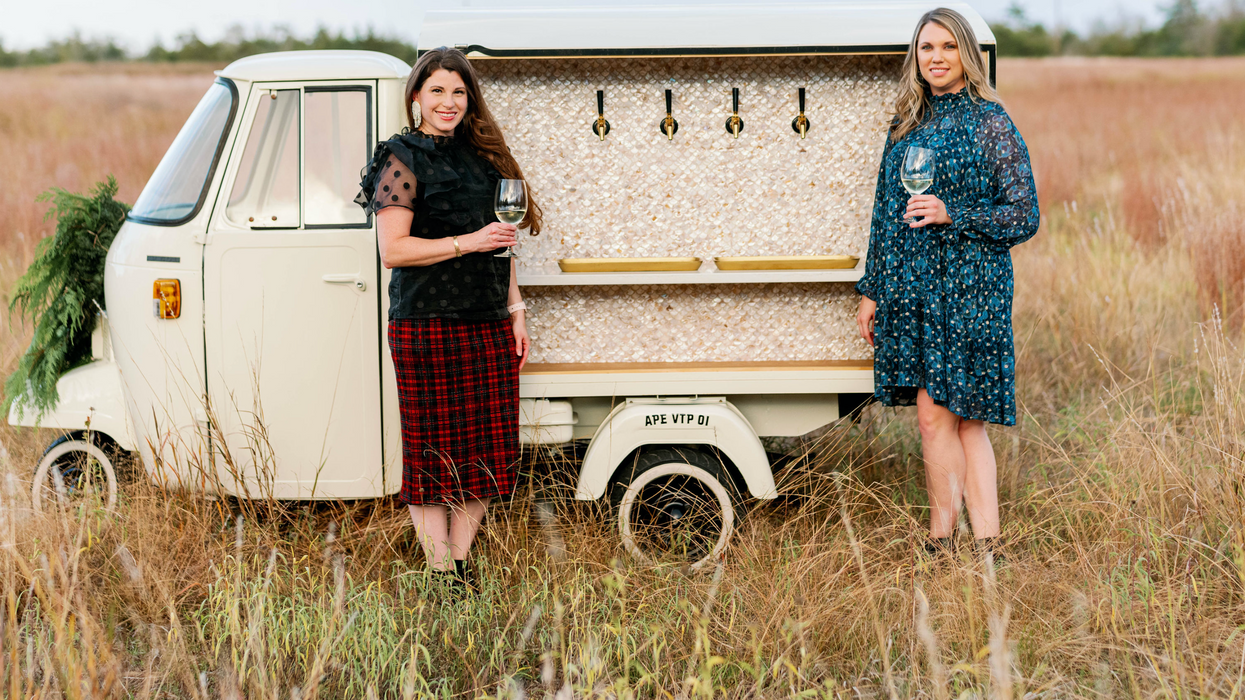 Usually about this time during the holiday season, I'm lamenting my social calendar, tired out from holiday parties with bruised feet to show for it. Not this year; it's been a bit too quiet on the home front. So when my good friend Courtney Paddock asked me to help her throw a socially distanced holiday fete with some other female founders and entrepreneurs, I was all for it. We headed for the hills, or the Hill Country at least.
---
To give you a little background, at the very end of 2019, my husband and I fell for a property in Fayetteville that I knew would be a dreamy setting for cooking retreats and classes for my business, Smart in the Kitchen. I had already been hosting groups on the regular in Round Top and wanted a space of my own in the area to share my love of the quiet, slow-paced Texas life this California girl has come to crave. My carefully calculated business plan suddenly fell by the wayside (as so many others did in 2020). But we've used the down time to spruce up the property — lovingly called Kitchenette Farm — and get it ready for classes sometime soon (I hope).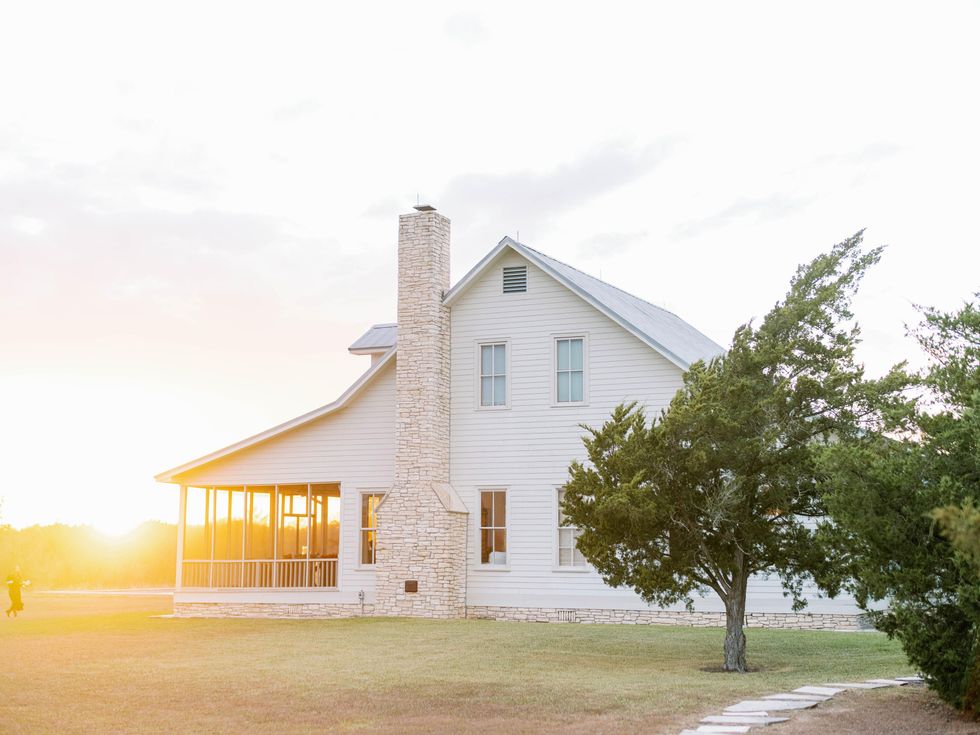 The hostess' farmhouse in Fayetteville
A fresh wreath on a screen door says Christmas in the Hill County.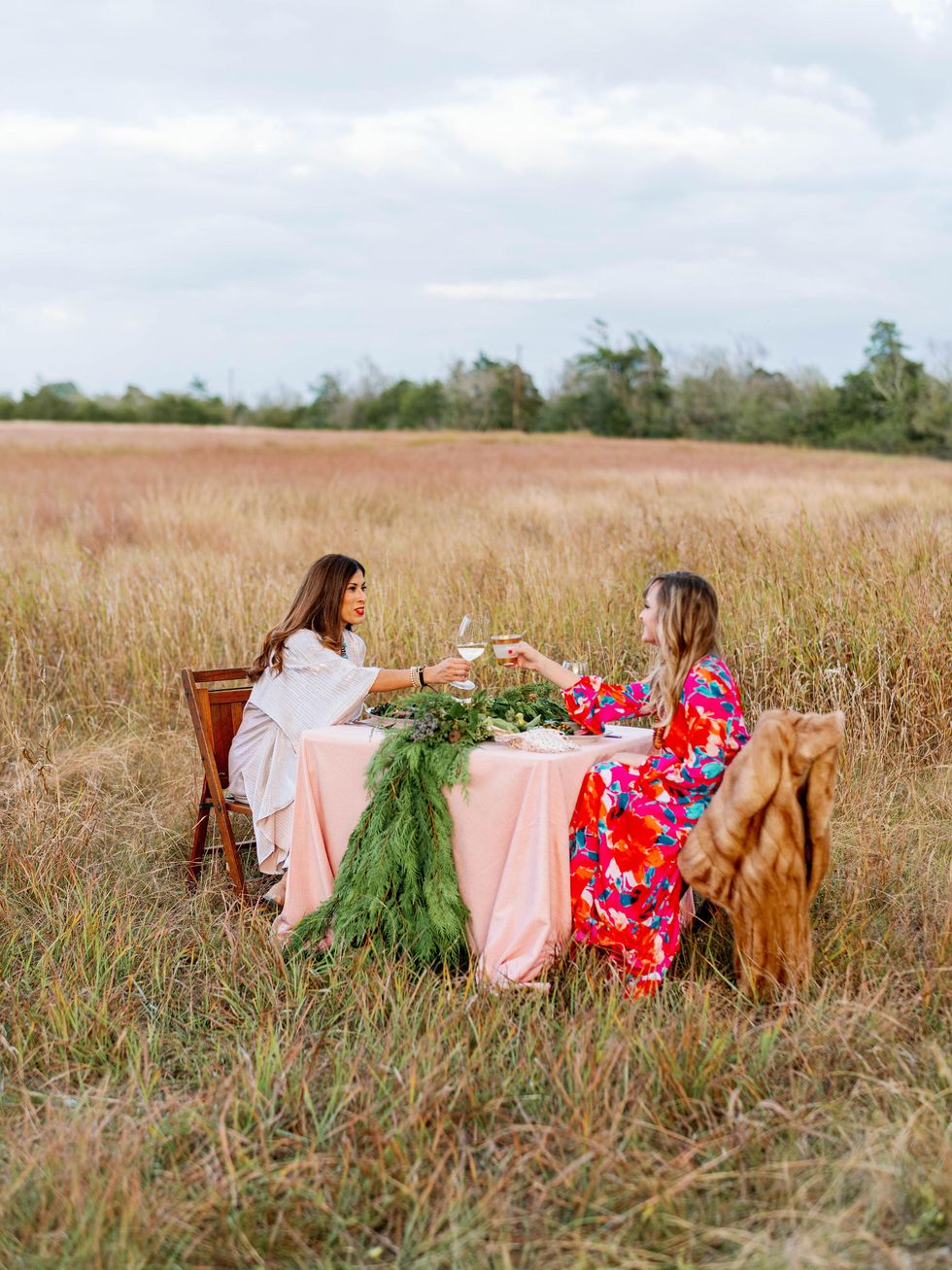 Tables for two were spread out, in the field, at safe distances.
Hosting a group of some favorite Houston go-getters was just the holiday kickoff I was craving — and we were able to set up a festive dinner in the fields that was well-spaced and responsible. With the vision of event planner Courtney Paddock from Little Coterie, small four tops were spaced and set with place settings sourced from Your Butler's Pantry, Goodie Rentals and The Avenue. Tip No. 1 for making your holiday entertaining less stressful: rentals!

Our friends and founders of Mirth Caftans, Katie McClure and Erin Breen, sent their new napkins for the tables even though they couldn't join us. Bevi Amo owner Jennifer Digges pulled up with her vintage Piaggio Ape truck retrofitted and ready to fill glasses with bubbly. And Selina Stanford from Frock Shop brought a rack of festive attire for everyone to get decked out in. It felt so refreshing to dress up for dinner and catch up with a group of friends. You have to "add the sparkle back to 2020," even though most parties aren't happening, Stanford notes.

We all need time like this to pause and rediscover connections with friends, old and new. "In many ways," says Jen McDonald, "social distancing can actually bring us closer together. The time we spend with friends is more thoughtful — we cherish every minute and conversation like never before."

For dinner, I made some of my favorite easy holiday recipes that would be doable for a group. Harvest kale salad with roasted butternut squash, herb-crusted beef tenderloin and individual potato gratins in Staub cast iron pots. Cooking in small serving containers, like ramekins or cast iron pots, can help with plating when buffets are no longer an option. Jen McDonald from Rooted Garden hand wrote the calligraphy menus. And of course, grapefruit Paloma and Cassis Spritz cocktails in vintage glassware were crucial.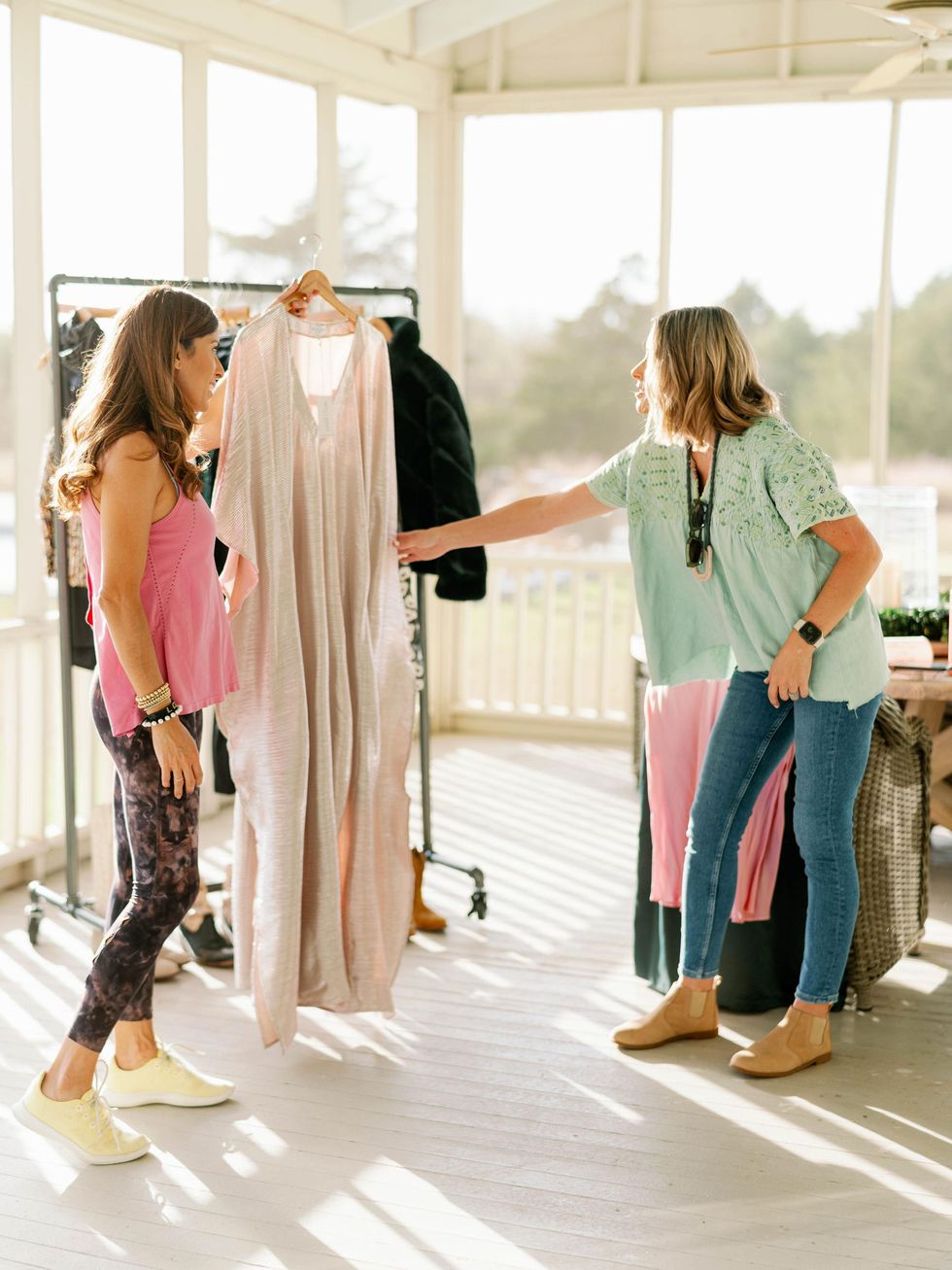 On the screen porch, a pop-up display of fun frocks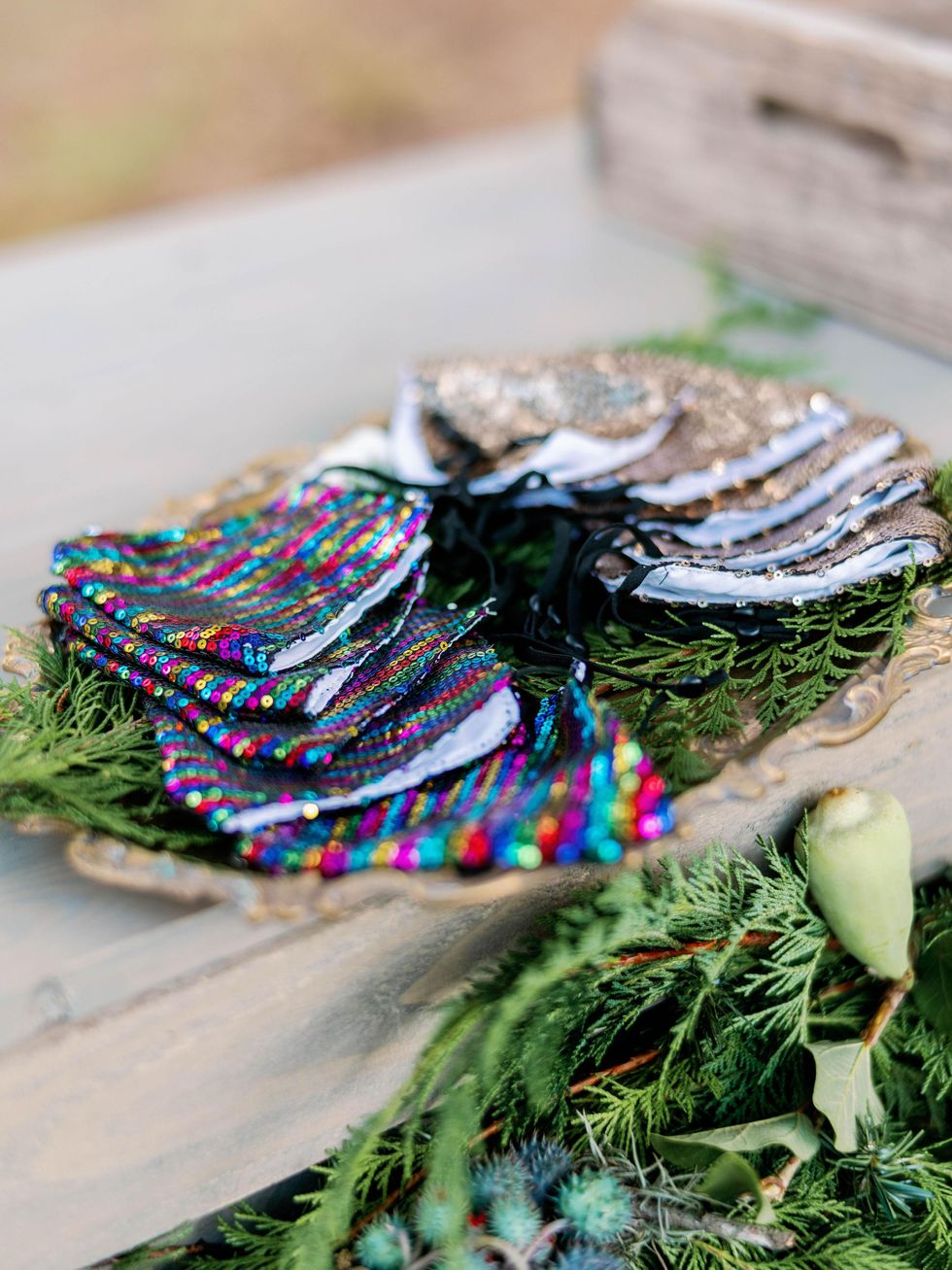 Sequined masks were fun favors, and a safety precaution.
With a smaller party size and our mild Texas climate, it's easier to space out gatherings. But just in case, there were sparkly masks available for anyone who forgot one. And the tables were decked with gorgeous greenery, grapes, flower pods, acorns and sprigs of berry branches Karen Johnson of Goodie Rental gathered and foraged on her own. "Even with safety in mind, you can still have flair," says Little Coterie's Paddock. "Use as many natural elements and touches as you can: fresh flowers, gathered acorns and greenery, real plates and stemware. Ditch the paper and plastic — you deserve to have a beautiful experience, and so do your friends and family."
Another good idea: Bring a beautiful hand soap as a hostess gift, or a pretty embroidered hand towel. We're all ready to wipe our hands clean of 2020.
Marcia Smart is the owner of Smart in the Kitchen and its digital spinoff, Smart in the Kitchen School.
Food