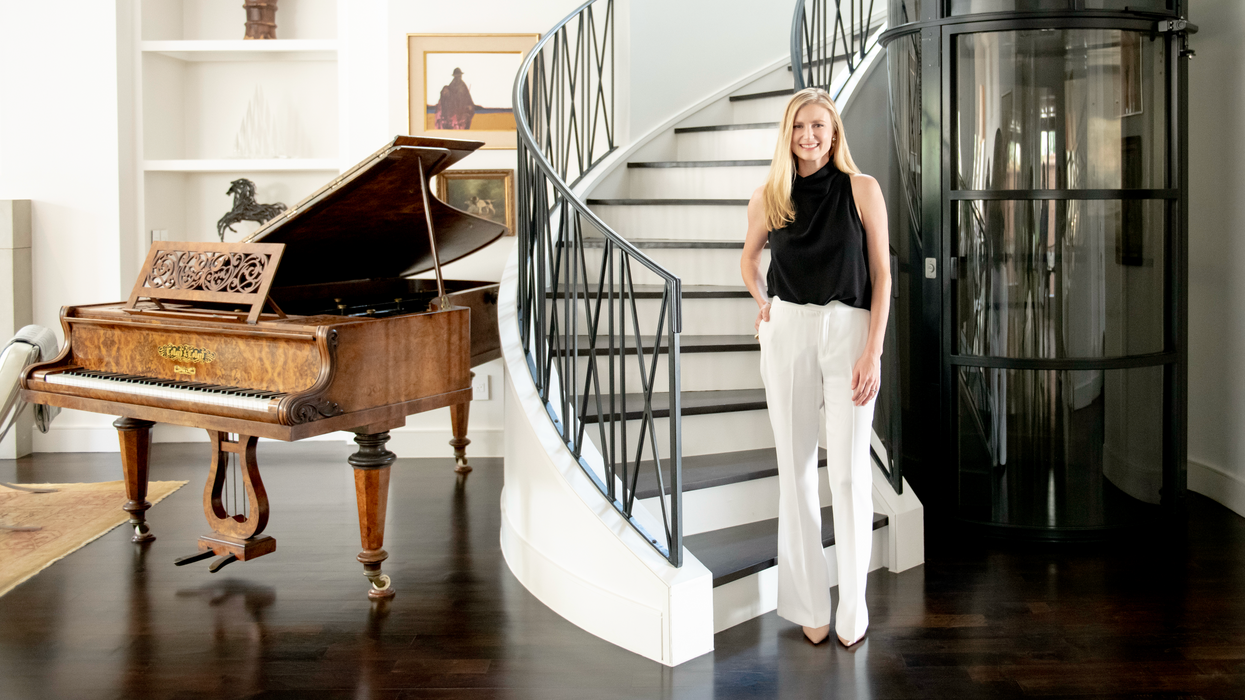 AS A FOURTH-generation Houstonian, Sarah Callaway Sulma has a unique and invaluable view of the city. Her deep seated connection to Houston led her down the path to becoming one the city's most well-respected, and renowned real estate agents. Sarah's natural passion for the real estate industry from a young age led her to where she is today. "I know that it sounds cheesy, but it is the truth! I wanted to be in real estate from a young age," Sarah shares. "The late-great restaurateur, Tony Vallone, put me together with real estate legend, Martha Turner, and Martha put me together with Cathy Cagle. The rest is history-13 years of success and counting!" Now with over 13 years in real estate and $55M+ in residential real estate sales, Sarah brings a rare combination of knowledge, skill, and advocacy to each one of her clients.
But her drive to build and maintain relationships consistently continues to help her advance in her real estate career. "Clients are the greatest investments. I am invested in helping them sell their home and find their dream home, and continue to invest in the relationship far after the transaction. A majority of my clients have already entrusted me through multiple repeat transactions over my 13+ years of experience thus far. I foster those relationships because I intend for them to last a lifetime."
713.299.9888, sarah.callaway@greenwoodking.com@caglecallaway.gk
THE LATEST RESTAURANT to make a splash in H-Town: Balboa Surf Club is Western Addition Restaurant Group's first seafood concept among its three other restaurants. The Dallas-based company is building on the success of its neighboring sister, Italian-themed Il Bracco, located in Post Oak Plaza. Named after Balboa Island off the coast of California, Balboa Surf Club aims to be the lighter option with vacation-vibes.
"This menu is our expression of American seafood," says president and CEO Robert Quick. "You'll find the best fresh catches from around the country, from wild caught Nantucket scallops to Hawaiian tuna, Alaskan king crab and Gulf grouper, all prepared with iconic coastal flavors." Think southern style crispy oysters, a Baja-style seafood cocktail, classic East Coast jumbo lump crab cake and miso glazedsalmon reminiscent of the Pacific Northwest.
High-quality ingredients and scratch cooking elevates the approachable menu. Expect the works — upscale seafood dishes, a curated sushi program, hearty entree salads, as well as burgers and steaks. Prime meats and seafood are butchered in-house daily and house-made breads, tortillas, and desserts like the Coconut Quattro Leches cake, are made fresh via the in-house bakery.
The former Masraff's space underwent a complete renovation to become Balboa. An abundance of natural light, live plants and colorful art create a playful and timeless atmosphere. We love that it's open daily for lunch and dinner, so there's no remembering days and hours.
The large, covered patio hosts al fresco diners and lounge seating around a hand poured concrete outdoor fire pit. The jewel of the space is a 60-foot infinity edge fountain running along the exterior, hushing Post Oak traffic and offering the sense of a tropical getaway.
Award-winning Texas architect Michael Hsu Office of Architecture, in conjunction with Mary Lucille Quick, VP of Design for Western Addition and principal partner of MMaison, designed the 1,200-square-foot space. Interesting details include port-windows, rich millwork inside and out, and artfully placed sky lights. Meant to channel a '70s bungalow, the design inspiration draws from the Brazilian brutalist style seen in the towering façade, dramatic entryway, and handmade colorful tile.
Like its sister restaurant Il Bracco, Balboa's wine menu casts a wide net of interesting finds and big-name selections, as seen in its striking glass wine room. Expect classic cocktails as well as signatures like the invigorating Bracco, a frozen Greyhound cocktail made with Aperol and fresh grapefruit that's served at all Western Addition establishments. Cheers to a mini vacay!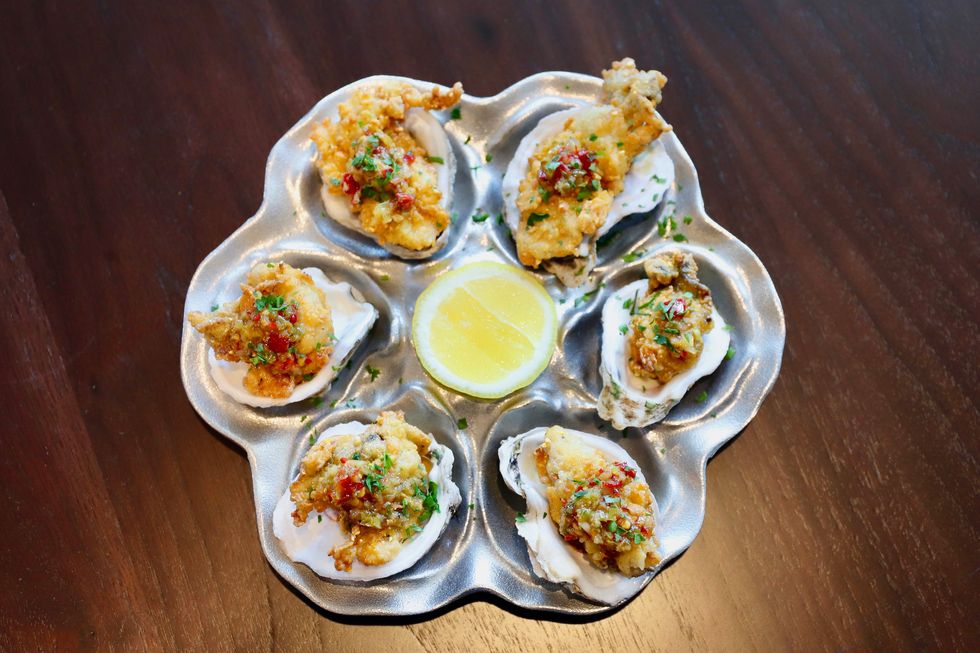 Crispy oysters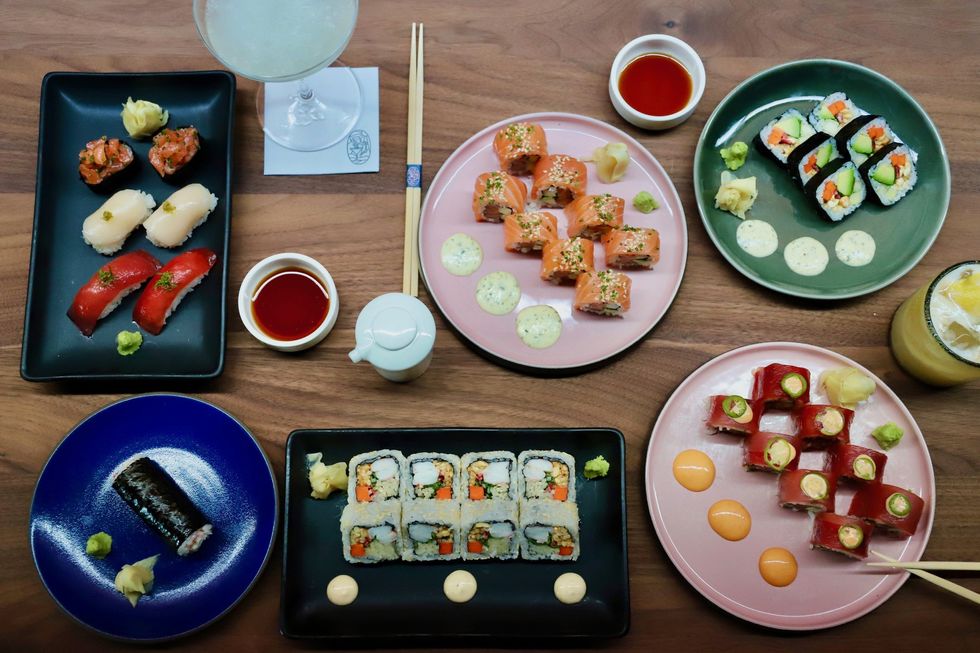 Halibut tostada
Related Articles Around the Web
Food
THE DOWNTOWN THEATER District is about to experience a transformation, with the long anticipated grand opening of Lynn Wyatt Square for the Performing Arts (LWS). Located within a "square" created by Texas avenue and Capitol, Smith and Louisiana streets, and flanked north and east by the Alley Theatre and Jones Hall, the beautifully designed, $26.5 million green space has it all: a flexible performance lawn for concerts, a cascading fountain, one-of-a-kind rockers and tête-à-tête seating, and plenty of accessible entries to its promenades and gardens. Wyatt made a $10 million gift toward the project, and Downtown Redevelopment Authority, Houston First, and numerous foundations funded the rest. LWS will be fully open to the public beginning Friday, Sept. 22.
"I love Houston, I love the arts, and I absolutely love this beautiful square," said Wyatt, now 88 years young, in a statement. "I look forward to all the good this Square will do now and in the future for the people of this dynamic city and our world-class performing arts community."
As a longtime supporter of such institutions as Museum of Fine Arts, Houston, Houston Grand Opera, Houston Ballet, and Alley Theatre, the range and impact of Wyatt's philanthropic endeavors, not to mention her unerring sense of style, cannot be overstated. Wyatt was featured on the cover of Houston CityBook's premiere Leaders and Legends issue and in the Spring 2023 debut of our Cool 100. (In October 2020, we enjoyed a rare opportunity to meet and write about her beloved husband Oscar Wyatt.)
"This is a gamechanger for downtown Houston," said Houston Mayor Sylvester Turner in a statement. "I am so excited to see this square come to life as a greener public space that not only connects the arts, but more importantly connects people to the arts."
Free, family-friendly programming for LWS's opening weekend includes lawn games, live entertainment, and a special interactive experience called "Bees" created by Polyglot Theatre, a world renowned contemporary children's theater company based in Australia.
Art + Entertainment