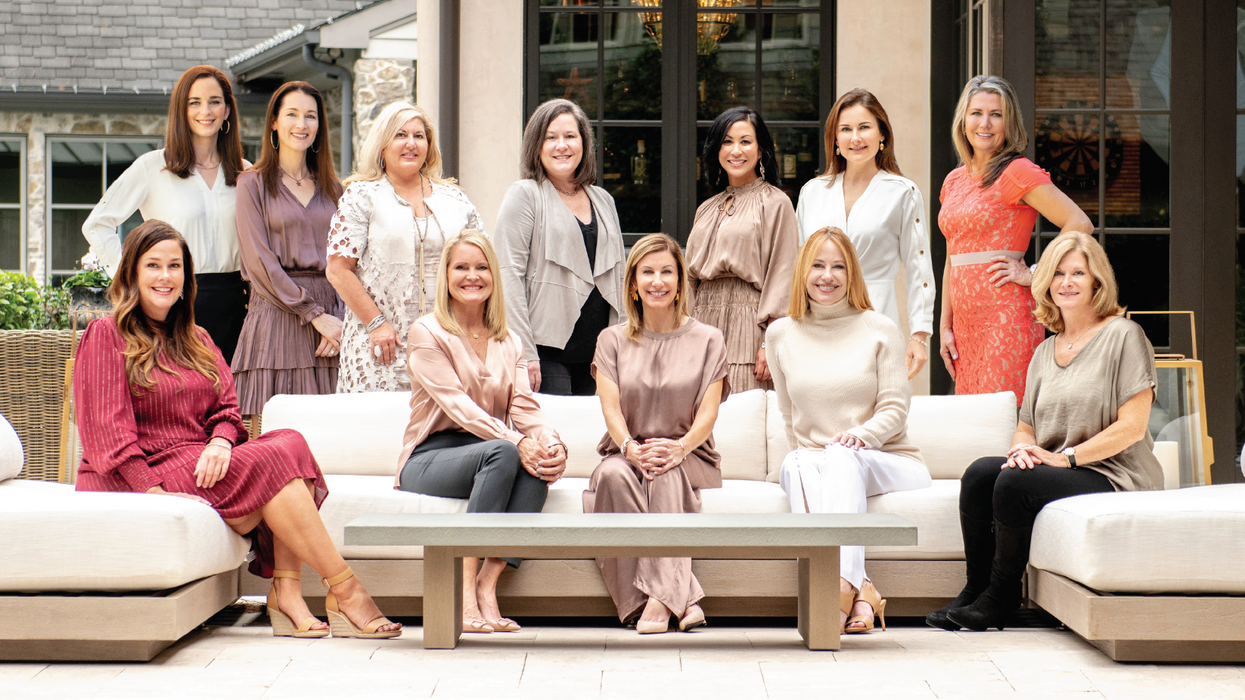 HOW DID YOUR team form? After ten years as a realtor for a top firm in Houston, Kim Perdomo established a boutique brokerage in 2011. The team grew organically and joined forces with Compass in 2019.
What is the relationship within the team? We have a very special relationship as a team. A lot of us have been friends for many years prior to working together in real estate. With that brings a camaraderie and loyalty to one another that is truly remarkable. We all work together to help everyone succeed, and that is a huge benefit to our clients.
What makes you unique? Our Brand Promise:
Maintaining Lifelong Relationships With Our Clients
Personal Service
Distinctive Marketing
Helping Our Clients Make the Right Move
How do you bring this promise to life? We specialize in presenting our listings to the market to achieve the best results. Our personalized, hands-on service includes coordinating staging services, repairs, inspections and through distinctive marketing we attract the largest group of buyers. A few metrics we use to define best results include sales price, contract terms offered, days on market and list price to sales price ratios. Since we are with our clients throughout the entire process, our business relationships typically evolve into true friendships. We have done this successfully in a seller's market and buyer's market. As a team, we have 140 years of experience. We have seen it all.
What's the secret to your success? Integrity. Doing what we say we are going to do and putting our clients' needs above ours.
What's next for the end of the year and 2023? We just returned from our top producer awards trip in Alys Beach, Fla., and we are beginning to set goals and prioritize on how we can continue to raise the bar as individuals and as a team. We are currently working with clients to help them evaluate their real estate needs and monitoring the luxury market while communicating exclusive listing opportunities to our buyer clients and fellow agents. Our team expertise and the Compass advantage provides the ultimate results for our clients.
ONE OF THE year's most anticipated restaurants, modern American seafood concept Navy Blue, has dropped anchor in Rice Village, taking the space formerly occupied by Politan Row. Everything points to success — from its buzzy vibe to the big New York chef Jerrod Zifchak, and the quality seafood, of course. Catch our first bite!
The Vibe
The name pays homage to chef-owner Aaron Bludorn's naval-aviator father, whose call sign was "Blue." Expect a completely reimagined space by Austin-based Föda Studios, who worked in tandem with Courtney Hill Interiors and Gensler to create a design inspired by the idea of an ocean untouched by humanity.
Guests are greeted by an oversize, oyster-shaped wall built with sandy concrete breeze blocks, and a hostess stand conceived as a proverbial pearl. Awash in organic elements in tune with nature, the 110-seat dining room has a clean and crisp aesthetic. But the most striking feature is the huge, gleaming open kitchen where chefs Bludorn and Zifchak orchestrate the magic with a team who occasionally exclaim in unison, "Yes, Chef!"
The Food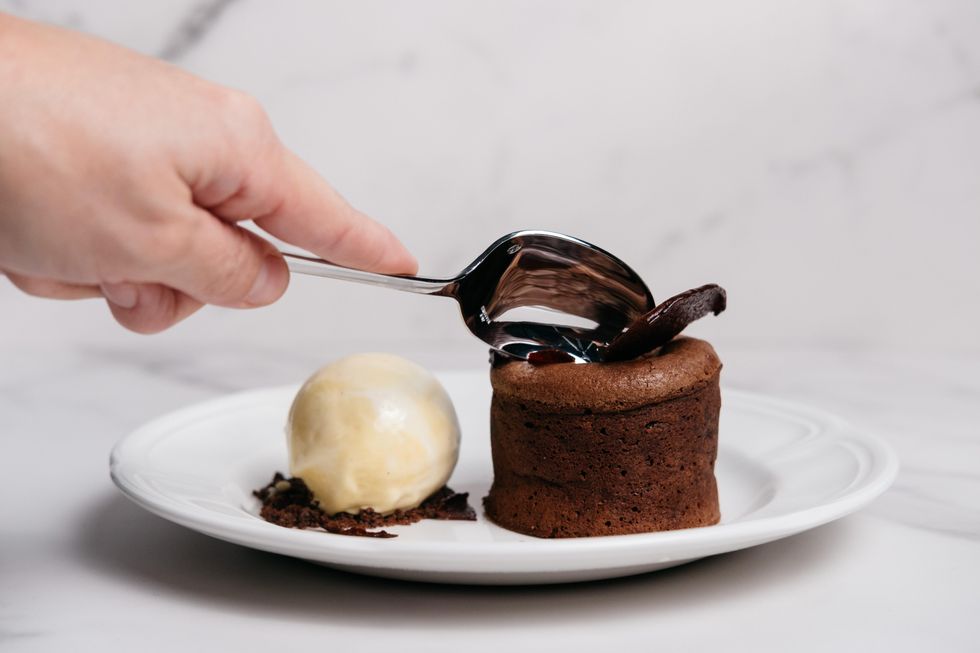 Chocolate Coulant (photo by Caroline Fontenot)
The two chefs curated a menu of oceanic delicacies: think thick and exotically-seasoned swordfish au poivre; blackened red snapper with ahi amarillo; and whole Dover sole prepared Almondine, Oscar or Provencal.
Pasta fans should try the clean-tasting linguini Vongole with Manilla clams, addictive seafood risotto, or rich lobster ravioli. Whet your appetite with the cool tuna crudo with fennel and apple, or charred octopus salad with sweet potato and preserved lemon. Or warm it up with the jumbo lump crab cake anointed with celeriac remoulade and tomato chutney. Mouth-watering desserts by executive pastry chef Marie Riddle are a highlight — don't leave without trying the amazing carrot cake with ginger ice cream.
Although most menu items sound like classics, always expect a twist. "We wanted to create a menu with plenty of options and the same kind of approachability that guests love at Bludorn," said Bludorn, adding, "What oysters are to Bludorn, which are done 3 ways — fried, baked, and raw — clams, shrimp and Dover sole are to Navy Blue. We have a running rotation of fresh fish with preparation suggestions, but guests can swap it out however they want. We are flexible when it comes to putting our guests' tastes first — that's why we are here, and we love what we do."
The Seating
Guests enter through a covered sidewalk patio with manicured planters and a few tables. Slender, black-ribbed pendants and plush banquettes soften concrete columns, providing both a chic sense of style and a natural transition to the white-grey Japanese ceramic tile.
A unique steel-and-driftwood light installation brings the softly-lit bar to life. Tucked away to the back of the space, the bar became a hopping scene the first week of opening.
Speaking of scenes, a flexible private dining room ensconced behind the bar can accommodate up to 40 guests for a reserved event, complete with A/V bells-and-whistles and an intriguing mural by Austin artist Emily Eisenhart.
The Service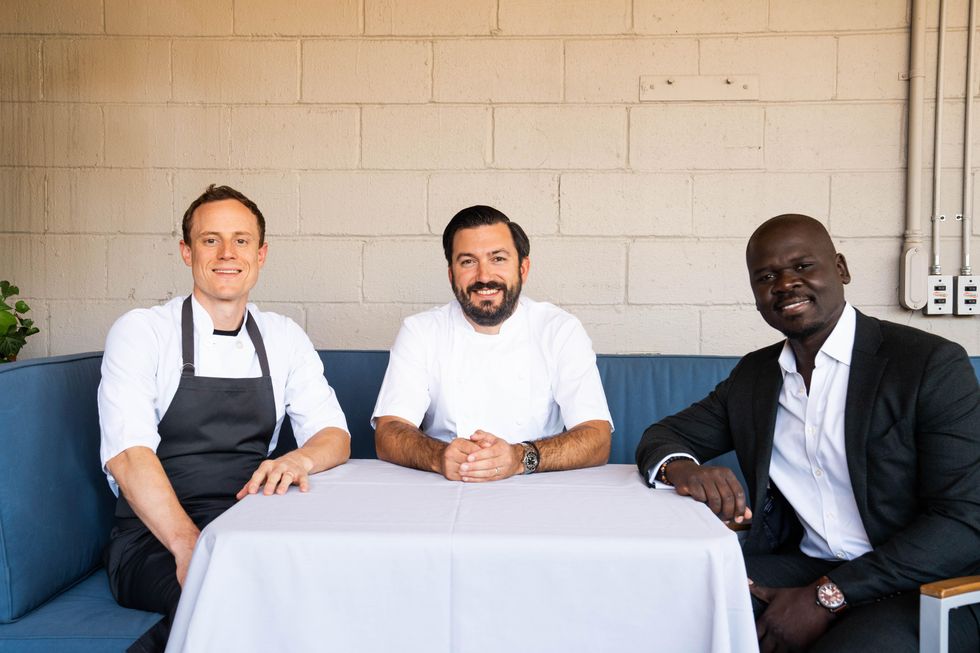 Jerrod Zifchak, Aaron Bludorn and Cherif Mbodji (photo by Michael Anthony)
Expect exemplary service at every turn, including a sophisticated number-tab system for holding to-go items in a "coat closet." Working with his wife Victoria and their partner Cherif Mbodji, Bludorn has enlisted a dream team of veteran hospitality professionals to uphold the same standards of excellence that made his first Houston restaurant a runaway success.
Mbodji oversees the front-of-house operations led by GM Elizabeth Acosta. In the kitchen, executive chef Zifchak earned his culinary chops at the Michelin 3-starred restaurant Le Bernardin before working under Bludorn at Café Boulud New York.
The Dress Code
"At Bludorn, we found that the ultimate luxury was the ability to choose your own dining experience and we plan to emphasize that even more at Navy Blue," said Bludorn. He added, "The ability to come in and enjoy the restaurant without feeling the need to dress up or to feel pressure to adhere to traditional standards of a fine dining restaurant is what we strived to achieve." Expect to see diamonds, denim and everything in between.
The Details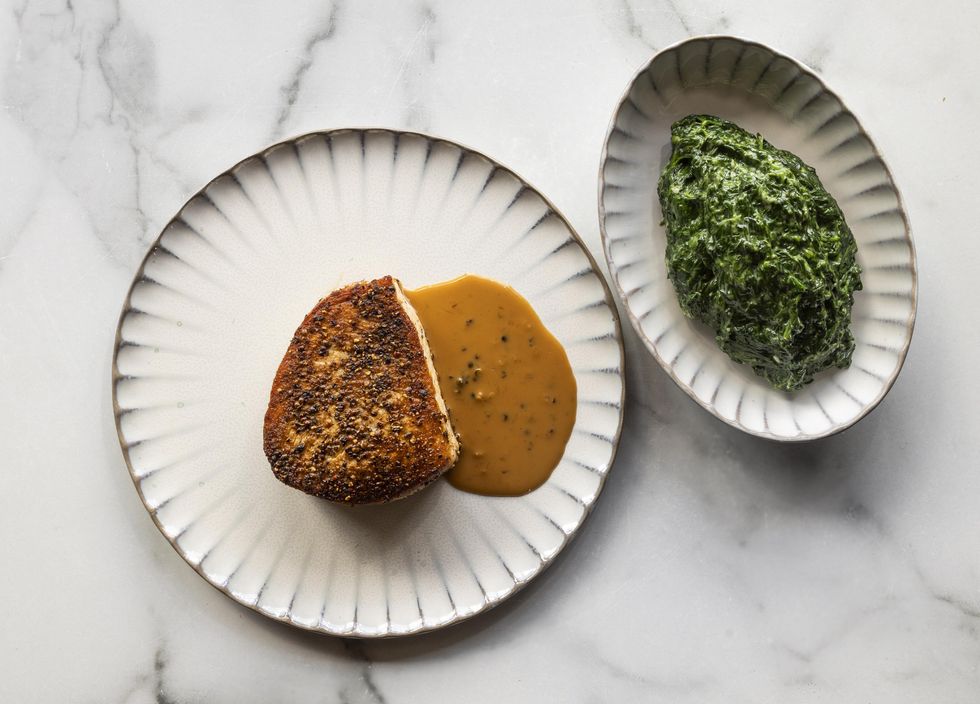 Swordfish au Poivre (photo by Julie Soefer)
Navy Blue
2445 Times Blvd.
713.347.7727
Dinner Mon.-Sat., 5pm-10pm (10:30 on Fri-Sat.). Sunday dinner begins Dec. 4, from 5pm-9pm. Lunch and Sunday brunch will follow in 2023. Valet or self-park in Rice Village. Reservations available on Resy, or visit navybluerestaurant.com.
Food
THE MAROUNI HOUSEHOLD is a lesson in well manicured restraint — followed by a double shot of playful color. Outfitted by Allie Wood Design Studio, the home in Southampton was built by former Houston Rockets player Brad Miller and purchased by Bellaire High School sweethearts Oren Marouni and Lauren Weingarten Marouni in March 2020.
"I've known Allie since middle school," says Lauren, 35, who is a quadruplet. "We interviewed a couple of decorators, but what impressed me about Allie is that she also has a degree in architecture. She understands space and proportions."
The hallways and room entrances were designed to accommodate the sky-high previous owner. It makes the pint-size lady of the house look almost cartoonishly small by comparison — but Lauren says the thoughtful floorplan and "great bones" won her over.
The first level is all business, with clean white walls and sculptural lighting fixtures and whimsical accent pieces that become focal points in the two-story, 4,600-square-foot home. A number of art pieces were inherited from Lauren's grandmother.
Wood — whose father Preston and husband Aaron Rosenberg are home builders — and Lauren took advantage of the home's nooks and crannies, creating small vignettes out of meaningful pieces like the geometric console table in the first-floor hallway, which also hails from a former classmate, artist Sydney Shatz.
"I wanted her to integrate something besides just wood and resin because I feel like that's standard," says the designer, who prides herself on an ability to source and customize unique pieces at any price point — and on her impossibly long, bright-blonde mane. "We found this great round piece of stone, and she popped it through a wood-and-resin slab so it could be one leg of the table."
Another interesting element is the Kermit the Frog-colored couch in what is lovingly dubbed as The Green Room — which is also one of their pup Bologna's favorite areas. When Oren isn't reading a book on the sofa or Lauren isn't enjoying a sip of Champagne with her friends, Bologna is known to nestle in and watch the squirrels.
Geometric shapes abound in everything from the carpets to the bathroom tiles to give a clean, organized, crisp finish to each room. Wood offers her updated take on the ever-popular all-white, subway-tiled kitchen, with a massive stainless-steel-topped island and cool gray-green accents.
Upstairs, however, Wood and the Marounis let loose. A staircase leads to what can only be described as ultimate hangout spots. The "he room" and "she room" are where the two spend their discretionary time.
Lauren's room is like a designer-savvy take on a Dylan's Candy Bar, evident from the moment the massive steel double doors are thrown open. Funky wallpaper, multicolored art by Sarah Luna that mimics spilled paint, and scalloped and striped throw pillows provide texture, and bowls of colorful candy are irresistibly fun accents.
Meanwhile, Oren's space is a celebration of his alma mater, the University of Texas, with dark peppercorn wall paint, colonial brass shelving and leather furniture complete with burnt-orange accessories.
"These rooms are a way to entertain upstairs and bring people into other parts of the house without it being just a bedroom. These are everyone's favorite rooms," says Wood, who strived to achieve masculine and feminine looks, respectively, "without being cheesy."
For their guests, the Marounis commissioned custom sleeping arrangements down the hall: queen-size bunk beds, situated against leather headboards and cleverly placed sconces. And for the primary suite, Wood purposefully kept the room in a neutral palate, adding only plaster to replace a shiplap wall and keeping the colors serene, including putty and soft metallics, to provide a sense of calmness in an otherwise kinetic second floor.
The one area where Wood splurged? The cluster-bulb pendant lights dangling on either side of the bed. "To dial up the drama."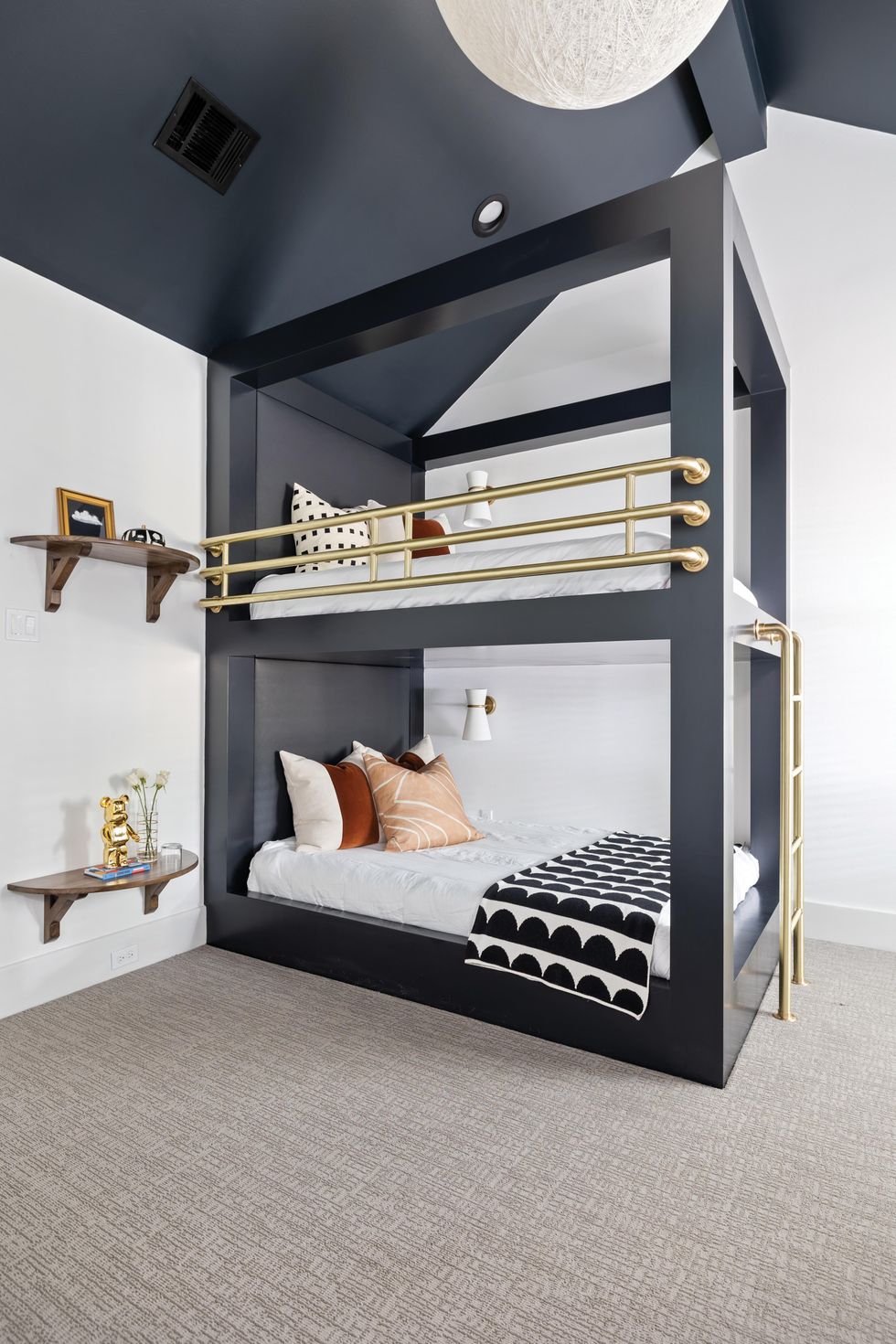 The towering guest quarters are fit for children and adults alike.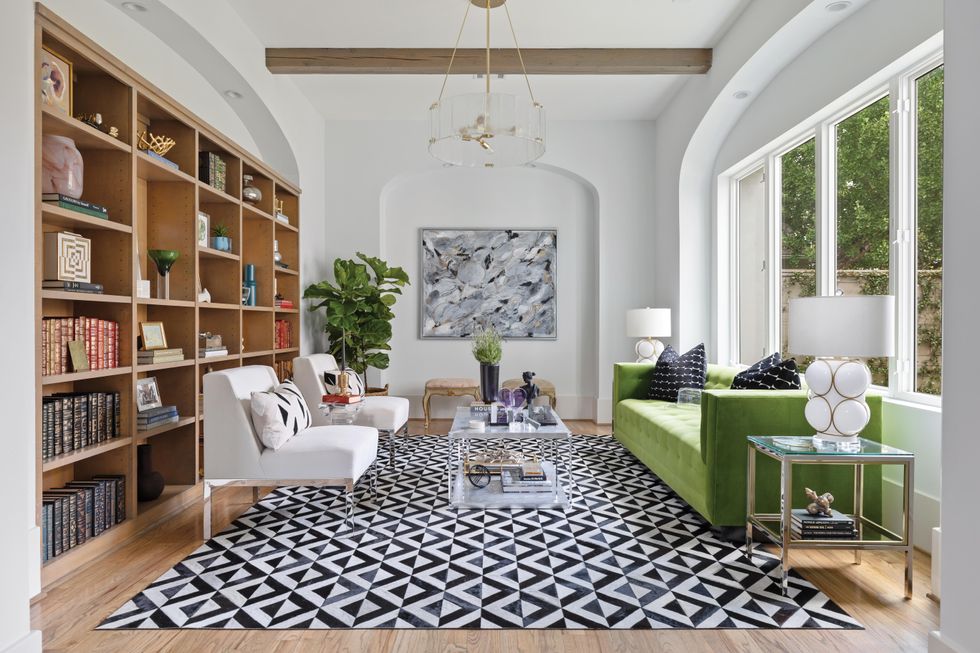 The downstairs living room is lovingly dubbed the "green room," named for the Kermit-colored sofa and verdant views. A Rejuvenation pendant light and rug by Stark complete the space.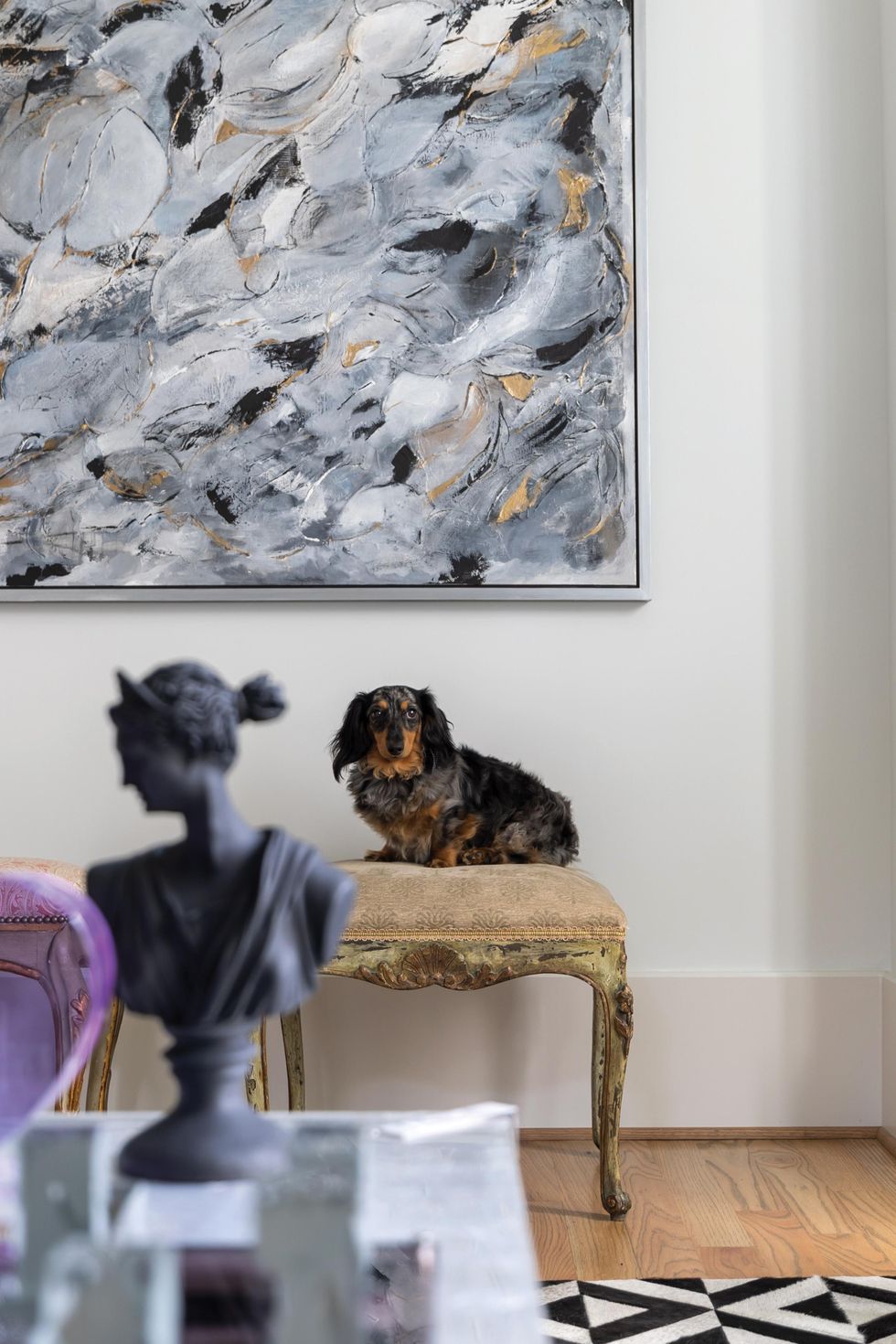 The family dog Bologna loves watching for squirrels in the "green room."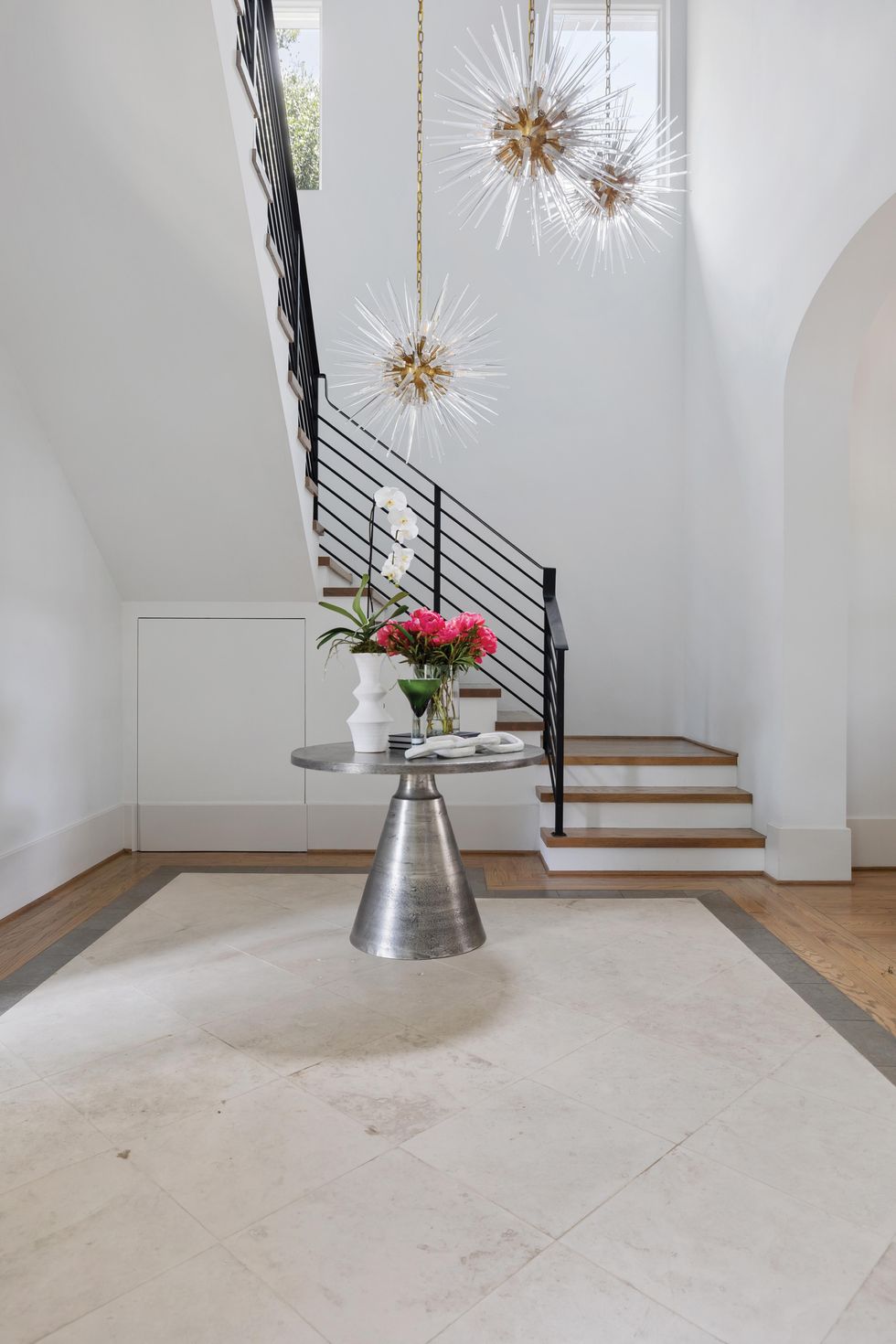 The entryway is funky yet welcoming, with Circa Lighting pendants, a table by Four Hands and accessories from CB2 and Area.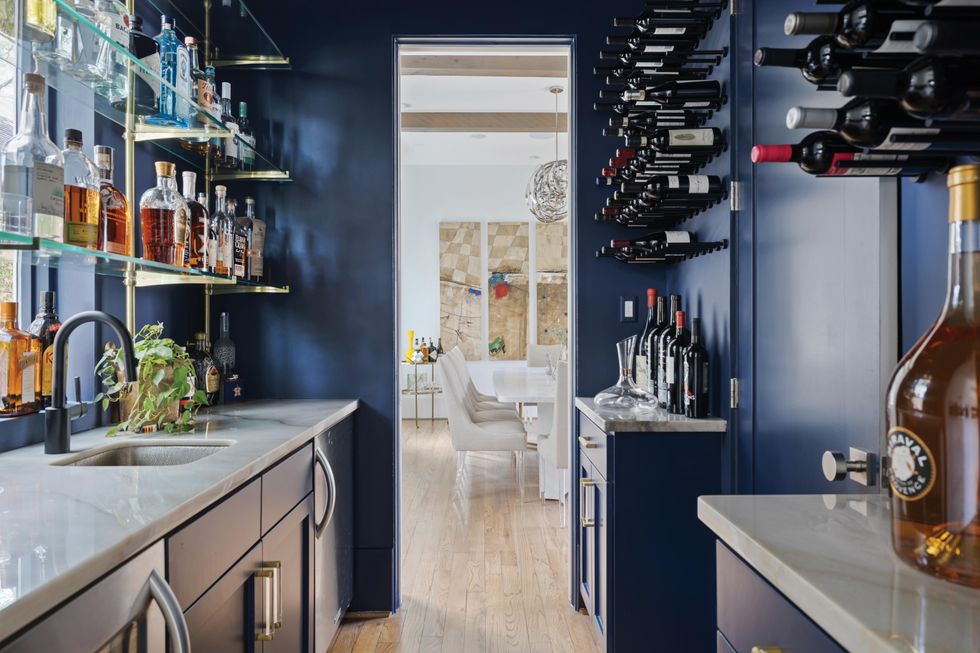 The wet bar off the dining room is made for entertaining.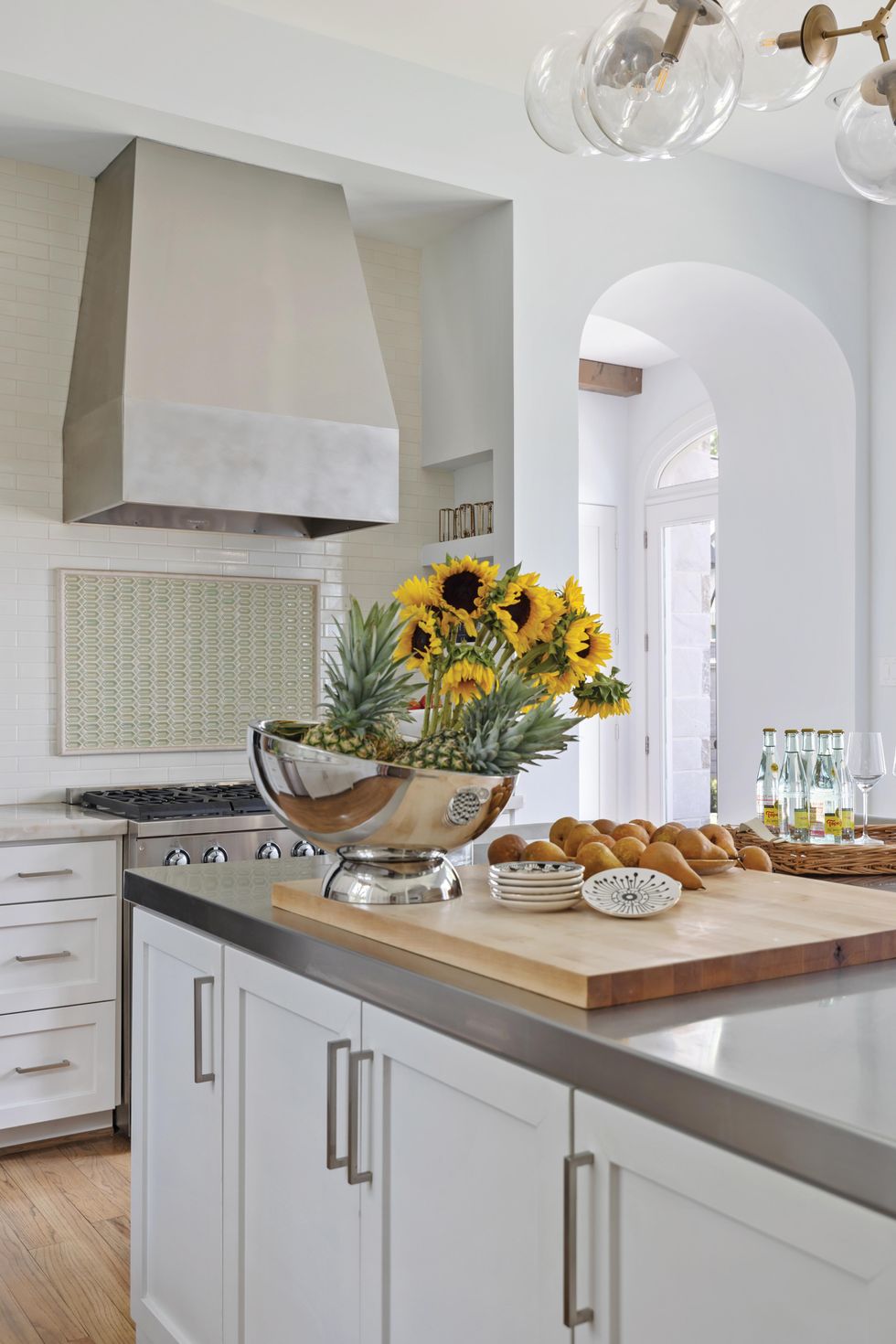 The kitchen is Wood's warm take on an all-white room.
Related Articles Around the Web
Home + Real Estate