Indian Summer
Just in time for the season, Kiran Verma touts a sparkly new space and vegetarian tasting menu, along with familiar elegance and grace.
Kirsten Gilliam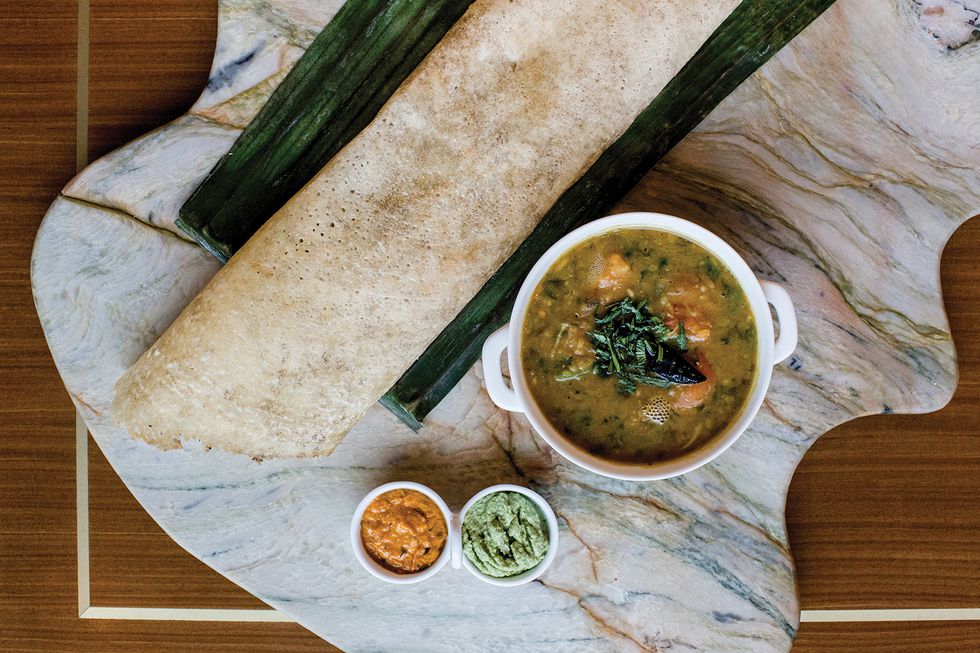 The afternoon luster of the hammered brass of entry doors set upon a new building at Levy Park — the pulls are fashioned after abstracted Hindi script — suggests this is the gateway to a special place. It is. Once inside, guests are not only greeted by the aroma of ground spices and exotic herbs but also by the chef herself, dressed proudly, as always, in a chef's uniform and million-dollar smile. Following the shuttering of her former restaurant of 11 years in Highland Village after the property sold, Kiran Verma — or Chef Kiran, as so many know her — is back in action.
---
The Gensler-designed interior showcases a glitzy barroom to one side, with brassy bar shelves, community-seating areas and a Chai Ginger Collins made with house-infused chai syrup. A curved-glass wine cellar "capsule" divides the lounge and bright, remarkably elegant dining room, where the same abstracted Hindi script pattern reappears on the backlit ceiling.
The menu, notably traditional but expertly prepared and presented in a stylized way, ranges from celebrated street foods like lamb samosas and crispy papadums with house-made fruit chutneys, to heartier courses like the Cornish hen with ginger carrots from the tandoor. (The kitchen has two separate gas-fired tandoors – one for cooking vegetarian-friendly naan and a separate one for cooking meat and seafood.) Texas quail, venison, rack of lamb and bison — but no beef, given that cows are sacred in India — are also on offer.
On this day, like so many others, Chef Kiran is making her rounds visiting with diners and friends, but today she has extra-good news to share. "I'm a grandma!" Fresh from a visit to San Francisco to meet grandson Oscar, she's even more talkative and jovial than usual. And this is not the only pride-and-joy she's introducing to the world: She is debuting a new eight-course South Indian sadya vegetarian tasting menu. Think dosa, but not Texas sized, just enough to tickle your taste buds, and a thin cauliflower "carpaccio" over almond chutney.
The flavors of her native India are age-old, but in Chef Kiran's everything-is-new world order, they have never tasted fresher.
ABOVE: The 'aloo' masala-filled dosa, with a cup of 'sambar' soup and two chutneys.
Food+Travel