Joseph Havel Reflects on Leaving Academia, Book Burning and His Unlikely Artistic Collaborator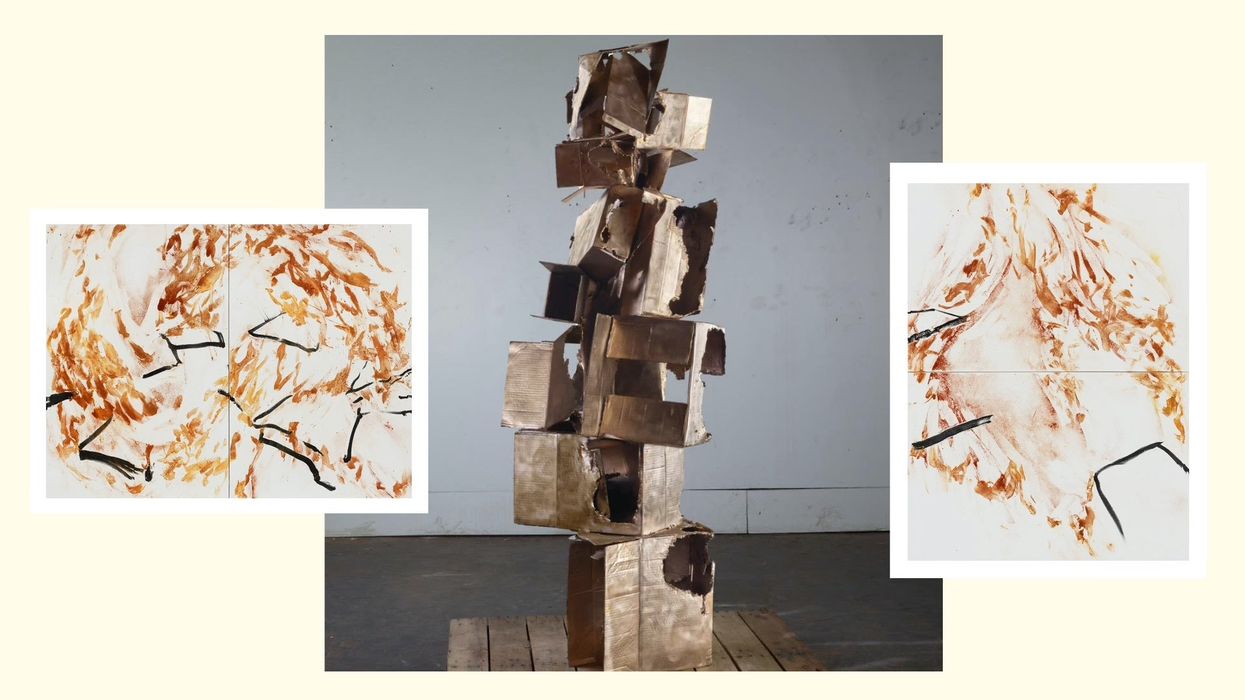 IT'S MONDAY, AND sculptor and painter Joseph Havel is at his home studio, a former auto-parts store located off the Hardy Toll Road, conveniently located in the same building of the foundry where he creates his surreal, gravity-defying bronze sculptures. He's busy supervising a team of art handlers tasked with transporting two new sculptures to Josh Pazda Hiram Butler Gallery for his exhibit 451, which opens Thursday, Sept. 14.
---
"They're big and gnarly," says Havel of his new works — totemic stacks of cardboard boxes cast in bronze after having been torn with intention by his artistic collaborator Hannah, an African Grey parrot. "Hannah chews up the boxes, and I assemble them," says Havel. "Sometimes she works on them when once they've been assembled a little bit."
Over time, Hannah has become more confident with her shredding, and inspired Havel to create larger and more complex forms from the results. Although their weight holds them firmly to the ground, these sculptures seem to teeter and move, like dancing shamans of isolated tribe, or the scarred and burnt out architecture of a city that lies in dust.
The title of Havel's exhibit comes from the 1953 novel by Ray Bradbury, Fahrenheit 451, which describes a world where books are illegal and when discovered burned to ashes by firemen, who also ignite the houses where the books are found. (While researching firemen, Bradbury was told 451 degrees is the temperature paper combustion takes place.) There are multiple connections between heat and fire and Havel's current body of work, such as the extreme temperatures necessary to melt bronze to be poured into a direct cast. And fire as a symbol of resistance as well as a weapon of oppression inspired a new series of "spice" paintings Havel will show alongside his sculptures.
In the spring of 2022, while enjoying a well-deserved artistic retreat in the South of France, where Havel began experimenting with spices purchased in a local village market, he witnessed first-hand the peaceful demonstrations as well as the fires set by anarchists to protest President Emmanuel Macron's push to raise the legal age of retirement. Earlier that same year, a much ballyhooed book burning led by a pastor in Tennessee also hit a nerve, and each spice painting is titled with the name of a challenged or banned book, including The Catcher in Rye, Cat's Cradle, and Naked Lunch.
To create a painting, Havel lays his canvas on the floor, applies marks with gel medium, and then pours fragrant orange, yellow, and red powdered spices over the gel. It's a quick process, one he compares to Jackson Pollock's famous drip painting technique, except after the initial rush of action, Havel will step back and let the painting sit for days, weeks, even months, taking time to decide what else, in anything, should be added to the painting. "The beginning is quick," says Havel of the process. "The end? It depends… ."
The sculptures and paintings in 451 were made in the 15 months after Havel stepped down in June 2022 as director of Glassell School of Art. It's safe to say retirement from academia suits Havel. "It's been great," says Havel. "I had planned to do it for a number of years, but got slowed down by Covid, because I felt that I needed to stay with the school during the pandemic." Two days after leaving Glassell, Havel was on a plane to France. "If I hadn't done that, I might have missed the habit of having to be at Glassell," says Havel. "I had this wonderful time of cleaning my palette so that I could think about my life differently."
At age 69, Havel still loves to strap on a guitar, crank up an amp, and tear through his favorite and self-penned rock songs, sometimes accompanied by his former student Ken King who runs the in-house foundry. But for most days throughout the brutal heat of the summer, while his partner, artist Mary Flanagan, was teaching at Dartmouth, Havel hunkered down in his studio with Hannah and reveled in the sometimes hermetic life of an artist. "I'm actually a pretty solitary person," says Havel, "so that works out."
Sharing the stage with Havel Sept. 14-Oct. 28 at Josh Pazda Hiram Butler Gallery are works by Nestor Topchy and Heather Day.
Art + Entertainment