Big Man on Campus
At a moment of excitement and expansion for MFAH's famous Glassell School, Director Joseph Havel sees an institution spiraling into the future.
Jhane Hoang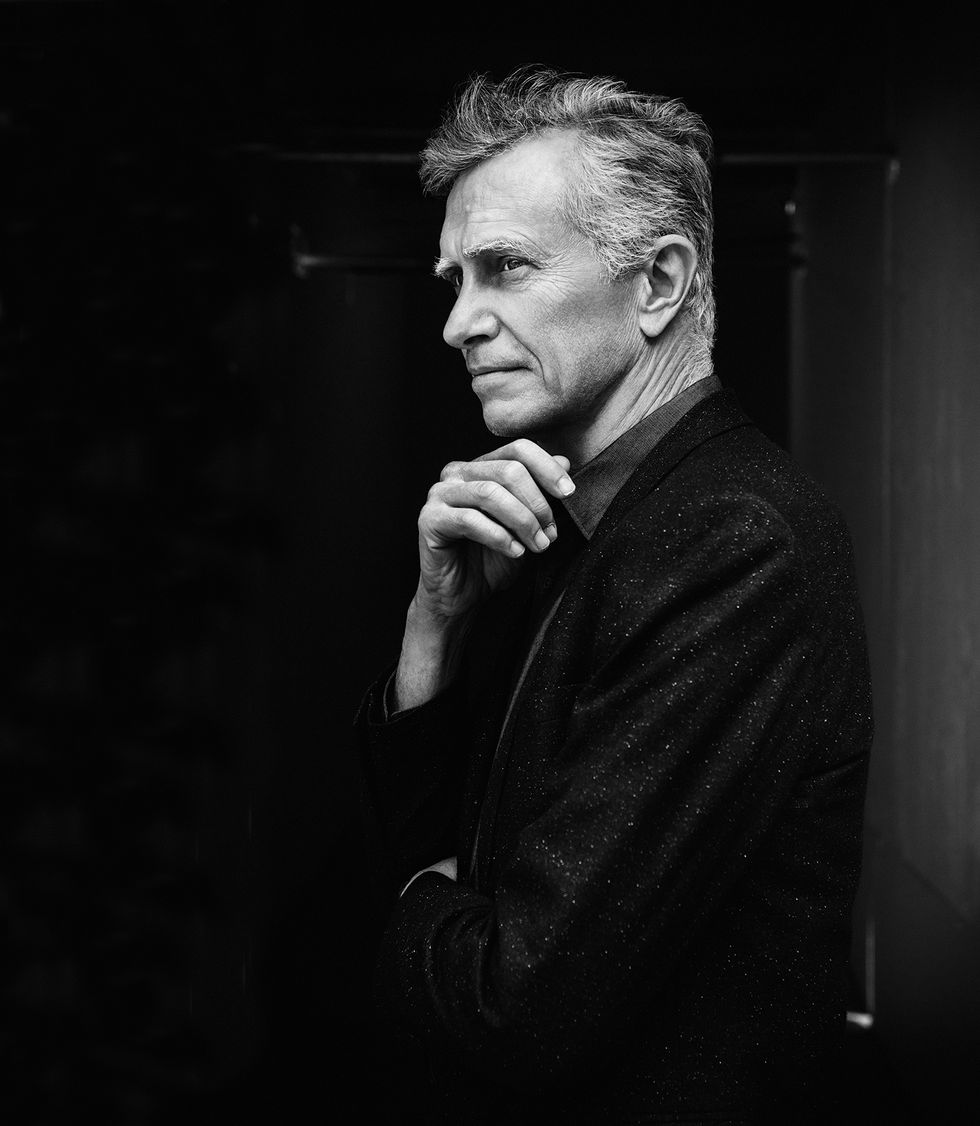 Stand within the slanted concrete walls of the Museum of Fine Arts' Cullen Sculpture Garden and face the new Glassell School of Art. You'll see how the 85,000-square-foot building complements the shapes and slopes of pieces within the garden, such as Rodin's gentle figure "Spirit of Eternal Repose," Ellsworth Kelly's "Houston Triptych," and Joseph Havel's "Exhaling Pearls," in which a frayed 10-foot rope rises to lift a planetary paper lantern cast in bronze.
---
Havel came to Houston in 1991 to direct the Glassell School's Core Residency Program, and became director of the MFAH teaching institute in 1993. The old Glassell School was torn down in 2015 to make way for the MFAH's 14-acre expansion, which includes a brand new Glassell School, slated to open on May 20. Havel uses both technical and poetic language to describe the new building's features, which include a vast spiral stairway that connects the classrooms and coffee shop on the bottom floor to the upstairs classrooms and the third floor's artist studios. The building's porous and welcoming design speaks to the MFAH's commitment to remain a vital component in the "interconnectivity" of the city.
"The new building is about the meshing of networks," he explains. "The stairway represents where all of these networks can be crossed, and new ideas can be generated."
The whole campus, in fact, is ripe with innovative ideas. For one, the entire building is universally accessible; anyone can climb the sloped roof of the school's children's wing, for example, to reach the building's roof garden. Once there, visitors are treated to a 360-degree view of the city, and the duality of the Downtown and Medical Center skylines. "That's very Houston," says Havel, who views the city's landscape with an artist's eye.
In addition to managing the school with Associate Director Mary Leclère, the trim, 63-year-old Havel, who exudes more curiosity and energy than most artists half his age, continues to create and show his surreal bronze and cast resin pieces. He works out of his home studio, a former auto-parts store located in an El Salvadorian community off the Hardy Toll Road.
The school takes its name from Alfred C. Glassell, Jr., founder of the Transcontinental Gas Pipe Line Corporation and one-time owner of the largest private collection of pre-Colombian and Akan gold sculptures in the world. Born into a wealthy family, Glassell served in Africa and Europe during World War II, and enjoyed plenty of big-game fishing, sometimes with fellow sportsman Ernest Hemingway. Glassell even appeared on a 1956 cover of Sports Illustrated next to a 1,560-pound marlin he caught with just a rod and reel. "You would think he was a trophy collector," says Havel, who attended Astros games with Glassell before the mogul's death in 2008 at age 95. "But he was an idea collector. He loved the challenge and engagement with all of these young artists."
In 1970, Glassell pledged funds for the construction of a building for the MFAH's School of Art, and would see his investment validated as Houston's reputation as a major art city flourished. At age 89, Glassell famously declared, "In the next 50 years, there won't be a single great artist that hasn't spent time here."
Sculptor Sharon Engelstein is one of those great artists who, in 1991, fresh out of college, was accepted into the Glassell School's Core Residency program, and decided to stay in Houston permanently. She recalls being inspired by the grassroots efforts of local artists to show their work in non-traditional venues — and the fact that audiences came out to see it. "People here pay attention," says Engelstein, whose outdoor sculptures can be seen in Hermann Park. Last year's Texas Artist of Year, Trenton Doyle Hancock, also chose to live in Houston after completing the Core program in 2002, and describes his early impressions of the city similarly. "It felt like a lot of small towns that were hooked together," says Hancock. "In terms of how the art scene was constructed, from museum to non-profit organizations to galleries, it seemed like a healthy conversation had been happening."
Many visiting Core artists choose to further that conversation through work inspired by their new environment. Chicago-born current Core artist Devin Kenny draws inspiration from H-Town hip-hop legend DJ Screw, while Danish installation artist Maria Bang Esperson's work investigates the architecture of River Oaks.
"We have one of the most professional programs in the country," says Havel of the Glassell School. "You have four-year-olds taking toddler classes with their parents, 1,200 students ages 18 and up — including retired people — in the adult program, and the Core program, all in one building with this grand stairway.
"And when you're in the sculpture garden," he continues, "and you see the same kinds of angles going into the building, it ties everything together, and gives it this energizing quality which is quite magnificent."
Art+Culture