Meet the Master
An exclusive new MFAH exhibit reveals the evolution of the often-perceived tortured artist Vinent Van Gogh.
There is a quote, attributed to Vincent Van Gogh: "I dream of painting, and then I paint my dream." But what does it take to paint one's dreams, and in such a way that the viewer will comprehend the artist's depth of feeling? 
---
Some answers may be found in Vincent Van Gogh: His Life in Art, an exclusive exhibit of more than 50 paintings and drawings by the Dutch master on view March 10-June 27 at MFAH — easily the most Van Goghs you'll see in one place outside of Amsterdam. 
Conceived in close collaboration with the Van Gogh Museum, Amsterdam, and the Kröller-Müller Museum, Otterlo, The Netherlands, and curated by MFAH's David Bomford, the exhibit includes several rarely traveled pieces, and is the most comprehensive survey of Van Gogh's artistic development to ever come to the region. "He developed from his dark, rough, naive early paintings to his radiant masterpieces in an amazingly short time," says Bomford, for whom this is his final MFAH show; he retires in March. "He has a sort of starburst trajectory which is brilliant and astonishing." 
Born in 1853, Van Gogh made the commitment to become an artist at age 27. For the next 10 years before his death from a self-inflicted gunshot wound, he painted hundreds of oil paintings in his immediately recognizable thick brushstrokes and intense colors, capturing the physical toll of rural life in the Dutch village of Nuenen; the joy and decadence of Paris bohemia; and the transcendental outdoor light in the South of France.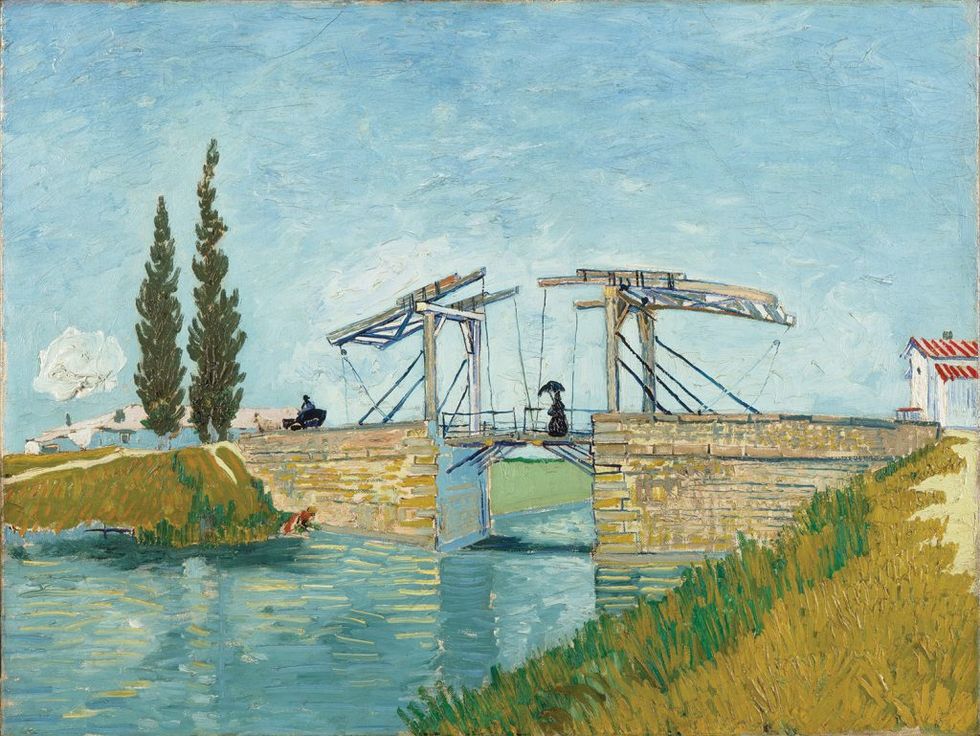 'The Langlois Bridge at Arles' by Van Gogh
Van Gogh also suffered several mental breakdowns and has come to personify the stereotype of the tortured-genius artist, slaving away in a garret. But thanks to Bomford's curatorial vision, His Life in Art reveals a more nuanced historical narrative. "Van Gogh did not work in isolation," says Bomford. "He was constantly communicating with other artists and exchanging ideas; his friends and fellow painters were very important to him." In hundreds of letters, including more than 600 addressed to his beloved brother Theo, Van Gogh wrote about those painters and friends with genuine affection. Facsimiles of his correspondence appear throughout His Life in Art. 
Several paintings contain "contextual clues" to Van Gogh's fragile state of mind, as in "Still Life with a Plate of Onions," completed a few days after slicing off a portion of his right ear. The humble objects in "Still Life" include a letter from Theo, a book of home remedies titled Good Health, and an empty absinthe bottle. "Clearly, Van Gogh has assembled them all for a purpose at this troubled moment in his life," says Bomford. 
On a lighter note, Bomford names Van Gogh's "In the Café: Agostina Segatori in Le Tambourin" as a personal favorite in the exhibit. Painted in 1887, cafe owner Segatori rests her arms on a tabletop shaped like a tambourine, her hair piled up into a flame-red feather hat. There is speculation Segatori was briefly Van Gogh's lover. "They fell out acrimoniously," says Borden, "and Van Gogh unwisely forfeited some paintings, unwisely left in her cafe." 
Bomford, who originally trained as an organic chemist, began pursuing his passion for art as a trainee restorer at the National Gallery, London, where he assisted the senior restorer on one of Van Gogh's "Sunflowers," four vibrant works Van Gogh painted for his friend Paul Gaugin. "Later I came to love Van Gogh's drawings," says Bomford. "Especially the reed-pen drawings that are so expressive and delicate, of which we have a few in the exhibition." 
He and wife Zahira (Soni) Véliz were hired by the MFAH in 2012 — she as senior conservator of paintings, he as the chair of the department of conservation and a curator of the Department of European Art. Bomford describes Houston as "a delightful surprise for two newcomers from London," citing the city's dynamic culture and "how truly friendly everybody is." 
Now an honorary native, he's pleased to bring a bit of Europe to Houston with an exhibit that reveals Van Gogh to be an artist driven to realize his potential, who did everything in his power to paint his dreams of painting.
AT TOP: Vincent Van Gogh's self-portrait, 1887, one of dozens by the artist
Art+Culture