Mexico City, Wall to Wall
Glimpse the sights of one of the Americas' oldest — and trendiest — cities, through the eyes of world-famous muralists.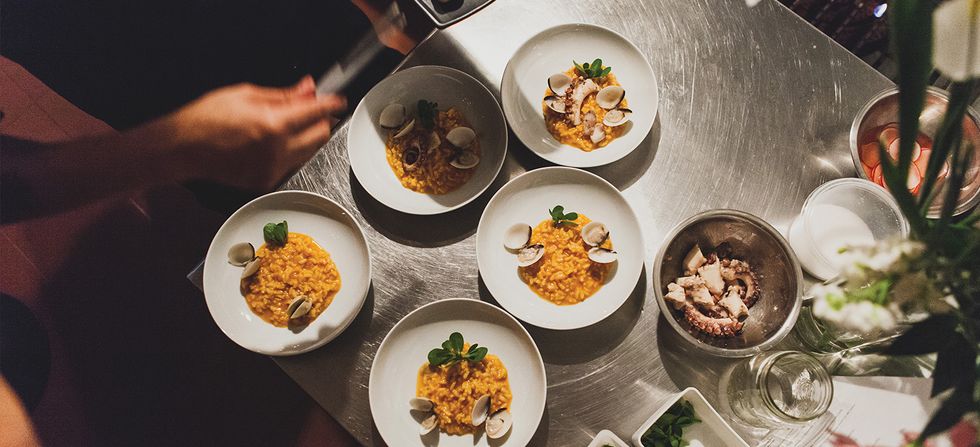 THE BELL TOWERS of the Metropolitan Cathedral loom over the Plaza de la Constitucion (El Zócalo) — the main square of Mexico City — and on the hour, their 25 bells sound and send a cacophony of metallic music echoing through the cobblestone streets of Centro Histórico, the city's oldest neighborhood. Although construction of the cathedral — the largest in the Americas — began in 1573, it cycled through three architecture styles before reaching its current form in 1813. And beneath the stone floor lie remains of Templo Mayor, an Aztec temple.
---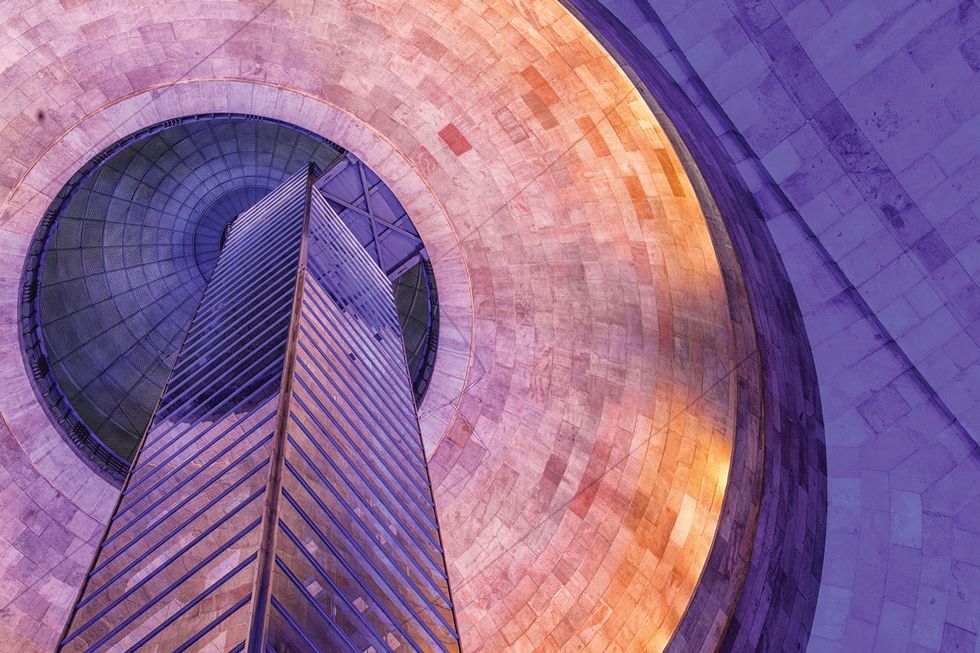 Mexico City's Monumento Revolucion Noche.
Actually, much of Mexico City as it is known today was built during colonial times, atop the ruins of the pre-Colombian Aztec city of Tenochtitlán, and the Mexican people have often struggled to find a symbiosis between their resulting dual Spanish and indigenous heritage. In almost every neighborhood, murals by artists like José Clemente Orozco, Diego Rivera and David Alfaro Sigueiros — collectively referred to as los tres grandes — can be found in architecturally significant buildings like Centro Histórico's Palacio de Bella Artes. They're a cool way for tourists to explore the dynamic dance between these identities, often serving as a point of entry for discovering what else a particular area has to offer. And these days, with hip boutique hotels and experiential restaurants appearing alongside historical art, Mexico City indeed has much to tout.
Also in Centro Histórico is Palacio Nacional, which houses the offices of the president of Mexico and the federal reserve. Here, find Diego Rivera's "The History of the Mexican People," a 4,800-square-foot mural depicting a glorified history of the Mexican people, from the time before their first contact with Cortez to 1930. It's a crucial stop before leaving in pursuit of culture in the surrounding neighborhoods.
Mexican luchadores in action at Arena Mexico.
Southwest of Centro Histórico, in the neighborhood of Colonia Doctores, sits Arena México — the "cathedral" of lucha libre, Mexico's iconic form of professional wrestling. On the nights of matches, the streets surrounding the arena turn into a frenetic bazaar as vendors, selling colorful masks designed in the likeness of the ones worn by popular luchadores, call out the prices of their wares and haggle with their prospective customers.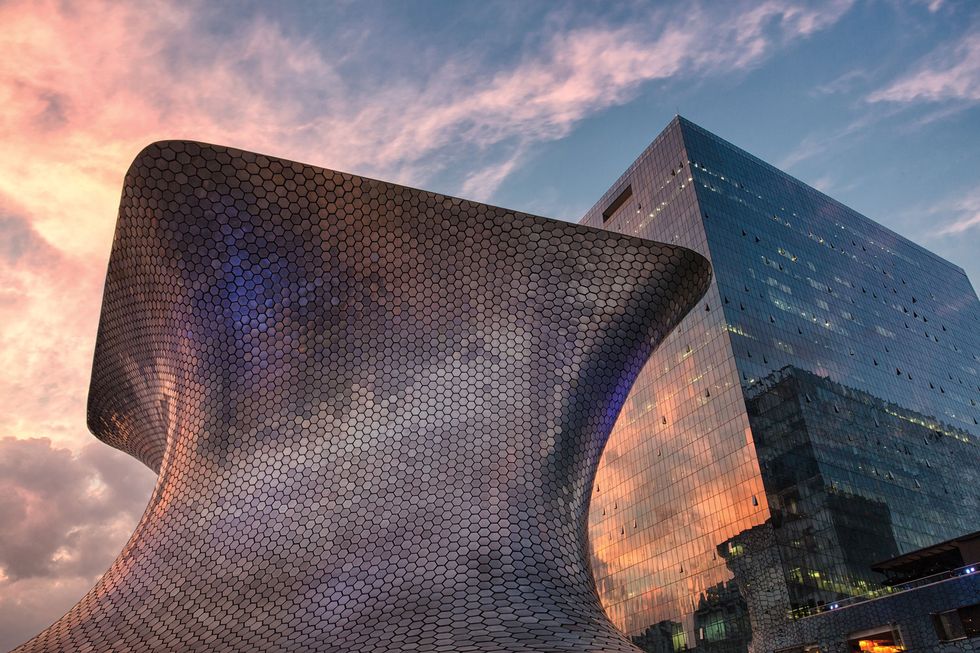 The Museo Soumaya;
Above the main entrance to the arena is a 30-meter-long mural that young artist Miguel Valverde painted in 2013. In it he uses depictions of famous luchadores to illustrate scenes from Mexican history, like the struggle of Mexico's indigenous population against their Spanish conquerors — a scene that is not that different from those that unfold inside the arena, where luchadores compete in bawdy, acrobatic matches that are as much theater as they are sport.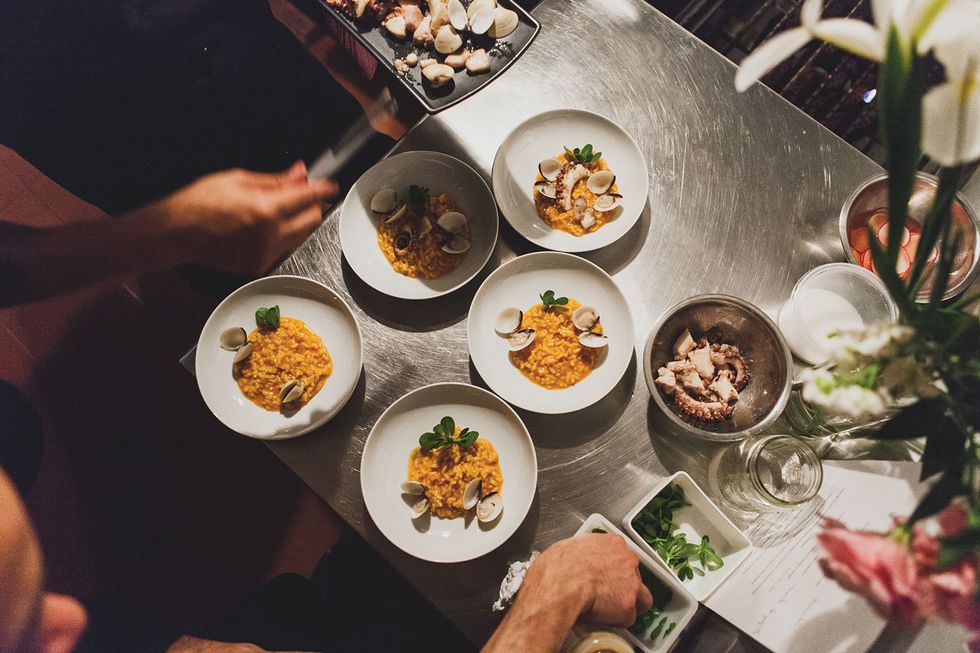 A family-style feast at Hidden Kitchen.
The Colonia Doctores neighborhood is also home to Hidden Kitchen. Helmed by the handsome tattooed chef Gerardo Aguilar (who begins each meal with a toast), Hidden Kitchen hosts a twice-weekly multi-course chef's table experience for groups of up to 10. The restaurant adopts a stripped-down aesthetic — a chandelier of string lights dangles casually — and lets the food speak for itself. For $32 a person, feast on courses that include dishes like grilled red snapper on quinoa salad and a corn cake topped with torito foam and caramelized popcorn.
Venturing directly west from Colonia Doctores will take you to Colonia Roma, the epicenter of Mexico City's bourgeoning hipster culture. It's teaming with cool restaurants and shops, like Sangre de mi Sangre — a jewelry shop whose pieces have been called out in Vogue — that deliver a high-end experience without sacrificing the neighborhood's bohemian aesthetic. One of the hippest stays in Colonia Roma is globetrotting entrepreneur Yves Naman's La Valise Hotel, a luxurious, micro-boutique hotel housed inside a charming, early-20th-century French-style building. There are three spacious concept suites, each decorated by Emmanuel Picault. One suite has a patio space with a leather swing and an artisanal Yucatecan hammock.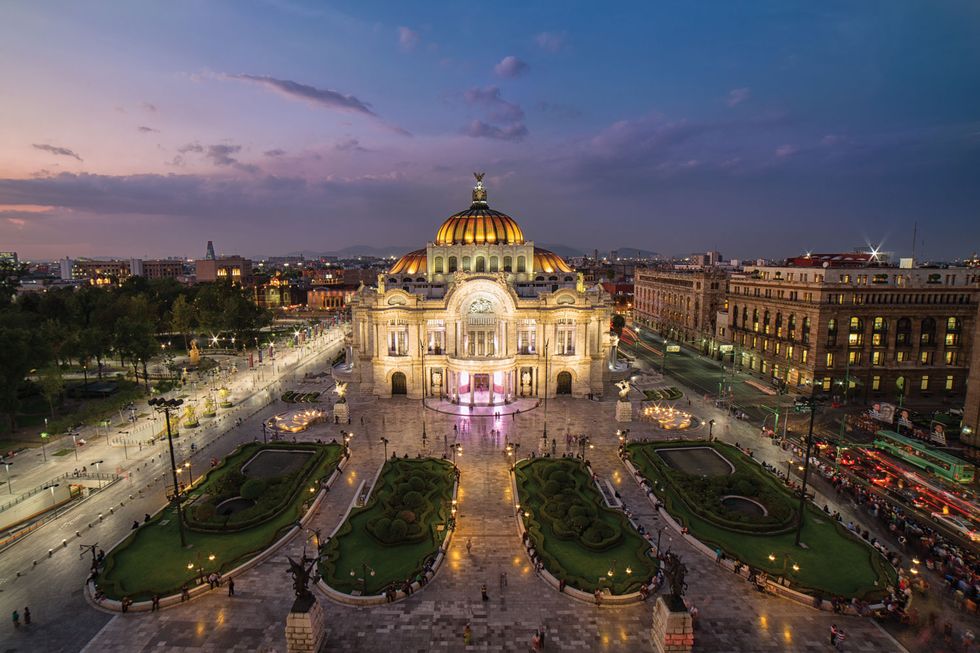 The Palacio de Bellas Artes.
Decidedly more grungy than La Valise is Pulquería de los Insurgentes, a pulqué bar in the neighborhood that also functions as a music venue and a gallery for gritty, contemporary art. Pulqué is a traditional beverage, similar to kombucha in taste, that has been made in Mexico for centuries by fermenting liquid extracted from the heart of the maguey plant. On a wall here hangs a 2012 piece by controversial Mexican artist Daniel Lezama. Titled "Pillahuana," the mural depicts a surrealist scene of children and adults getting drunk on pulqué during the Aztec leap year, when the drink — usually reserved for leaders and religious figures — became available to everyone.
The neighborhood is also rapidly evolving into a foodie destination, and a stop by Fonda Fina for dinner will illustrate why. Popular with locals and tourists alike, Fonda Fina has a reputation as one of the primo places utilizing traditional Mexican cooking methods and ingredients. The pork belly, for example, is cooked for 12 hours in a tamarind sweet-and-sour sauce before being served atop black bean pasoté and garnished with pico de gallo made from prickly pear, watercress and red onion. After dinner, sip on a glass of the cinnamon-and-cocoainfused coffee beverage café de olla. Garlands of tiny, decorated clay mugs — traditional vessels for café de olla — adorn the walls and help add flair to the inviting space.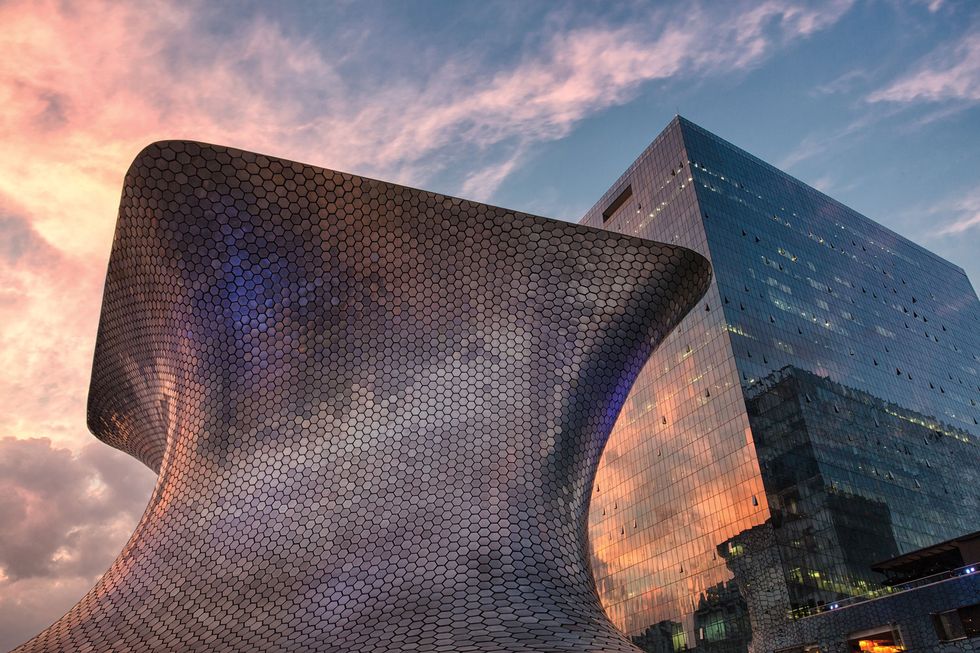 The Museo Soumaya;
In nearby La Condesa, a hip neighborhood that many artists call home, find a mural by contemporary Mexican artist Andrik Noble. Noble is a member of Street Art Chilango, a cooperative of graffiti artists and graphic designers who apply a contemporary street-art spin to mural painting. The artist has produced several Star Wars-themed murals, including a 60-footlong one depicting storm troopers that graces a wall at the Mercado Michoacan, a traditional market.
A guest room in the La Valie Hotel.
A chic hotel here is Hotel Condesa DF, housed in a historic French neoclassical building erected in 1928, and later refurbished and reimagined by Mexico City architect Javier Sánchez. The colorful interior is decorated by Parisian designer India Mahdavi, and a rooftop bar draws a posh crowd at dusk.
And no trip to Mexico City would be complete without a stop in the city's upscale, tree-lined neighborhood of Polanco. Hip concept store Common People occupies a 1940s Colonial-style mansion that offers an eclectic mix of carefully curated vintage pieces and high-end brands like Comme des Garcons and Vivienne Westwood. Also find large, woven ponchos with bright colors and mod-ish geometric designs by local line Pays.
Nearby is a boutique by designer Francisco Cancino, who reinterprets traditional Mexican garb like beautiful embroidered blouses through a sleek design aesthetic. Standouts in her most recent collection include a voluminous gray goucho pant with a pleated front, and a delicate black shirt dress with strategic sheer — and sexy — inserts perfect for a Polanco cocktail party.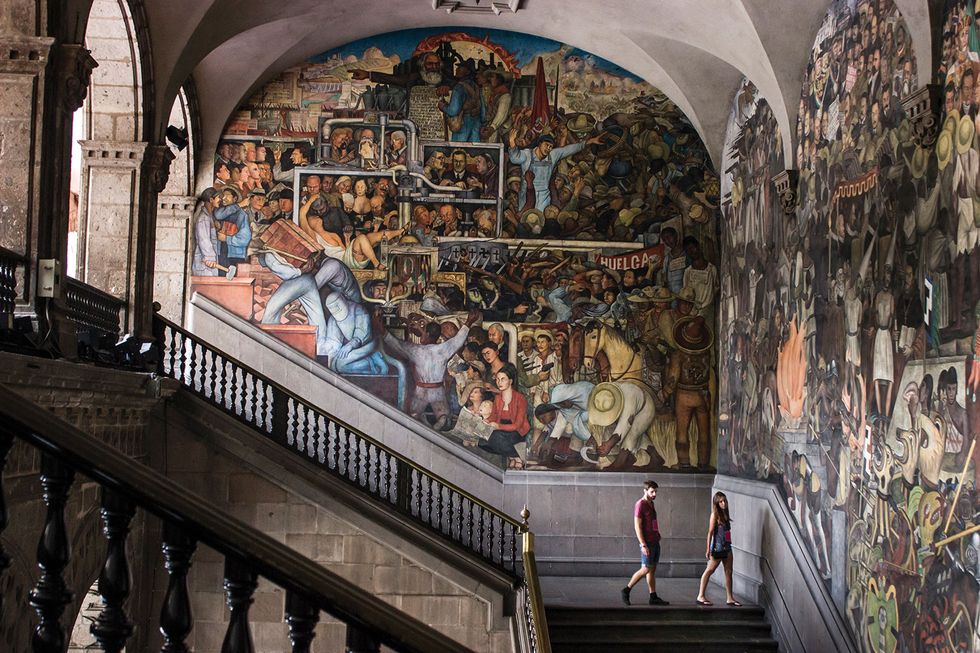 Diego River's "The History of the Mexican People" inside the Palacio Nacional.
Polanco is also home to Museo Soumaya, a warped, futuristiclooking circular shaped building covered in metallic tiles. The museum houses more than 66,000 pieces of Hispanic and European art that span 30 centuries and are collectively worth an estimated $700 million. One of the most captivating scenes here is on the top floor, where a sloped, circular walkway leads into a forest of sculptures by artists like Rodin and Salvador Dalí.
South of Polanco is Chapultepec Park. The largest city park in the Western Hemisphere, it's nearly double the size of New York's Central Park. Here, find Fuente de Tlaloc, a fountain that holds Diego Rivera's 1950s-era mosaic of Tlaloc, the Aztec rain god. And directly behind the fountain is a pump house. Inside is Rivera's final mural "Water, Origin of Life on Earth," painted inside a deep pool that initially held water, but was drained soon after the painting was completed because it started washing away much of the artist's paint. Cellular structures populate the bottom of the pool, and human forms scale the walls. As you stare into the pool, it's not hard to see the structures as analogous to the divergent identities from which contemporary Mexican Culture sprang.
Food+Travel