Rice Show Explores How Humanity Meets Urban Sprawl, Spotlights Top Houston Artists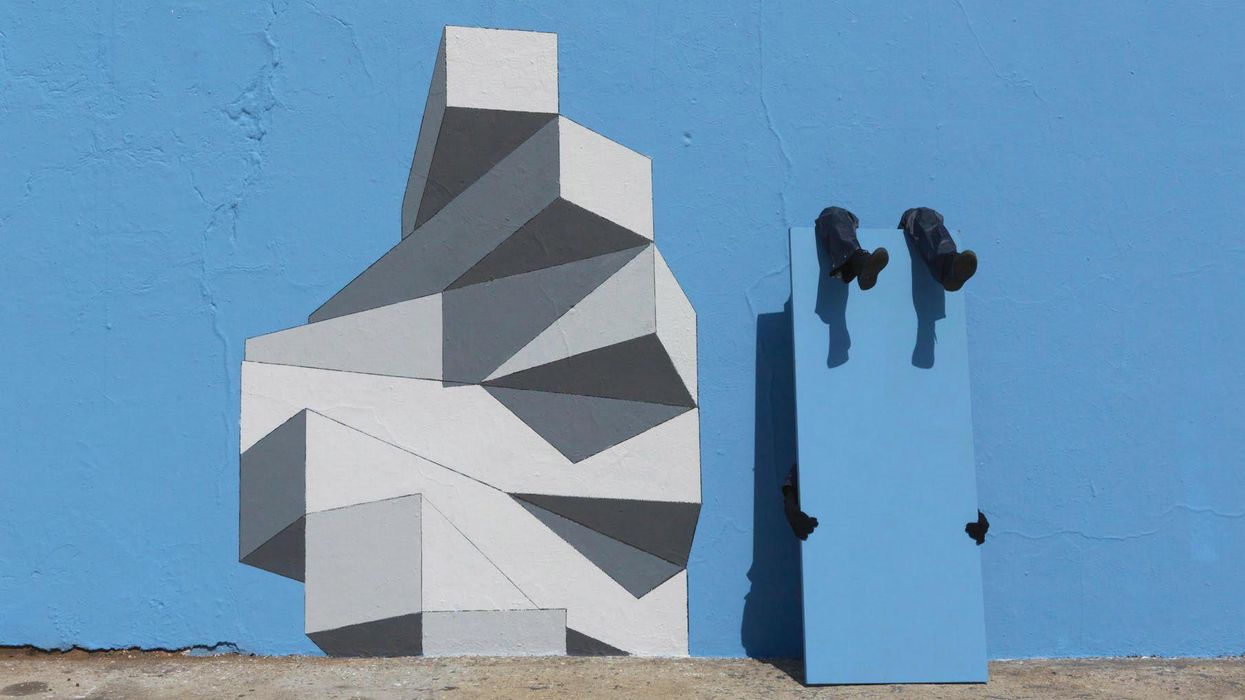 A JUST-OPENED exhibit at Rice University's beautiful Moody Center for the Arts explores the complex, often fraught relationship between humans and their built environments. In Urban Impressions, internationally acclaimed artists — including three Houston-based visionaries, Charis Ammon, Tiffany Chung and Rick Lowe — interpret the meaning behind and implications of the contemporary global metropolis. It was organized by Frauke V. Josenhans, curator for the Moody.
---
It's an ambitious show, with remnants of Neolithic culture sharing space with modern day signage, and aligns with the Moody's mission to connect the visual arts with other fields and topics. That connection is something both Chung and Lowe explore in their socially engaged art.
Chung's personal and artistic journey is particularly harrowing. During the Vietnam War, her father, a helicopter pilot, was captured and remained in prison until 1984, nearly a decade after the fall of Saigon and the first exodus of refugees. Thanks to an agreement between the U.S. and Vietnam to bring former political prisoners and their dependents to America, Chung, her parents and her siblings were able to immigrate to Los Angeles where her extended family were settled. Her experience as a refugee has had a profound impact on her art and is key to her ability to articulate the humanity of those who suddenly find themselves displaced and in danger due to circumstances beyond their control.
"Art definitely gives me a platform to process all of the trauma," says Chung, who now owns a house in Houston. "It wasn't something I could handle until much later in my life and in my career."
Included in Urban Impressions is a new iteration of Chung's 2009 work "Signs‐Sites‐Sights‐Sighs," a collection of real signage from around the world designed to reassure the hapless citizen attempting to navigate the chaotic environment of the city. The Moody commissioned Chung to create a new collection of Houston-centric signs, now titled "City of Future Promises."
"I am always skeptical of the promise of modernity and progress," says Chung. "I want these signs to document a dystopian and utopian vision."
Born in Russell County in rural Alabama, Lowe has made the journey from growing up in an area he describes as "nothing but farmland and a lot of poverty" to being represented by the blue-chip gallery Gagosian. In 1993, Lowe, a MacArthur Genius, co-founded the organization Project Row Houses, which repurposed a strip of unused houses in Houston's historic Third Ward neighborhood into artist studios, and continues to provide support for young single mothers and neighborhood businesses.
Lowe's contribution to Urban Impressions, a monumental map painting titled "Project Row Houses: Hindsight," provides the viewer with no strict narrative — but Lowe welcomes any conversation the title stirs up regarding the Third Ward, a neighborhood now in "full gentrification mode."
"[Project Row Houses] is intended to show what is possible," says Lowe. "It's on the ground, trying to work with people. … The paintings really are just a manifestation of me sitting around in my studio thinking about what it all means."
"Houston has surprised me in many ways," says Josenhans, who relocated to the city in 2019. She appreciates how, in the midst of the traffic, pollution and endless ongoing construction, there are spaces like the Moody which offer Houstonians some respite.
"You can find these little havens of peace and calm that help to deal with these issues," says Josenhans. "The duality of urban life and how it impacts us on so many different levels is something I hope visitors will be able to experience in Urban Impressions."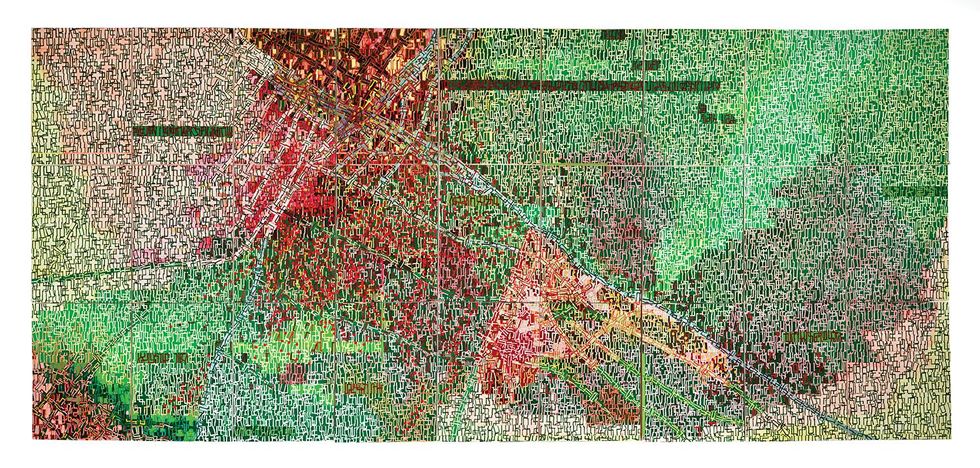 Lowe's 'Project Row Houses'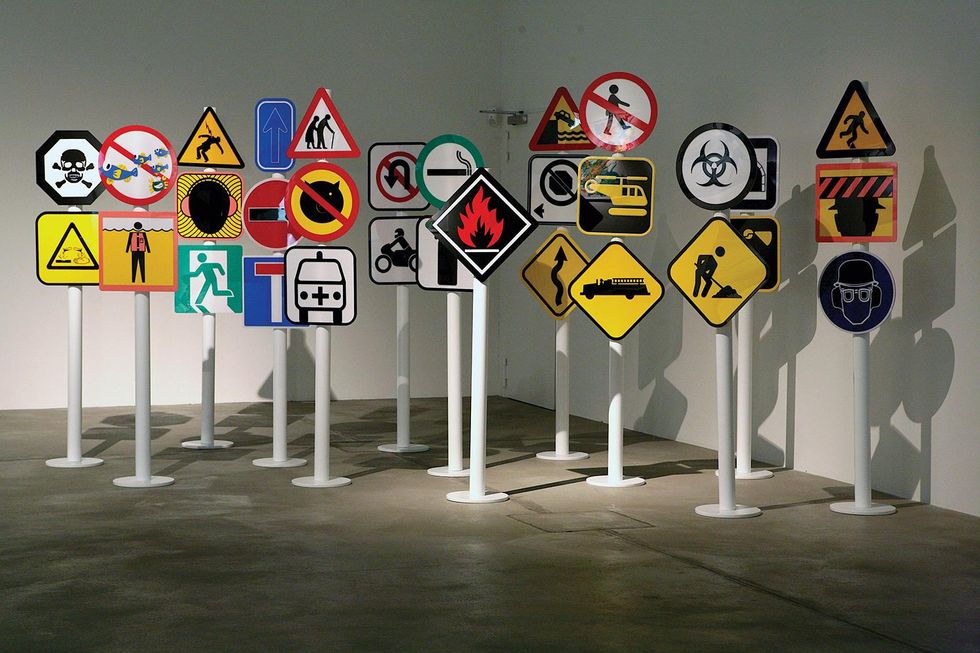 Chung's 'Signs-Sites-Sights-Sighs'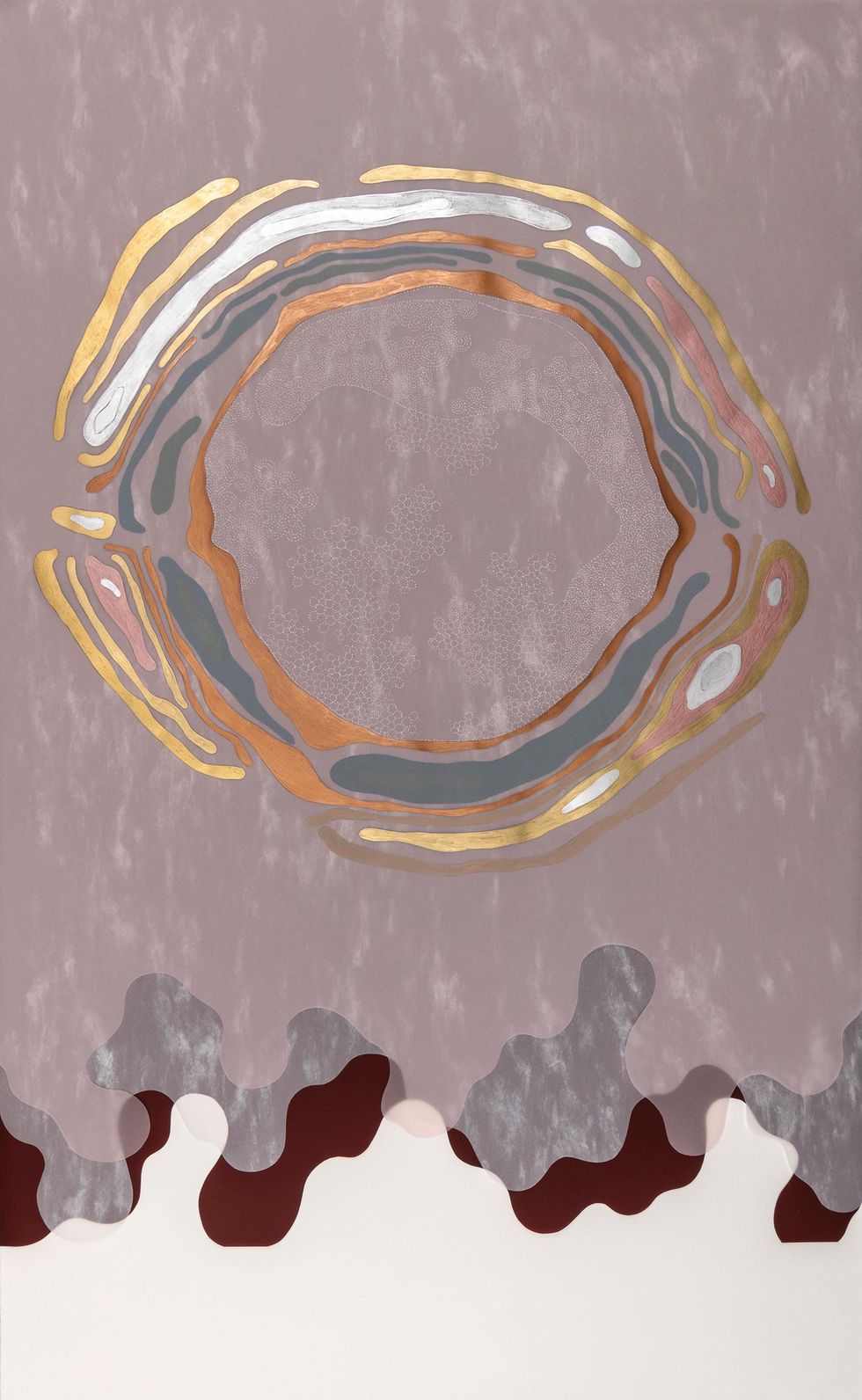 Chung's 'Terra Rouge CEW Study No. 8'
Art + Entertainment