On Main Street, United Nations Unveils First-Ever 'Ecosystem Restoration' Mural Designed to Grow More Trees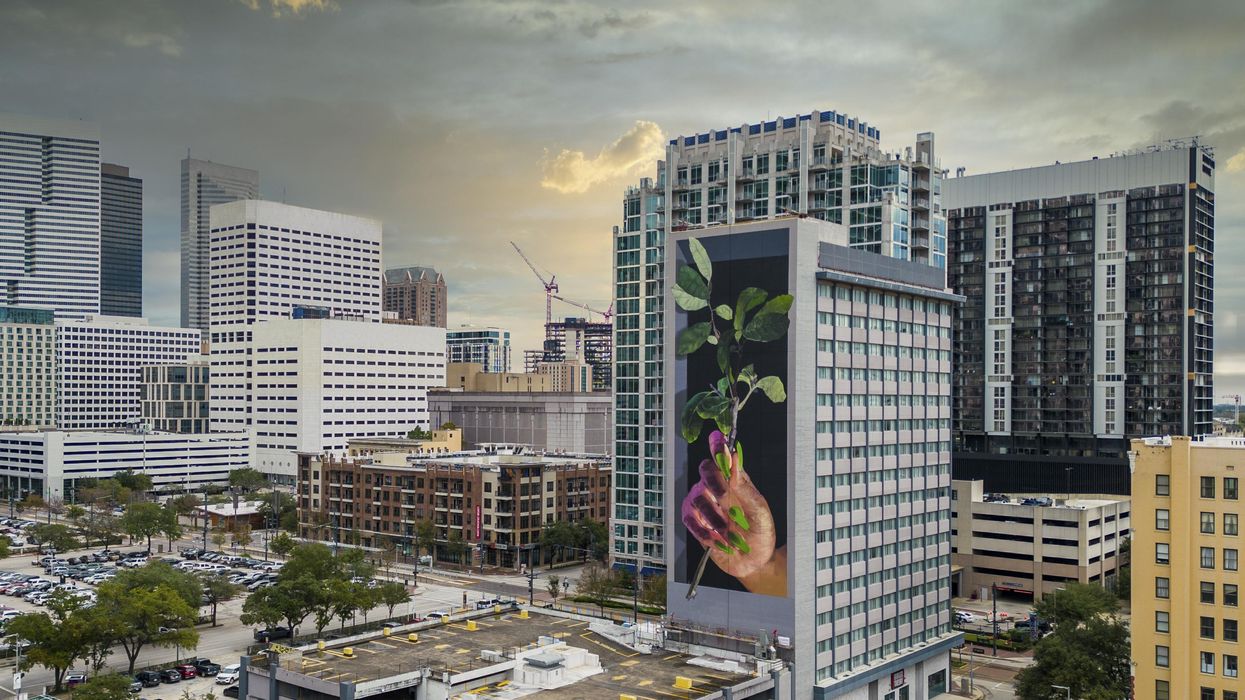 LAST WEEK, THE City of Houston, Bulleit Frontier Whiskey, and Street Art for Mankind unveiled a massive painting covering one side of a Downtown Houston building — the inaugural United Nations Ecosystem Restoration mural. The Houston Ecosystem Restoration Mural is the first of a five-part series in the United States.
---
The dramatic 16-story piece installed on the 1616 Main St. building was created by globally renowned Argentinian artist Martín Ron. It depicts a local resident's hand holding a sapling, meant as an invitation to plant and grow more trees. Created to amplify Tree Equity globally, it also aims to inspire change at the community level. It's all a part of the United Nations Decade on Ecosystem Restoration plan.
The mural will remain present in Downtown Houston for years to come. Bulleit Frontier Whiskey also hosted a tree planting ceremony where 85 new trees were planted at the White Oak Bayou Greenway, which was devastated by Hurricane Harvey in 2017. The new trees will contribute to mitigating future flood risks, providing shade for hiking and biking trails, and increasing access to greenspaces for the neighborhood.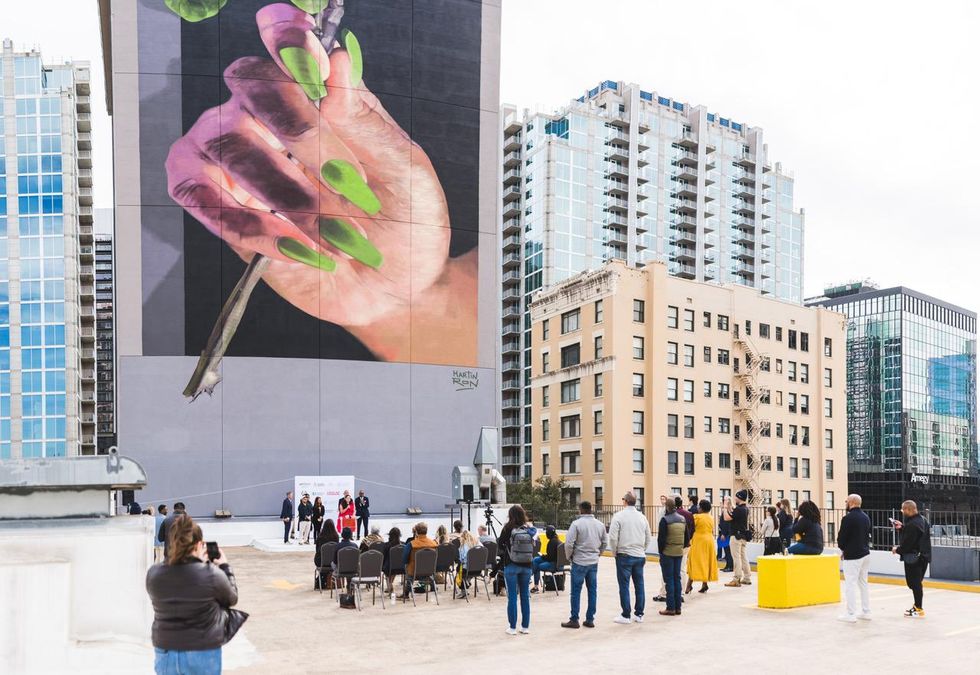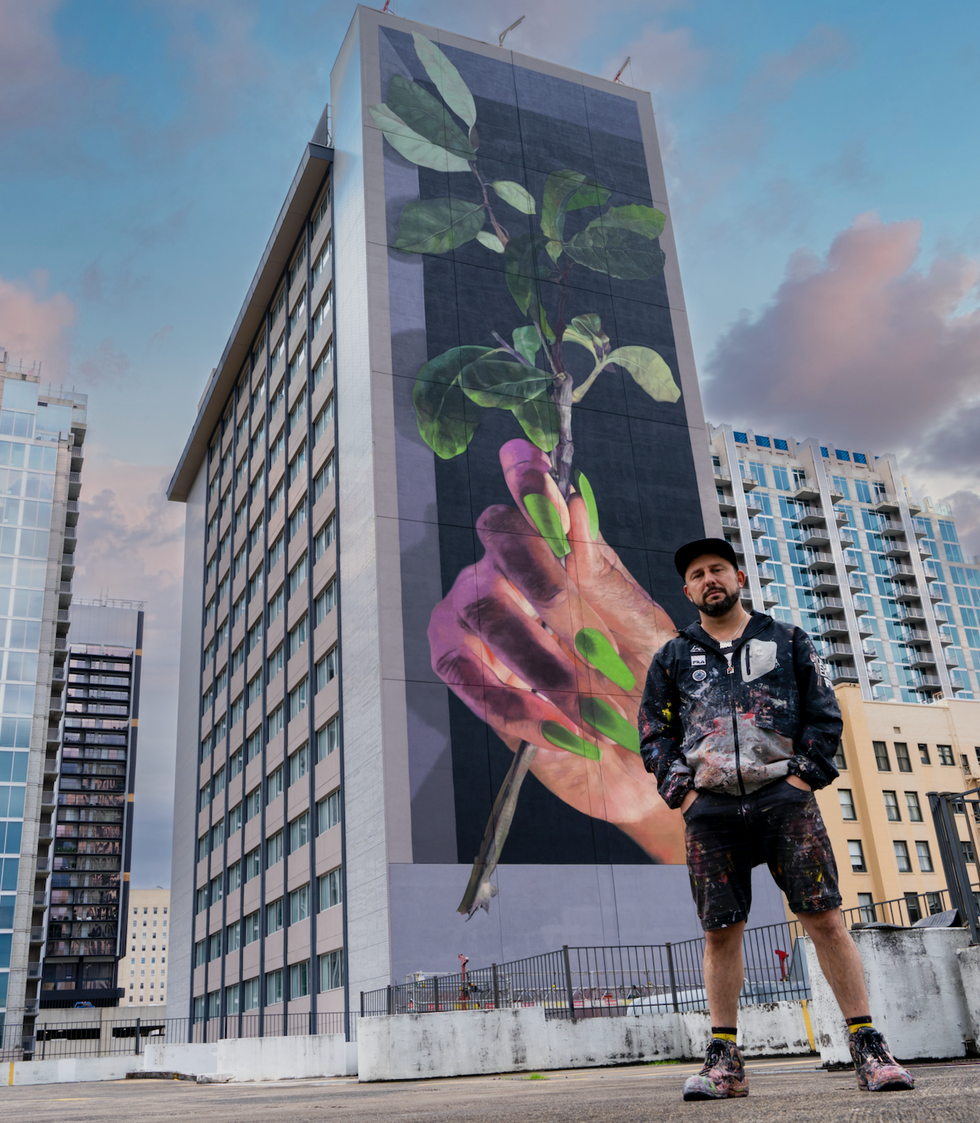 Artist Martín Ron
With partners American Forests, Street Art for Mankind and in support of the United Nations Environment Programme, Bulleit is serving the communities it operates in by bringing trees to areas that need them most. To date, the whiskey company has planted more than one million trees.
Trees are essential to the well-being of communities, as they help fulfill basic needs — breathing fresh air, drinking clean water, and finding relief from the heat, among other benefits. Achieving Tree Equity requires planting and growing trees in communities where they are needed most, enabling people to experience the full benefits trees provide, no matter where they live.
Art + Entertainment