Mountain Tops
That Colorado is more than a winter wonderland is no secret. But with Eleven Experience, explore two tucked-away properties, and see the state's summertime glory in a whole new light.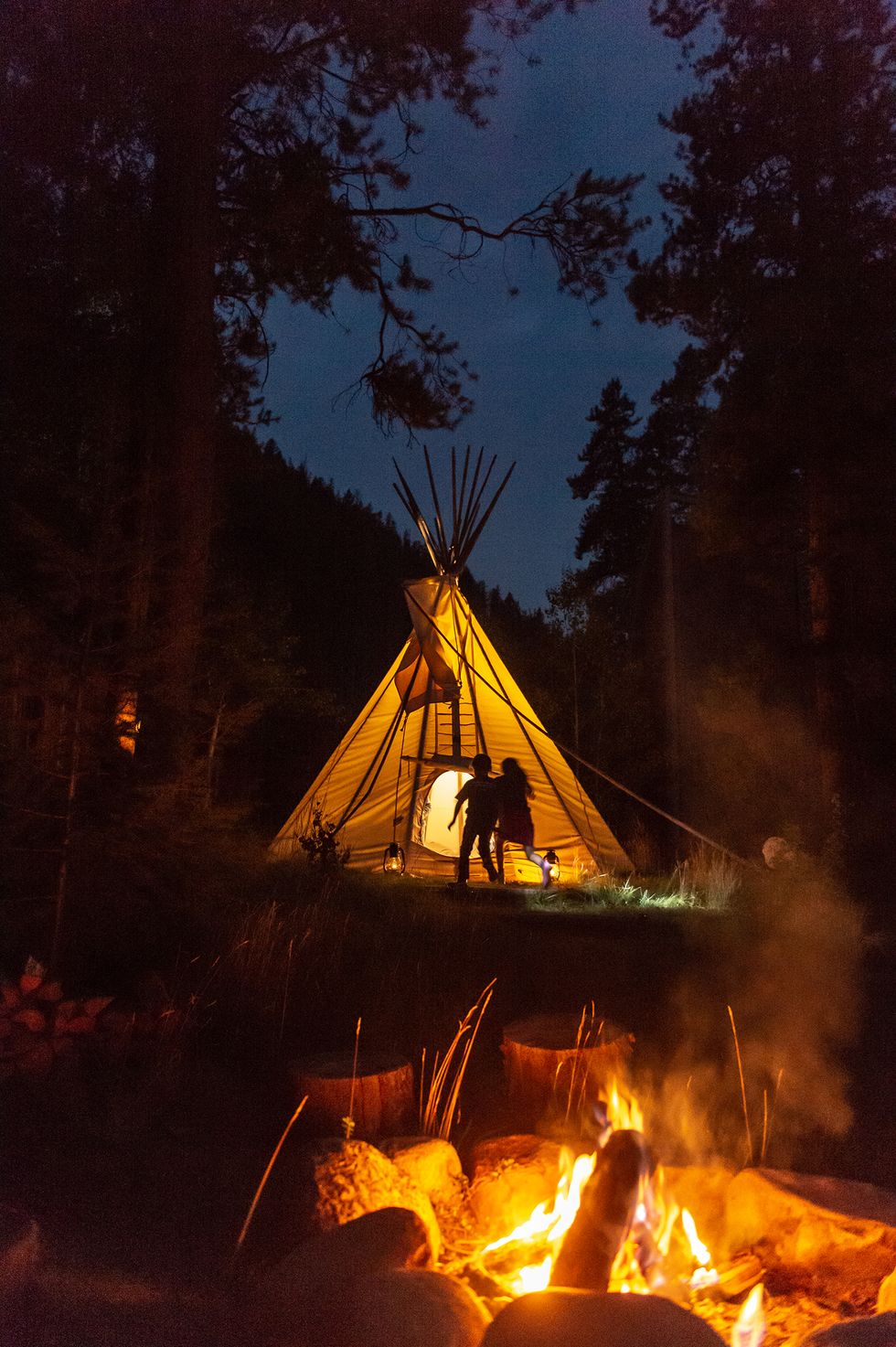 Texans are no strangers to the whole summer-in-Colorado thing. Providing a literal breath of fresh air, a quick getaway to the Rockies is a popular choice for those looking to escape Houston's oppressive heat. But while destinations like Vail, Breckinridge and Aspen beautifully beckon, the sleepy yet sensational Gunnison Valley area is worth a closer look.
---
Upon arrival at the Gunnison airport, it's immediately clear that this is a different Colorado than Texan visitors are used to. While the laidback, cowboy-cool town — not many fur coats or granola vibes here — is lovely, your flight is extremely unlikely to be on time. Rolling green hills that host farmland and livestock eventually give way to the Rockies' signature purple and gray mountaintops in the distance, a view that makes any travel hiccups well worth it.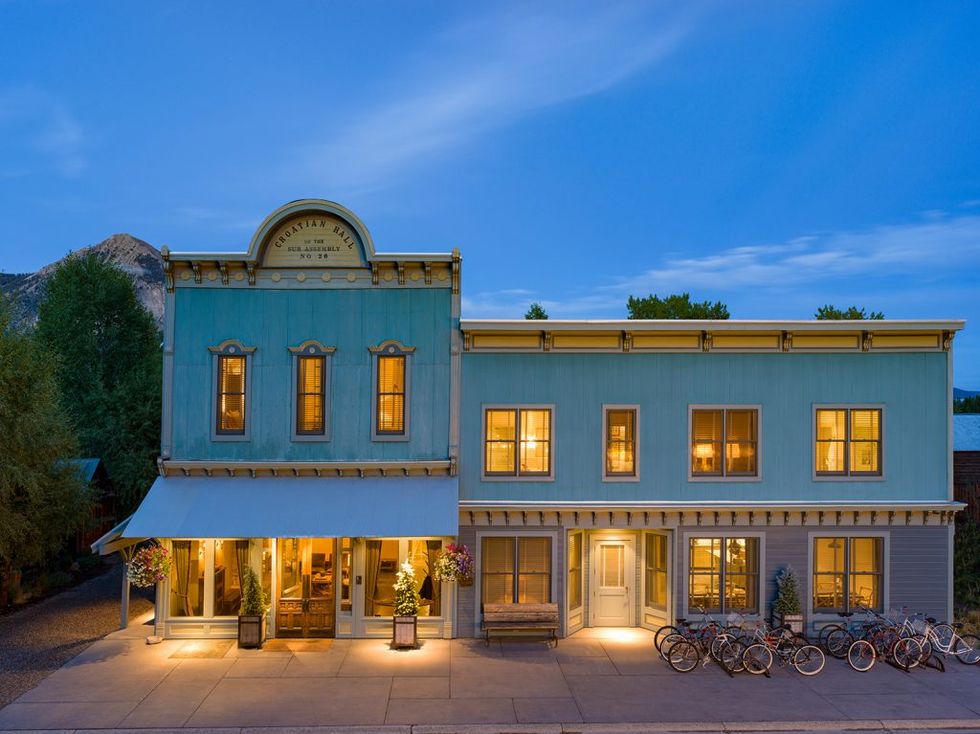 Scarp Ridge Lodge at dusk
Not far from the airport are two unique properties, both owned by Eleven Experience. So much more than a travel agency or a boutique hotel chain (though it is essentially both), the company was founded in 2010 in Crested Butte, in the Gunnison Valley area. It's an "experiential travel brand," meaning activities are expected and included in the stay, with properties — beach cottages, houseboats, chalets — all over the world. But the soul of Eleven Experience's brand resides in Colorado. 
The Scarp Ridge Lodge is a homey resort in the heart of Crested Butte. It's available on a room-by-room basis, or for a buyout for families or groups of friends. (There's even a bunk room for up to seven kiddos, with a "nanny room" connected.) While the word "luxury" is taboo during an Eleven Experience vacation — it's thought to convey a pretentious, stuffy attitude, and this outfit is anything but — it can be hard to come up with a different phrase to encapsulate the offerings: An experience manager is appointed to each group and handles scheduling details, meal planning and more. Expect a personal chef to cook a made-to-order breakfast each morning, and pack gourmet brown-bag lunches to be enjoyed mid-bike or -hike. 
There's an indoor saltwater pool, a rooftop hot tub, and a system that pumps extra oxygen throughout the air to avoid altitude sickness. The décor recalls the building's former life as a Croatian saloon, while adding in elements — whitewashed wood, plush fabrics, little Sherpa rugs and reclaimed iron — to evoke a bright mountain-cabin feel. Vaguely indie-folk music is pumped throughout the building, and each guest room has a remote to control what is played and how loud.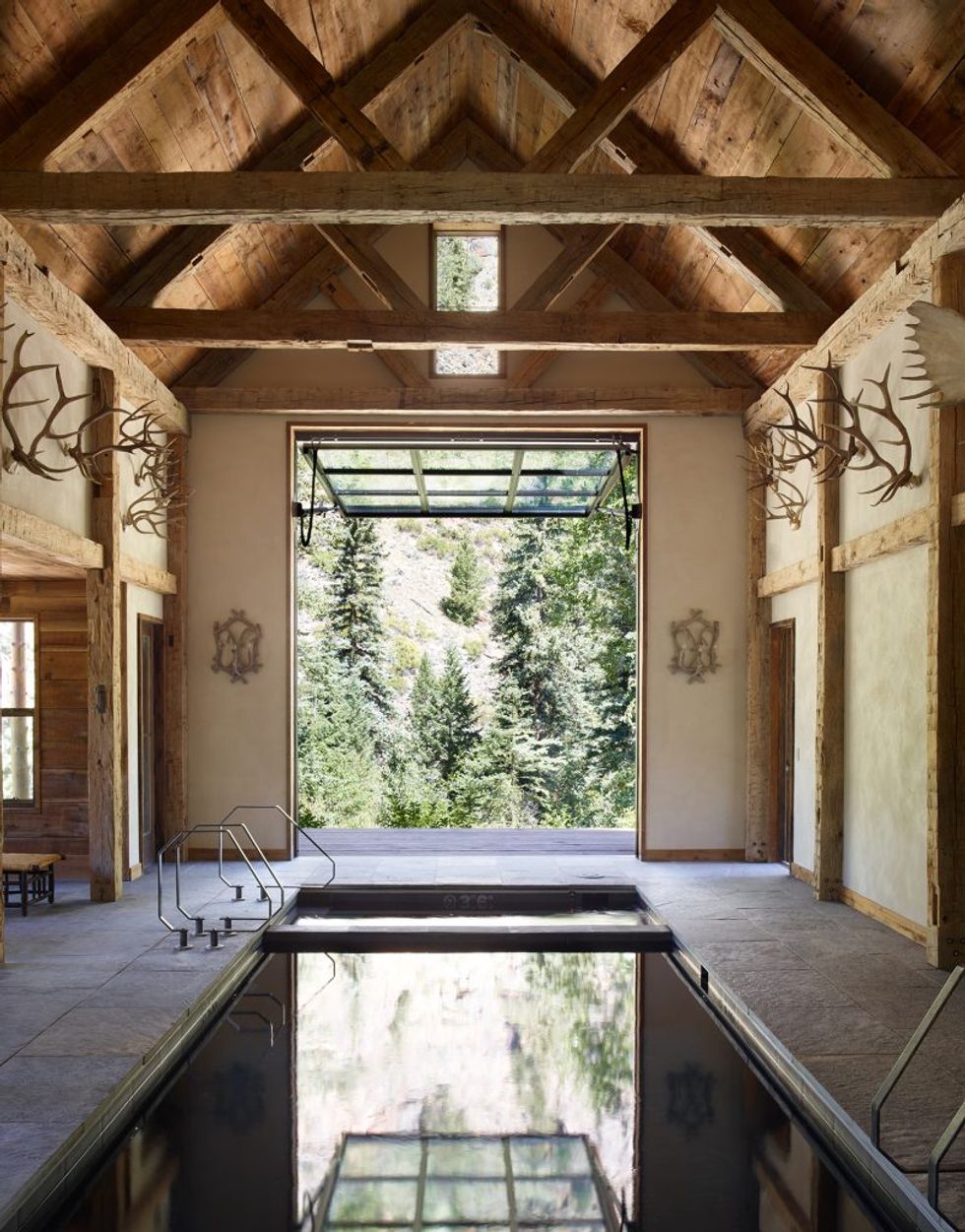 The bathhouse looking out into the Taylor Canyon
The mini bar is jam-packed with tiny glass jars filled with housemade granola and a bunch of other snacks, and given the pace of an average summer trip here, the fuel is necessary. From May through September, activities through Eleven Experience are booked a la carte; a winter trip is all-inclusive. Choose to go hiking through Aspen trees, rock climbing, fly fishing, stand-up paddle-boarding, or biking along wildflower-covered cliffsides. (Crested Butte is considered the U.S. capital of mountain biking and wildflowers.) 
Eleven's expert guides are pros at gently pushing folks outside of their comfort zones, and understand that this means something different to each and every guest. While no true beginner mountain-biking trails are available in the area, a compassionate and impossibly patient guide named Lani makes what could have been a treacherous experience approachable and enjoyable. Plus, she brings a clear tackle box and soft-sided Yeti filled with snacks and drinks everywhere she goes.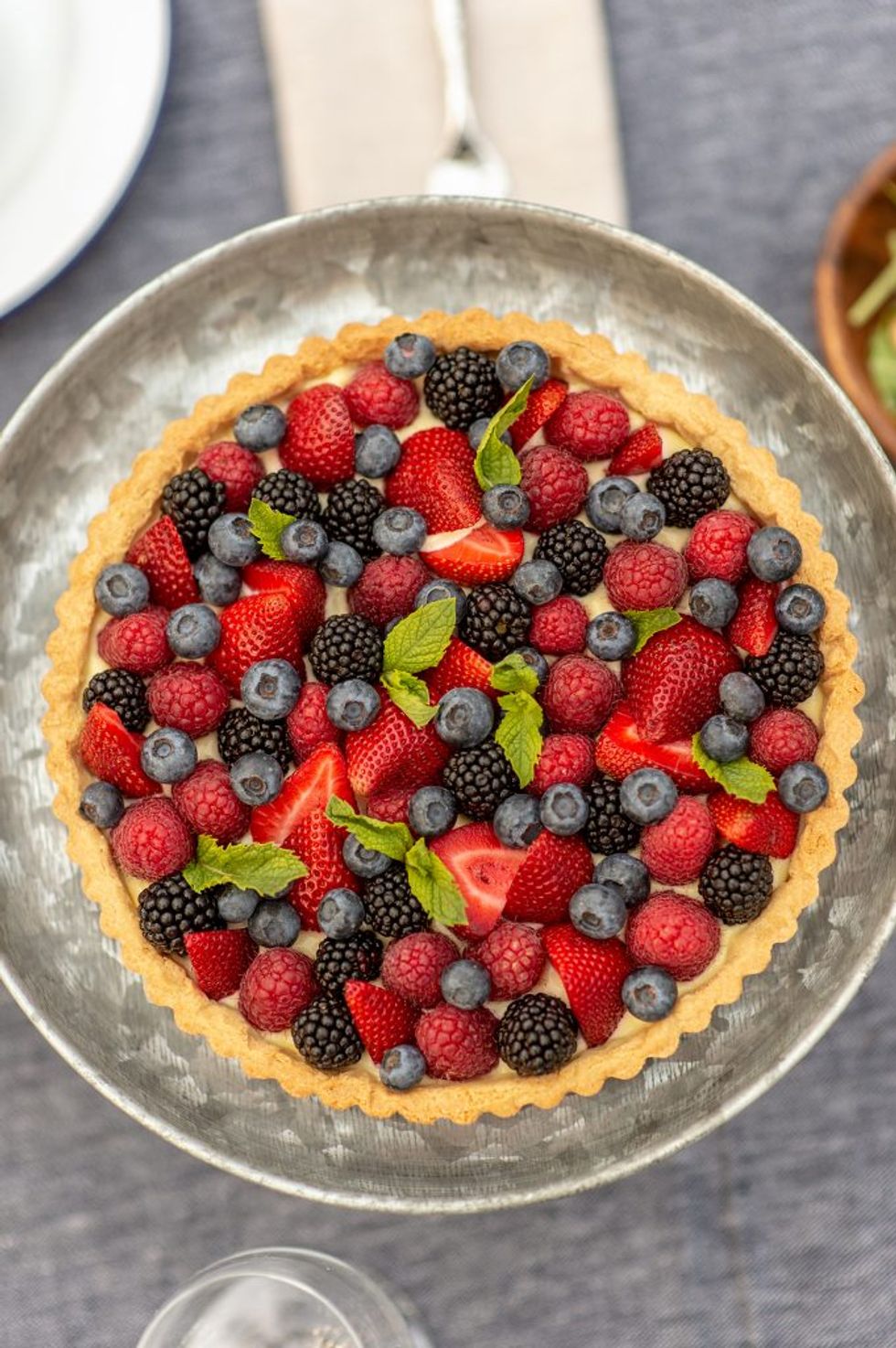 A dessert of farm-fresh berries at Taylor
But if it still seems a bit too intimidating, stay closer to town: Scarp Ridge Lodge has old-fashioned Townie bikes that are fun and a rather failsafe way to explore the adorable Main Street and its ice cream shops and funky boutiques. 
The Townie bikes make a prominent appearance at Eleven's other property, Taylor River Lodge, located about 40 minutes away in Almont. Here, lavishly appointed log cabins with heated floors and showers that turn into steam rooms dot the riverbank. The roar of whitewater — yes, rafting trips are available — lulls guests to sleep each night. One community cabin houses a pool table, foosball, dartboard, and a build-your-own trail-mix station. And a glamping setup near the fly-fishing stocked pond is a kid's dream come true; the staff serves scratch-made graham crackers, chocolate and marshmallows upon request.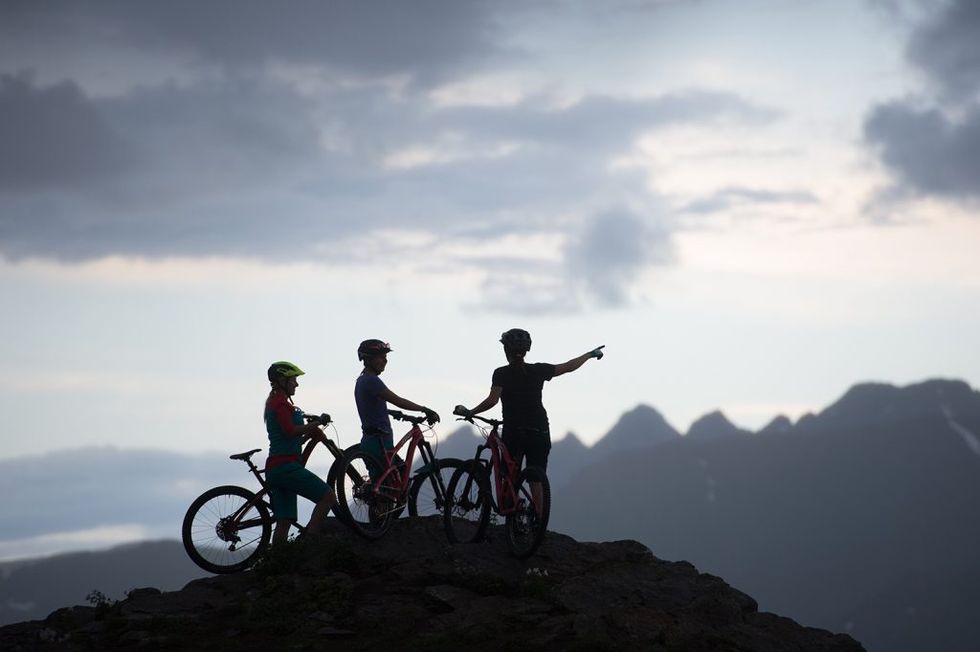 Mountain biking in Crested Butte
Sensing a theme? Snacks and meals are clearly important to Eleven Experience. Chefs at both properties partner with local farms to access the freshest meat and produce. A sack lunch brought on an afternoon float-fishing tour might be a BLT with the thickest, most savory horizontal cut of bacon; the same pig is roasted and pulled apart and served at a family-style backyard cookout for dinner. 
And at the end of yet another day filled with new experiences, a little sweat and a lot of snacks, why not recharge with more mountain air and mountain views? Head to the bathhouse, where a huge iron door swings upward to reveal emerald pines and the granite cliffs of the Taylor Canyon. Post up with a cocktail in the saltwater pool or hot tub, soaking your feet and soaking in the beauty.
Luxurious? Yes. Stuffy? Absolutely not.
AT TOP: Taylor River Lodge by Eleven Experience is a perfect destination for families, with nightly campfires, stargazing and a 'teepee lounge.'
Food+Travel