Mourning Glory
In his new show, sometimes controversial oil painter Vincent Valdez enters a fearlessly funereal world.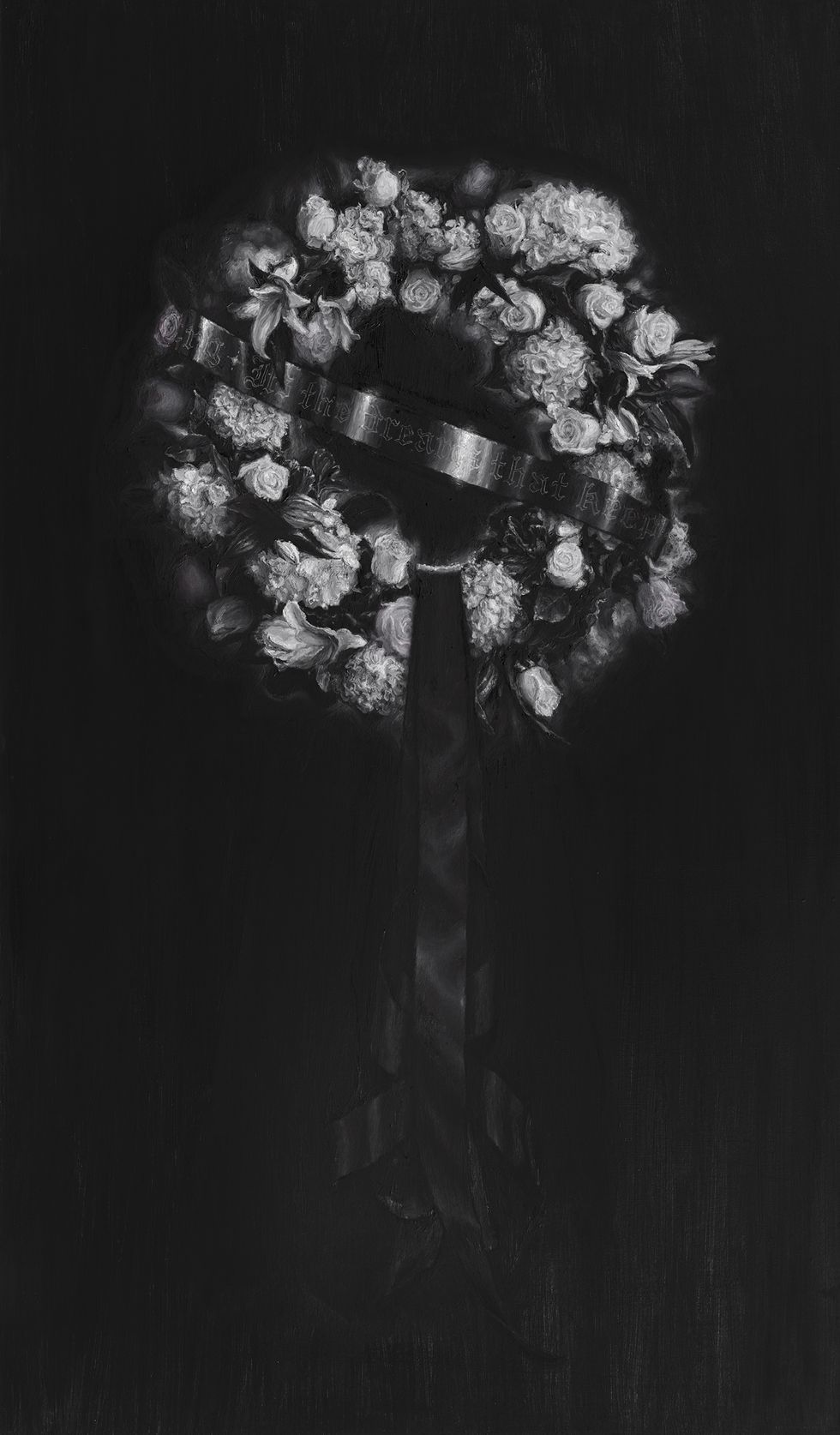 June 2016. Artist Vincent Valdez is putting the final touches on his magnum opus "The City I," a 30-foot-wide, black-and-white portrait of 14 hooded Ku Klux Klan members, including an infant in baby Nike shoes.
---
Meanwhile, a reality-TV-show host is set to become a presidential nominee, and Muhammad Ali, one of the most admired and controversial athletes of our time, has died. A song plays on repeat in Valdez's studio. The music is eerie, with a beat like a ticking time bomb, and incantatory lyrics sung with a Rockabilly croon: "Keep those dreams burning / Forever and ever / Yeah, it's those dreams that keep you free." The song is "Dream Baby Dream" by the electro-punk duo Suicide, and it would become the catalyst for and title of Valdez's current show, on view through Nov. 10 at David Shelton Gallery.
"I was witnessing America openly celebrating an American Muslim," he says of Ali's funeral. "Knowing what was looming on the horizon, I felt like it was the closing of a chapter, not only in this person's life, but of a certain moment in American history."
Dream Baby Dream is a collection of oil portraits of the individuals who paid tribute to Ali on that day, including Rabbi Michael Lerner, Muslim American scholar and poet Imam Zaid Shakir, and Ali's fourth wife Lonnie. They're each painted in black and white, with a hint of vein-like color around their mouths and eyes to convey what Valdez describes as an "exaggerated sense of raw emotion." There is an overall sense of unity, but downturned mouths and body language convey wariness, skepticism, even exhaustion. Another painting shows just a pair of microphones and an empty space behind them, as if now it were the viewer's turn to step forward and bear witness.
Valdez grew up in a working-class, mainly Mexican community, listening to accordion-driven norteño music and big-band swing. When metal braces ended his dream of becoming a trumpet player, Valdez devoted himself to drawing and painting. But music helped him dissect his identity as a Mexican-American. "You are always caught in the middle," says Valdez. "Between borders, between languages, between white America and black America."
Now 41, Valdez has since trained himself to play again, and keeps his trumpet in the studio for when he needs to "unplug" from the canvas. "Where I'm at that day determines what comes out of the horn," he says. Nearby is his dachshund, Wiener, whose rambunctious presence is a welcome distraction from the emotionally overwhelming subjects Valdez addresses so fearlessly in his work. "I definitely know art can't save the world," says Valdez. "But art can provide critical moments of reflection and silence during times of immense distortion and chaos."
Leaning against the walls of his studio, his portraits of Americans from all walks of life, each with their own religious and political beliefs, stand in silence, dreaming of a better future.
Art+Culture