Mr. Nice Guy
And that's pronounced 'Neece', as in the French city that inspires the chef-owner of Montrose's new neighborhood hit, the wonderfully unfussy and accomplished Café Azur.
Shannon O'Hara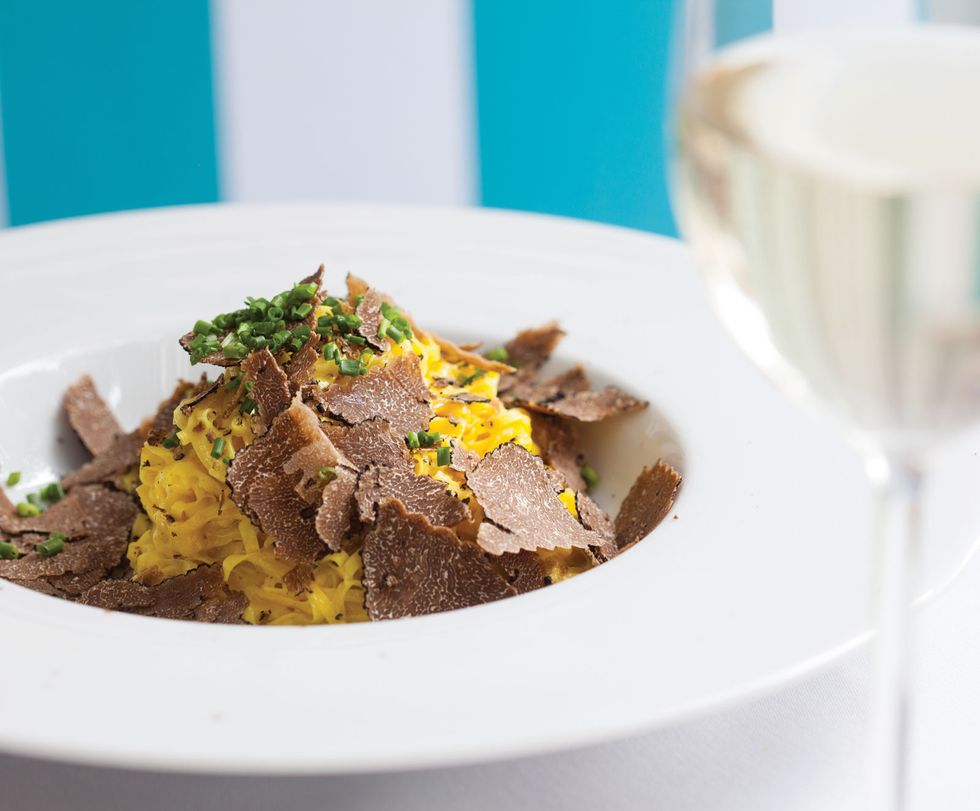 IMAGINE YOU'RE IN A BEACHFRONT RESTAURANT in Nice, or perhaps a '70s-era Los Angeles nod to a casual French eatery. The room is light and bright and airy, lots of windows, a bit homey, with clientele an eclectic mix of the well dressed and casual; Joan Didion is sitting next to you hiding behind dark glasses, sipping a champagne cocktail, all the while eyeing the room. The décor, all cool shades of blue putting you in mind of the seaside; a few tastefully selected film posters remind you that it is, indeed, the coast of France. That is the vibe of Chef Sidney Degaine's recently opened, not-quite-sceney take on French Mediterranean cuisine, Café Azur.
---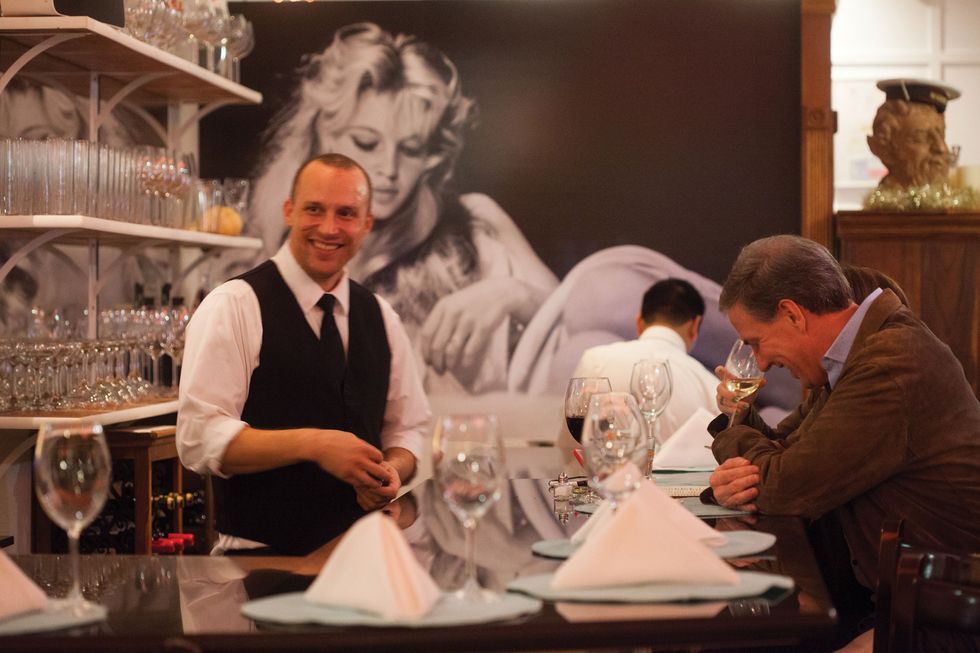 The lively bar at Cafe Azur
Degaine, a French-born chef who trained for 20 years in Nice, met his Brazilian wife and business partner Maria while working at a Sun Valley ski resort in the U.S. The couple went on to own and operate four restaurants in Maria's home city of Sao Paolo before deciding moving back to the States would be a perfect "compromise" between life in France or Brazil. Houston, because of its rapidly growing reputation as one of America's great food cities, was their first and only choice of where to begin their new life. "Bringing the Mediterranean to Houston" became Sidney's dream, as he puts it.
The restaurant is a labor of love, and a family affair. Chef Sidney is the kitchen, and Maria runs the front of the house with a combination of warm loving care and a steely eye for details. Service is, naturally, entirely on point. And even though Café Azur has only been open since September, it already feels like a neighborhood favorite, as older, neatly coiffed fans of the location's fondly remembered previous occupant, Max and Julie's Bistro — and possibly those of the once-celebrated Aries before that — sit contentedly side-by-side with tattooed muscle dudes in bicep-flaunting T-shirts.
A place of such understated style is not really where you go to see and be seen. It's a place where you go to eat. In fact, to dine.
Start with a drink — perhaps the Café Azur house cocktail, a crisp blend of house-made limoncello, champagne and lemon zest. Or, if you want something more complex, the French Girl is an alluring mix of star anise, vanilla-infused vodka, simple syrup, and, again, of course, champagne. Sidney's list of appetizers includes a delicious homage to his new hometown, something you most definitely won't see on every menu: a French foie gras taco filled with duck confit, duxelles sautéed mushroom paste, and a spritely apricot chutney.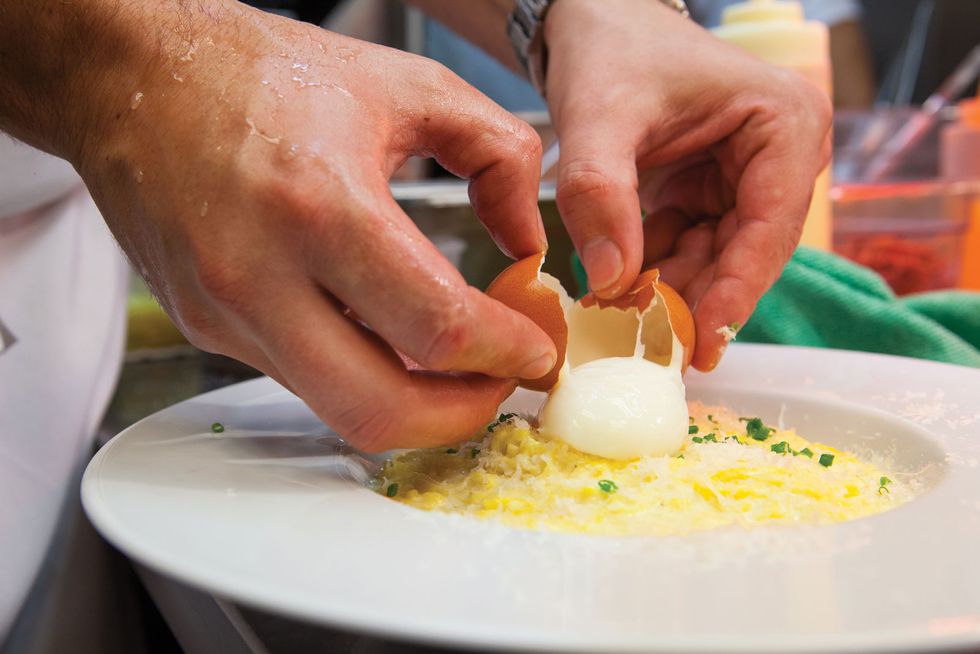 Cracking a "perfect egg" on the Truffle Linguine
Have the taco to start, and also an egg. The perfect egg. Cooked for 45 minutes at 150 degrees, it comes nestled in "potato foam," which is really more like the lightest of potato purees, strewn with bits of slightly chewy beech mushrooms and crispy croutons. Break into the yolk to make the potatoes even more lovely, and dig into one of the most luxuriously rich bowls of comfort food you'll ever come across — beyond creamy, with enough textural contrasts to keep things interesting.
If eggs for dinner seems too over-the-top, how about octopus? Here, it's cooked sous vide and then grilled, and comes accompanied by potatoes, capers, lemons and just a hint of anis, a Spanish version of the Italian anisette. It's tender enough to cut with a spoon, and redolent of eating seaside in Nice.
Chef Sidney isn't shy in incorporating the influence of Italian cuisine, seen in five pastas offered on the menu. The ravioli, stuffed with lobster and foie gras, served in a sauce of tomato, lobster stock, wine, and a bit of cream, would make a terrific shared second course. The entrees read like a list of French Mediterranean classics, everything from bouillabaisse and branzino to steak tartare and duck leg confit, all of which will satisfy your longing for well prepared classic French cuisine.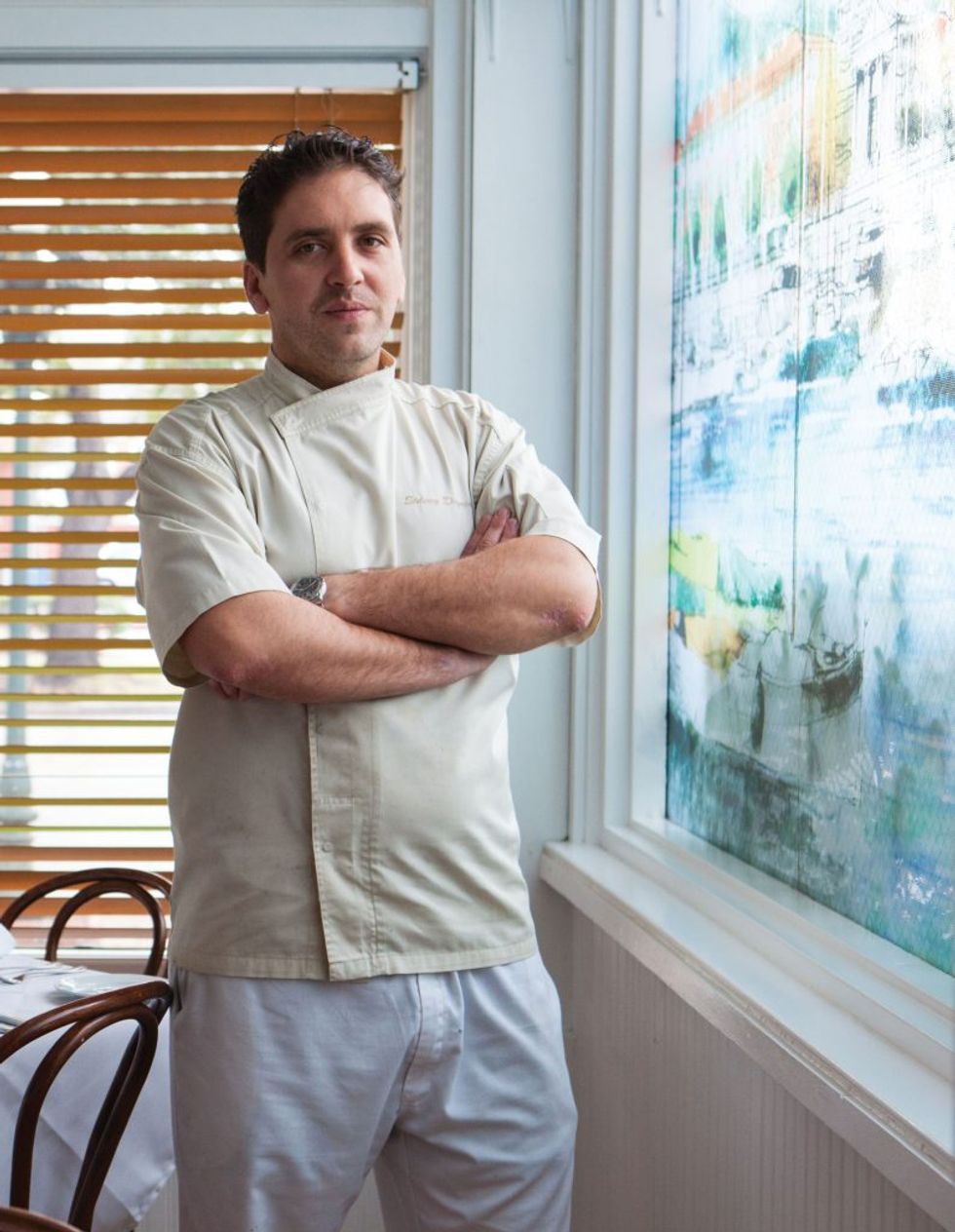 Cafe Azur chef-owner Sidney Degaine
Which is exactly what Café Azur brings to Houston — accomplished food, served without pretense, in a lightly comfortable dining room, where locals (and visitors in the know) can gather to dine well. It has the feel of a Montrose institution in the making.
Uncategorized